Schott Jackets
Schott is probably the world's most famous maker of leather motorcycle jackets. Based in New York, it was Schott who, in the 1920s, first put a zip in a leather jacket for a local Harley Davidson shop. The company shot to fame, though, when Marlon Brando wore their Perfecto jacket in the 1952 film: The Wild One. This jacket is still available today, but like most of Schott's American made jackets, the heavy horsehide they are made from does not make them comfortable or easy to live with. But most of the Schott jackets one sees in Europe are made by a French licensee who uses a much softer leather. Perhaps the nicest and most popular European Schott jacket is the famous Police jacket. Equipped with a zip hood, it does not come with armour, but looks great when you're pounding the beat!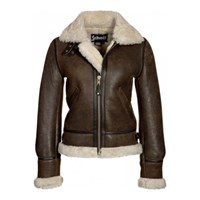 As one of the original makers of the B3 flying jackets for American aircrew in WWII, Schott knows a thing or two about putting one of these together.
£499.99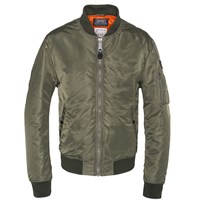 The MA-1 Bomber Jacket is made from 100% nylon.
£124.99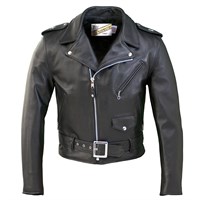 The Perfecto Leather Jacket with a belt is made from steerhide leather.
£809.99