Braces
Braces are like brussel sprouts; some people just don't like them. The difference is that brussel sprouts taste and smell gross. By contrast, braces are simply brilliant. The reasons some people don't like them (braces, not brussel sprouts) is that they look like the kind of thing your dad or grandad might have worn. All we can say is that it's time to grow up. What braces do is allow you to take the weight of your trousers on your shoulders rather than your hips. Trousers suspended by braces don't fall down. This allows you to go for a slightly looser fit at the waist, which means that you don't have to suffer any discomfort when you bend over to sit on the bike. Many trousers, those that come from companies like Halvarssons and Rukka, are supplied as standard with braces, but if you have trousers that don't have braces, you should consider buying a simple pair of clip-on ones. Once you've ridden with braces, you'll not want to go back. Which is something you can't say about brussel sprouts.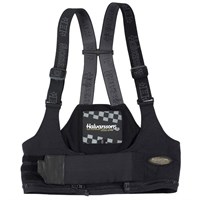 This Halvarssons midpiece for men can be zipped to riding trousers. The braces are adjustable and there is an elastic touch fastening adjustment across the waist.
£29.00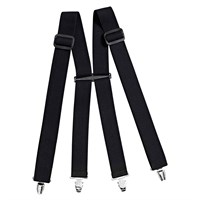 Elastic, adjustable braces from the Halvarssons range of motorcycle wear. Features clips for universal attachment. One Size fits all.
£14.00