Stadler 4All Pro trousers in grey (STD002)

Size Chart
Men's Stadler clothing size chart. Please note: Sizes available are shown on the product page. Pick which size, then choose the appropriate waist size. Should you have any queries relating to these sizes, please feel free to visit our shop in Guildford for a fitting or call our customer services.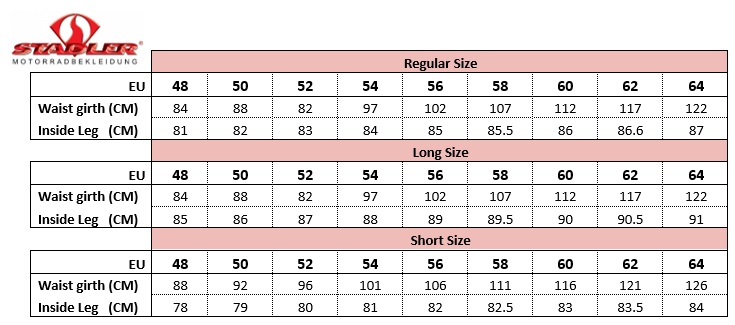 Product Information
*Please note: refer to our size chart for the correct size fitting
The outer fabric is laminated Gore-Tex Pro shell, with Cordura, stretch panels for comfort and large areas of Superfabric, the enormously expensive and highly abrasion-resistant fabric that is constructed from ceramic particles.
Throughout the jackets and pants, all the armour is certified to the Level 2 standard.
One the great strengths of the '4 All Pro' is the venting; there are large vents that run vertically down both the thighs. To prevent water ingress, both the vents are protected by waterproof Aquaseal zips.
What makes the venting system particularly effective is a complicated honeycomb-structured liner below the outer fabric that improves airflow though the garment.
For warmth, the trouser has a removable thermal lining.
But it is in some of the detailing that Stadler really stands out. On the trouser there's a waist adjuster, but there's another very clever system inside the pant that allows it to be almost custom fitted. There are multiple volume adjusters, coccyx protection and connecting zips.
Stadler makes a number of suits, but this is the one that is most suited to our climate, and the kind of riding many of us do. With its laminated, Pro-Shell construction, it is going to be as waterproof as anything on the market. Materials like heavy-duty Cordura and Superfabric make it incredibly strong and abrasion resistant. And it's better vented than other laminate suits we've come across. This really is as close to a full four-season outfit as you're going to get.
Of course, it isn't the only laminated combination on the market; it's not even the only laminated we sell, but it is one the lightest and easiest to wear that we have seen. In the summer, and in hot weather, the Stadler is going to be in a league of its own. The 4All Pro Grey Trouser comes in regular and short leg length.
Please
click here
to view the jacket, and
click here
to view the gloves.
Rated as one of our top 10 motorcycle touring suits.
Specification
Made from 3-Layer GoreTex Pro
CE approved hip and knee protectors
YKK Aquaseal zip
Breathable net lining
Removable thermal lining
Damping element on coccyx
Jacket connection system