WHAT'S NEW PUSSYCAT?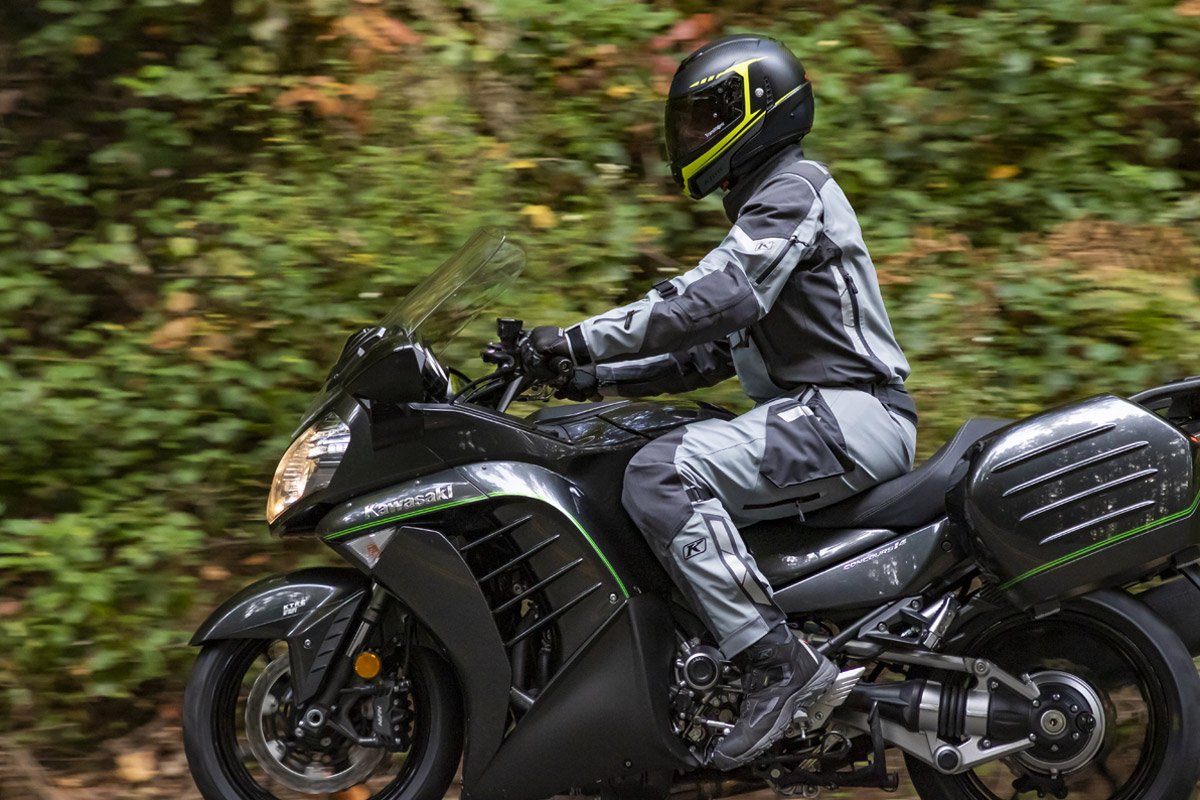 Klim Hardanger one-piece suit now here!
The Aerostich was, and is, a laminated suit. But with GORE-TEX® 3-layer, Pro-shell outer fabric, the Klim Hardanger suit takes the one-piece concept to a new level. Designed to be worn over your casual or business clothing, it takes just seconds to get in to and out of the suit, using a full-length zip that runs down from the neck to the left foot. Because you will nearly always be wearing clothing underneath, a suit like this needs to be well vented. And with no less than 14 separate vents it is. It is almost as well endowed with pockets. For anti-abrasion protection, the Hardanger is made from heavy-duty, 750 dernier, full-fat Cordura. For impact protection you get the latest, vented, D30 armour in the shoulders, elbows, hips, knees and back. Adjusters abound on the Hardanger; there's almost no area that cannot be adjusted. What the Hardanger will not do is keep you warm. It is very much a shell garment. If you want to raise the emperature in the Hardanger, you will need to layer up and, of course, there are many ways to do this. For many years, we at Motolegends have sought a modern, more technical version of the Aerostich suit. Others have tried and failed, but to us it is clear that Klim has cracked it. It's a brilliant suit; a future classic.
Read our review of the Klim Hardanger suit
.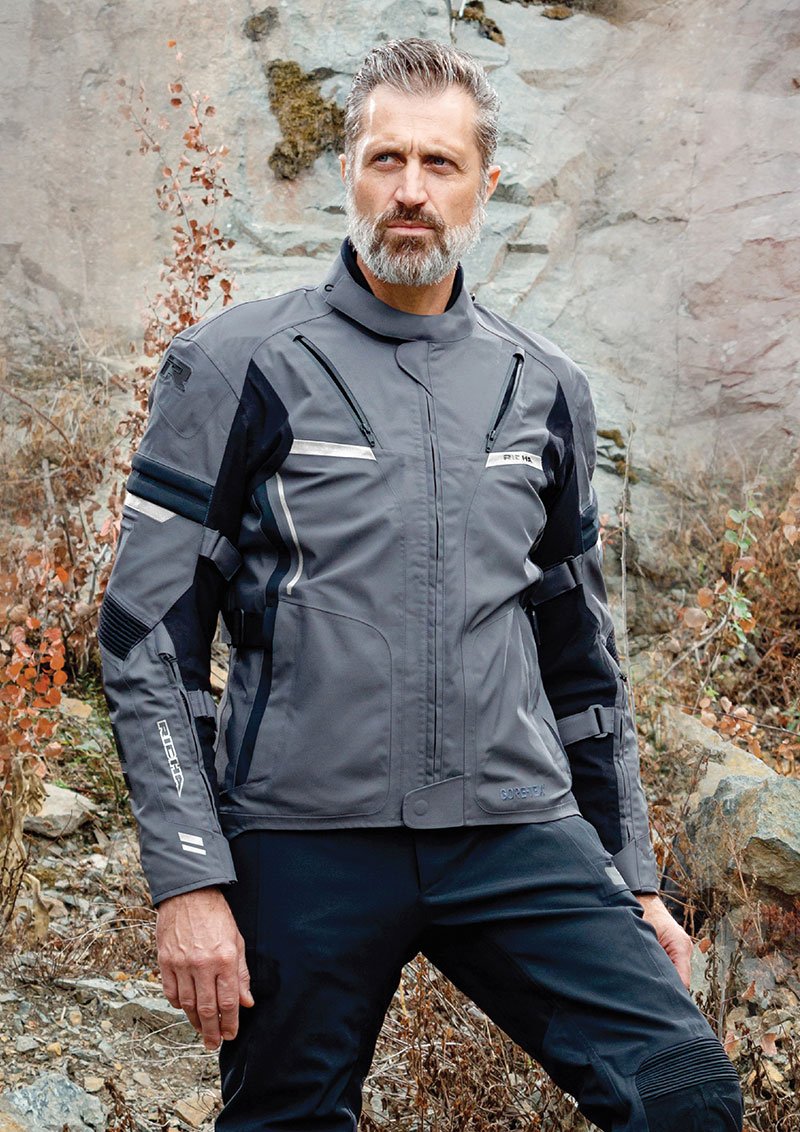 Richa Arc GTX jacket just arrived
The Richa Arc GTX is a high-end, laminated GORE-TEX® jacket with a specification to match the best that brands like Rukka, Klim and Stadler have to offer. The jacket is constructed from a 2-layer GORE-TEX® laminate for comfort. It has a slightly sporty cut, with pre-curved sleeves. The jacket sits short at the front and long at the back, as a motorcycle jacket should. And, as you would imagine, it comes with a 360º zip for attaching to any Richa pant. In the case of the Arc, that pant is the laminated Atlantic pant. Venting is plentiful, with vents up the sleeves, on the chest and on the back. For insulation, you get a removable, 3M™ Thinsulate™ thermal jacket. Protection comes in the form of D30 armour in the shoulders, elbows and back. The jacket is pre-prepared to take a chest protector. On the sleeves are panels of Superfabric for added abrasion resistance. 3M™ reflective panels help you stay visible in poor light. For comfort, there are concertina panels on the sleeves, above the elbows. The jacket is also equipped with a myriad of fit adjusters: at the waist, neck, sleeve ends and hem. The neck is Neoprene lined, for a soft finish and to keep rain out. The Arc comes with a two year warranty against faulty manufacture. There are longer warranties, but normally after two years any claim will be attributed to wear and tear. But, of course, the membrane itself is guaranteed for life.
Read our review of the Richa Arc GTX jacket
.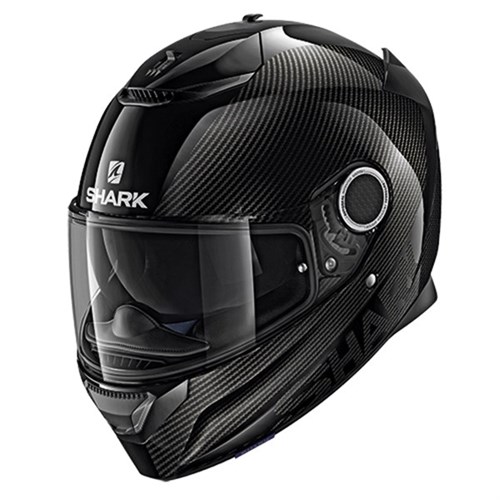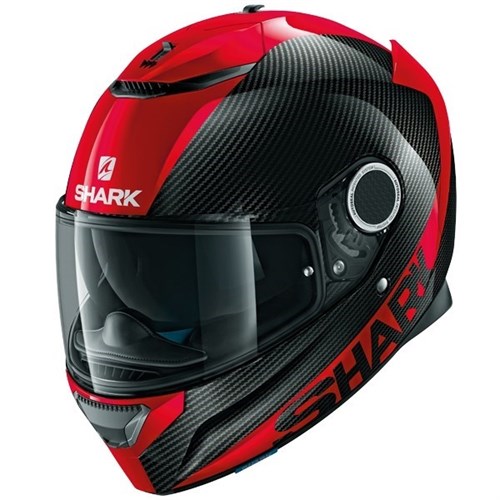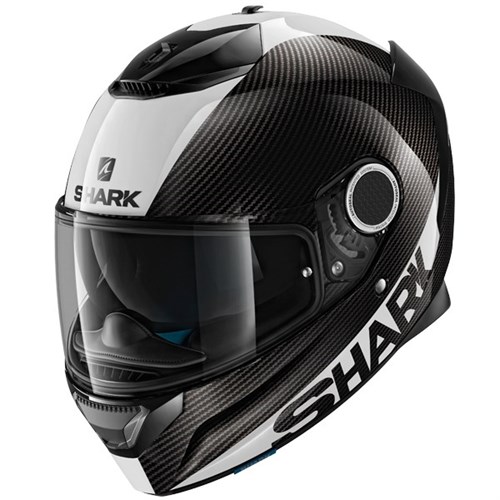 Shark Spartan Carbon price drop
We don't sell that many different brands or styles of helmets. We tend to be quite picky. We don't go near the budget stuff; it's a false economy. We will only work with the brands we trust, and even then we'll hand-pick the models we like. The Shark Spartan Carbon, therefore, is a helmet we like. It's a sports-touring helmet, albeit one that sits more at the sporty end of the spectrum. And it offers a lot for the money. It's comfortable, quiet, well-vented, lightweight, and comes with both a Pinlock and a drop-down sun visor. We've always thought that, at £369.99, the Spartan Carbon was well priced but, for reasons unknown to us, Shark has sanctioned a price reduction for a limited period. We don't know whether that's going to be a week or a month but, when the promotion is over, the price will go back up again.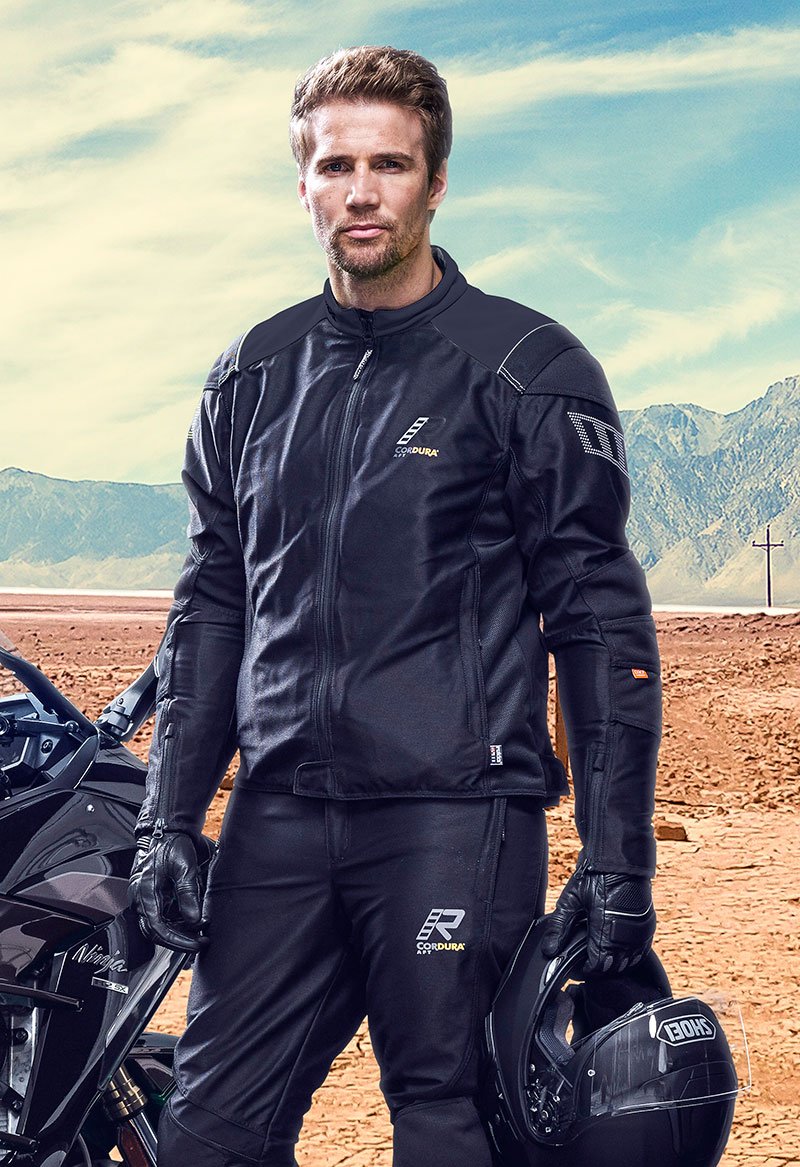 Rukka Forsair Pro jacket now in stock
The Rukka Forsair Pro jacket replaces Rukka's previous vented jacket that was simply called the Forsair. Now the original Forsair was an amazing jacket. Made from a knitted Cordura® called Cordura® AFT, the material has the strength of woven Cordura®, but with almost twice its breathability. This makes for a mesh jacket with the abrasion and tear resistance of a normal motorcycle jacket. But more importantly, unlike most mesh jackets, every single panel of the Forsair flows air. The only problem with the original Forsair was that it lacked structure. As a garment it was a bit limp. It worked, but it didn't wear like a protective jacket. The Forsair Pro jacket does, and that's largely down to the stretch panels that run up the flanks and down the sleeves, and in the back. There are double layers of AFT Cordura® on the elbows for extra strength, whilst D30 XTR armour comes as standard in the elbows and shoulders. There are pockets for back and chest protectors. Obviously, the Forsair Pro jacket has a connecting zip. The cuffs have adjusters, and you get two pockets, one of which has a waterproof compartment. The Forsair Pro is a much improved iteration of the original Forsair. The Rukka Forsair Pro jacket represents quite simply the ultimate combination of strength and breathability.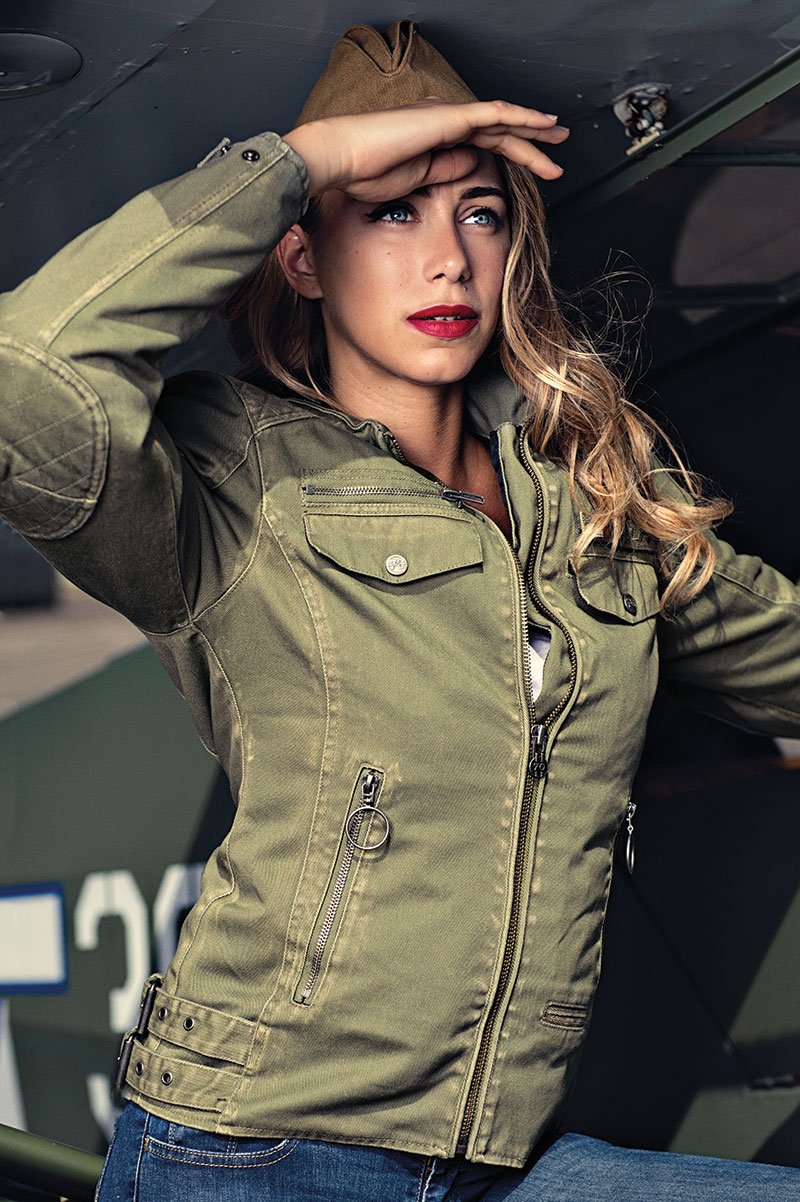 Segura Frida finally here!
The Frida is loosely based on an American M65 military field jacket. It's made from a highly abrasion resistant material called Serica that has been washed to give it a worn and used look. But whilst the Frida might look like a fashion or street jacket, it's been put together very much with motorcycling in mind. It comes equipped with a fixed, waterproof membrane, as well as a removable, 120g. aluminium-lined, thermal, inner jacket. Obviously, you get CE armour in the elbows and shoulders. There's a pocket for a back protector, but it doesn't come as standard. The detailing on the Frida is all important. First off, it's nicely shaped with curves where you want them; you also get adjusters on the hips. There are five pockets on the outside, two inside. In the neck, there's concealed hood. For comfort on the bike, the Frida has two zipped gussets at the back, that will stop it riding up when you're on the bike. We really like the diamond quilted panelling on the shoulders and elbows, but are not sure about the selection of Velcro badges that come with the jacket, and which you can wear on the right shoulder.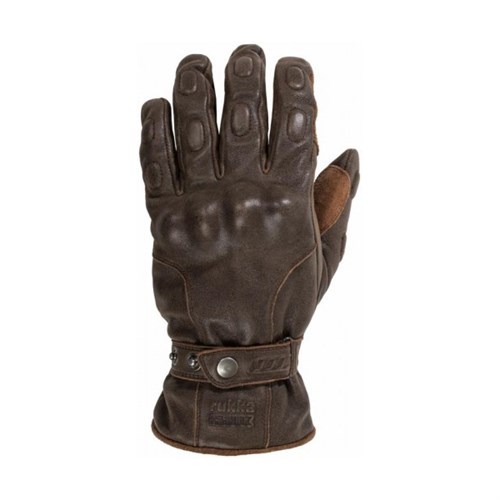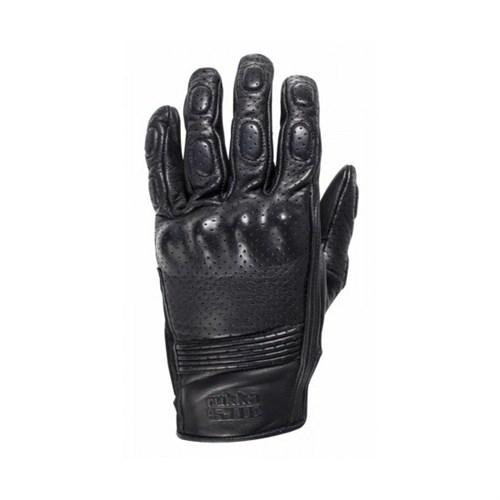 Rukka Beckwith and Bingham gloves
We all know Rukka. It's a great brand with a fearsome reputation for quality. The Finnish company makes some of the best quality, touring and commuting gear that money can buy. But nobody in their right mind would ever think of Rukka as a company that produces stylish gear. Well that's beginning to change. This year, Rukka has launched a range of super-cool, retro and urban gear. It's good looking, and great quality. There's a fantastic leather jacket in the range called the Markham and, to go with it, Rukka has produced two leather gloves; both of which come in both black and brown. They are both very much back-to-basics gloves. They both have knuckle protectors, and an assortment of layers of leather in specific areas. One glove is slightly shorter than the other in the wrist. The black glove is made from a very soft, smooth leather. The brown glove is made from a vintaged leather that's got more of an aged patina.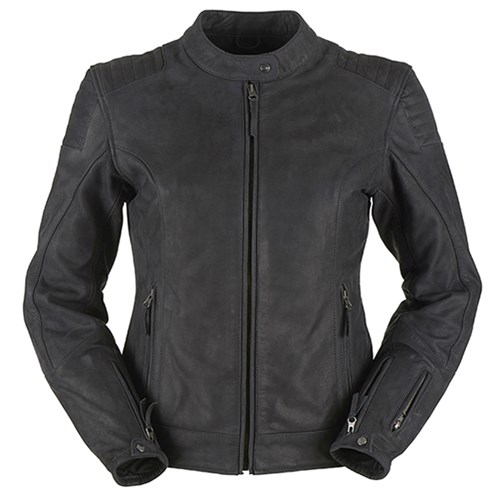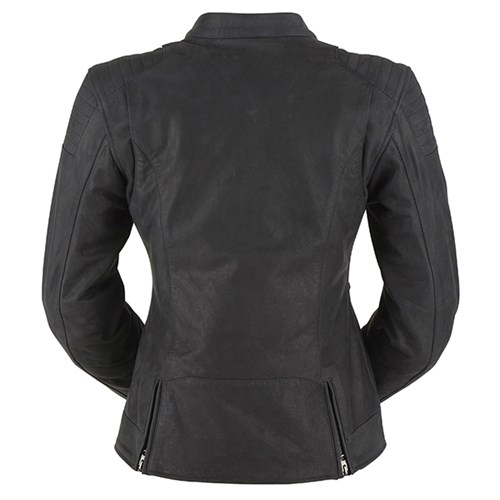 Furygan Debbie ladies jacket now in
We don't offer every jacket that is made by Furygan. In fact, we end up selecting ver few; and even fewer of their women's styles. But when we tested out the Debbie jacket, we liked it for two main reasons. The matt buffalo leather is really soft, which is vital if a women's jacket is to fit properly. The other important factor is the shape and cut; and again we thought the Debbie scored highly. This is a jacket that's easy to wear. It's comfortable and, of course, it's flattering. You get D3O in the shoulders and elbows, and a removable thermal liner that incorporates aluminium for extra insulation. Four pockets in total. A card pocket on the sleeve. Press stud and zip closure at the sleeves. A zipped gusset at the rear. The Debbie is a good-looking, proper biking jacket. And it wants for nothing in terms of its spec..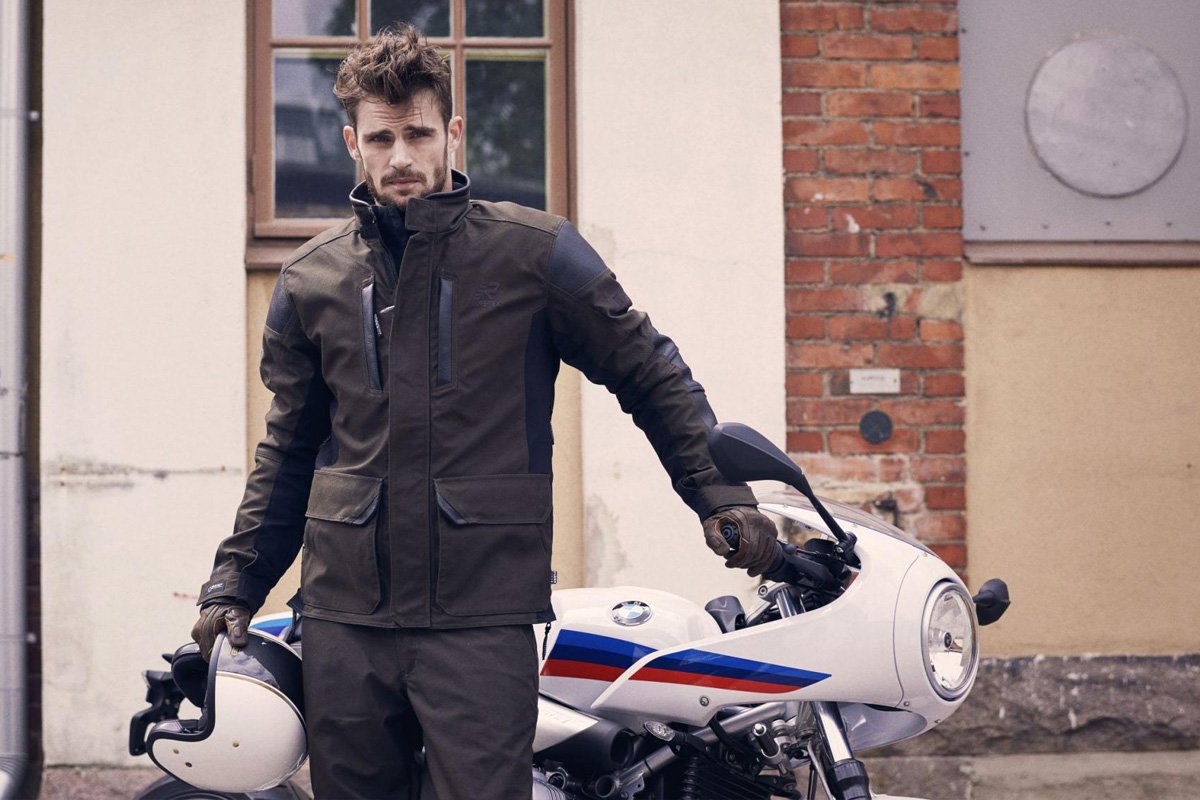 Rukka Melton jacket now here
The Rukka Melton jacket is exclusive in the UK to Motolegends. It's not the kind of jacket that you'd expect someone like Rukka to produce. It's more urban oriented than most Rukka jackets. The outer fabric is abrasion-resistant Cordura. On the sleeves and elbows you get layers of leather for extra protection. Waterproofing comes courtesy of a Gore-Tex, drop-liner membrane. For warmth, the Melton comes with a removable 60g. liner. You also get full-length venting zips up the flanks. Armour, of course, is all D30. So what is this jacket all about? Well, it's first and foremost a jacket for those who want to arrive at their destination not looking like a biker. It's the kind of jacket you could go to a meeting in. You could commute in it. It would look right on anything from a scooter to a Multistrada, or even a GS. There are lots of jackets out there that look like the Melton, but only the Melton comes with Rukka's uncompromising reputation for quality and reliability.
Read our review of the Rukka Melton jacket
.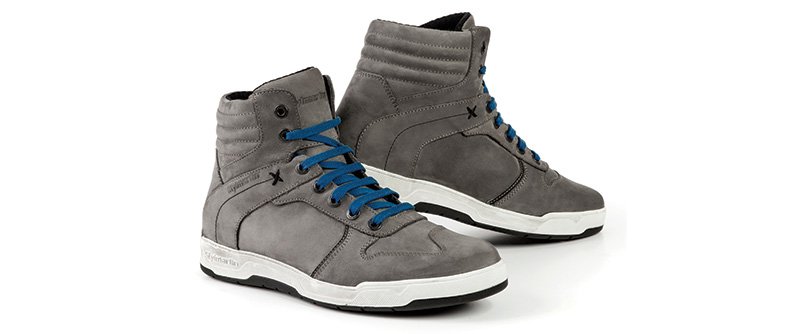 The Smoke. A new boot from Stylmartin
The world is not short of basketball-type, short boots. A lot of manufacturers have jumped on the bandwagon although, to be fair, it was probably Stylmartin who first made a motorcycle boot of this type. But what we really like about the Smoke is its nubuck leather, and its matt grey finish. It's not just a pretty face, though. It's got all the bits you'd expect in a proper bike boot. Like a waterproof membrane. Ankle protectors. And a changeable anatomic footbed. There are other boots like the Smoke, but we like its slightly high shaft, and its subtle looks.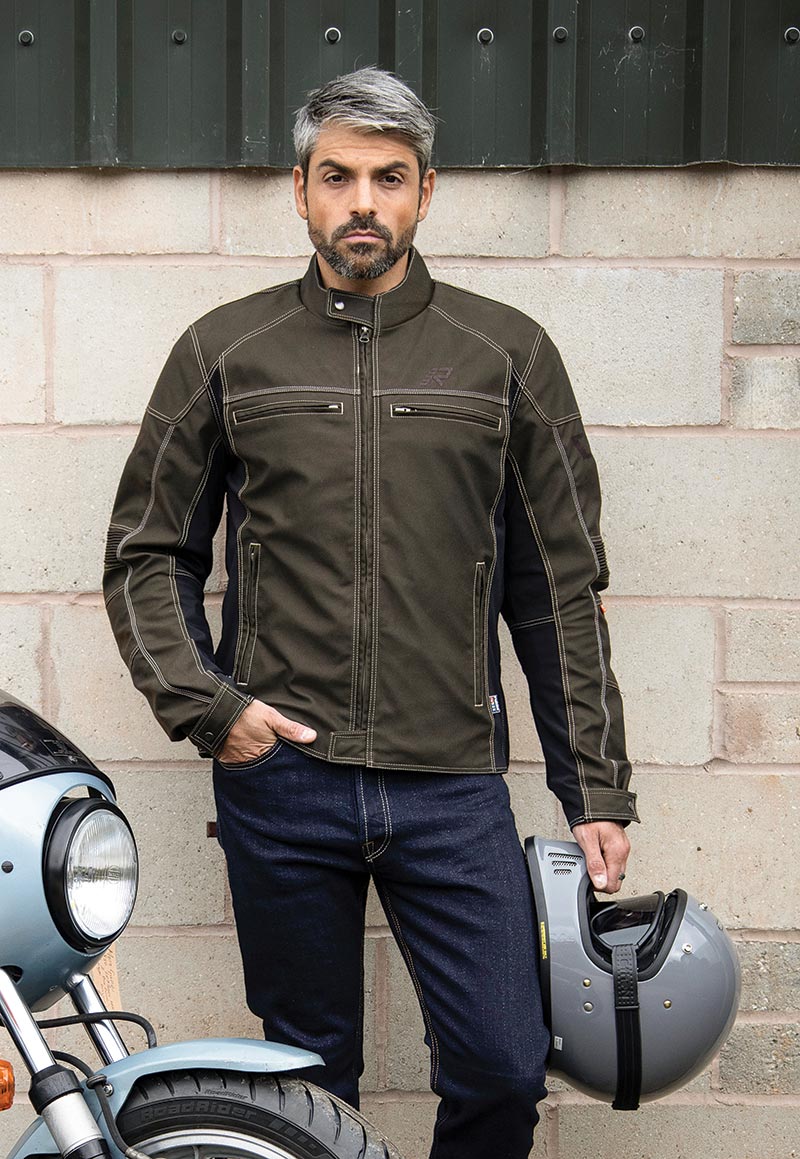 Rukka Raymond jacket now in stock
The Rukka Raymond is a highly breathable jacket that, in the UK, is exclusive to Motolegends. It reflects a new aesthetic from our Finnish friends. It won't be quite as breathable as their Forsair jacket, however. It has no waterproof or thermal lining, so it will be very nice to wear in hot weather but, importantly, the outer fabric is a standard Cordura 500 material, as opposed to the incredibly breathable, knitted Cordura that is used in the Forsair. The Rukka Raymond jacket does, though, have full-length ventilation zips running up the flanks on both sides. Of course, the Raymond has much more of a street look, so it's going to work much better than the Forsair with a pair of jeans. For more comfort and a better fit, you get stretch panels on the sides, up the sleeves and in the back. There are also accordion stretch panels above the elbows. D30 armour comes as standard in the elbows and shoulders. There's a pocket for a back protector, although it is not included. The bottom line is that this is a jacket for wearing on really hot days. It looks great, and it's going to be very protective; way more so than your average mesh jacket. Just be aware that in low temperatures you will get cold. And if it rains, you will get wet!
Read our review of the Rukka Raymond jacket
.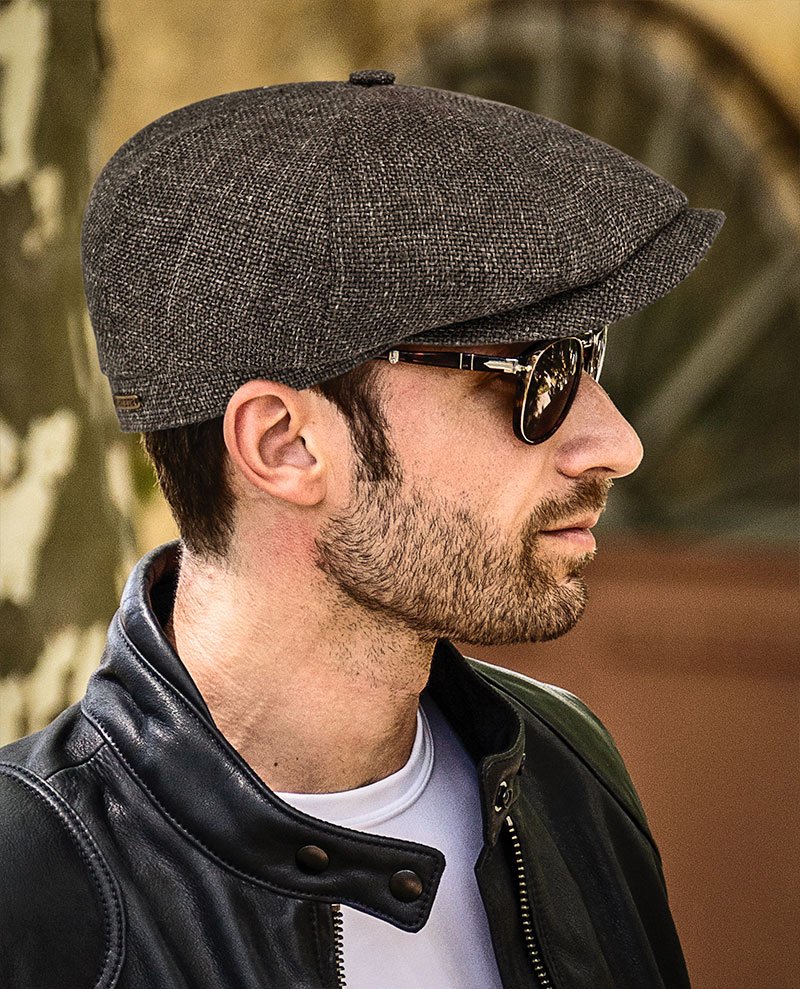 New season Stetson newsboy caps just arrived!
Here at Motolegends, we like our Stetsons. In truth, of course, I'm probably our biggest customer. I never go anywhere without one on. I often read in bed in one, sometimes only to find it under the duvet in the morning. Too much information, I'm sure! Anyway, six new 'newsboy' caps have recently arrived into stock. And two new baseball caps. A couple of hardy perennials, the leather caps, are ongoing. This is, technically, the Summer collection, so they're going to be a little lighter in weight. No Harris Tweeds in this delivery, for example. They are all now in the shop and on the website. Me, I'll simply take one of each. Except for the baseball caps. Too old to wear a baseball cap, I fear. I learned that from William Hague.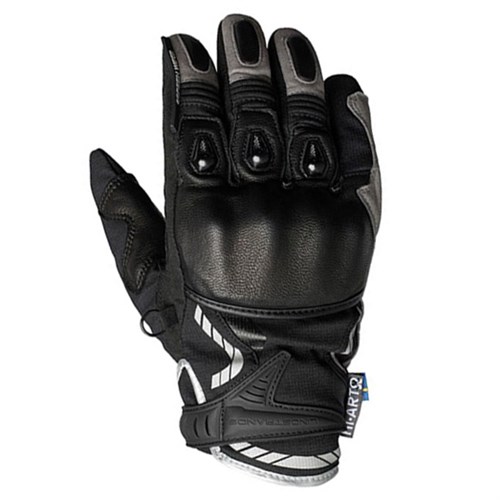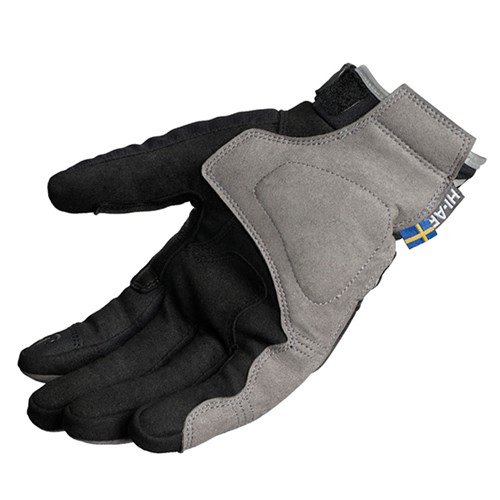 The Knock. A new glove from Halvarssons
The Knock glove is a short-cuffed, lightweight, summer glove that, as you would expect, comes without a waterproof membrane. They are CE approved, and have an extra layer of suede leather on the palm that sandwiches a layer of highly abrasion-resistant Hi-Art. Halvarssons uses a Skin Fit technology to ensure that the lining will not come out. The index finger is also touchscreen sensitive. For better finger articulation, there are concertina panels on the fingers. You get a large protector for the main knuckles and smaller protectors on the finger joints, the upper of which is vented for air flow. The gloves fasten with a Velcro plastic strap. Short summer gloves don't get much better than this, and the price is pretty amazing too.