WHAT'S NEW PUSSYCAT?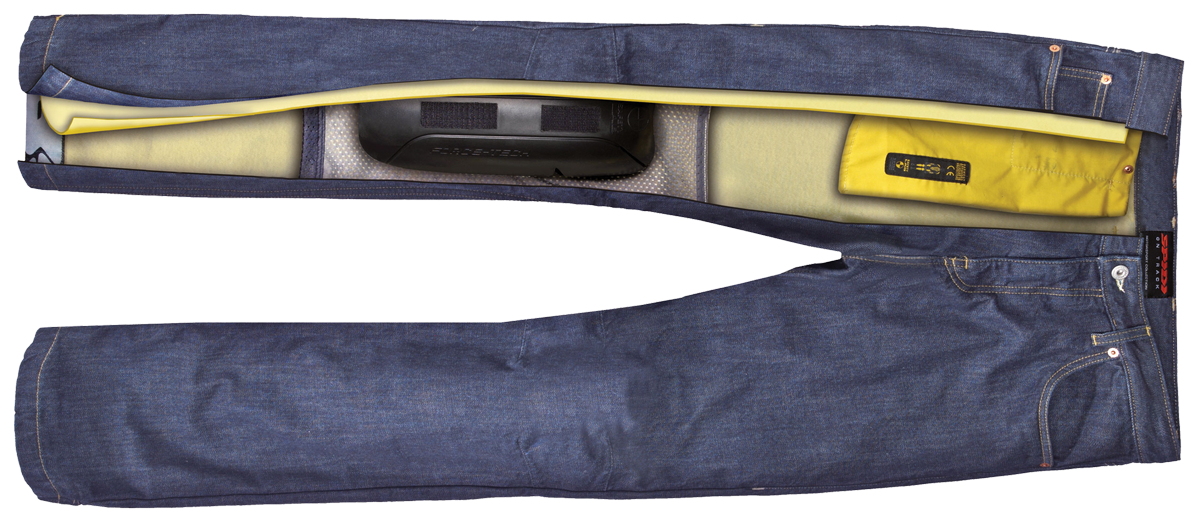 Why you shouldn't buy a Kevlar jean..
First thing we should clarify is that when we talk about a Kevlar jean, we mean any jean with a Kevlar or aramid lining. Kevlar is a brand name for a specific weave of aramid, but we often talk about Kevlar jeans in a generic sense, and that's how we are using the term here. Kevlar jeans are fine, but they are starting to feel a little like yesterday's technology. They do their job well, but they can be cumbersome, heavy and sometimes unflattering. And in the kind of heat we've been experiencing recently, they can be darned uncomfortable. In our view, most motorcyclists would be much better served by what we call a single-layer jean; that's a jean that has a strong fibre woven directly into the denim. These jeans feel like a street jean that you would buy on the high street. They flow the air like a mesh pant, but often have levels of abrasion resistance way beyond leather. If you'd like to know more about single-layer jeans, read our article. It's on the front page of our website, or you can go to it directly by clicking below.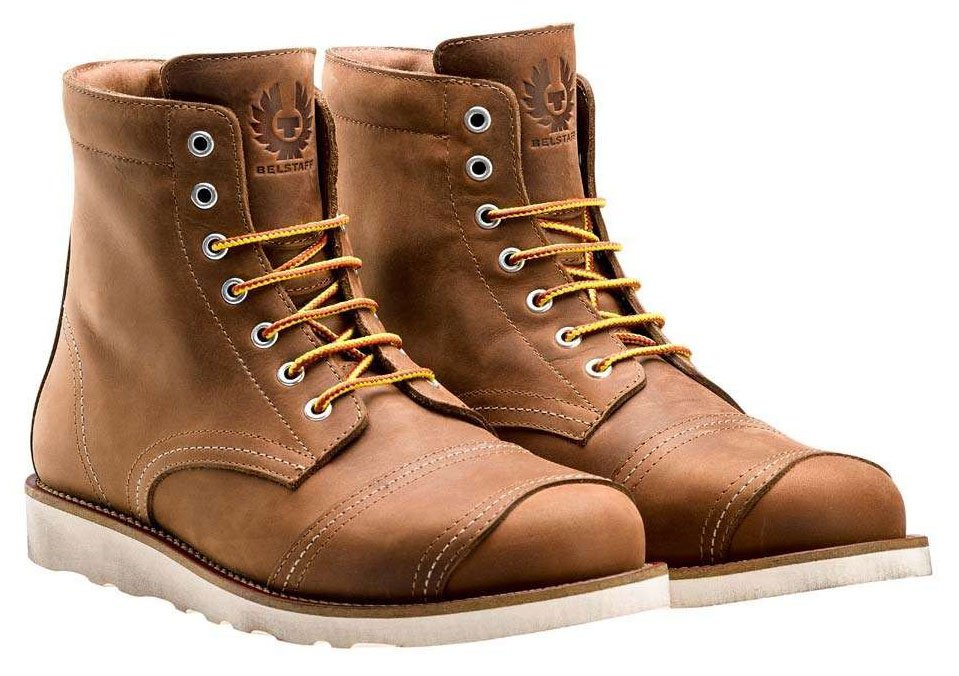 THE BELSTAFF ANDERSON SHORT BOOT
The Anderson is proof positive, if ever it were needed, that here at Motolegends we don't always get it right. Because this isn't really a new boot at all; it's been around for a while. But when it first saw it, we kind of ignored it. No idea why really. Well, we came across it recently whilst surfing the net. We saw a video about the boot on Revzilla, (Hi, my name's Anthony). Of course, Anthony can make an empty and broken biro pen sound like something you can't live without, but there was no doubting that it's a good looking boot. It's made from an oak brown, suede-out Buffalo hide. The leather is between 1.4 and 1.6mm in thickness, and it's been treated for waterproofing. You get proper protectors in the toe, heel and ankle areas, and there's a gear change panel that runs across the toe area on both boots. Not always a fan of white soles, but it works on the Anderson, and what we particularly like is that it doesn't have a heel, so that you can move your feet up and down the pegs without any problem. Roland Sands had a similar sole on his boots, and we know many people liked it. For the hot weather, theses boots are mesh lined. The sole is properly welted to the boot, and is anti-slip. They're not cheap, but they are very stylish. But what we like is how light and easy they are to wear. You could ride in these all day, and wouldn't feel a need to take them off when you got home, and put your feet up. We really, really like them, and we are a little upset we didn't offer them before. They're available in all sizes, both online and in the shop.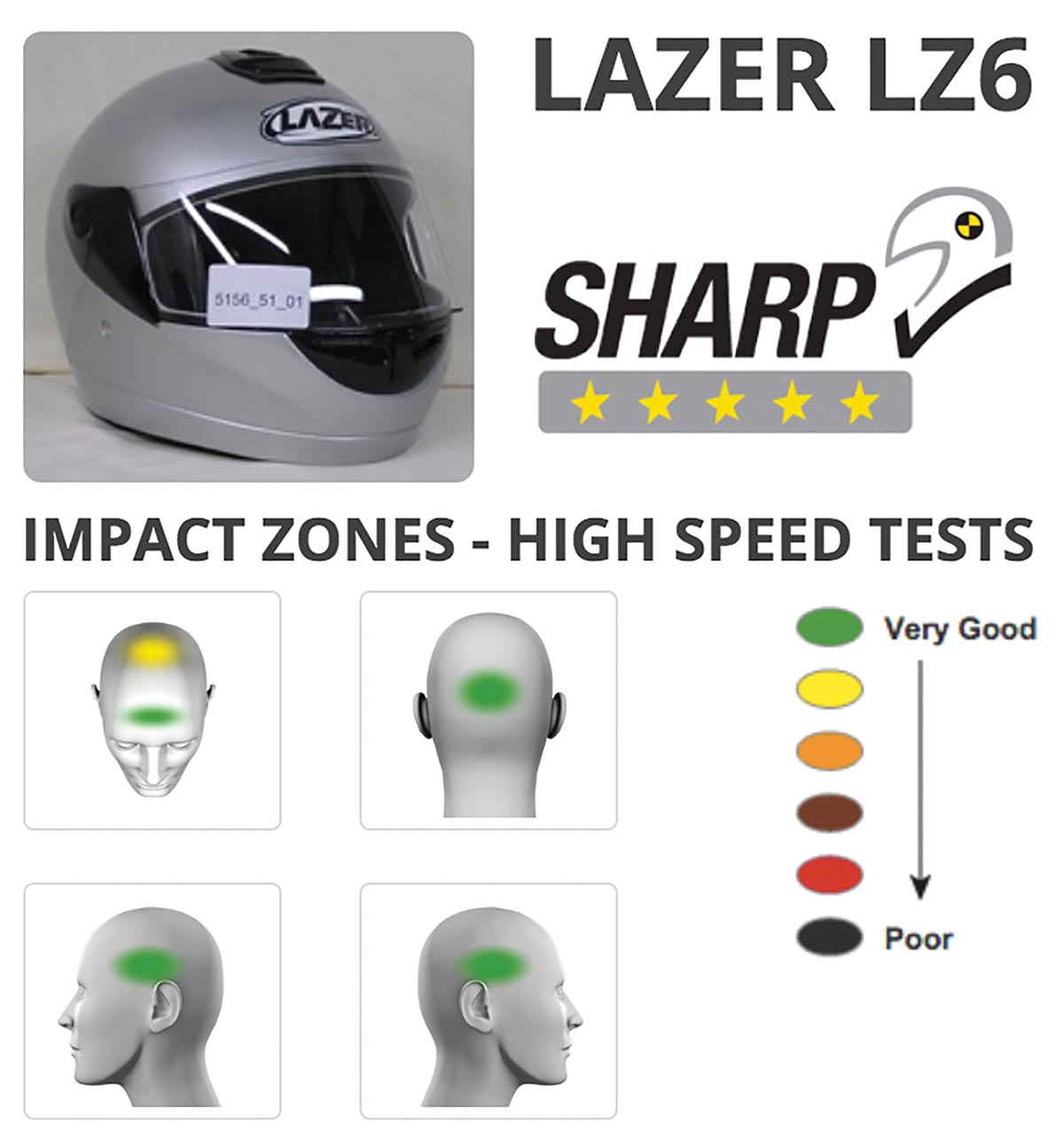 Why we don't really rate the SHARP helmet test
We've never really been great fans of the SHARP test and its star rating system. To tell the truth, it never felt right. Some helmets we wouldn't have allowed in the building scored five stars, whilst other helmets we knew to be well made by serious players scored less well. It didn't quite add up. We also knew that many experienced helmet people in the industry remained similarly unconvinced. And so we decided to do a bit of research, and discovered that there's quite a bit of uneasiness with regard to the SHARP test methodology. If SHARP really did help us all to make better choices we would get behind it 100%. But we don't think it does this. And if the results generated by the tests don't reflect reality, there's a danger, in theory at least, that SHARP could actually be doing more harm than good. You can draw your own conclusions, but if you want to read our article on the subject, click below, or visit the front page of the website.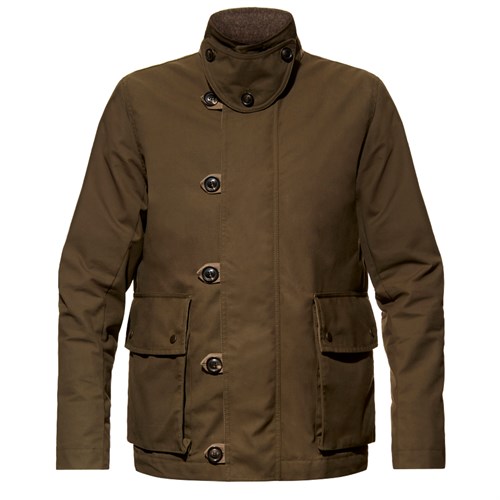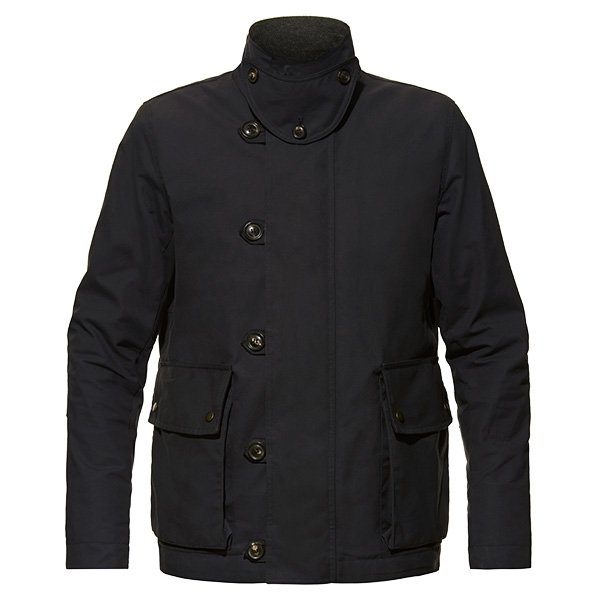 25% off Ashley Watson's amazing Eversholt jacket
We think Ashley Watson has done a brilliant job with his first ever motorcycle jacket. It's a work of art that has been painstakingly designed and put together. It looks the part, but it also does the business, with levels of protection that no other maker of wax cotton jackets can get close to.
You can read all about the jacket by clicking below. It's not what we'd call a summer jacket by any means, but it is a masterpiece.
However, our distributor has contacted us with an offer that we simply could not turn down.
Now, Ashley has decided to change his distribution strategy, and this has left the current supplier with excess inventory. He has offered all his jackets to to us at 25% off the usual price, meaning that you can, for a very short time only, buy Ashley's jacket for £395 instead of £535. That's a immense saving of £140!
But this is a one-time only deal. There aren't huge numbers involved, especially when you factor in five sizes across both colourways. In fact, one size is sold out already.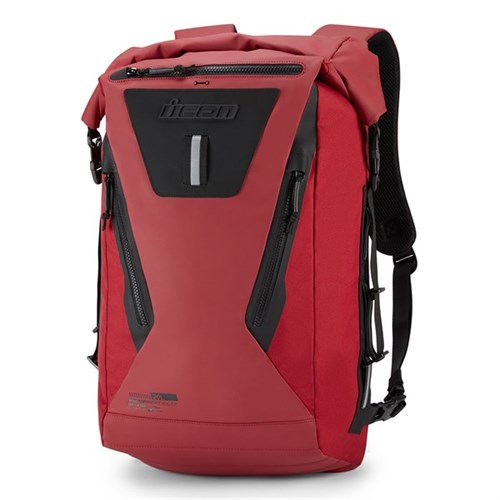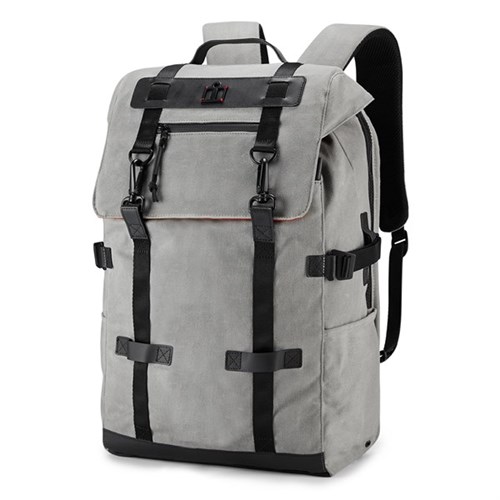 Two new backpacks from Icon
American brand Icon has recently launched two new backpacks.
The first is a 20 litre affair called the Dreadnaught. It's a relatively simple bag, but with its roll-top closure, it should be completely waterproof. It has a large central compartment, as well as a number of smaller pockets, one of which will take a 15" laptop. It comes with a small tool roll and has a bladder pocket. It has also been designed to take a D3O protector if you don't want to wear one in your jacket. The front closure is by means of Fidlock magnetic buckle (quite trick). We like this bag. It's as big as you're going to need on the bike, and it looks way cooler than a Kriega.
The Advocat 2 feels like a larger bag, although its capacity is the same 20 litres, but it has more compartments and bells and whistles, including a properly padded laptop compartment. The material is a waxed canvas, and there's some nice leather trim detailing. Like the Dreadnaught, it's compatible with a bladder, and comes with a tool roll, but it has large external pockets for carrying a water bottle and neat touches like compression straps. We like the buckle closure and the more rigid construction of the Advocat 2, although technically it's not waterproof. It's a bit cooler to wear than the Dreadnaught but, in a UK climate, the Dreadnaught might be useable more of the time. The Advokat 2 does feel more useful and, in truth, larger, although the main compartment actually isn't.
The Dreadnaught comes in red (ICO068RED) or black (ICO065BLK), and costs £119.99. The grey Advokat 2 backpack costs £149.99 (ICO067). Click below for more details.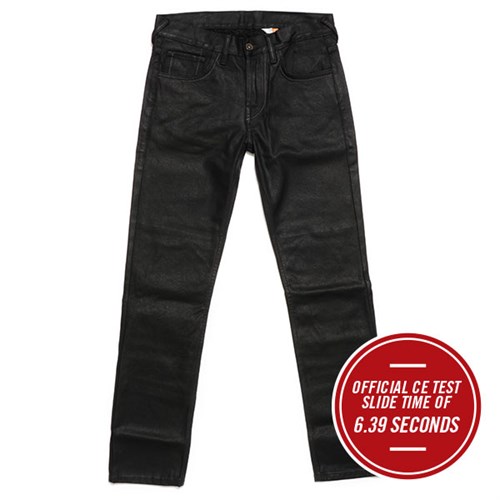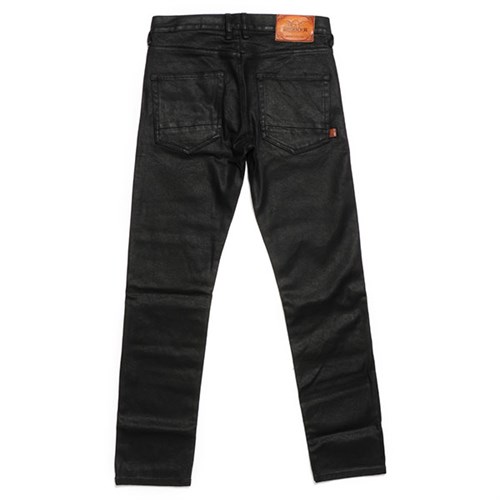 We're now stocking the Rokkertech jean in black
No two ways about it; we're the poster boys for Rokker's Rokkertech jeans. We love them. They look like a jean. They feel like a jean, and they wear like a jean. But they deliver abrasion resistance way beyond that of a leather pant. We're now offering the Rokkertech in black. Now the black's been around for quite a while, but until now we've only done the blue versions. If we're really honest, we've always been a bit dubious about the black jean. You see it's not just a black denim; they have a kind of coating on them that gives them a shiny, almost wet, look. You'd think that they were waterproof, but they're actually not. We also don't think they'll flow air quite as well as the standard blue jeans. But we've had quite a few customers special order them, and clearly some people prefer them to the regular denim. Well, we've now got a reasonable stock Of them in all the key sizes. So if you prefer black denim to blue, you should perhaps come and see them, and maybe even try a pair on.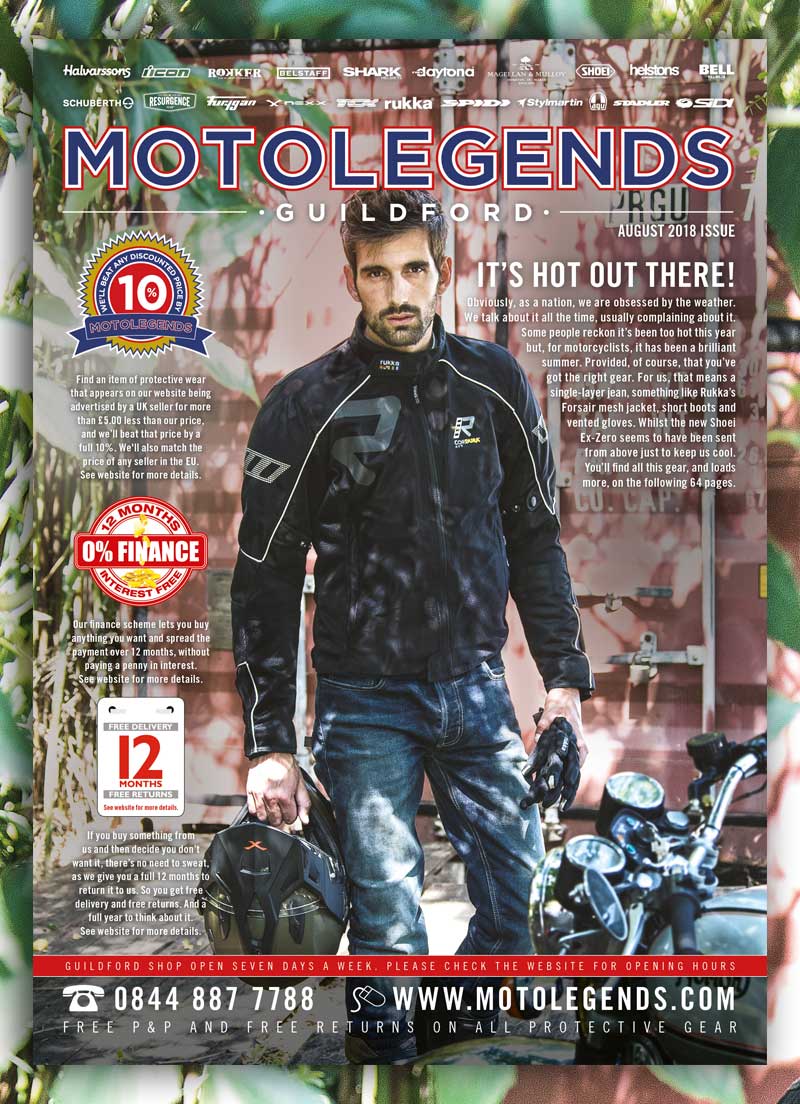 Latest August catalogue out now. Sign up or view online
In the future, we're going to be producing catalogues less regularly than we used to. We'll also not be inserting them into the motorcycle magazines as much as we did. But the catalogues we do print, will be bigger and better than before. The latest catalogue, our August issue, runs to 64 pages. We've managed to squeeze in stuff from just about every brand we offer. We've also got some interesting editorials that you might find interesting. We've done some research into the SHARP helmet tests, and you may be surprised to learn our findings. There's a piece about Kevlar vs single-layer jeans. And we've written an article about staying cool in the amazing weather we've been having. If you haven't read the latest catalogue, you might want to subscribe. Or you can download it, and read it online. For either option, click below.