Why you shouldn't buy a pair of Kevlar motorycle jeans
Published on: 26/06/2018 13:18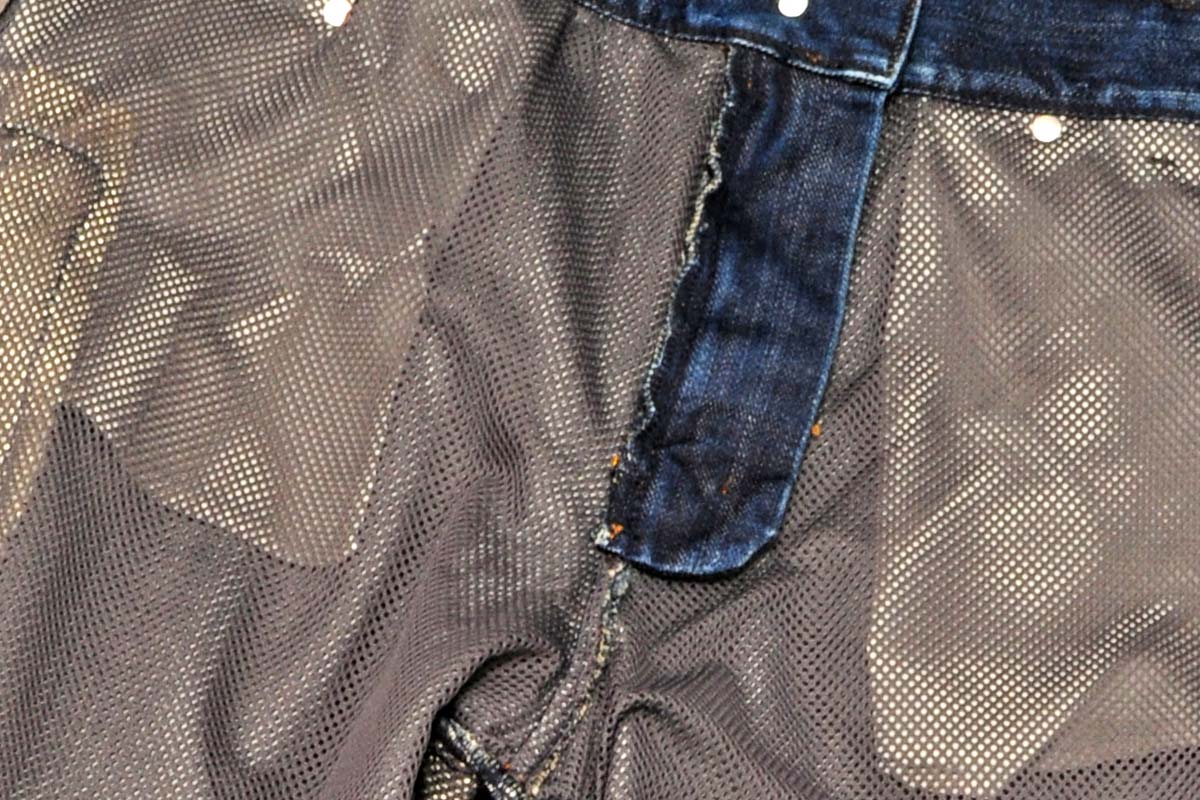 WHY YOU SHOULDN'T BUY A PAIR OF KEVLAR MOTORCYCLE JEANS
AND SHOULD CONSIDER A SINGLE-LAYER JEAN INSTEAD

Now let me be clear about this; I'm using Kevlar as the best known example of an aramid weave. Kevlar is a very fine aramid weave; I'm not taking a pop at DuPont. My point is that, certainly at this time of year, any kind of lined jean will be hot and, for most bikers, life will be more comfortable in what we call a single-layer jean.
Let me go back a while; perhaps 25 years ago. I remember buying my first pair of protective jeans from America. I was very excited about them; nobody I knew wore jeans on their bike. I thought that I looked really cool in them.
Looking back, I now realise they were hideous. They were so heavy I had to wear braces to keep them up. I don't think 'skinny' was the fashion back then, but these pants must have been a foot wide. The thickness of the lining was about the same as the stuff you put in the roof for insulation. Which might explain why I could barely walk in them, and why my hot sweats were menopausal in their persistence and regularity.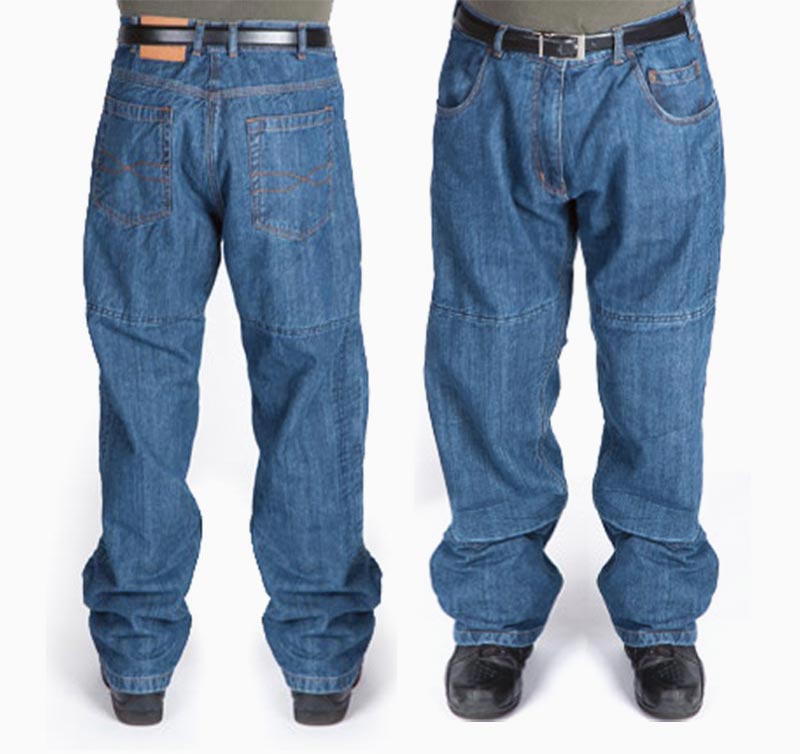 These jeans are similar to my very first pair of protective riding jeans. Not cool!
Today's lined jeans are much better and much nicer to wear.
For the sake of clarity, and in the hope that I can avoid being sued by DuPont, let me clarify the whole Kevlar thing. Kevlar is a brand name for a weave of aramid fibres. These weaves are very strong. They don't tear easily, they are very puncture resistant, and they resist abrasion. There are, in fact, many aramid weaves in the motorcycle market in addition to Kevlar. Bullitt jeans use a weave called Covec, for example. One of the best is Pekev, which is the name of the weave used by Resurgence
The industry has a test called the 'Cambridge Test' that measures abrasion resistance. A piece of material is lowered onto a sanding belt, and the time it takes for that material to wear through is known as a 'slide' time.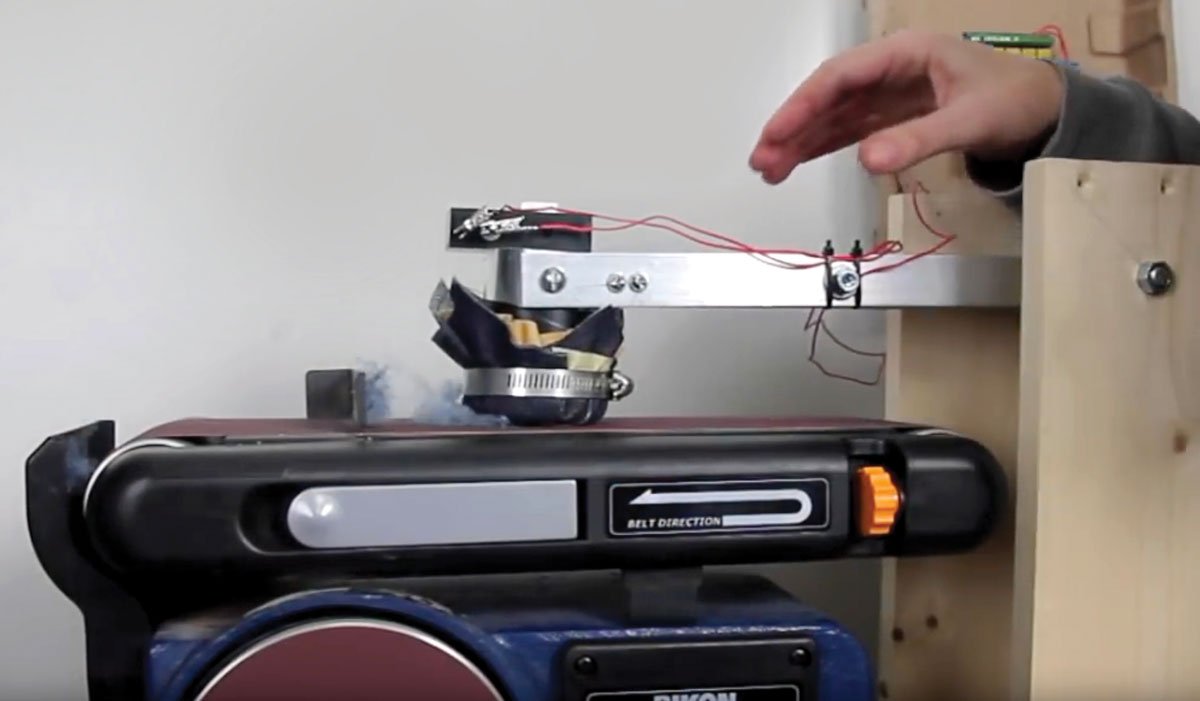 The Cambridge abrasion test.
Not every manufacturer test its jeans for abrasion; in fact, by far the majority do not. But a weave like Resurgence's Pekev records a 'slide' time of 10.83 seconds. Now that's impressive, because that's twice as long as leather. And leather is way over the top for normal road riding. The slide time on leather is normally between 4-5 seconds.
Obviously not all lined jeans record such impressive times. It depends on the thickness of the material but, importantly, you need to be mindful that some lined jeans are very sparsely lined. On many occasions, we have refused to sell a jean because there was only a tiny slither of aramid in the bum. The only way you can ever tell is to turn the jeans inside out, and see how far the lining goes.
Our pet hate is those jeans that look like motorcycle jeans, and which have impact protectors in the knees, but which have no anti-abrasion lining at all. They're actually 100% cotton. Apologies, i'm digressing.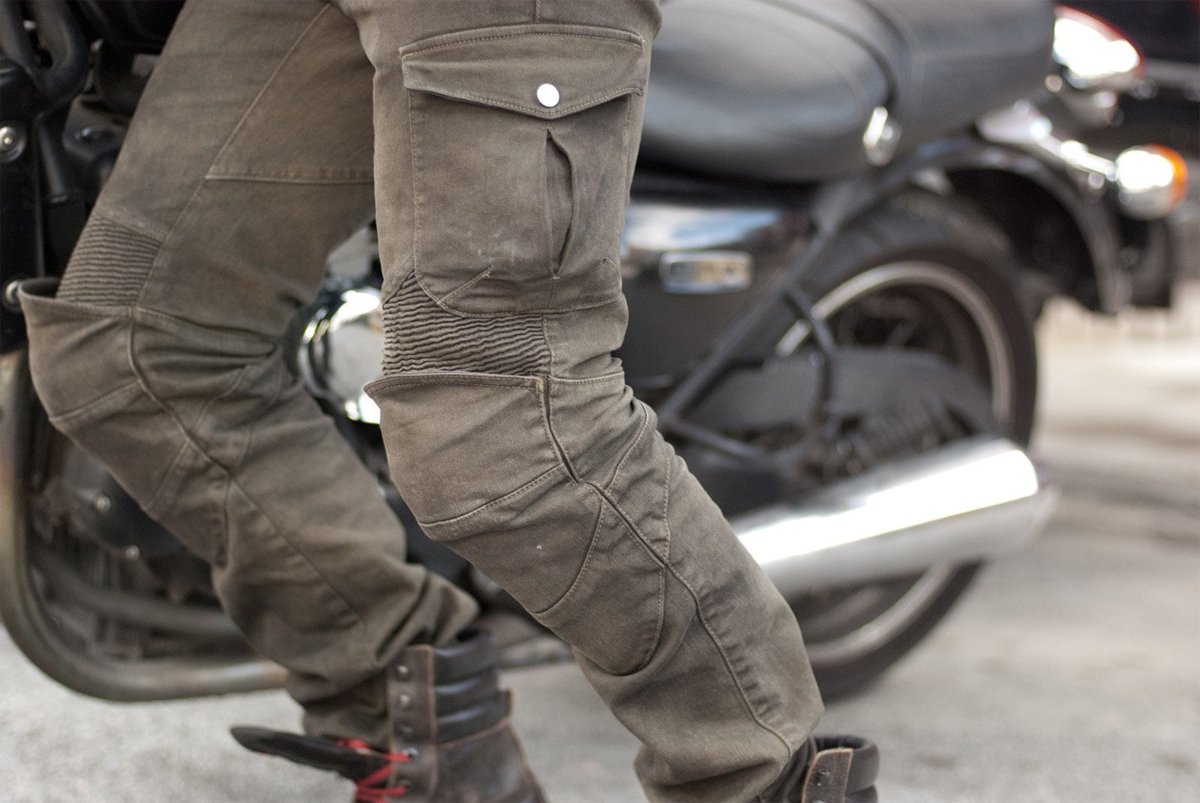 Jeans that look like motorcycle jeans, but are actually not motorycle jeans!
But what all aramid jeans have in common is that, by definition, they are lined. And when it's hot, or just very warm even, nobody wants to ride around in a lined trouser. Jeans that come 100% lined will be warmer usually than those with, say, a 60% lining but both will make you warmer than you want to be. They'll also make the jeans heavier, less breathable, and hence sweatier.
Now when the only alternative was a leather pant or a full-on motorcycle trousers, these jeans made a lot of sense. The good ones looked like a pair of Levis. You could walk around in them, and nobody was the the wiser.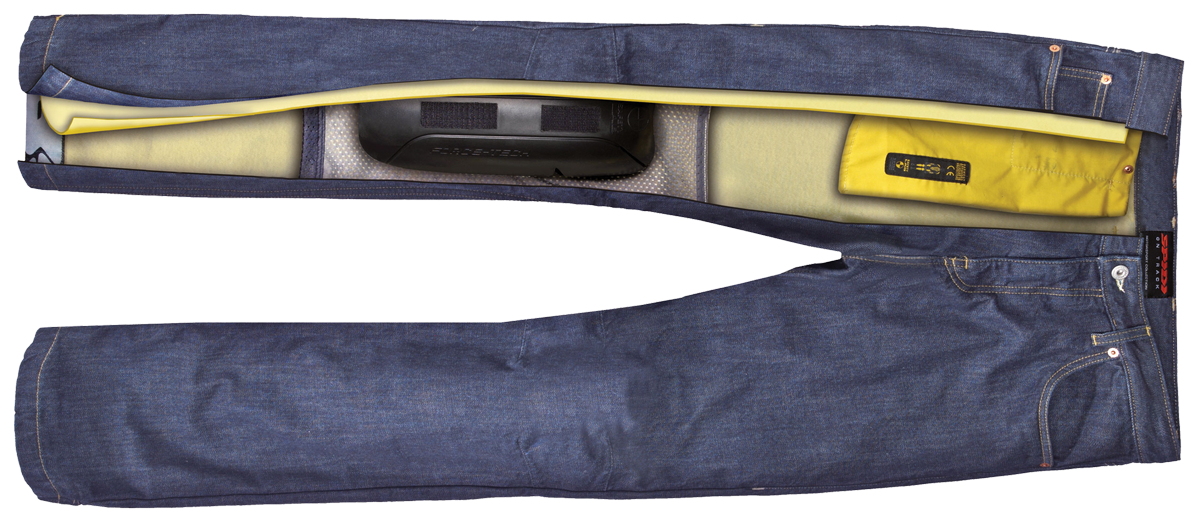 This is how, traditionally, a Kevlar riding jean has been constructed. There's an outer denim layer, and then a lining that is constructed from something like Kevlar.
But now there's an option, and it's called a single-layer jean.
Now in a single-layer jean, the strong fibre (an aramid, or a UHMWPE), is woven into the fabric. The warp ( one direction) might be a cotton, but then the weft (another direction) would be something a lot stronger.
The main benefit of a single-layer jean is that it's much nicer, lighter and easier to wear. In fact, the best ones feel no different to a standard pair of jeans; just a bit sturdier perhaps. They won't add bulk to your legs, and when you're riding, they'll flow the air more like a mesh pant than a traditional motorcycle trouser.
In fact, single-layer jeans in one form or another have been around for a number of years. The problem has been, though, that they weren't particularly strong. They would use a material like Cordura that would make them way stronger than shop jeans; but in truth they still weren't up to the demands of serious motorcycling.
But as the technology has developed, so has the strength of the fibres used in jeans. Today, there are many options. They vary in style, price and strength and so, as motorcyclist, it's difficult to know which are the most appropriate.
So we thought we'd share with you what we know. Of course, we don't have an intimate knowledge of all the brands of single-layer jean, although we have selected those we consider to be the best.
In our world, at the lower end when it comes to abrasion, are the jeans woven with a mix of cotton and Cordura.
From Spidi in italy, we do a jean called the J&Tracker. It's nicely styled, with a faded wash that is not overly aggressive. It's very light, and really does not feel any different to a shop jean. But it's official slide time on the Cambridge Test is just 2.1 seconds. In our view, that's not enough for serious road riding. Nobody wants to come off the bike, but if it happened at 70mph, I would want to be wearing something more robust.
But if all you ever do is potter about on your Bonnie, or ride around town, then they may well be up to the job. And they'll be sooooo much better than shop jeans, which will normally record less than half a second on the Cambridge Test. The jeans are not expensive, and come with armour. They will be cool to ride in, they will be nice to walk around in, and they may be just what you're looking for.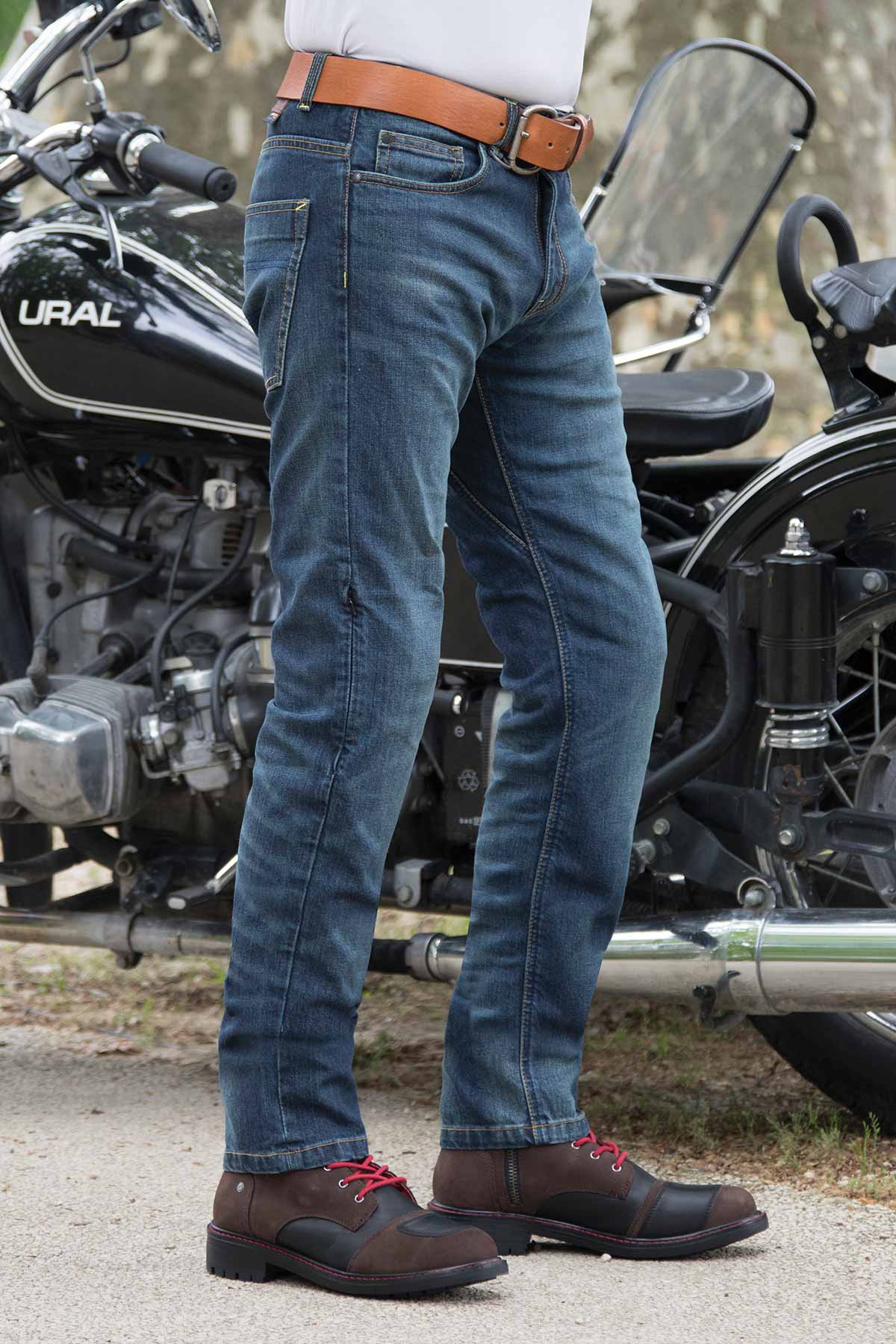 A new single-layer jean that came out earlier this year from Halvarssons is called the Macan. It's woven from a mix of cotton and an un-named aramid fibre. The result is a jean that, by our reckoning, has a slide time of around four seconds. We can't be 100% sure of this, but it meets the new CE standard at the highest AAA rating, and we know of jeans that meet the lower AA standard that record a four second slide time, so we're pretty confident we're in the right ballpark.
They're not the sexiest jean on the market. In typical Halvarssons fashion, they're not slim fit, but they're not baggy either. They look good on. The denim has a pleasing wash, but they're a little heavier than some single-layer jeans. Still much nicer to wear than a lined jean, though. The price is pretty reasonable. Halvarssons always seems to get the price/quality equation about right.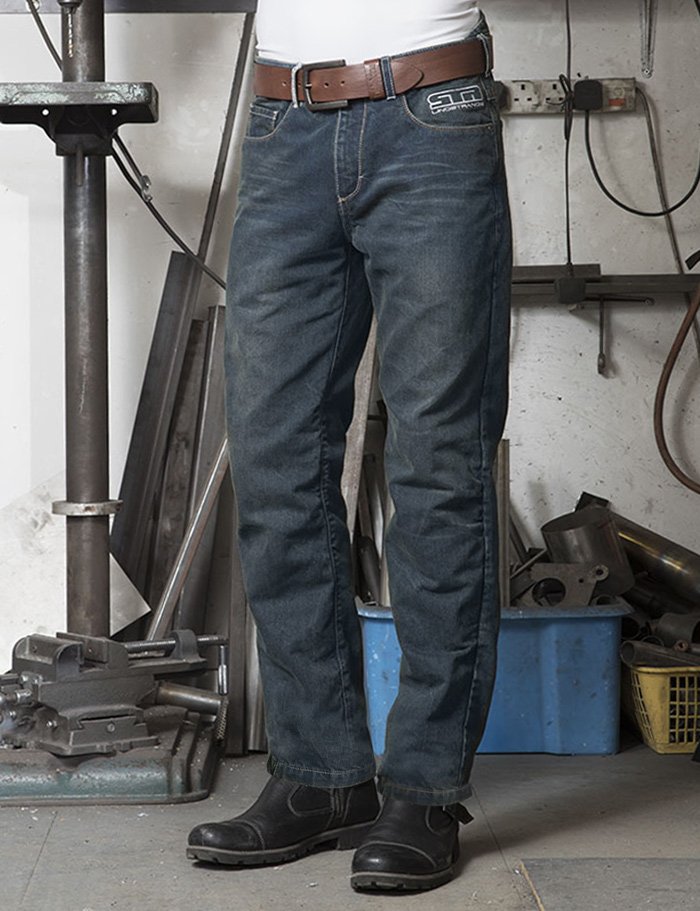 A few weeks ago, (May 2018), Spidi released its second single-layer jean. It's called the J&Dyneema, and the fibre that is woven into the cotton is a material called, funnily enough, Dyneema. This is a brand name for a particular UHMWPE (Ultra High Molecular Weight Polyethylene). Dyneema is very strong, stronger than carbon steel, yet light enough to float on water.
In the Spidi jean, it delivers an official slide time of 4.1 seconds. Spidi calls the jean black. We call it a very, very, very dark blue. The cut is slim; the jeans look very stylish and come with knee armour. They're more expensive than the Halvarssons jeans and, in our book, are getting into Rokker territory in terms of cost. But the Spidis look great, they're well up to the job on the road, they're nice to wear, and if you want black (we still think they're dark blue), these may be the jeans to go for. They only come in a 32" leg, however.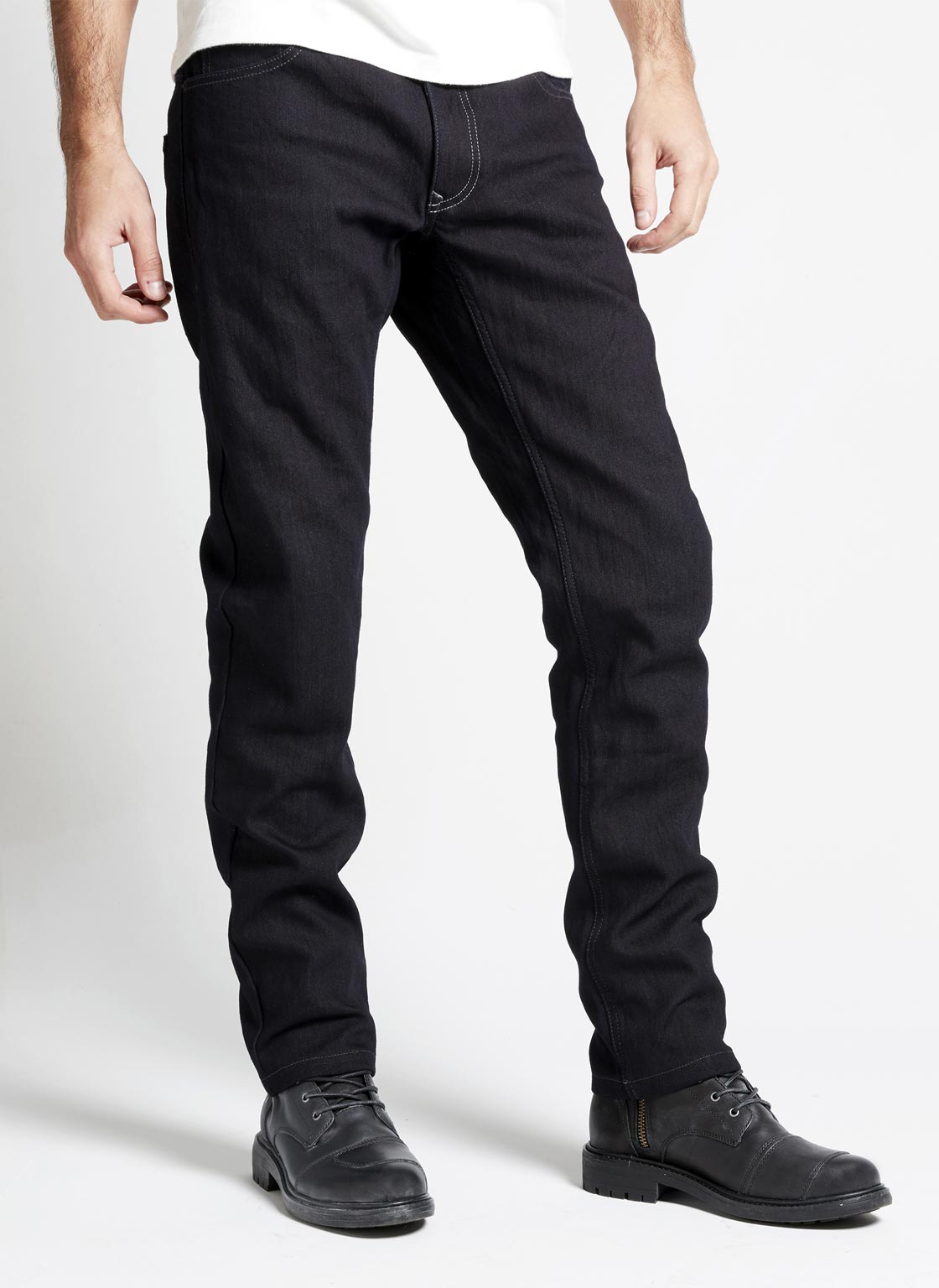 As I write this, the brand at the top of the single-layer tree is Swiss company Rokker. They have three different single-layer pants, and they're all brilliant.
Their Revolution jean is made from Dynatec. Its USP is that the single-layer outer fabric has laminated to it a waterproof/windproof membrane known as C-Change, from Schoeller Industries.
It makes the jean about as waterproof as any biking pant you've ever worn; even a Rukka pant. We have customers who have ridden in them for six hours or more in torrential rain without getting wet.
They have a loose-ish 501 fit but, in truth, because of the bonded membrane, they don't wear quite like a regular denim; they're a touch stiffer. But if that's the price of a waterproof jean, so be it. We've sold well over a 1500 pairs, and owners rave about them.
They have a respectable 3.15 second slide time. They do have one weakness, though. When it's really hot (high twenties and into the thirties), the membrane does impede perspiration. They can get a little sticky. A pair off full-length, mesh pants help a lot, but ultra warm days are not what the Revolutions were designed for. For the rest of the time, though, they're simply brilliant. Especially, here in the UK where we're no strangers to the rain.
Given the price of street jeans, the Revolutions are not cheap. But they are remarkable, and if you want a waterproof jean with good abrasion resistance, this is what you'll have to pay. They come in a nice wooden box, by the way.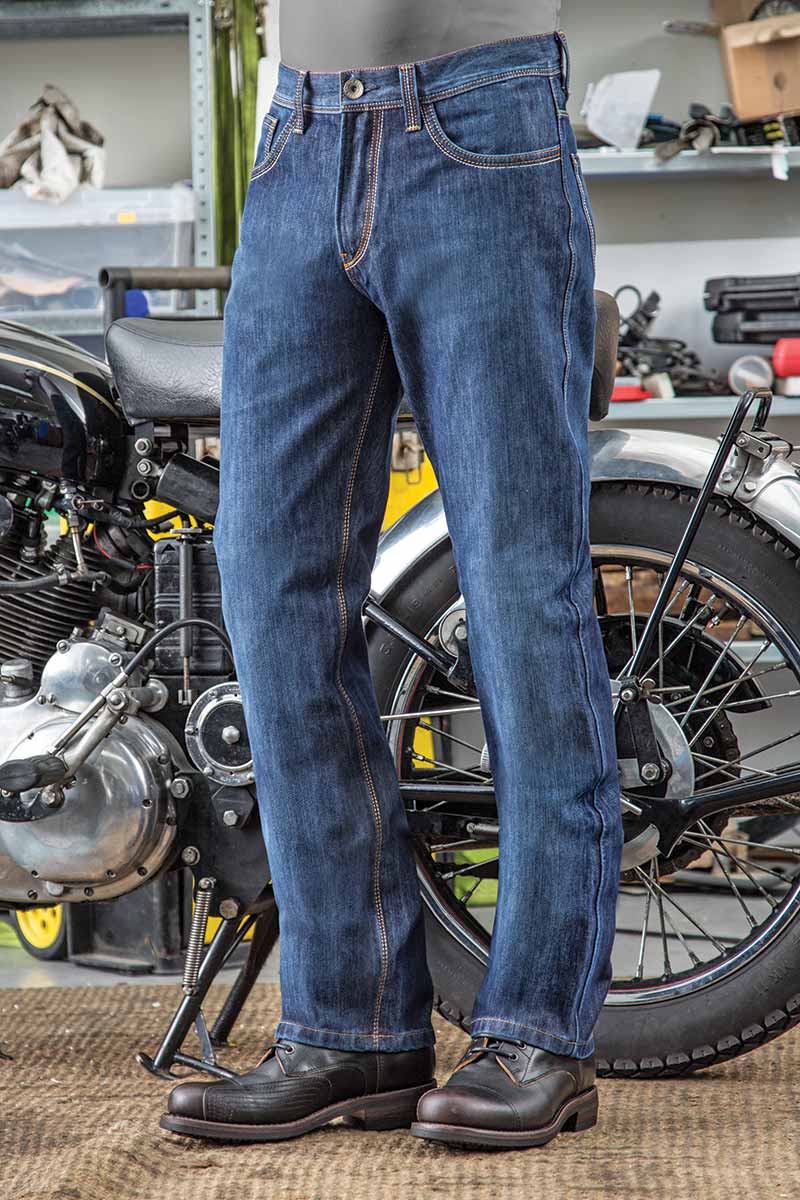 Another single-layer pant from Rokker is actually not a jean; it's a chino. It's a very smart trouser you could wear to the office. They come in khaki or in black. Obviously, they have pockets for armour, but they also happen to have an amazing slide time of 6.13 seconds, so are way better than leather.
They're not what we'd call lightweight, but you would be happy in them on all but the hottest of days. If you're waiting to effect a slightly more formal look, or don't want to wear jeans, Rokker's chinos may be just up your street. They come in lots of waist sizes, and three different leg lengths.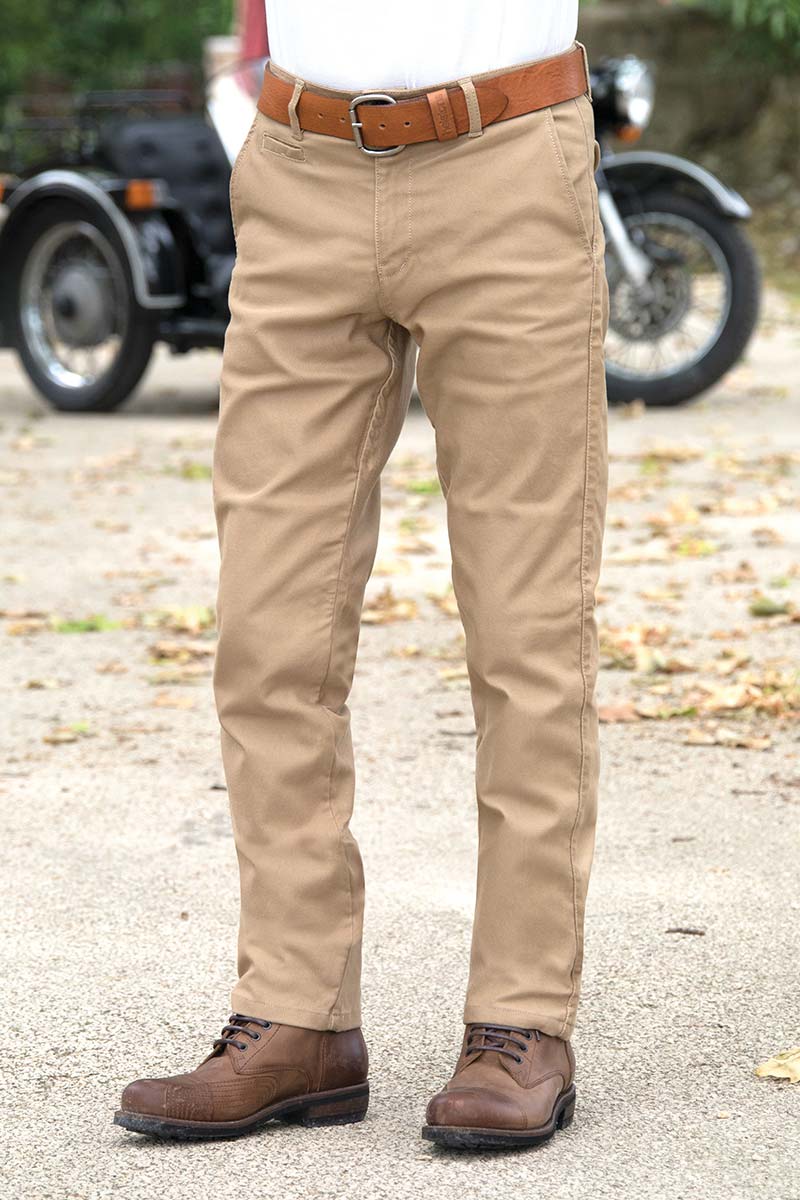 The Rokker Chino. Available in khaki or black.

Click here

to buy.
The most famous jean in the Rokker line-up is called the Rokkertech. It wears and feels just like a jean you'd pick up in a fancy denim emporium. It flows the air with abundance, and they have a slide time of 6.39 seconds. Which is way more than you're ever going to need.
We simply love the Rokkertech jeans, and so, it would seem, do our customers. They fit really well, and always look flattering. Whenever anybody tries a pair on, all they can say is that they feel like a pair of jeans. The ultimate accolade, in our book.
They come in a washed finish in a slim fit. It's a youngish look, but it's too slim to go over a Daytona-style boot. It means you have to wear them with a short boot.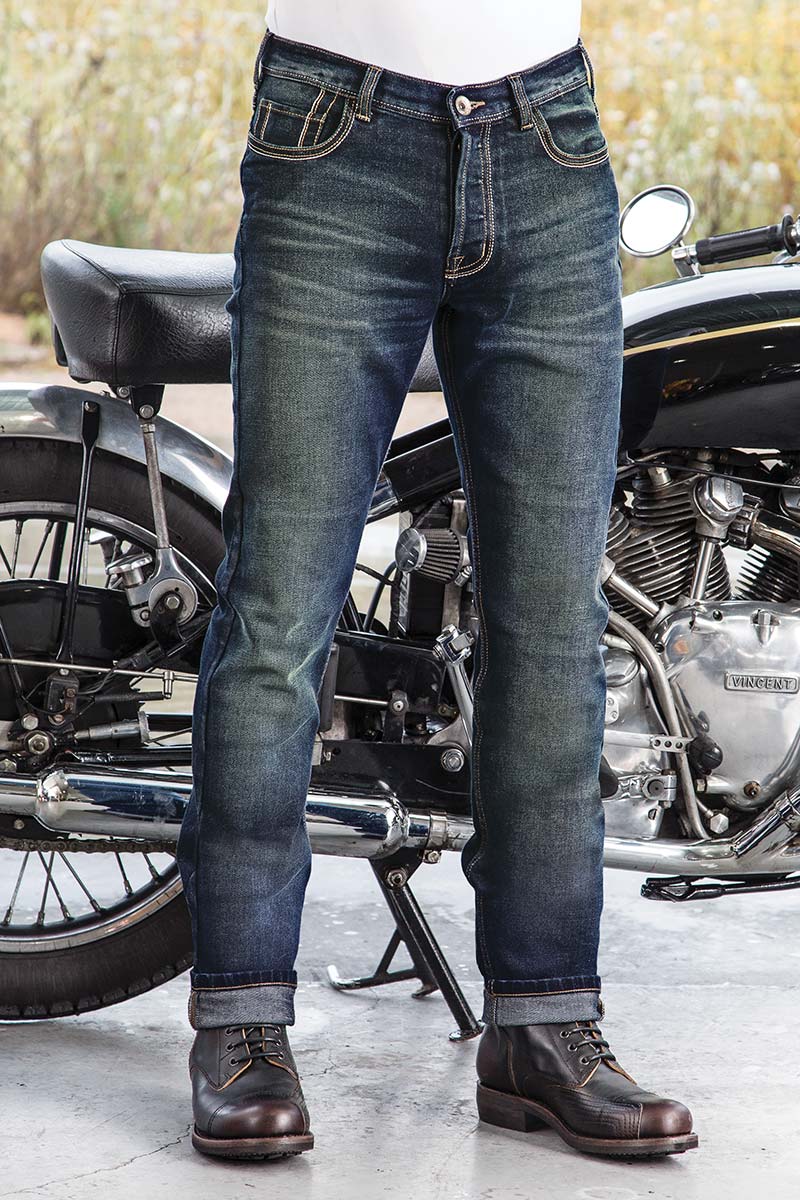 The Rokker Rokkertech slim jean.

Click here

to buy.
The raw, indigo version of the Rokkertech jean has a straight leg that's wide enough to go over a tall boot. In the UK, this version of the jean is exclusive to Motolegends. The jean will, by the way, fade with repeated washing.
What we particularly like about the Rokkertechs is that they comes in 10 different waist sizes and four different leg lengths. There are very few people that don't like the fit. Again, they're not cheap, but for a jean that looks this good, and performs at such a high level, most people think they're good value.
They don't come with armour, but they do take it. But if you go to the time and trouble of visiting us here in Guildford, we'll throw the armour in. We'll also undertake any leg length alterations within the cost. At the time of writing, we can say with a degree of confidence that these are the finest, most comfortable, best looking, and toughest jeans money can buy.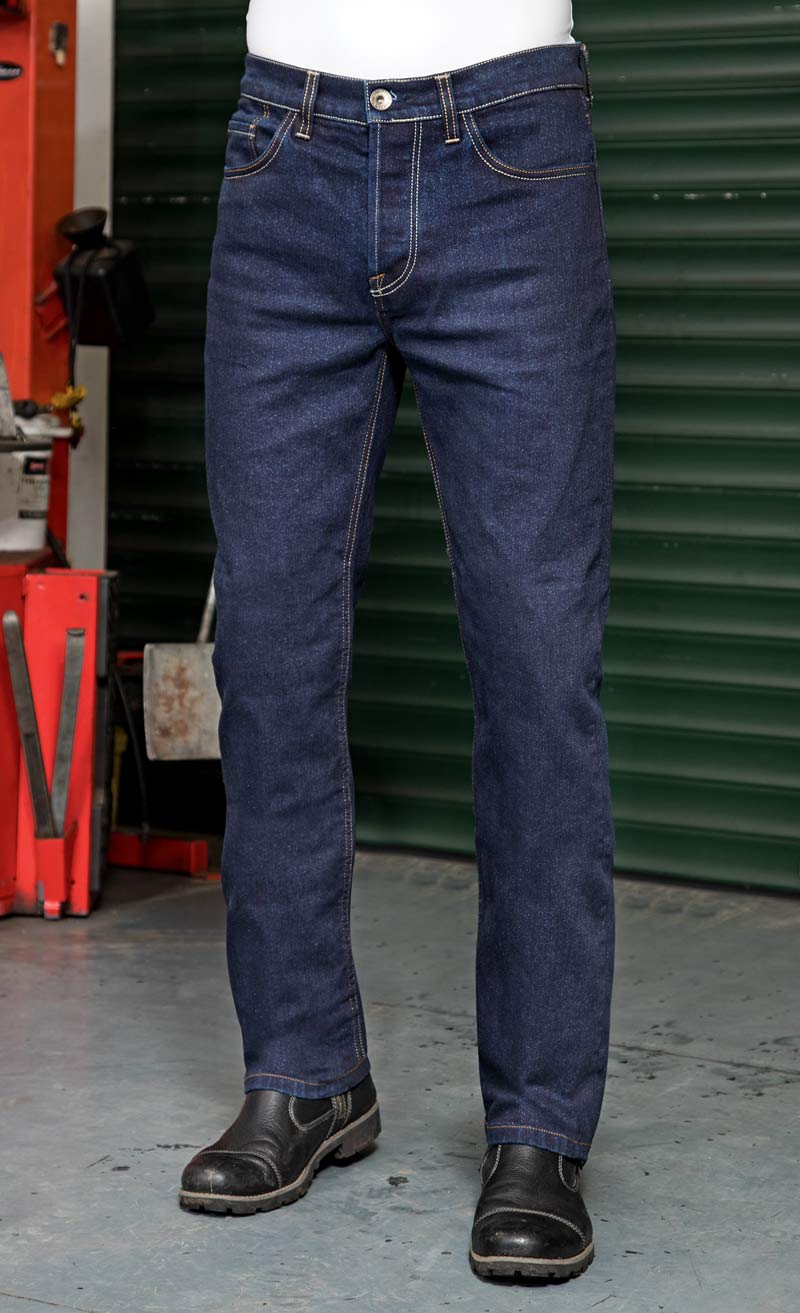 The Rokker Rokkertech raw straight jean.

Click here

to buy.
But that may not be the case for much longer.
And that's because Resurgence is just about to launch a new single-layer jean called the New Wave. Now Resurgence is already the maker of the world's strongest lined jean, the Voyager, with a 10.83 second slide time.
Well what Resurgence has done is to take its Pekev fibre and woven it into the denim to create what is undoubtedly the world's strongest single-layer jean.
We have worked with Resurgence over a number of years to develop their new jean, and we test rode several pairs. Some of them weren't quite up to the job, but a few months ago they sent us a jean that ticked all the boxes. It was lightweight, comfortable, and as smart as a jean could be. They were as easy to ride in as they were to work in.
But what marks the New Wave jeans out as special is their remarkable slide time of 11 seconds. And this isn't the best, one-way slide time, as reported by some jean brands. This is the median average of the six tests that are necessary as part of the EN 13595 protocol.
What we also know is that the New Wave jeans have passed all the tests to meet the old EN 13595 certification at Level 1. No single-layer jean has ever achieved this accreditation; in fact only very few lined jeans ever have.
The New Waves have not yet been fully certified, but it is largely an administrative exercise, and we have no doubt whatsoever that the jeans will soon receive their official imprimatur. The New Waves will, we are sure, really put single-layer jeans on the map. Here, after all, is a jean that has a longer slide time than any riding jean has ever had, lined or unlined.
They may lack the cachet of the Rokkers, and some of their style, but if you want the very highest levels of protection in a single-layer pant, the Resurgence New Wave jean has no peers.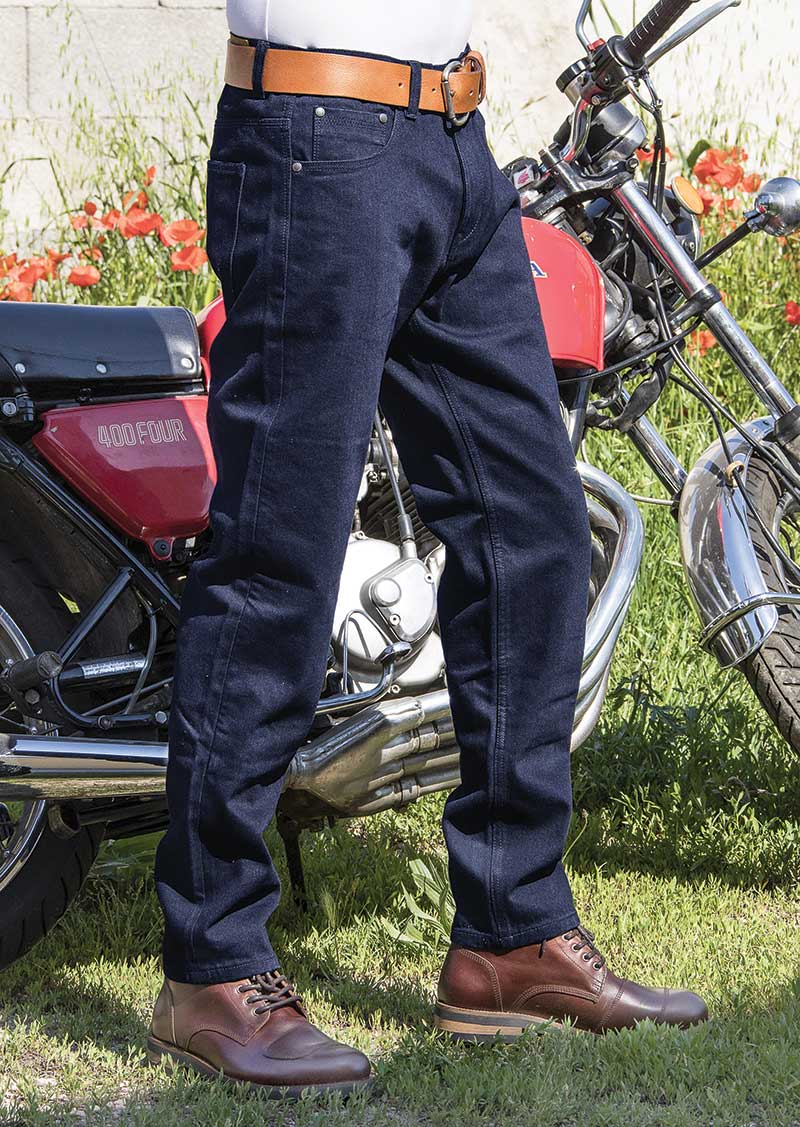 The new-for-2018 Resurgence New Wave jean.

Click here

to buy.
So there we have it. Our take on single-layer jeans. Given how far they've come in recent years, you will understand why we we think you should no longer buy a traditional, Kevlar jean. Single layer is where it's at. Inside a couple of years, nobody will make lined jeans. But we think we're there already with jeans that are brilliant to wear and ride in. In the future, we may see prices come down, but we don't know how long that's going to take. And it's not something you'd want to hold out for, because there are no guarantees.
CLICK MOTORCYCLE JEANS TO SHOP SINGLE-LAYER RIDING JEANS.
Want some more? Please

click here

to return to our editorial menu.
Share this story