Headwave Speaker (HEA001)
Product Information
Headwave TAG, the world's first Concert Capsule, was invented by Headwave for listening to music while wearing a helmet. With easy installation, no cables, and strong bass, TAG produces a superior acoustic experience fitting for the open road that can connect to any* Bluetooth device and even connects to GPS for voice instructions without the need for cables!
How does TAG work?
Using coherent sound waves generated via transduction, TAG is actually mounted on the outside of the helmet. It has a self-adapting curvature to adapt to all different sizes and models of helmet. No cables or interior installation means that it doesn't affect the fit of your existing helmet.
Using a tailored industrial strength adhesive, setup takes less than a minute. Simply peel off the adhesive and affix to the recommended area on your helmet. The technology behind the adhesive is also employed in mounting external parts on cars and trains so there's no risk of TAG falling off. Additionally, the adhesive can be removed without any tools so that TAG can be transferred to a new helmet without leaving any residue.
How does it sound?
The sound is immersive - the music plays from all around you, something we call "environmental listening." It's like being at your own private concert; hence the phrase "Concert Capsule". Furthermore, the vibrations create powerful bass tones so you hear AND feel the music. Inventor Sophie Willborn said, "TAG is the only system designed purely for music - This will permanently change your riding experience." Users have described TAG as "brilliant and simple to use", "emphatic design and strong bass", and "TAG has changed how I ride forever".
Read our review on the Headwave Speaker.
Specification
Industrial-strength Mounting Adhesive
Self Adapting Material
Long Listening Time - The battery lasts for 4-6h
Tactile Bass
Bluetooth - Connects to any Bluetooth device
GPS - TAG connects to your GPS for voice instructions
Dust and Waterproof - TAG is IP67 - ready for every adventure
Cable-free - No cables, no restrictions - nothing goes inside your helmet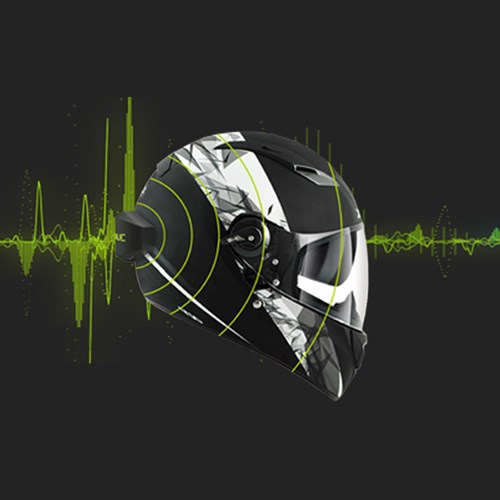 click image to view full size