Rokker Rokkertech Slim jeans in black (ROK1070)
Product Information
The Rokkertech is a single-layer jean. That means that its strength and abrasion resistance is built into the outer denim. There's no aramid lining; in fact there's no lining at all. The fabric used by Rokker in this jean is called Armalith. It's incredibly strong; pretty much the strongest wearable fabric on the market. In fact, on YouTube there's a video of a Hummer 4x4 being hoisted by a pair of Armalith jeans. Its abrasion resistance is more than up to what one would call regular riding.
But because there's no lining, the Rokkertechs are incredibly light and easy to wear. We had 20 sample pairs in a few weeks ago, just before we had that mini-heatwave. They all disappeared swiftly to riders desperate to keep cool in the baking conditions.
The other advantage is that the jeans wear and feel just like a regular shop jean. They're much lighter and easier to wear than any lined jean. And whilst we love our lightweight, waterproof Revolution jeans, the Rokkertechs are somewhat softer. Bottom line; if you didn't know these were protective jeans you would simply think they were a regular, high-quality denim pant. Obviously, like the Revolutions, these Rokkertechs take D3O armour in the hips and knees. And, like the Revolutions, they come in different leg lengths (regular, long and extra Long).
Have a read of our Rokkertech article, which gives a great overview of these motorcycle jeans incredible features
Read the article here
Read our editorial; 10 reasons why we're the only people for Rokker's Rokkertech jeans
.
Please click the following links to shop for the matching D3O armour:
Rokker knee armour
Click below for a Rokkertech promo video...
Specification
Only one layer for unbeatable wearing comfort
Constructed of Armalith which is 15x stronger than steel
Official CE test slide time of 6.39 seconds
Highly abrasion resistant as entire jean contains Armalith
Pockets for optional hip and knee protectors (armor sold separately)
Authentic jeans look with indigo-dyed cotton
Armalith core is wrapped by indigo-colored cotton thread
Available in three leg lengths 32", 34" and 36"
Delivered in a Rokker canvas bag with an exclusive Rokker t-shirt
Please note these jeans should be washed with a cleaner without detergent (we recommend Nikwax) as the detergent will attack the adhesive in the tape that attaches the armour pockets.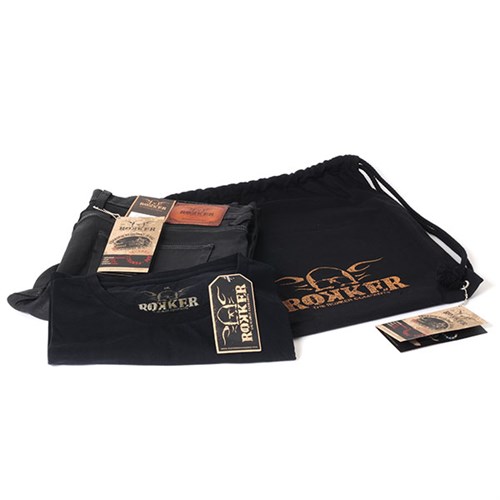 click image to view full size