The Shoei Neotec 2 helmet. A 2023 update
Published on: 22 February 2023
Here at Motolegends we sell a lot of Shoei Neotec 2 helmets; probably more than anybody. Anywhere. We like flips, and we like Shoeis. But the Neotec 2 also just happens to be the right kind of helmet for a lot of our customers. If we were based in Chelsea or Shoreditch, we would probably sell far fewer. But a lot of customers are commuters, and a lot of them do big tours, both here and on the continent. And for that kind of riding the Neotec is the perfect tool for the job.
But so busy have we been fitting Neotecs that we haven't had to do a lot of marketing on them. Sean did a video about the Neotec when it first came out in 2017, but we've barely mentioned it since, other than to, now and again, announce a new colourway.
But that was then, and this is now. The market has changed. ECE 22-06 is now here. And in the Schuberth C5, the Neotec now has a very worthy competitor, in the way that it didn't have when the Schuberth C4 was around.
We now also have a wealth of knowledge and understanding of the helmet, such that we thought it might be worth re-visiting the Neotec, and to talk about why you might, or might not, want one today.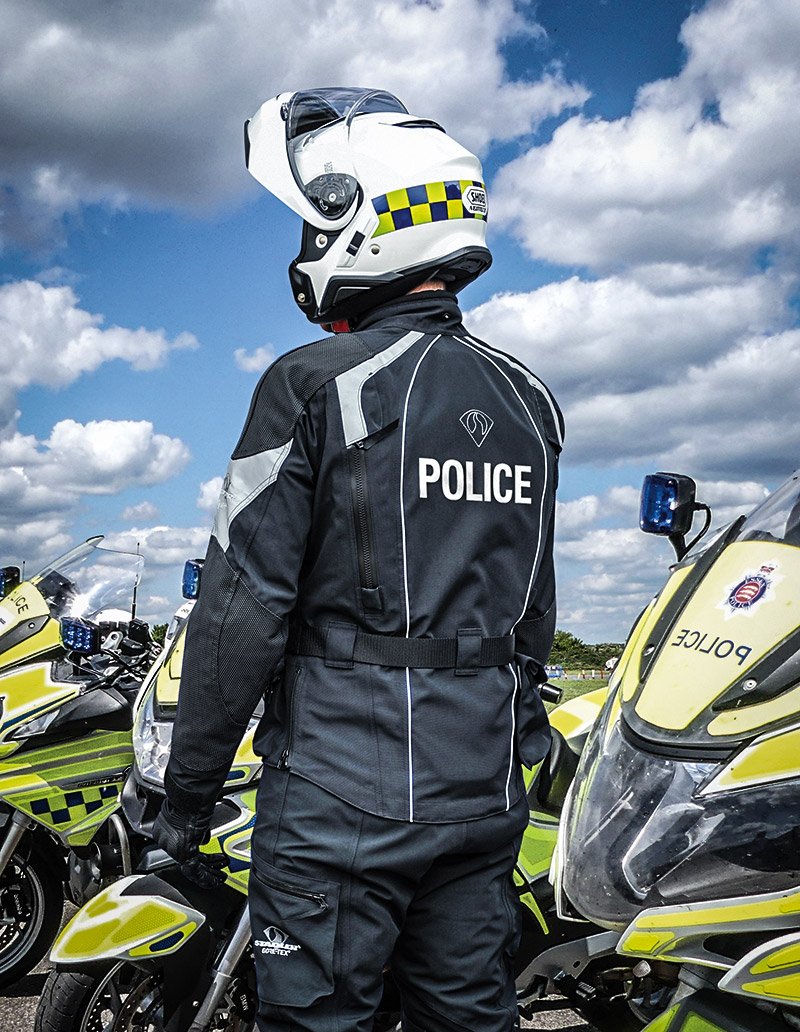 If you ride big miles the the benefits of a flip will become apparent.
Flip lids
Not everybody likes flip helmets. If you started riding when I did, the only helmet worthy of serious consideration was an Arai race helmet of some description. The only people back then who wore flip-lid helmets were coppers and old farts who rode BMW RTs with Krauser panniers. Sometimes, prejudices are hard to let go of!
MCN journalists have also never liked flips. Given that, historically, most of them have been drawn into journalism through racing, a flip is the antithesis of everything they believe in. If your big thing is wheelies and getting your knee down, you're not going to look the part in a flip helmet. Amazingly, many journalists still perpetrate the myth that flip-lids are noisier than full face helmets, contrary to the received wisdom that the opposite is clearly the case.
But we like them.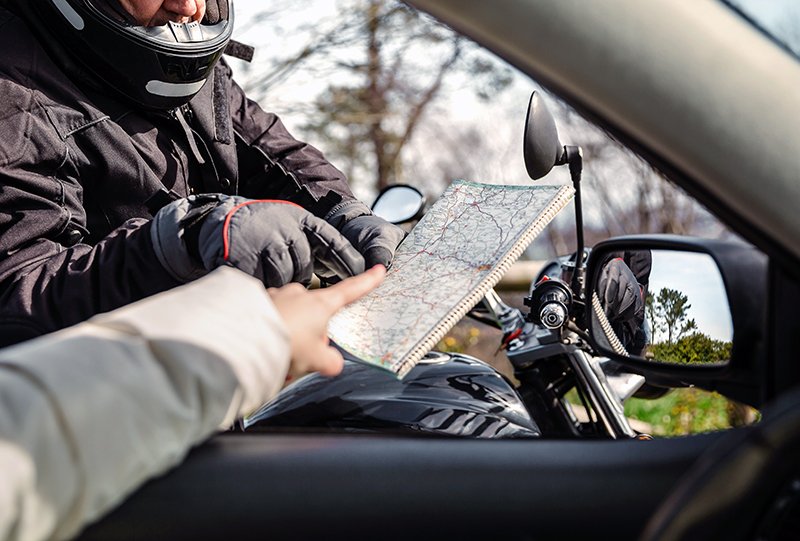 There are all kinds of convenience benefits with a flip lid.
Flip-lid helmets are just more convenient on a whole number of levels. You don't have to take a flip-lid off at a petrol station. They are easier to put on and take off. But for me the clincher is the ability to take on some fresher, cooler air when it's hot. When I'm riding down through France on the B roads, the chin bar will be in place, but when I pass through a village I will lift the chin bar up as I potter through it at 50 kph. As I hit the open road again, I will bring the chin bar down, much cooler for the fact that I have, in effect, been wearing an open-face for a few minutes. Commuters into large cities do a similar thing. Once the traffic slows down to a crawl, the chin bar will go up. Nobody advocates riding a flip-helmet at speed in the 'up' position, but at a certain speed it's a risk that most of us would feel is worth taking.
And yes, flip helmets are quieter. Not all flips are quieter. But the way we put on a flip helmet allows a manufacturer to fit a much tighter neck roll. This tighter neck roll makes the helmet quieter because it stops the oncoming air from getting into the helmet and reaching the ears. In truth, most flip-lid makers don't seem to bother. But Shoei and Schuberth do; and it's why the C3, the C5 and the Neotec 2 are still the quietest helmets on the market.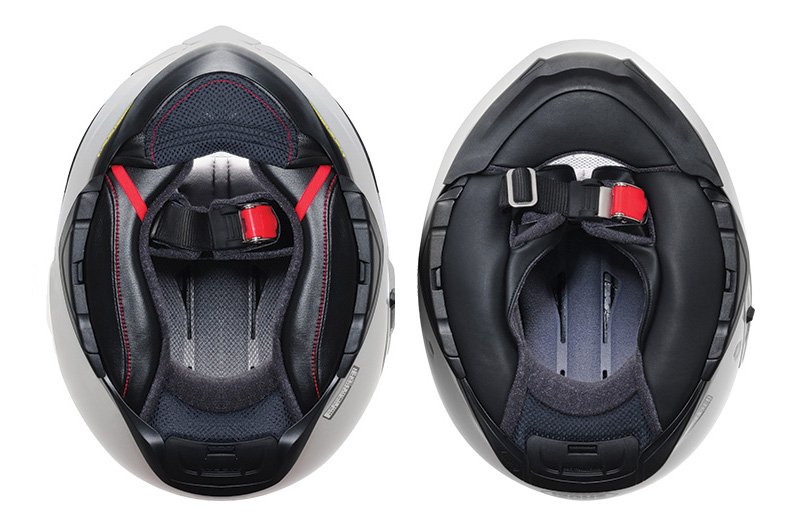 It's the tighter neck roll of a flip lid that makes it quieter.
There is also a major safety benefit to a flip-helmet, and it's got to do with 'first responders' arriving at the scene of an accident. If you're lying there on the ground, nobody, not even a medical professional, is going to want to take off your full-face helmet to check your airways. You need two trained people to remove a helmet safely. Nobody wants to be liable for spinal injuries, so if there's only one person you lie there unable to breathe, waiting for a second person to turn up. But the red button on a flip helmet is a signal to anyone on the scene that the chin bar of a flip can be raised, so that tongues can be checked, mouth-to-mouth given, and so on.
Having found myself in the motorcycle apparel business, I have been forced to confront my own Neanderthal prejudices that were so carefully honed back in the eighties and nineties, such that now I just don't get it. When it's shut, nobody can tell that it's not a full-face helmet. "Get over yourself" is my normal admonishment to those who won't contemplate a flip helmet. There comes a point, surely, where common sense has to prevail?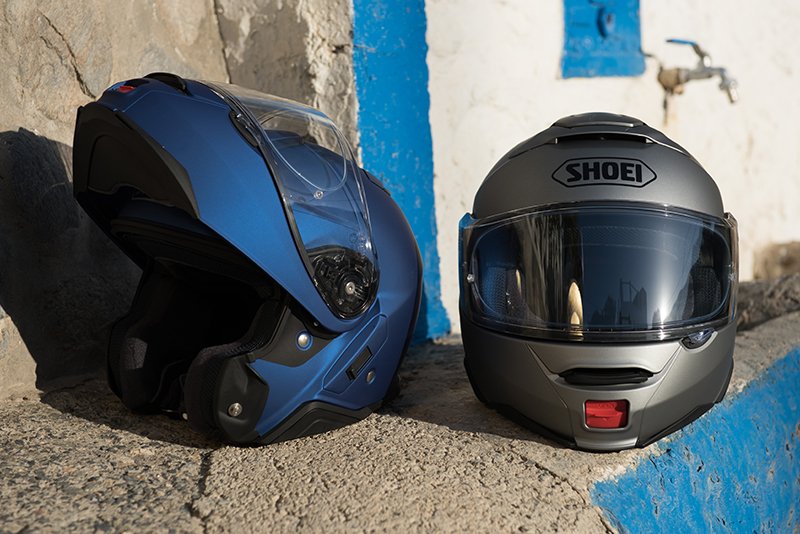 The Shoei Neotec 2 helmet
The original Shoei Neotec came out in 2011. About six or seven years later, the Japanese maker released an updated version known as the Neotec 2.
That's a while ago, but this is not a helmet that feels in any way dated, in the way that the C3 is starting to. Since the Neotec 2 came out in 2017 it has seen off the disastrous Schuberth C4, and now goes head to head with the more recently released Schuberth C5; but even against the new Schuberth the Neotec is still totally on the money.
The upside, of course, is that the Neotec 2 is, by now, a totally proven entity. It just works. As a retailer, what we like about the Neotec is that when we wave goodbye at the door to a customer who has just bought one we know that, in the nicest possible way, we won't see him, or her, again. They may come back for a new suit, or boots, or gloves. But very rarely does somebody come back because the helmet disappoints or fails.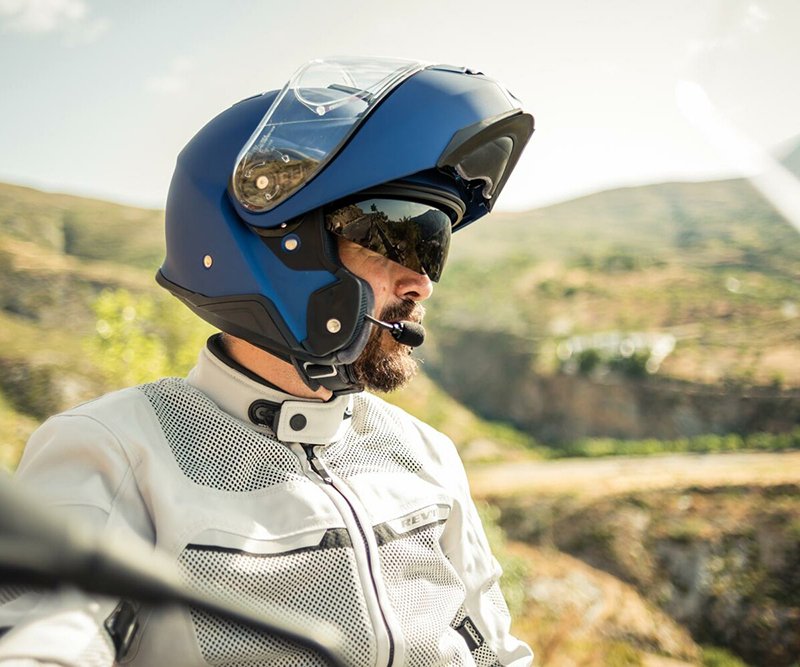 The Neotec has it all, including brilliant comms..
As a helmet, the Neotec has all the bells and whistles you could want. The venting is good. You get a drop-down sun visor. It comes with a Pinlock 120 as standard. And so on. And the helmet feels well made. There was that commercial many years ago about the satisfying clunk that the door on a VW Golf makes when you close it. And the Neotec has that same feel. There's a sense of heft, a solidity and a feeling of precision to the Neotec that you don't get on many helmets.
One thing you don't get on the Neotec is a very good 'crack' position. We'd all like to see this improved upon when, eventually, the Neotec 3 does come to market.
The comms. set up on the Neotec is also state of the art. The helmet was designed such that the comms. could be totally integrated into the helmet. And it does integrate seamlessly. It works well, and the truth is that almost always when there is a problem it comes down to 'user error'. The Neotec's comms. is produced by Sena, and these days there are two options. There's a Mesh version for those who think they need Mesh, and a non-Mesh version for those who realise they probably don't. The real advantage of the Mesh system for most people, though, is that it comes with better speakers. As we see it, this is just a subtle form of blackmail!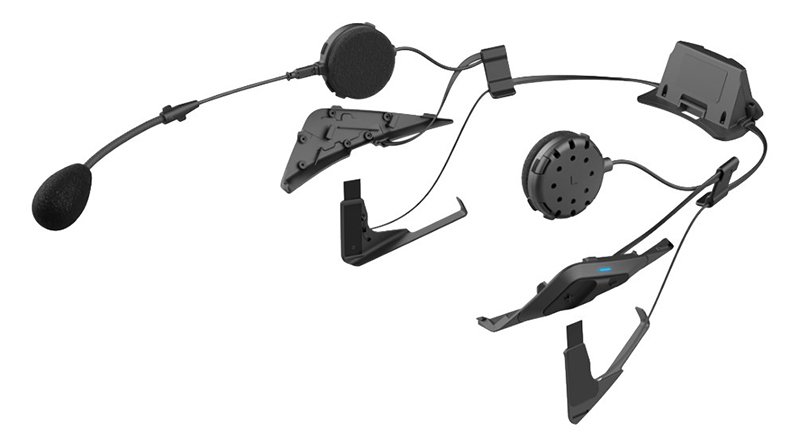 With the Neotec you have the option of both Bluetooth or Mesh systems.
Noise is always a contentious issue; and as the Neotec is marketed as a 'quiet' helmet, the problem is that it can lead to unrealistic expectations. Yes, the Neotec 2 is, for most people, a quiet helmet. But noise can be affected by all kinds of factors that can impact different helmets differently. The height of the screen. The position of a sat-nav. The positioning of wing mirrors. All of these can change the acoustics. And so there is simply no guarantee that a Neotec is going to be quieter than another helmet on a given rider. On the subject of expectations, it also has to be noted that some people's are unrealistic. At 80 mph on a bike on the motorway, don't expect Jaguar levels of refinement. At speed, riding a bike is simply noisy. Now we have lots of experience with the Neotec 2. We know that, for most people, the Neotec is much quieter than the helmet they had before. It is a quiet helmet. But this won't be the case for everybody. And so if the Neotec is not quiet enough, the solution might well be to take the train, or buy a car. Maybe even a really quiet, electric one!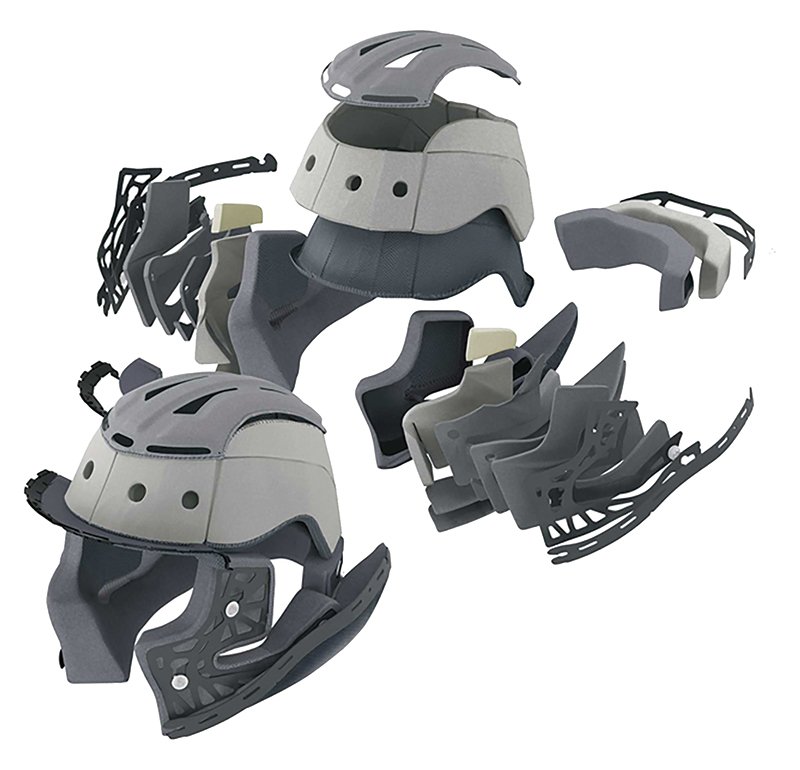 We like the way the Neotec fits, and our ability to customise it.
For us here at Motolegends one of the things we like most about the Neotec, however, is the way it fits. Its internal shape is more oval than that of many helmets, but within the Shoei firmament the Neotec is probably the most forgiving; that is to say that it's rounder than most Shoeis. It probably sounds immodest, but I reckon we have almost certainly custom-fitted more Neotecs than anybody in the world. It is not the greatest claim to fame, but I believe it to be true. And with three different headliners and four different thicknesses of cheekpad, (the 43mm pad is exclusive to us),it is a rare head indeed that cannot comfortably be accommodated within its confines. We know what to look for in terms of a margin front to back. And we know what we're after in terms of a squeeze on the cheeks. The only thing we can never be sure about is the fit on the side of the head, but we have developed tests to make sure we can check for that too. But what is never in doubt is the comfort of the facings in the Neotec. Most people react the same when they put a Neotec on. It feels like a nice place to put your head; a nice place to do business.
To summarise, we think that the Neotec represents a winning package. No helmet is going to work perfectly on everybody; and that's because we all have differently shaped heads and faces. But if you want a premium-quality, flip-lid, the Neotec is well appointed and beautifully put together. It is quiet and comfortable. It has good comms.. It's a pretty good at everything.
It's been a long time coming, but a new, higher safety standard is now here.
ECE 22-06
By the middle of 2023, the helmet manufacturers will only be able to produce helmets to the new, ECE 22-06 safety standard. The barrage of tests required to pass the test are more rigorous and demanding than for the old ECE 22-05 standard.
And what this tells us is that the Neotec 2 has a finite life. But we know what helmet is coming next from Shoei, and it's not the Neotec 3, and so we know we won't see a replacement for the Neotec 2 until some time in 2024 at the earliest.
And so the question arises as to whether one should wait for the new model? We cannot answer that, but there are some things we should point out. If we do see the Neotec 3 in 2024, it may be later in the year, and from experience we know that we will initially probably only receive it in some of the plain colours. It may well then be another six months or so after that before we receive the liners and cheekpads that will allow us to custom fit the helmet. In such a scenario, therefore, we may well still be 24 or more months away from a fully customisable Neotec 3 in a graphic of your choice.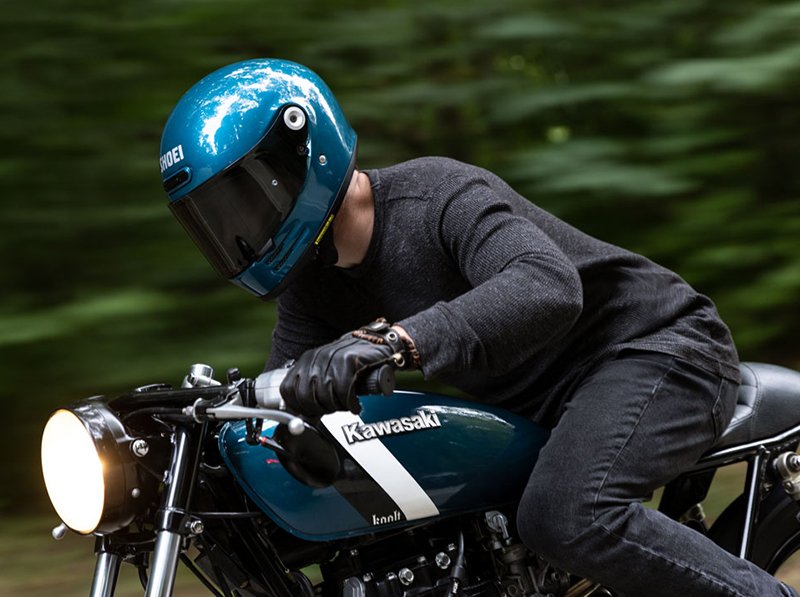 As with the new Glamster, the Neotec 3 may be little changed.
Now when the Neotec 3 comes out, we would expect it to be improved in some ways, although as we have very few complaints about the existing model, we don't know what those improvements will be. There's the visor 'crack' position, of course, but presumably Shoei will want to tell us why and how the 3 is better than the 2. And it may well be. We simply do not know, but we cannot imagine that they will make it worse!
But if you are thinking of holding off because of 22-06, then this may be one of those scenarios where there's a distinction without a difference. Now if you are looking at buying a budget helmet, then the step up from 22-05 to 22-06 might be significant, and you might well get yourself a significantly safer helmet. But that's not the case with a Shoei or an Arai. Because these guys have always tested to a standard that is much higher than the statutory one. A 22-06 Arai or Shoei won't necessarily be very different to a 22-05 one. For example, the Shoei Glamster recently went from 22-05 to 22-06 with no changes whatsoever, other than a new sticker.
So if you want to wait for the new Neotec 3, that's up to you. But don't do so in the belief that you will necessarily be buying a safer helmet, because that is not necessarily the case. In anybody's book, the current Neotec is still one of the safest helmets on the market.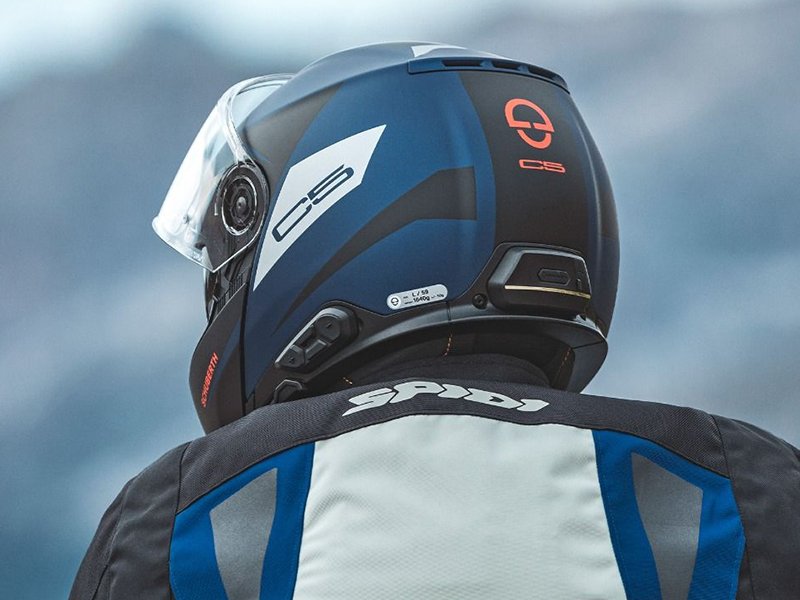 The Schuberth C5
As we have suggested, the Shoei now has a worthy challenger; and that challenger is in the shape of the Schuberth C5.
Now the C5 came out in 2022. It replaced the C4, and was very much formed in the image of the Shoei Neotec 2. Its internal shape is more like a Shoei than a traditional Schuberth. And it takes the same Sena comes, although there's only a Mesh version; there's no Bluetooth alternative.
But the big news with the C5 is that, in a first for Schuberth, the helmet can be custom fitted. And the company has made a good fist of it. In fact, in theory, the C5 is even more customisable than the Neotec in that we can now change the fit on the sides as well as at the back, so one can, to a degree, change the internal shape. And there are four thicknesses of cheekpad that will fit into any size of helmet.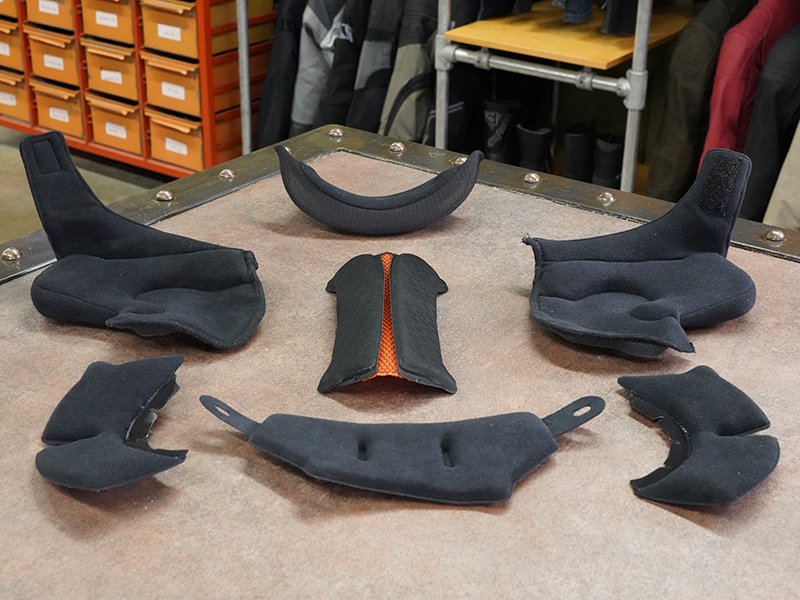 The C5 is now fully customisable, albeit only in some sizes.
Now the system is not perfect. It's quite tricky and time consuming to change the parts. They come packaged in a slightly illogical way, and Schuberth expect you to pay for the parts in the way the Shoei and Arai don't. That having been said, you won't have to pay if you visit us here in Guildford.
There are a couple of other issues on fit. First, the C5 only comes in two shell sizes. That's not ideal; and it makes it harder in some cases to get a nice, snug fit. The other issue is that we can only custom fit three of the six sizes. And that's a bit annoying; it feels a bit half-hearted on Schuberth's part. The sizes we can custom fit, by the way, are M, L and XL.
Of course, the main selling point of the C5 for some is going to be that it is 22-06 accredited. And if you have convinced yourself that that is all you will accept, then the C5 is the helmet for you. But our advice, before you take the leap, is to have somebody custom fit them both, so that you can compare them back to back.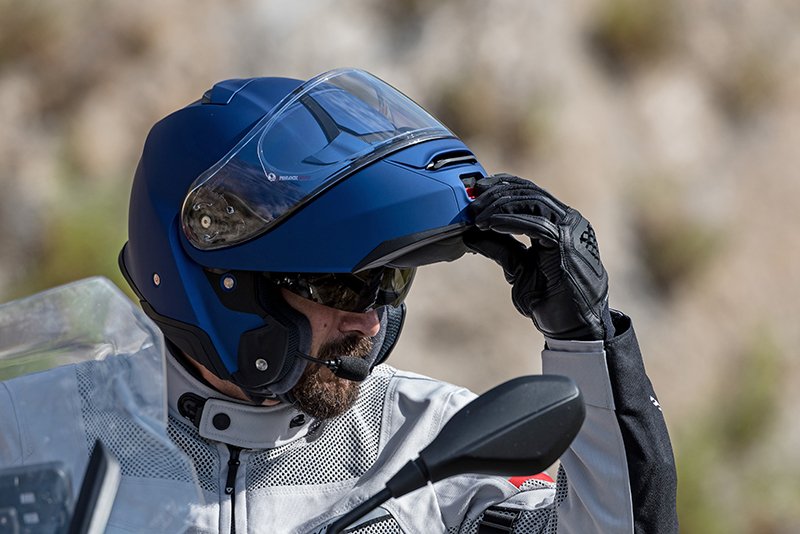 Our conclusion
We really do rate the Neotec. Our customers seem to love the helmet and how it rides. And so do we. We think that, for most riders, it's simply the best, most dependable helmet that money can buy.
That it is going to be replaced by a new model is not in dispute. But how far off that is, is unknown.
The C5 is the only realistic option if you want a high-end flip. No other flip helmet really comes close. There is very little clear blue water between the two helmets. They are both very, very good. The Neotec is more proven, and we think we stand a better chance with it of getting a perfect fit. But for those with a rounder head, the Schuberth will often be the better option.
If the 22-06 thing is not the over-riding consideration, then the only serious issue is going to be fit. Come and see us; we'll custom fit them both, and so we'll put you in a position to make an informed decision.
If it's still to close to call, then go for the one that best matches the bike!
For more information and to buy online, click Shoei Neotec 2 helmet.
---
Want some more? Please

click here

to return to our editorial menu.

Share this story