Helstons Shelby Mesh jacket in blue/ white S
Helstons Shelby Mesh jacket in blue/ white S
x
We will beat any UK retailer's discounted price by a full 10%
If any UK retailer is selling anything at a price that is lower than ours, we will beat that price by a full 10%.For terms and conditions, click here.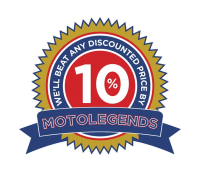 Helstons Shelby Mesh jacket in blue/ white S Product Information
Product Reviews
Reviews
MNR: STYLISH
VERY VERY STYLISH JACKET. ORDERED XL BUT FITTED A BIT TIGHT, XXL A BETTER FIT. LOOKS AND FEELS GREAT. EXCELLENT SERVICE PROVIDED
Wolf: Great jacket 3 seasons
Great jacket I love it. But I consider this jacket more like 3 season spring, summer, autumn jacket because it has heavier fabric then say Marakesh. Klim Marakesh is way lighter and cooler summer only jacket.
Rob: Helstons Shelby Mesh jacket
Great jacket, and good price too, although a little short in the body, but I can live with that. Happy days
Alan Mcnair: Cool in a Heatwave
Bought in the height of the heatwave and I was suffering, the jacket lets air flow nicely. Well finished and a decent addition to my motorcycle wardrobe.
Scott: Cool Cool
A great looking jacket, both on and off the bike with plenty of mesh to let the breeze in. The quality is impeccable. Very happy with my purchase from the very helpful staff at Motolegends.
Leave us your review