Shark Nano Motorcycle Helmets
Special Offer
The Shark Nano helmet matt black. The Shark Nano motorcycle helmet is a high level urban helmet which boasts a practical, natural fibre and comfortable design. With an aerodynamic outer shell and ergonomic sunvisor control, the Shark Nano helmet.
Now £109.99 Was £159.99
Special Offer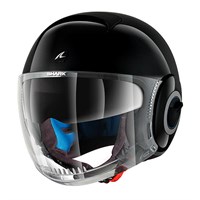 he Nano Blank helmet comes from Shark's Metro range which has clean lines and a stylish look. The lifestyle range has a definite character and incorporates all of Shark's cutting edge technology into these stylish helmets.
Now £109.99 Was £149.99