Halvarssons Waist Zip in black
Halvarssons Waist Zip in black
x
We will beat any UK retailer's discounted price by a full 10%
If any UK retailer is selling anything at a price that is lower than ours, we will beat that price by a full 10%.For terms and conditions, click here.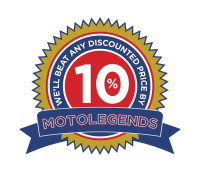 Halvarssons Waist Zip in black Product Information
This Waist Zip is a great bit of kit. By weaving your belt through the Waist Zip and the trousers' belt loops, you make it possible to connect any Halvarssons or Rukka jacket to any pair of pants.

It works really well, and over the years we have sold a huge amount of them. But late last year we were told by Halvarssons that they would be replacing it with a new version. Well, we saw the replacement, and we didn't like it at all. It was ugly, flimsy and just wasn't up to the job. We asked if we could order the old on an exclusive basis. They said yes, but made us commit to a huge quantity. Well, they are now in stock, so if you want to connect you know where we are.

And we have to admit that this is one of those products we'll probably never run out of. Well at least in my lifetime!
Specification
Zipper threaded on a belt to connect jacket and pants with zippers at the waist
Product Reviews
Reviews
Carl: Great when using with non Rukka Jeans
I bought a Rukka Forsair Pro jacket and prefer to wear it as I do with my other jackets attached to my preferred Resurgence jeans. I then read that the Halvarssons waist zip would allow me to connect the jacket to the jeans using the full length zip on the jacket. Job done.
Keith: Does what is says
Purchased to join my riding jeans to my Rukka Forsair Jacket Works great
Filip: Much more better than V2
I am living in Germany, where this version of the waist zip is not available. This V1 is much better than the successor V2! I dont know how motolegends still have V1, but if you have to choose - buy this one, not the V2!
Mike K: Great for Rukka gear also!
I read that this belt attachment works with Rukka gear and bought it with this in mind. It works very well fitting within the loops on my Hood jeans and Rukka armour vest so would recommend on this basis alone.
Gary: Very useful
Fits great to link my Rokker jeans with my Rukka jacket. Bit fiddly to fit best done before putting jeans on, but works exactly as designed and adds an extra feeling of protection.
Steve: Simple and Ingenious
A bit fiddily to line up but once youve worked out the weaving you need to do with the belt, the connector and the loops on your jeans it works perfectly. Connects to my Rukka, Halvarssons and Lindstrands basically Halvarssons jackets. Now we need all other manufacturers to adopt a common zip!
Pat watts: Great idea
did exactly what you would expect when paired with the Lysvik jacket and Richa jeans superb
David H: Great Idea
A simple idea that is invaluable Zip your Halvassons or Rukka Jacket to your riding jeans, just like a two piece suit. Warmer, safer and simple.
Chris: Genius
What a great idea, simple and well executed. I was a little surprised and disappointed it wasnt made of leather, but maybe there is a technical reason for this?
David: Clever piece of kit
I have 2 of these matched up with the Halvarssons Belt for my Jeans and they work well together if you have a Halvarssons or Rukka Jacket. Great idea.
Anthony Scott: Expands the flexibility of your gear.
Works well connecting my Rukka jacket to jeans. I need to develop a zip pull extension to assist starting the zip but overall a great product.
Anthony Scott: Zip / Belt attach
So many jackets; so many differing zips. At least the Swedes can work together when it comes to this great item. Made by Halvarssons but attaches perfectly to my Rukka jacket. Keep those jeans secure .
Dave McNally: Mr
Ok it is a bit of a fiddle to get your belt, trouser loops and this to line up with the jacket and not have it pulled to one side. But.... When it is lined up its great. Another great idea and well made bit of kit.
Mick Wilson: Product Review
I can tell you that Halvarssons attachment zips are compatible with Rukka because I wear my Rukka jacket with the Safir tousers, so if this belt will attach to Halvarssons jackets it will fit Rukka jackets too.
Neilo: Product Review
If only all motorcycle clothing manufacturers sat up and took note of this little but extremely valuable item. It makes wearing your Halvarssons jacket with some other branded jeans a doddle! Excellent quality item!
Leave us your review