Motolegends Price Beat & Discount Codes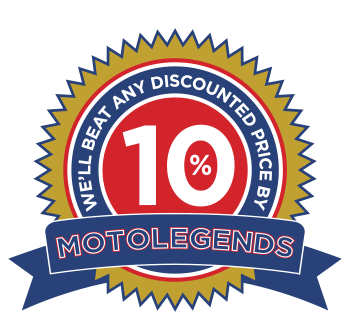 Our Price Beat Guarantee
What is it?
Almost invariably, we sell goods at the manufacturers' recommended prices. But if you find an authorised dealer in the UK offering anything that we sell, for more than £5 less than our price, we'll beat that discounted price by a further 10%.
We will also beat prices that are reduced through the means of a loyalty bonus, even if that bonus can only technically be used against a future purchase. Similarly we will, for the purposes of our Price Beat Guarantee, accept prices that are reduced by means of a special offer or internet voucher code.
Our only stipulation is that any such offers must be advertised and available to all. Privately negotiated deals and discounts will not apply.
What do I need to know?
1. Our 10% Price Beat Guarantee applies only to motorcycle protective wear brands, including sat navs and intercoms. T-shirts and merchandise are not included.

2. For the purposes of our 10% Price Beat Guarantee, items must be from a manufacturer's current season collection. It will not apply to items that have been dropped from the range by the manufacturer.

3. To qualify for a 10% Price Beat Guarantee, the goods being offered by a competitor must be new, unused, and in their original packaging including tags.

4. The 10% Price Guarantee can only be applied against an official, authorised dealer of the brand in question.

5. You can only activate our 10% Price Beat Guarantee against items that are being offered in the same size and colour as those you want to buy.

6. In order to qualify for our 10% Price Beat Guarantee the price being offered by the competitor must be a publicly available price, not an individually negotiated deal.

7. The price that we will take into account for our 10% Price Beat Guarantee will include any postage and mailing charges.

8. Our 10% Price Beat Guarantee is only available to customers residing in the UK.

9. If the seller against which you wish to apply our 10% Price Beat Guarantee is outside the UK, but still based within the EU, we will match, but not beat, the discounted price.

10. You cannot combine our 10% Price Beat Guarantee with any other offer, or with 0% finance.

11. Our 10% Price Beat Guarantee is valid for a full 14 days after you purchase an item from us.
What do I need to do?
All you need to do is provide proof of the lower price. The price can be on a website, in an advertisement, on Amazon, or on eBay with a 'Buy it Now' price. If the price is in a shop, we will accept a camera phone shot of the offer, or of the price label. All we need is to be able to phone the shop to confirm the discounted price. (The one thing we won't accept is a report of a phone call, or of a conversation, with a retailer). When you have your evidence, email it to us at the address below.
If we are beating a price on the internet, we'd ask you to send us an email with a 'screen grab' that shows us the price that you'd like us to beat. We need this rather than a link, because if the price goes up, or if the offer runs out, we won't be able to verify what it was. You should send this email to pricebeat@motolegends.com. In that email, please give us a phone number on which we can contact you.
We will then, once we've validated the discount, send you an email with a code to quote to a phone operator.