Bagster tank cover CBR 600RR - white / anthracite deco
Bagster tank cover CBR 600RR - white / anthracite deco
x
We will beat any UK retailer's discounted price by a full 10%
If any UK retailer is selling anything at a price that is lower than ours, we will beat that price by a full 10%.For terms and conditions, click here.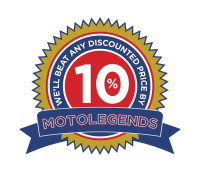 Bagster tank cover CBR 600RR - white / anthracite deco Product Information
Bagster's tank covers have been specifically tailored to the individual tanks. With a huge array of models and colours to choose from there's sure to be something to suit your style and taste. To secure the PVC, waterproof cover there are straps with hooks on the end that attach the cover on either side of the tank. Generally the tank will not need to be removed to attach the cover. Please note that the cover may take up to 14 days to mould to the shape of the tank, in warmer weather this will happen faster. To clean use soapy water and a soft brush or sponge and regularly spray a waterproofing product on the seams. *Please note: All Bagster Tank covers are hand-made to order so are non-refundable unless there is a manufacturing fault.
Specification
PVC
Tailored to specific tank
Fastening straps
Wipe clean
Product Reviews
Reviews
lee: Product Review
i've had Bagsters on every bike that i've had for the past 20 years; perfect, best you can buy.
Leave us your review