Motorcycling 1945 to 1960
The Post War Motorcycle Boom
Motorcycling as a means of public transport was never again as popular as it was in the period that followed the Second World War; a period of growing prosperity that lasted through to the beginning of the sixties.
In his 1945 budget speech, the chancellor Stafford Cripps was clear in his demands of British industry and the British people: 'Export or Bust'.
Right up to the end of the forties, just about every motorcycle produced by a British manufacturer had to be exported to help pay off the nation's wartime debts, but even throughout the fifties, the industry's emphasis was very much on overseas sales.
Despite such demands, innovation flourished, and companies like AJS, Matchless, BSA, Triumph, Ariel, Norton, Royal Enfield and Vincent created the benchmark that the rest of the world tried to emulate.
Most people were still unable to afford a small car, and so the motorcycle, sometimes affixed to an easily affordable sidecar, represented the way that most families went to work and play.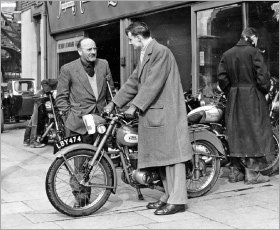 Royal Enfield's two stoke machines, in particular the 148cc Prince, were also massively popular.
Most British motorcycle manufacturers of this era, though, did not use their own engines, but rather used motors made by the Villiers company. Such machines came from names that have now disappeared, such as Ambassador, Excelsior, Francis-Barnett and Greeves.
Britain was also a key player in most forms of motorcycle sport at this time.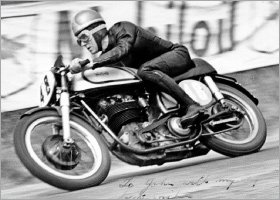 The newly inaugurated 500cc world championship was won by AJS in 1949, and then by Geoff Duke on a Norton in 1951 and 1952.
Moving to Gilera, Duke won again in 1953, 1954 and 1955. In 1956, John Surtees took the title on an MV Agusta, a feat he repeated in 1958, 1959 and 1960.
Britain equally dominated the hugely popular off-road sport known as scrambling, or later motocross.
The country also achieved more than its fair share of success in disciplines such as one day trials, long-distance trials and speedway.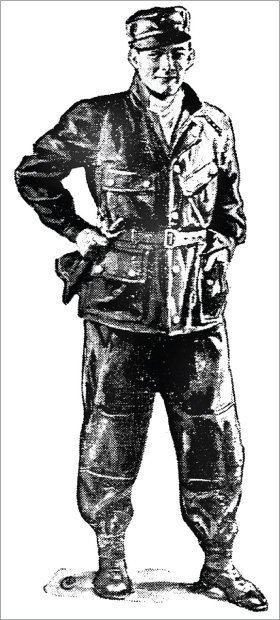 Yet it is probably true to say that in the period leading up to the 1960s, motorcycling was less a cultural phenomenon, and more a universally popular means of transport.
Yes, racing in all its forms was hugely popular, and yes, people were starting to tour further afield on their motorcycles, but the motorcycle sold well in this post war era largely because most working people could not afford a small car; a situation that started to change as the sixties approached.
It was in the fifties that the concept of motorcycling specific clothing and protection started to come to the fore.
In 1947, Barbour started to market its famous international suit as a two-piece combination, aimed specifically at the motorcycle market.
There was still no attention given to what these days would be termed passive safety features, but companies like Barbour, Belstaff, Lewis Leathers and many others did set out to provide clothing that was designed to meet the needs of motorcyclists, and to improve the levels of comfort, warmth and waterproofing.
A wax cotton or canvas of some description became the fabric preferred by most clothing makers, and most serious motorcyclists would also have equipped themselves with some kind of purpose-designed waterproof jacket and trousers.
The leather jacket also started to grow in popularity, especially after it was featured in numerous motorcycle films of the era. It was, though, always thought of as a summer or warm weather garment. In the cold it might have been supplemented by a heavy-duty jumper of some description. In the wet, a wax cotton jacket would often be worn over the top.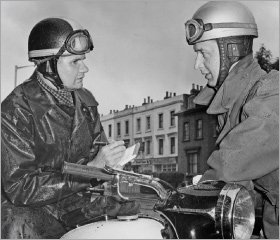 Helmets were also becoming more popular. The motorcycle helmet had become mandatory in track and road racing, although the hardy folk who partook of sports like trials riding still preferred to protect themselves with a cloth cap! As, of course, did many road riders who, having often lived through the dangers of the war, didn't relish the idea of restricting their freedom by wearing a helmet again.
Images courtesy of www.mortonsmediagroup.com