So we thought we would put together a little piece for those riders who put a lot of miles on the clock, guys who commute daily or ride for a living. Although what we're going to talk about is just as relevant for those who do any riding across a wide range of weather conditions.
We'll start at the top and cover helmets, then base layers, jackets, pants, boots and gloves. So let's get to it.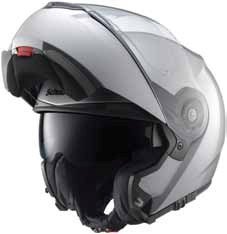 The golden rule has always been to buy the best helmet you can afford, although it's a mantra that is most often trotted out by Arai or Shoei dealers, who just happen to sell the most expensive helmets on the market.
The fact is that, these days, you don't need to spend £600 to get a decent helmet.
For daily riding, you really don't want a race-inspired lid. That's got nothing to do with the lairy graphics; it's because race helmets are designed for the track and not the road. Their main attribute is lightness, although good aerodynamics and venting will also be key design features.
What they are not is quiet. And quiet is what you want for long distance riding. A noisy helmet will send you deaf. A noisy helmet will also make it harder to hear what is going on around you. And that should be a real concern.For high mileage riders, it's got to be a flip-lid. A flip-lid slides into place around your neck. This means it can fit more snugly all around the head. The result is less noise. It's no coincidence that the quietest helmet on the market is Schuberth's C3 Pro.
Yes, a flip-lid may not be very rock 'n' roll, but if your only concern is looking cool, then you shouldn't waste your time reading this article.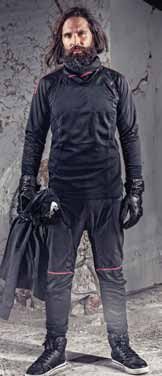 Next underwear. Underwear is a vitally important component in being comfortable on the bike, yet it is the item of apparel that most riders either ignore, or fail to understand.
To keep warm when it's cold, or cool when it's hot, you need a good base layer. In the winter, the underwear should be wool of some description. In the summer, go for a performance Acrylic.
Cotton is the worst fabric you can wear on the bike, be it a shirt or a T-shirt. Cotton simply absorbs, and holds on to moisture. The sun might be shining, but this dampness in your cotton top can make you feel cold and uncomfortable. And if the temperature drops, your cold sweat can bring on the shivers.
We're huge M&S fans, but believe us when we tell you that this is not where you should buy your motorcycle base layers. Let's move on to jackets. I am writing this on a Sunday morning in early March. I've just come down from Newlands Corner, where I had a bacon sandwich and a cup of tea. There were quite a few bikers up there, and it was bloody cold.
There was a group of seven or eight guys on big Hondas, on some kind of ride-out. Nearly all of them were sensibly dressed in textile jackets and pants.
But one of the bunch had a black two piece Dainese leather suit. He looked very sharp, but he was visibly shivering, and was jumping up and down to keep warm. On the bike he must have been freezing.
Leather is great. It looks terrific, and with time develops a wonderful patina. And it offers good abrasion resistance. For a quick blast on a summer's day, when there's not a cloud in sight, leather gets our vote every time.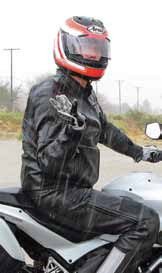 But if it's windy, if it's cold, and more importantly if it's wet, leather is nigh on useless. If you ride in the spring, autumn or winter, you want a good quality textile jacket with a waterproof membrane.
If you're going to be crossing a desert at some point, you might want the waterproof membrane to be removable, because any waterproof lining is going to reduce air-flow.
Many jackets will also have a thermal inner jacket or gilet. This is a nice feature. You could always wear your own mid-layer under your jacket, but the benefit of a zip-in thermal layer is that it's always there in the jacket. You'll never be without it, and if it gets too hot, just take it out and stuff it in your bag.
A good jacket will also have extra added features like adjusters on the sleeves to adjust the sleeve size to compensate for what you're wear underneath. Good ventilation is another important consideration, especially for the summer. These are the basics. The more you pay, the more extra features you tend to get.
Things like waterproof zips, better quality waterproof membranes, more abrasion resistance backing materials, better armour and so on.
We reckon you need to be spending around £200/£250 to get a jacket that covers all the bases. £300 to £400 gets you something you can really rely on all year round. Over £500 and you're making a statement. But let's face it; riding a bike is a state- ment, so that is up to the individual.
There's a school of thought that says the best all around combination for riding is a textile jacket with a leather pant.
Well, we think that's an out of date view.
It's probably based on the view that some bikers prefer the idea of wearing leather pants when they go sliding down the road.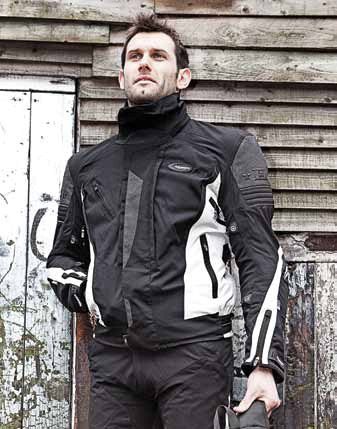 Racers wear leather, and so many people assume that it's therefore the most abrasion resistant material to wear on a bike.
But racers wear tight-fitting leather as much because of its aerodynamic qualities. Leather is abrasion resistant obviously, but leather on its own isn't anywhere near as protective as a good quality textile that has an anti-abrasion lining.
And, of course, as with a jacket, a leather trouser provides little by way of protection from the elements. Leather has no thermal qualities and it will soak up the rain like a dry sponge. Not nice on a long ride!
So, again, for serious riding you want a textile trouser with a waterproof membrane. Legs don't tend to get as cold as the body, so a thermal lining is less important. Again, in the winter, it's nice to have, but it's not an absolute must.
A decent pair of textile pants is going to cost you around £200, but look to pay £300 for something with all the bells and whistles. You can double this for the top of the line Rukka pants.
Which brings us to boots.
Obviously, you want a full height boot; not a short ankle boot.
Leather or Lorica; it doesn't really make a huge amount of difference on a boot. But, in the UK, you do want a boot that is fully lined with a waterproof membrane. There are some great boots out there, and nearly all of them will do the job. But a boot that costs much less than £200 may prove to be a false economy. Whether you want to pay £400 for Daytona's top of the range Travelstar Pro GTX is down to you.
For some people, only the best is good enough.
Which brings us, finally, to gloves.
Now, comparatively speaking, gloves are pretty cheap, and so there's less need to search out a one-stop solution.
In our view, any serious biker should have at least two pairs of gloves.
For the summer, go for leather. A leather gives you a better feel on the bars, and your hands will never overheat in a pair of leather gloves.
A longer cuff is probably best for commuting, but you'll have to decide what levels of protection you want, and how aggressive you want the styling to be.
But an out-on-out race glove will not have a waterproof membrane and, given our weather, you will always want a waterproof membrane. Nobody in this country gets up in the morning completely confident it won't rain by the end of the day. A race glove is for the track. Don't make the mistake of making a race glove your daily staple.
For spring, autumn and winter, it's an easy choice. You'll need a textile glove with thermal padding and a good waterproof lining. Anything less and your rides are going to be uncomfortable affairs.
So that's it.
We all know that you can ride a bike in a T-shirt with a pair of jeans, but if you want to ride comfortable and ride safe, it's worth making an investment in the right gear. It will transform your riding experiences and turn those rides that you don't look forward to into journeys that you'll remember forever. And remember for the right reasons!