Klim Switchback pant review 2023
Published on: 09 August 2023
The Switchback is a cargo-style, single-layer, well-vented, off-road trouser. This is the latest iteration, and I have to say that we are truly excited. We really rated the old Switchback. Strangely, when we placed our Klim order for 2023, we were told that the Switchback had failed to pass EN17092, and that it would not be available this year. But not only does it turn out that the Switchback has been produced; it is now rated AA under EN17092, as opposed to the single A of the previous model.
The Switchback is a fabulous trouser. We don't have anything else quite like it; and for some people it will be the perfect riding pant.
Let us explain exactly what the Switchback is.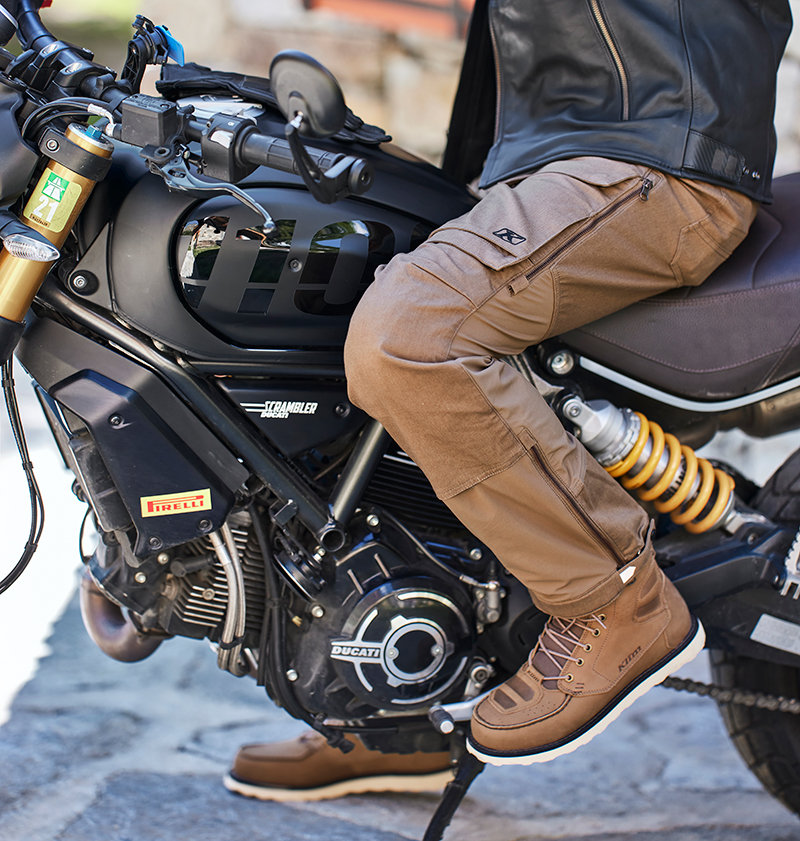 The new Switchback 2 pant
The Switchback is a single-layer pant designed very much with off-road and adventure riding in mind. And as such it wears quite wide and loose, as you would expect of a trouser that might be worn over a tall, adventure-style boot. The material is made from a mix of cotton and Cordura. Now that's not a particularly exotic combination, and it does make for a slightly more robust-feeling trouser. Certainly the Switchback 2 is somewhat heavier trouser than its predecessor. But we don't see that as a concern. In fact, the old Switchback always did feel a little on the flimsy side.
The armour in the knees and hips of the Switchback is D3O Ghost. Interestingly, the knee armour fits from the outside via a flap beneath the cargo pocket.
Ghost is great stuff, but we are not convinced that it is always the best armour for the knees in an off-road pant, because it won't cup the knee in the way that shaped armour would. And off road that is at times a benefit.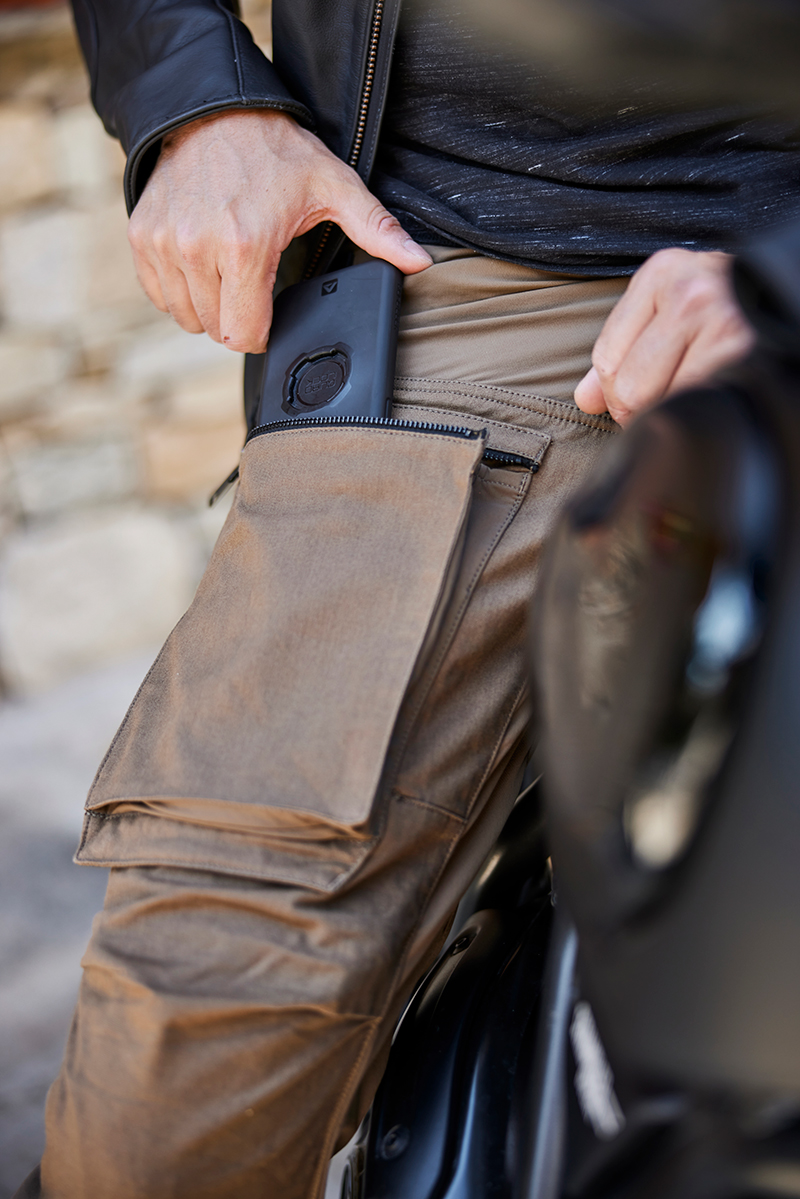 The Switchback pants are equipped with huge cargo pockets.
The Switchback is plentifully furnished with pockets. You get two jean pockets on the front. There are two in the seat; one of which has a zip. On the thighs, there are two large cargo pockets. More than enough pockets for anybody, we feel.
Now this is what we would term a proper off-road trouser; and what that means is that it doesn't have a waterproof membrane. When you're working hard off-road, or riding somewhere really hot, the last thing you want anywhere near you is a membrane. A membrane will impede sweating, which is the body's mechanism for cooling itself down. And a membrane will block the oncoming air.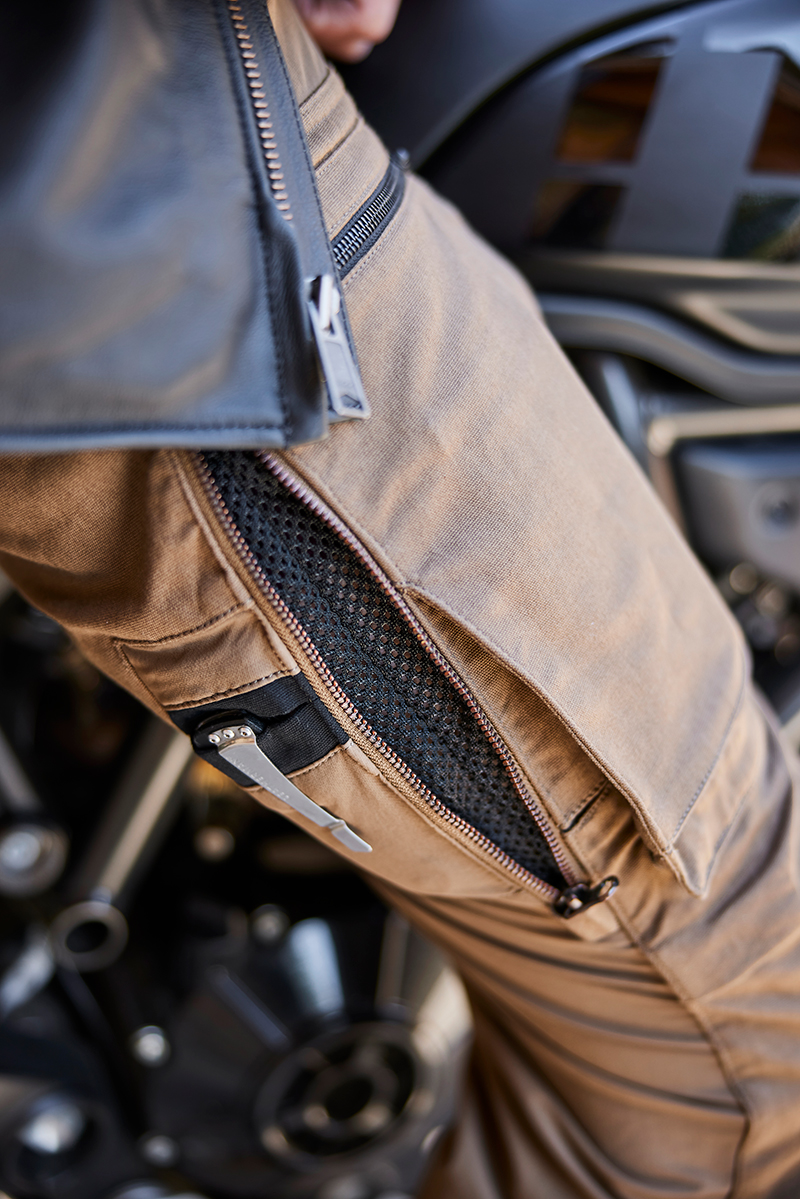 Large vent zips run down the sides of the cargo pockets.
ood venting. There are two vent zips that run down the sides of the cargo pockets. Klim also reckon the boot zips at the hem of the pants can be used as vents, but we wouldn't really agree. These zips are shorter than the zips on the old pants, and given that one might expect the Switchbacks to be worn over a taller boot, we just cannot see that these two-way zips will let a lot of air in.
But one of the things we really like about the Switchbacks is the adjuster mechanism at the hem of the leg designed to allow it to be clamped around the boot. It's basically an elasticated strap that adjusts by means of poppers. It's so clever we're surprised that nobody has copied it.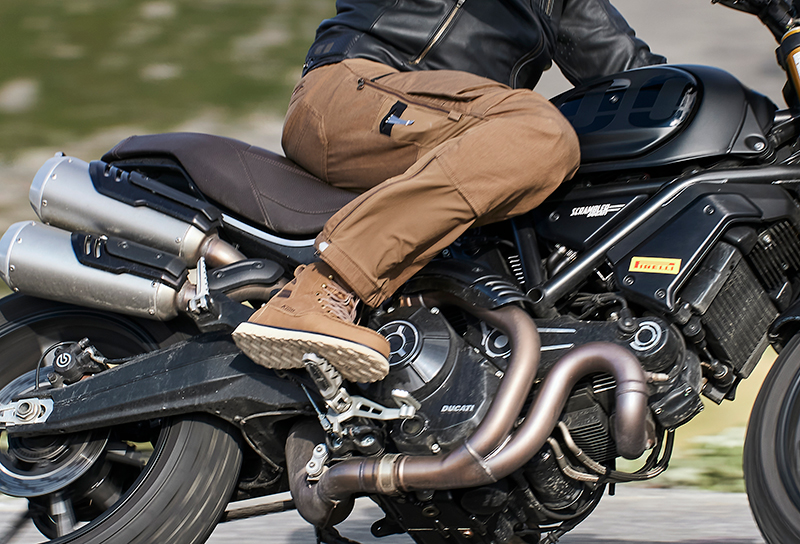 In summary
These are terrific pants. We were upset when we thought Klim wasn't producing them for this season, so are very pleased that they are now here.
Even though they are single-layer, they are not, in our view, a substitute for a pair of jeans. You wouldn't wear a pair of Switchbacks into work. They are not chinos. They are not smart. They will work on an adventure bike, but that's kind of it.
We do, though, think that they would work well with a Marrakesh jacket. Now obviously there is a Marrakesh pant, but the Marrakesh trouser is very off-road in its design. The Switchback wears loose, but you could wear them on the street, without looking like a Paris-Dakar entrant.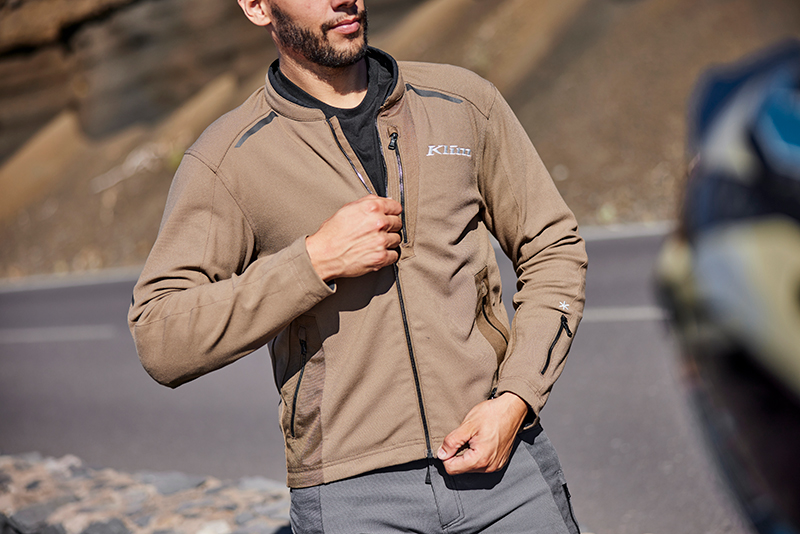 The Switchback pant would work well with a Marrakesh jacket.
We often recommend a Rokker jean as the most appropriate pant for wearing below a Marrakesh, and if you ride on the road, then that would still be our recommendation. Now you could happily wear a pair of Rokkers in the desert, but in truth if you're going to be somewhere hot and sweaty, and particularly off road, the Switchbacks would be better.
The Switchbacks are comfortable, they will look just right on an adventure bike, they are highly breathable, and they are protective. There's not a lot that's not to like about the Switchbacks. And we do indeed like them.
They come in Teak or Asphalt. The price is £320. Not cheap, but then, of course, Klim doesn't do cheap.
For more information and to order online, click Klim Switchback pant.
---
Want some more? Please click here to return to our editorial menu.

Share this story