Rokker Revolution AAA waterproof jean review
Published on: 17 August 2022
It would not be incorrect to suggest that the Rokker brand, in this country at least, was shaped by their original, waterproof Revolution jean.
The Revolution was the first Rokker jean we ever marketed, but it took us a couple of years to be persuaded that it was a worthwhile product. It had been presented to us by no less than three different distributors. In fact, the plonking of the wooden box onto the showroom table became somewhat of a running joke. Any jean that required a wooden box to market it had to be a gimmick, we reasoned. And then, one day, a customer in the shop, told us that he had bought a pair, and that they were the best jeans he had ever worn. This piqued our interest, and so we booked some tickets on Swiss Air to go out and learn more.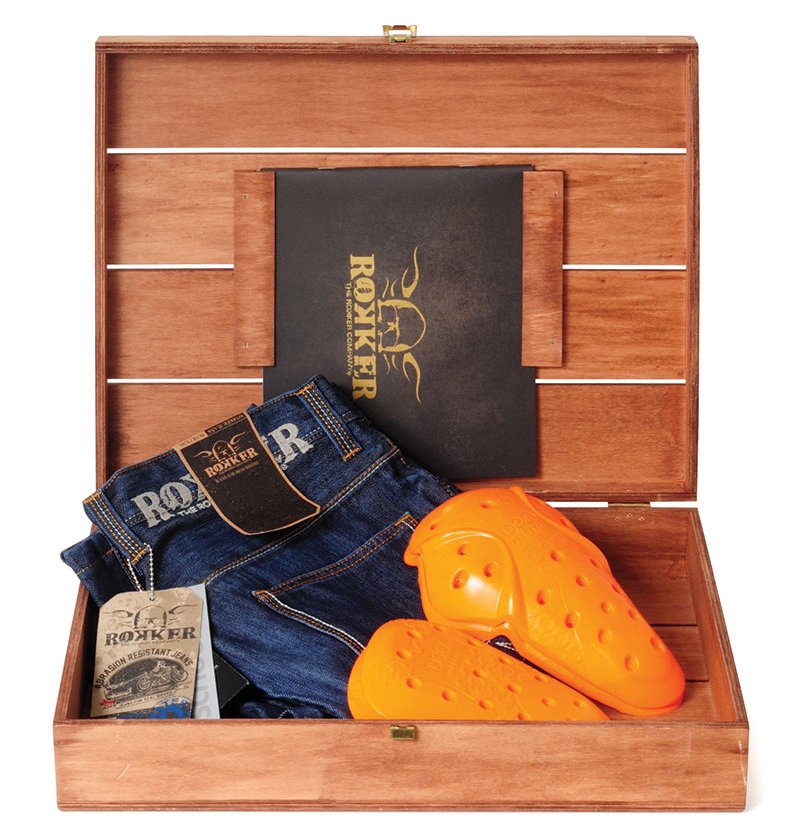 It took a while for us to be persuaded of the merits of the 'jeans in a box'.
We came home convinced. The Revolution, at that time, was one of the lightest jeans on the market. It was single-layer. It looked alright. It wore okay. And it promised to be amazingly waterproof, which in fact turned out to be the case.
The R We got behind them, and once word got out, they became incredibly popular. There hadn't been anything like them; and in truth there still isn't. There are other so-called waterproof jeans out there, but a waterproof jean with a drop-liner membrane will never work because the denim will simply soak up the rain. But as the membrane on the Revolution was laminated, the jean never wetted out, keeping the rider totally dry.
We sold a bucket load.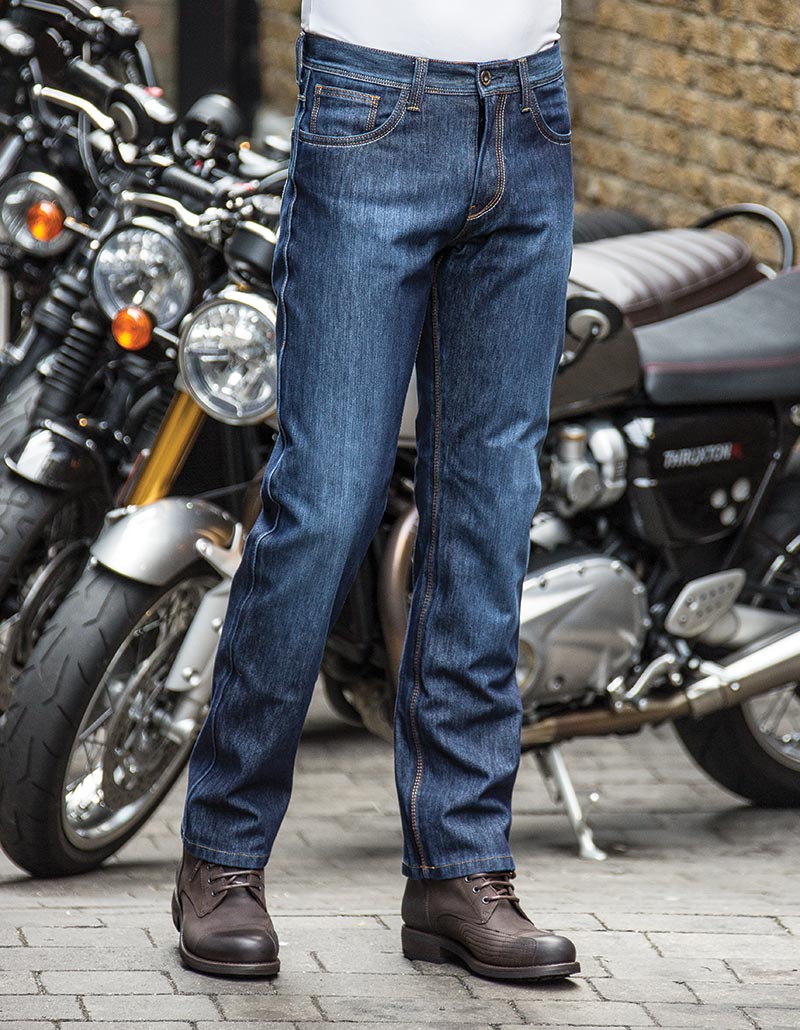 The Revolutions were totally waterproof and totally unique. They sold well.
But when Rokker's Rokkertech jeans came along a few years later we kind of lost a little enthusiasm for the Revolutions. And that was because the Rokkertechs were lighter, more breathable, more comfortable, more abrasion resistant, and so on. Of course, the Rokkertechs weren't, and still aren't, waterproof, but so nice were they to wear and ride in that we reasoned that the hassle of occasionally having to put on a set of waterproof pants over them was not a huge inconvenience, especially as we had recently discovered Scott's excellent Ergo Pros.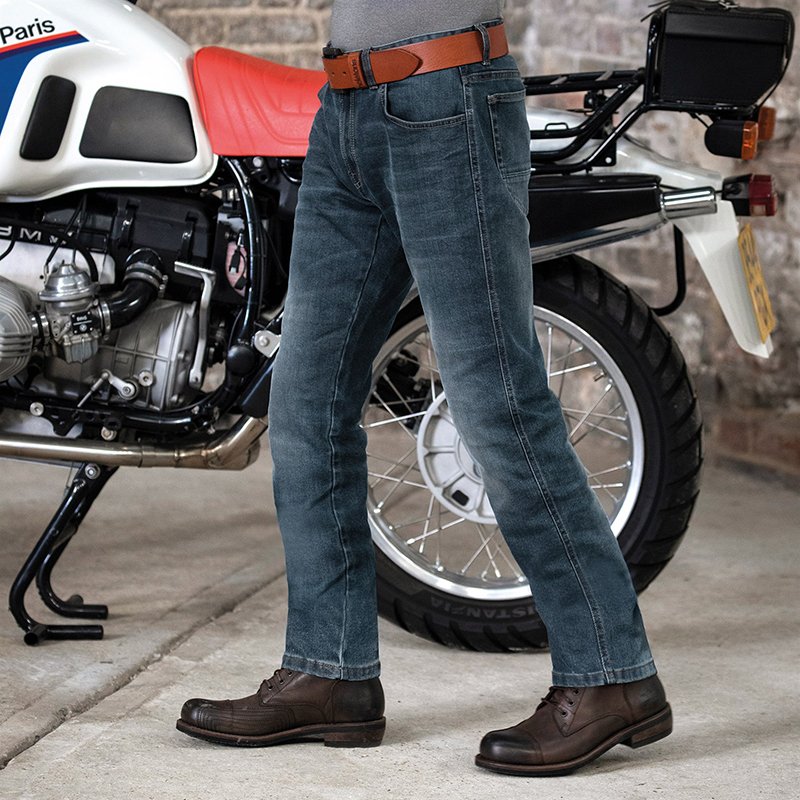 When the Rokkertech jeans came out, we lost enthusiasm for the Revolutions.
Our thinking was, and still is to a degree, that you can make a breathable garment waterproof when it rains, but that you can't make a waterproof jean very breathable in the heat. We also started to become more mindful of the fact that most of us prefer to ride in nice weather rather than in the rain. In fact, many riders simply won't go out if there's a prospect of a downpour.
But there was still a demand for the Revolution. If you wanted to commute in a jean, it was the perfect solution. In fact, it was probably the only solution. And some people felt that it was the perfect jean to go touring in. Others, who just didn't like the idea of having to stop to put waterproofs on if it rained, simply preferred the idea of a jean that would work in a wide array of conditions.
We can make a breathable garment waterproof, but the opposite is harder.
But the old Revolutions weren't perfect. Yes, they were waterproof, but the material didn't really look or feel like a genuine denim. Over time, the material developed a pleasing patina, and it softened up, but it didn't age like a proper denim. The fit was also pretty relaxed. The legs were on the more voluminous side, and on somewhat slighter people they didn't always look great. And even though the jeans had a not unimpressive slide time of just over three seconds, they were only A-rated under EN17092.
The original Revolutions were always a class act, but five years after they were launched they didn't seem quite as extraordinary as they once were. Still impressive, but not perhaps as magical as we had once perceived them to be.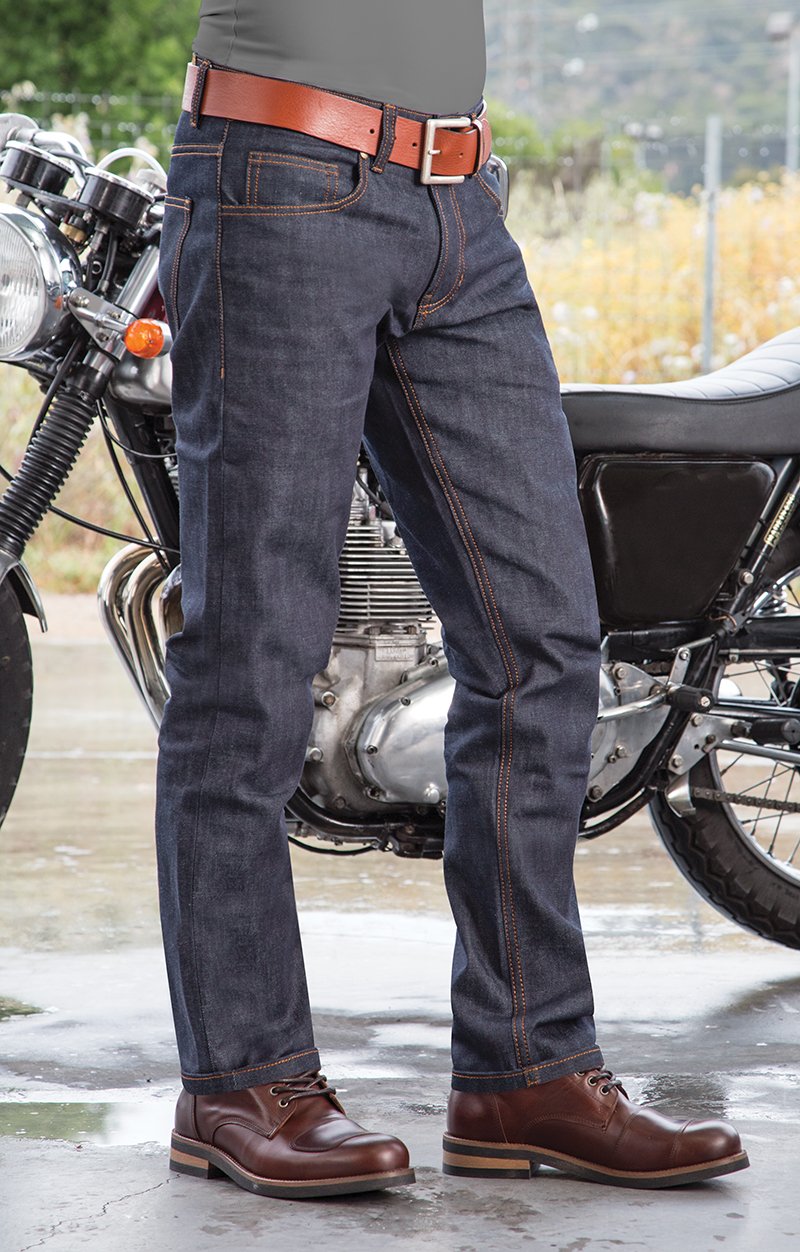 The new Revolution jeans look nicer, and are much more protective.
The new Revolution AAA jeans
But now there's a new Revolution jean in the manor, and it's pretty impressive.
The formula is the same. Waterproofing comes courtesy of Schoeller's C-Change membrane, which is both waterproof and breathable. And as it's laminated to the inside of the Schoeller Dynatec outer fabric you are going to stay totally dry, because the fabric is never going to wet out. In really heavy rain, the denim will become damp, but it will never become soaking wet. And that's important because any garment that gets wet out can swiftly cause you to feel very cold as well.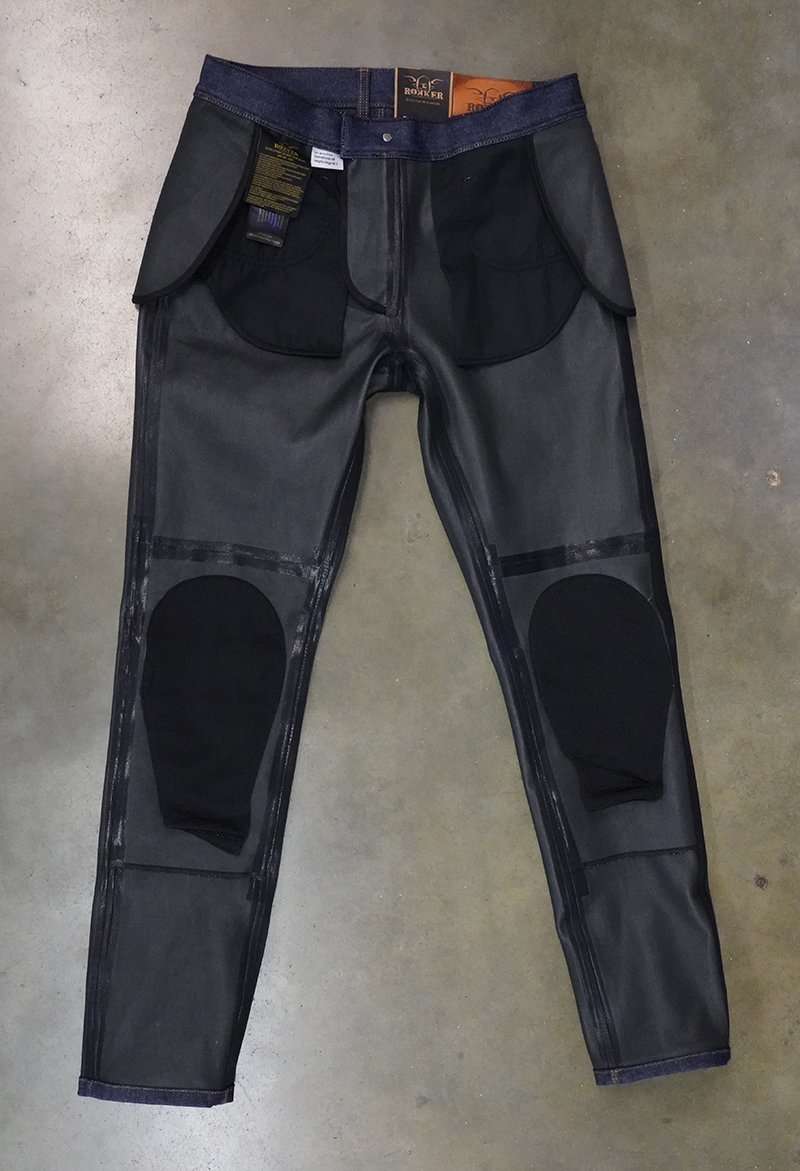 Like the originals, the laminated membrane is seam-sealed throughout.
To make sure the rain can't find its way in, even the fly zip is a waterproof one. The only way that the rain is ever going to find its way through to the skin is through the front pockets or the waist band, which is not waterproof.
The C-Change membrane that is laminated to the denim has one other quality. The molecules in the membrane close up to keep heat in when it's cold, and open up to enhance breathability when it's hot. This gives the jeans an ability to regulate the body's temperature, albeit only to a degree.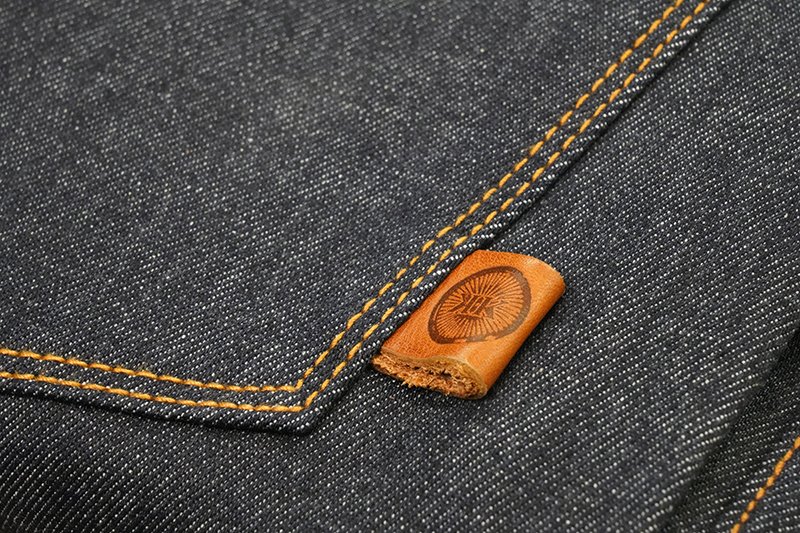 The new Revolution jeans look nicer, and are much more protective.
But there are a couple of other improvements with the new Revolution. First, the new jean looks like more like a proper, Japanese-style, pre-washed denim; in fact, they look just like a pair of vintage Levi's.
But the denim is also a bit heavier, which goes some way towards explaining why the new jean attains the highest AAA rating under EN17092. The jeans come with highly-pliable, Level 1 SAS-Tec armour in the knees and hips. It's not D3O, but it's very similar. The armour pockets are also improved. There is a tiny amount of adjustment within the new pockets, but if you come to the shop we can unsew the pockets and move them up or down to get the protectors in exactly the right position.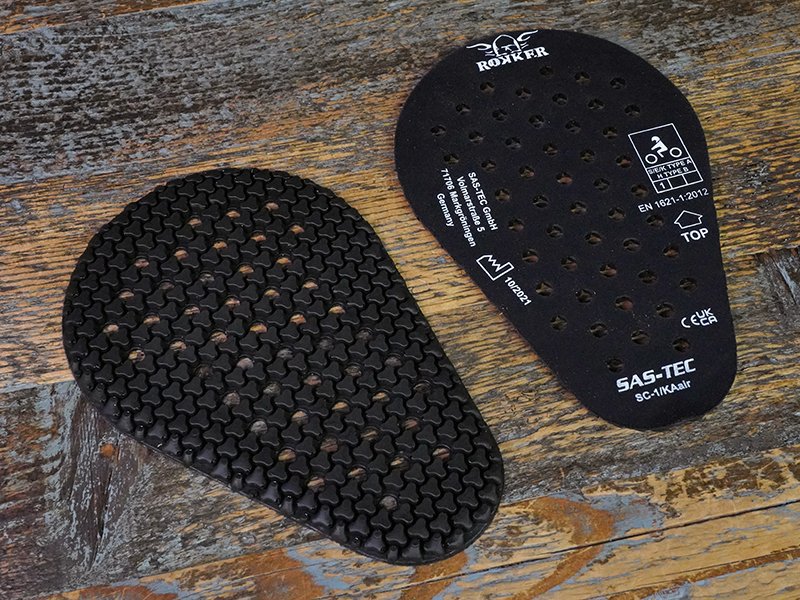 SAS-TEC armour is just as thin and pliable as D3O's Ghost, but it's smaller.
And so it would not be untrue to say that we are, once again, excited by the Revolution jeans. The new version certainly represent a step up.
Living with the new Rokker Revolution AAA jeans
We really like these new jeans.
We haven't had much of an opportunity to really get to know them, and we haven't used them in anger, but we think we can hazard a bit of a guess as to what they are going to be like to wear, and to ride in.
In some ways, they are going to be similar to the old Revolutions, but they are a bit heavier, so they are not going to be more comfortable. But as they are much more protective, they are perhaps going to be more reassuring to ride in.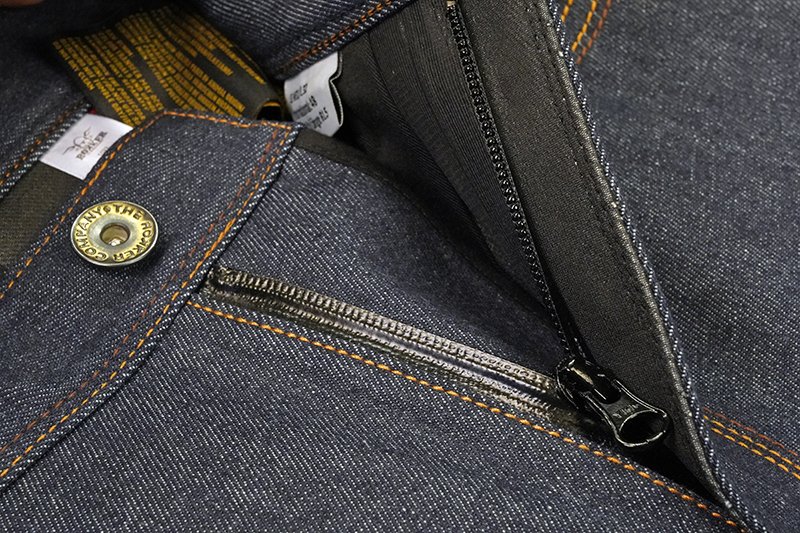 Like the originals, the new jeans have a waterproof fly zip.
Now, one other difference is that the fit is more tapered than on the original Revolution. They are going to look much more modern; less dad-like. But the fit may well make them a bit sweatier than the old ones.
Now Rokker suggest on their website that the AAA Revolution is totally breathable, but this is nonsense. Nothing is really totally breathable. Anything with a membrane is going to be even less breathable. But the fact that the new AAA Revolution has a thicker fabric and a narrower leg will mean that they will be even more prone to becoming warm and sweaty than their predecessor.
So the bottom line is that the new jean is going to be just as waterproof as the old one. And make no mistake, we're talking about Rukka levels of waterproofing here. The new jean looks better and is more protective. The downsides are that, on hotter days, they could be a little stickier. And largely because of the stronger, heavier fabric, they may even be a little less comfortable. The stronger, more abrasion-resistant fabric also means that they are, as you might expect, more expensive than the old ones.
So, this is the new Revolution. The Revolution was always a unique jean, the likes of which you couldn't find elsewhere. Well the new AAA version is really just more of the same. Like the old one, just better.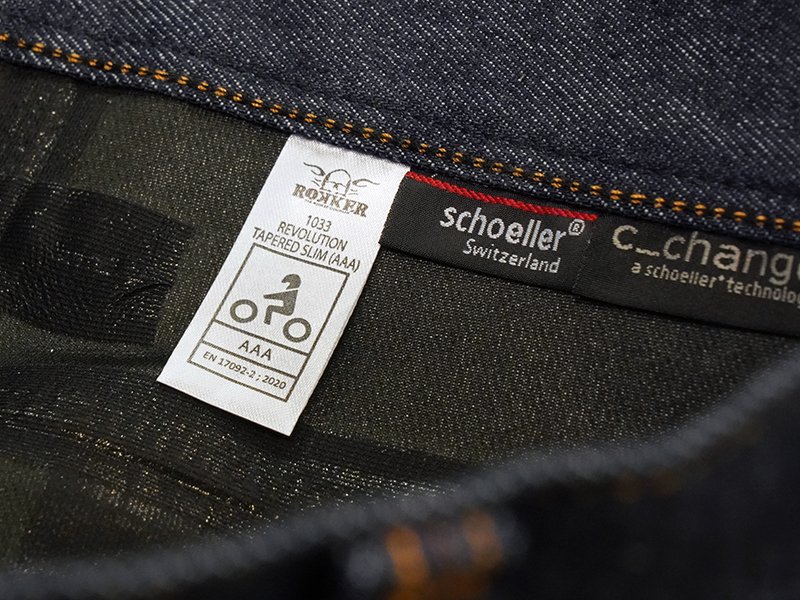 One big difference is the change from an A rating to an AAA safety rating.
These are not the jeans you necessarily want to be wearing in thirty degree plus temperatures. But when it's a bit colder and a lot wetter this isn't only a great jean to be wearing; it's the only jean to be wearing.
Technically, the Revolution isn't exclusive to Motolegends, but the truth is that very, very few other dealers will stock them, and absolutely none will hold them in the full range of sizes, as we will be doing. If you are ordering online, by the way, be honest about your waist size. There's no Elastane involved. There's no give whatsoever in the waistband. You have been warned.
If you've had a pair of Revolutions in the past, you may well be minded to upgrade them. If you've never had a pair but want a jean that will keep you totally dry, then you should try them out.
For more information and to buy online, click Rokker Revolution AAA waterproof jean.
---
Want some more? Please

click here

to return to our editorial menu.

Share this story