Rokker Revolution jean review
Published on: 09/10/2019 11:37
2019 has not been a bad year. In fact, Brexit turmoil aside, we reckon it's been a pretty good one. The weather was probably better last summer, but we've still had some great spells, and there've been loads of opportunities to get out on the bike.
In the summer, we love riding in our Rokkertech jeans. When it's hot, there's simply nothing to touch them. They're as comfortable to wear as a pair of Levi's. They fit like a pair of Edwins. They're more abrasion resistant than a pair of leather riding pants. They come with D30 knee and hip armour. And they flow air like a mesh pant. They also look pretty darned cool!
But what has become more than apparent in the last week or so is that the summer is finally over. Now the Rokkertech is a fabulous motorcycle trouser, but when the temperature drops it's not quite so nice, because it simply flows too much air. You can get just a little too cold riding in a pair of Rokkertechs at this time of year.
Where Rokker's Rokkertech jeans are not very good at all, though, is in the rain. In fact, when it rains, they're pretty much useless. No better than a pair of standard denim jeans. And when you're barrelling along at 70 mph in a downpour, they're just not what you want to be wearing. Not at all.
At this time of year, if you like riding in jeans, what you actually want to be wearing is a pair of Rokker's Revolutions. Rokker's Revolution jeans are quite amazing; in their own way every bit as amazing as the company's Rokkertech jeans; probably more so. It's just that they have different capabilities.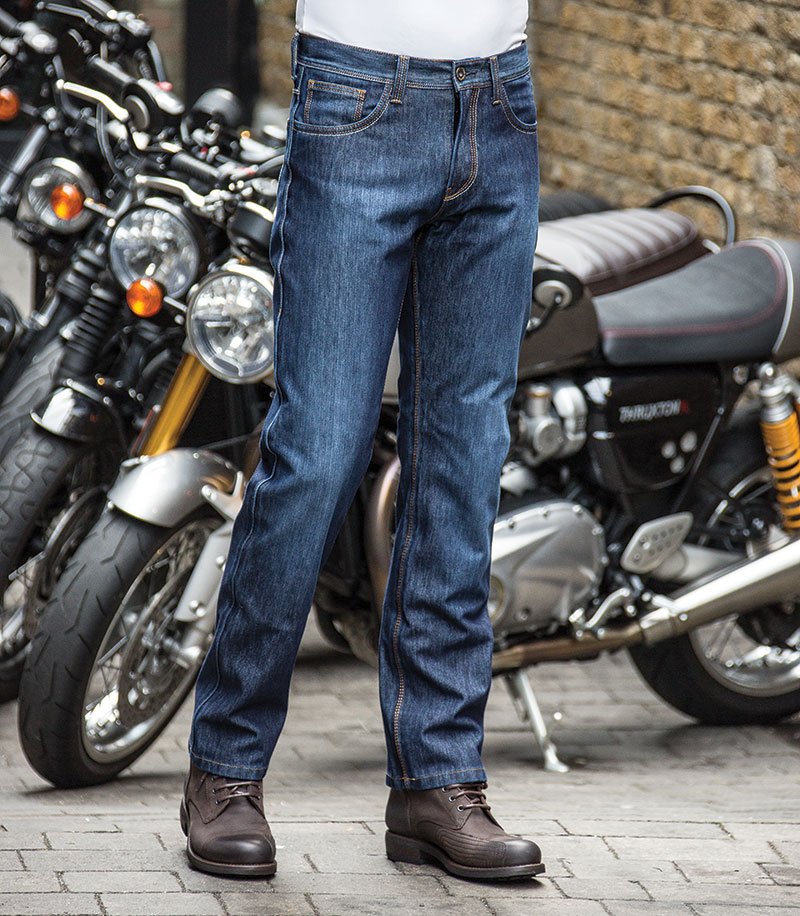 The raison d'être of the Revolution jeans is their ability to withstand the rain. Like a top-of-the-range Rukka trouser, the Revolutions are what is known as 'laminated'. That is to say that a waterproof membrane is bonded to the inner surface of the outer fabric. In this case, the outer fabric is denim infused with Dynatec.
When you bond, laminate or heat-seal a membrane to the inside of a material, you totally stop water from passing through the fabric. In even the heaviest and most prolonged downpour, the rain will not get into these jeans. The denim will get damp, but the pants will never 'wet out'. That is to say that they will never become totally sodden with water.
Normal, waterproof motorcycle pants, which have a what is known as a 'drop-liner' membrane, will eventually, in three or four hours of rain, wet out. They will become heavy and waterlogged, and if you continue riding when the pants have reached this stage you, as a rider, will get very cold.
In Revolution jeans you can ride for four, five even six hours of rain, and you will not get wet. You will not find a waterproof pant that is more waterproof. The other benefit of a laminated trouser like the Revolution jean is that, when it stops raining, it will dry out very quickly.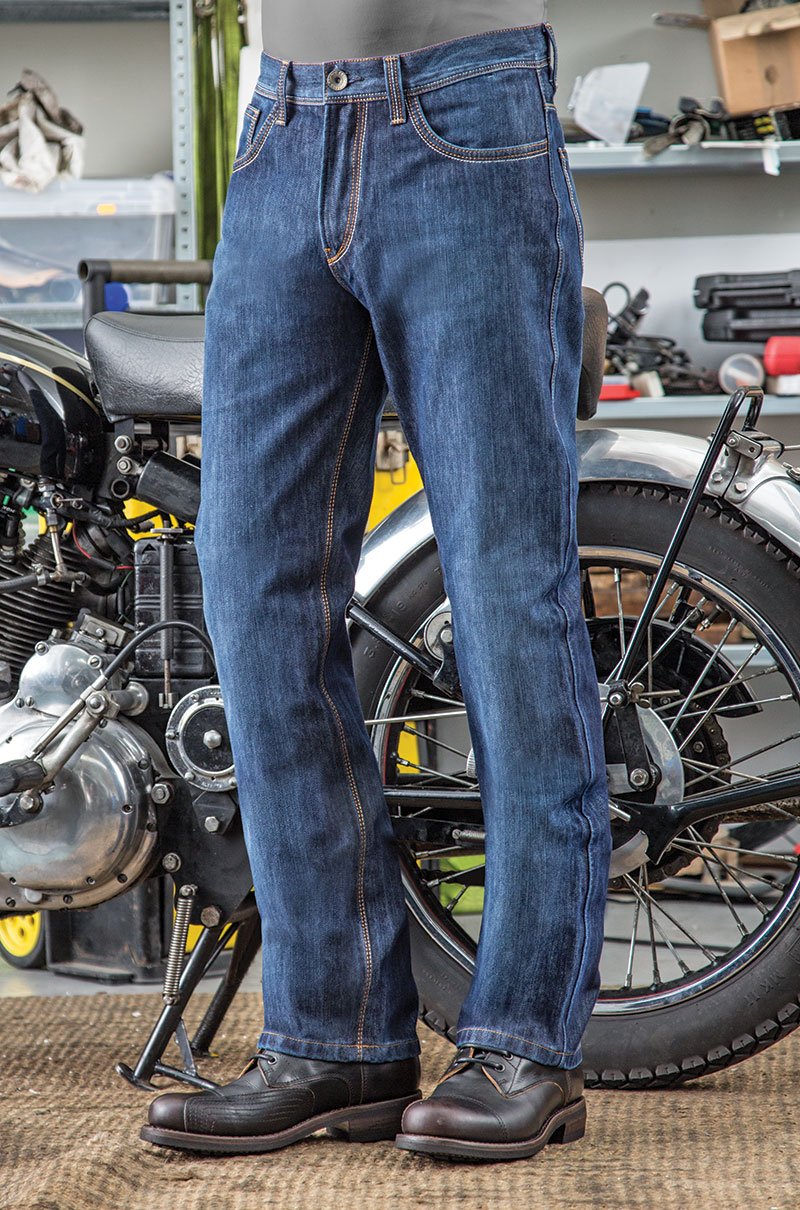 The membrane in the Revolution jeans is not Gore-Tex. It's called C-Change. It's breathable and waterproof, but it does something that Gore-Tex doesn't. It helps to regulate the wearer's body temperature. And it does this by allowing the molecules in the membrane to either close up to keep heat in, or to open up to allow heat to escape. Now, you shouldn't get carried away thinking that the Revolutions will cope with all weather conditions. They won't keep you warm when it's freezing cold, or keep you cool when its boiling hot. But they will make you feel warmer than you normally would when it's chilly. And they'll keep you cooler than you'd expect to be on a hot day. C-Change really works, but it can only do so much.
SAFETY AND PROTECTION
The Revolutions are not as abrasion resistant as Rokker's Rokkertech jeans, but they are nonetheless pretty impressive. The Rokkertechs have a slide time of 6.4 seconds. Leather has a slide time of between 4 and 4.5 seconds. Your average textile technical pant would be between two and three seconds. The Revolutions are just over three seconds. Given all the other qualities possessed by these jeans, we think that's pretty impressive! And indeed they come with Rokker's 'crash' guarantee, which pays out a new pair of jeans if yours become holed through abrasion when you come off the bike. The Revolutions also come supplied with D30 armour in the knees and the hips.
FIT AND SIZING
The Revolutions don't, and won't, work for everybody. The fit on the leg is quite wide; we'd call it straight. It's more generous than even the most relaxed Rokkertech.
But it needs to be because, when it's hot, say in the low thirties, even the high twenties, the Revolution jeans can become a little sticky. And that's because, if you are sweating, the waterproof membrane doesn't slide so easily over your skin. You can improve the situation a little by wearing a lightweight base layer, but the bottom line is that the Revolutions are better in cooler temperatures and, of course, when it's raining. When it's hot, the Rokkertechs are somewhat nicer to wear.
In terms of getting the fit right, you should know the sizing is very exact, and that the fabric doesn't give a lot. If you're really a 33" waist, you won't squeeze into a 32", and so on. Sorry! The good news is that the size range is impressively broad. The Revolutions go from a 28" waist to a 44" waist. And in all waist sizes, they come in 30", 32", 34" and 36" leg lengths.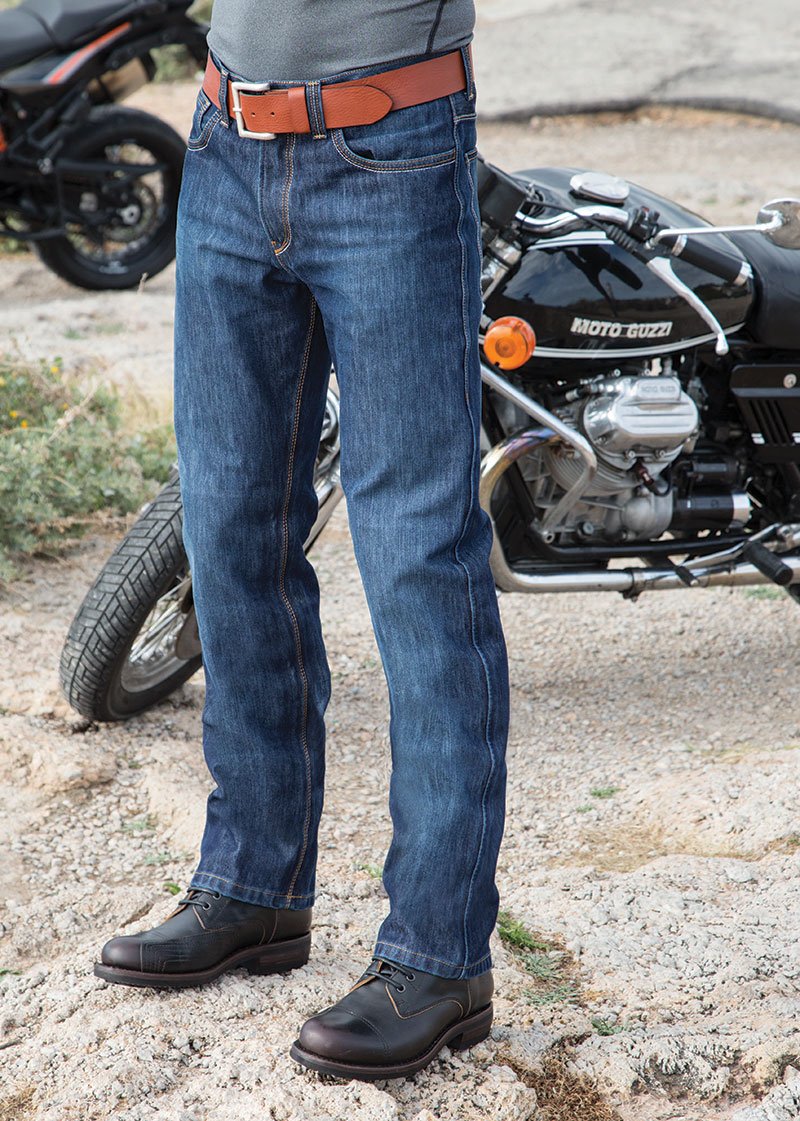 Now with Rokker jeans, leg lengths are important. And that's because the leg length dictates the position of the knee armour. And the armour isn't adjustable. Basically, you have to go for the leg length that puts the armour in the right place for you. Getting it right isn't always straightforward. Here in the shop we know how the jeans work. Sometimes you will need a leg length that is too long for you just to get the armour in the right position. If this is the case, we'll then shorten the jeans to get the leg length correct. Correct, by the way, means the hem sitting on the ankle bone when you're on the bike.
Sometimes, if the armour doesn't sit where we want it to, we are left with no choice. We have to unstitch the armour pocket inside the jean and move it up a little, or down a little, to get it where we want it to be. It's not rocket science, but the fact is that we are the only people who know how to do this. So, if you're interested in the Revolution jeans, and if you want them to fit as they should, and work as they should, you should perhaps come and see us.
SUMMING UP THE REVOLUTIONS
The Revolutions are impressive. Jeans are never really waterproof. There are some jeans out there with a traditional waterproof drop-liner membrane, but they don't work. In the rain, the denim absorbs water. They get heavy, you get cold, and the denim starts to chafe. Not to mention the equally wet Kevlar lining.
By contrast, the Revolutions are waterproof. Really waterproof. Really, really waterproof! They're lightweight, look good, are easy to wear, are more protective than most textile, motorcycle trousers, and will even help regulate your temperature. Nothing is perfect. The Revolutions are simply not great in the hottest weather. But for the rest of the time they are brilliant. You could commute in them, or tour in them, or go out on a Sunday ride in them.
At £350, the Revolution jeans are not cheap. But given what they are, and what they do, we think they offer pretty amazing value. There's certainly nothing else out there that's like them. If you don't try a pair on, you'll never know. Come and see us in Guildford, and you can make up your own mind.
---
Want some more? Please click here to return to our editorial menu.

Share this story