Where to ride motorcycles in Surrey
Published on: 08/11/2016 16:59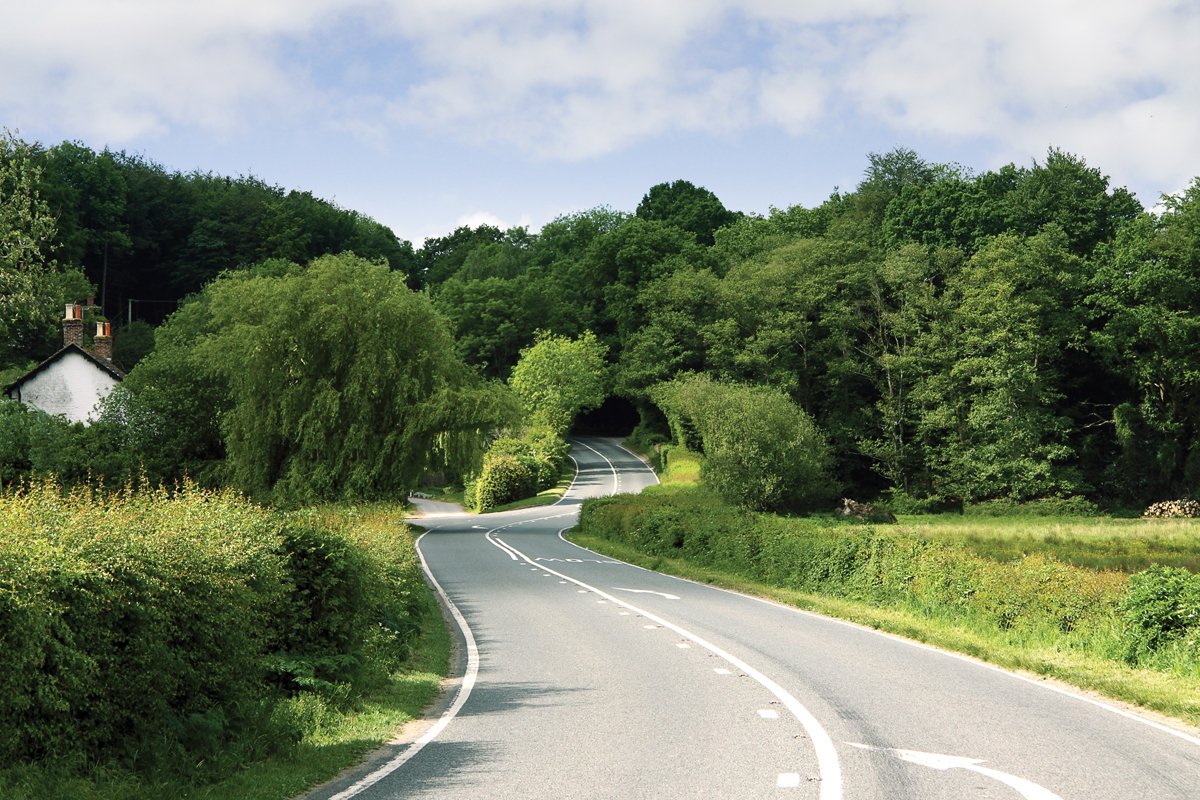 TAKE A RIDE OUT AND VISIT US IN SURREY
As many of you will know, we're not really a PROPER shop, but that doesn't stop hundreds of customers coming to see us in order to pick up a motorcycle jacket, or try on a new crash helmet for size.
We're open seven days a week, but what we've found is that a lot of bikers like to make a scenic Surrey day out of it and come and see us on a Saturday. We think it's a great idea, but for those of you who want to get the most out of their precious weekends, we thought we'd tell you what a great day you can have on the bike if you choose to visit this part of Surrey.
NEARBY BIKE SHOPS
The first thing we would say is that it's a bit of a Mecca for bike shops around here.
We're not really Harley people, but almost opposite us is a new Harley Davidson dealer.
Barely two miles down the road, there's a great new Triumph dealership in a village called Bramley. If you're into exotic cars, Bramley Cars is nearly next door and well worth a visit too.
If BMWs are your thing, we've got a BMW car and bike franchise in the heart of Guildford, but for a more interesting ride, there's a top BMW bike dealer called Bahnstormer in Alton. That's about 30 minutes from us. They're great people. They've got a nice coffee shop and the atmosphere is lively. And, if you want to carry on riding afterwards, the A31 down to Winchester is a terrific road.
One of our favourite motorcycle destinations in the area, however, is a wonderful classic Italian bike shop called Di Marino.
It's in a village called West Chiltington; again a nice cross-country ride down some empty back roads. You should allow about 40 minutes for the trip, but it's well worth it. Di Marino is housed in a former 1930s garage that is jam-packed with the most interesting collection of old Italian bikes you're ever likely to come across; everything from very early 50cc Ducatis and Benellis through to exotic racing Laverdas, Guzzis and MV Agustas from the sixties and seventies.
You won't find anybody more knowledgeable on these bikes than Pietro, the owner, and the nice thing about Saturday is that it's always a bit of an open house down there. Pop in, have a look around, have a chat, fill up with gas from a genuine 1960s pump, and then carry on your merry way down to the coast.
Of course, in and around the county, you'll also find dealerships for all the big four Japanese manufacturers but, let's face it, there's probably one a few miles from where you live, so we would hardly classify them as interesting stop-off destinations.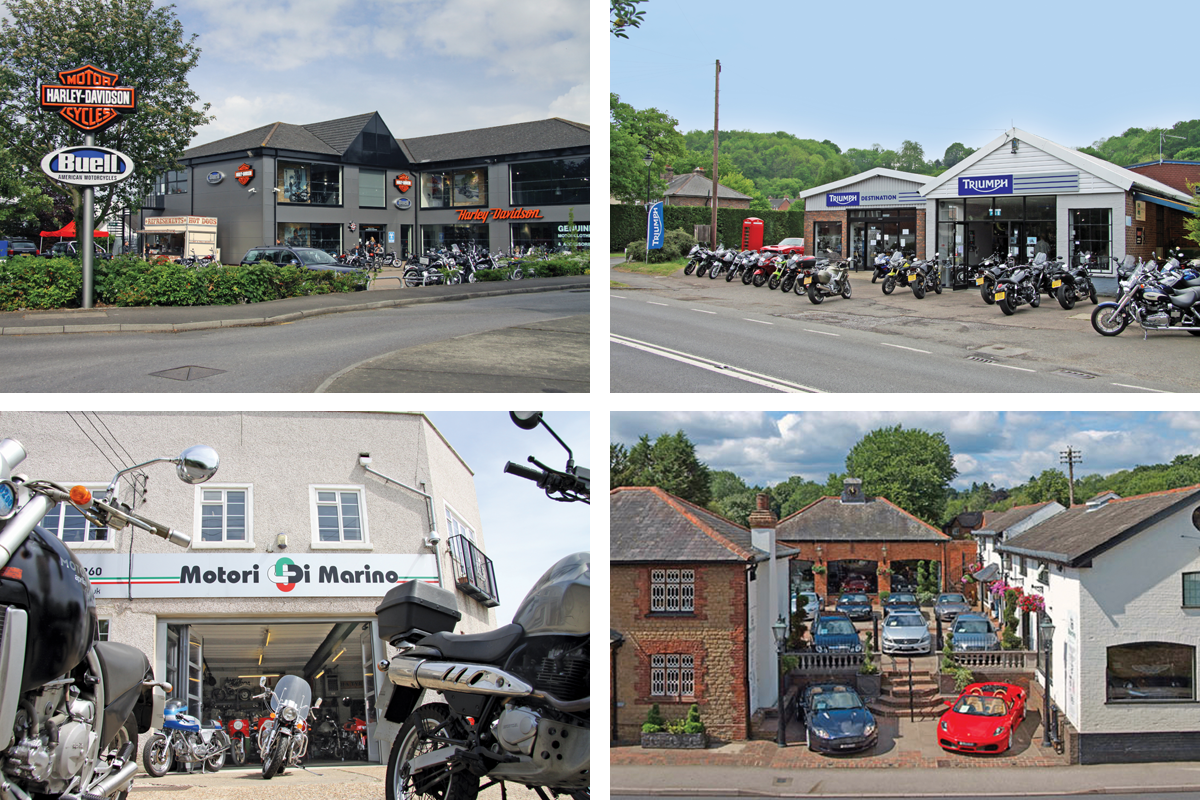 There are loads of bike dealers in the area around us. A Harley place just opposite and a triumph dealer down the road. And don't forget to pop into Bramley Cars to see some exotic four wheeled stuff. One of the most interesting dealers in the area is Motori Di Marino, a great Italian specialist in West Chiltington.
THE BEST COOKED BREAKFAST IN THE UK
I'm a bit of a black belt when it comes to traditional English breakfasts.
From the swankiest London hotels to the most tucked away B&Bs in the middle of nowhere, I've made it my mission to search out the best cooked breakfasts in the land.
I swear it's the best way to kick off the day (well, at least at the weekend), but I'll run a mile from plates swilling with grease, eggs scrambled in the microwave, cheap sausages, dry bacon and soggy toast.
And so I was delighted to discover a few years ago that the best cooked breakfast in the entire country, if not the whole darned world, is prepared and served in a café barely half a dozen miles away from us.
The café sits at the back of a kind of family oriented mini department store called One Forty, in a lovely town-cum-village by the name of Cranleigh. The shop's bang in the middle of the high street, by the way, opposite the bus stop.
I'm really not exaggerating when I say that they serve the very best breakfast you'll ever taste.
Cooked by proper chefs in chequered trousers, these guys use only the best local ingredients, including award winning sausages from Cranleigh's famous award winning butcher, Rawlings.
They also serve brilliant Illy coffee and bake mouth watering cakes.
And then for afterwards there's their sausage rolls. They don't get better than this. I pick one up every Saturday for my Sunday lunch; they're a meal in their own right. And they're all meat, not the usual empty pastry rolls you find in most places these days.
In fact, so much do we love this place that if you come and see us on a Saturday morning and spend over £100 on biking gear, we'll treat you to one of 140's all-day breakfasts. No two ways about it, this is the breakfast of champions; certainly justifies a 100 mile round trip in our book!
Oh, and Cranleigh's a lovely place in its own right, with a pretty main street that's more than worth a walk up and down.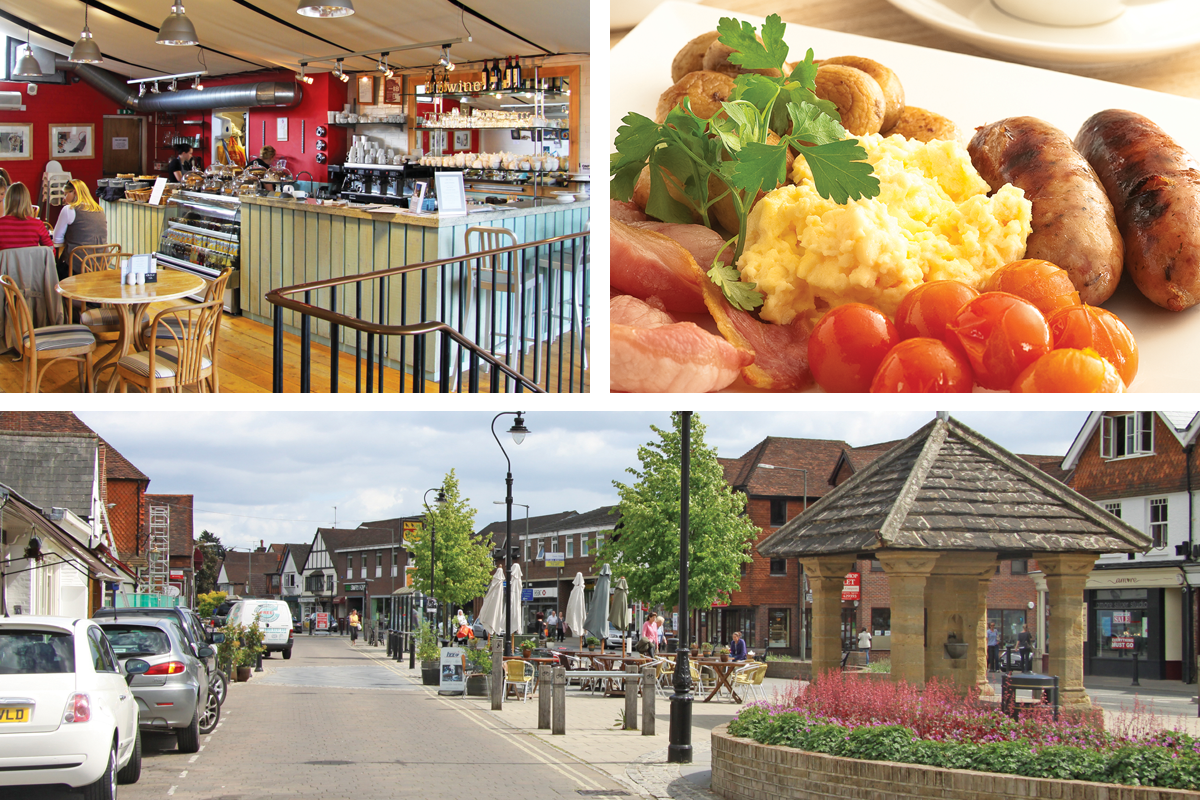 Cranleigh is a great place to visit, technically the largest village in the UK. Loads of cafés and restaurants, but our favourite is the one at 140. You'll find it at the back of the shop, and if you spend over £100 on bike gear, breakfast is on us.
GREAT ROADS
Of course, if you're going to pay us a visit, you're going to want to find some decent roads and you're in luck, as there's some great riding to be had on our doorstep.
Our favourite ride from here is down to Goodwood. From our office, head to Godalming, just a couple of miles down the road, and then take the A283 via Petworth, or the A285 via Haslemere and Midhurst. Smooth, safe roads, sweeping bends, good visibility and stunning scenery.
You'll be at Goodwood in under an hour. Grab a bite or a coffee at the Aero Club in the middle of the circuit, and then head back to Guildford on whichever road you didn't take on your way down.
Another interesting circuit would take you out of Guildford on the A281. Turn right onto the A29 and continue as far as Billingshurst. Then another right onto the A272. Come north on the A3 or, if you've got time, carry on until Winchester and then head back east towards Guildford on the A31.
On all these roads, you'll pass through many terrific picturesque villages and come across some neat pubs and cafés.
All we'd ask is that you ride sensibly on our local roads. Doing a wheelie through some sleepy country hamlet and scaring the natives with over-loud exhausts and reckless riding will just make you look a bit of a...well, you know!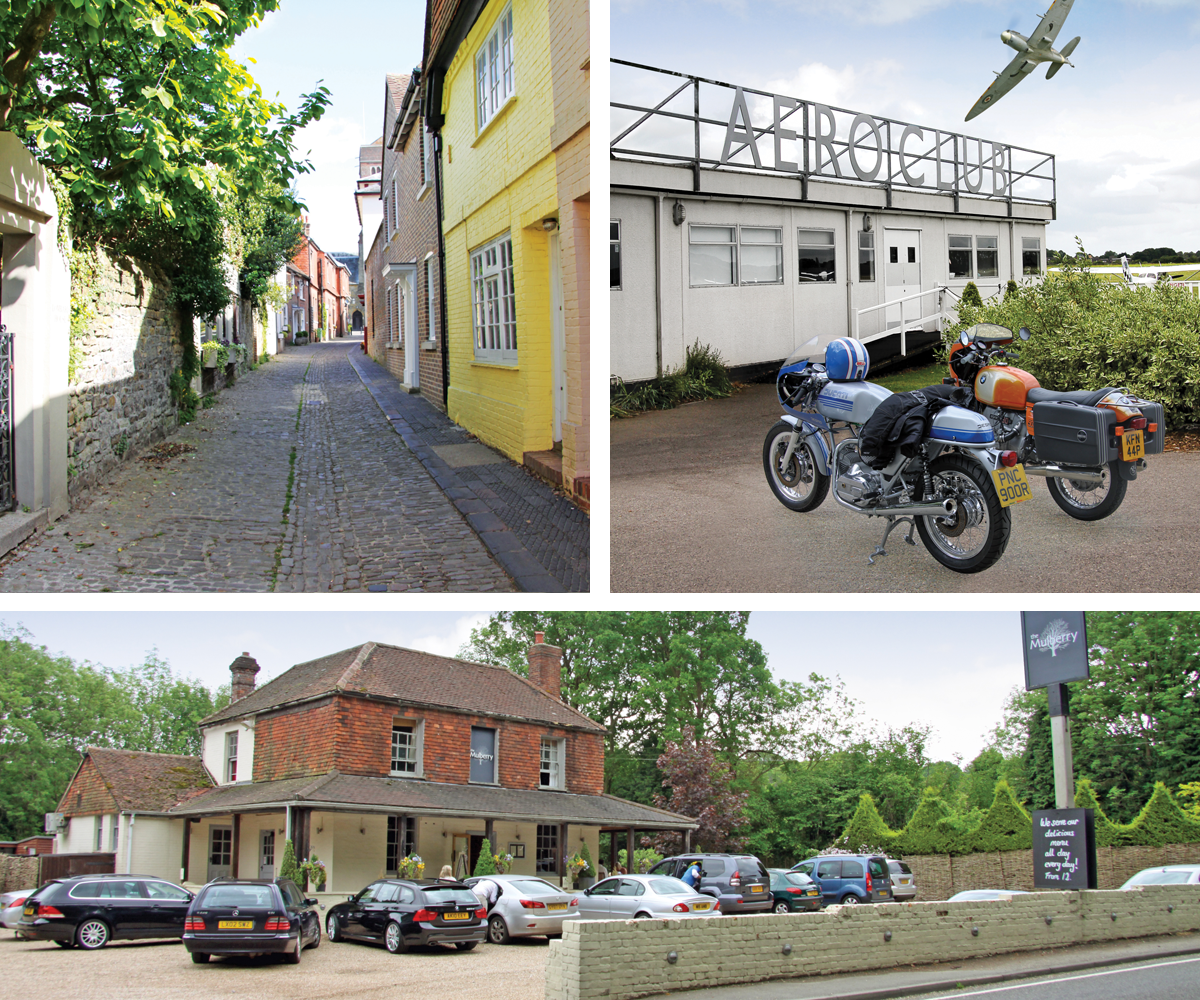 Riding the roads around here will take you through some seriously nice villages and towns, places like Petworth with its interesting selection of antique shops. If you get as far as Goodwood motor circuit, head for the Aero Club on the infield. Watch the planes for a while, have lunch or just a coffee before hitting the road again. This pub, just south of Chiddingfold, is called the Mulberry, although we know it as Chris Evens' pub. It's run by his sister and brother-in-law. In truth, it's quite smart, but there are loads of other more pub-like pubs in the area.
ALWAYS PHONE US FIRST IF YOU ARE VISITING
We'd love to see you here at GPL at any time, but if you want to look at, or buy, anything in particular, you really should phone first, because we'd hate you to have a wasted journey.
Just phone us before you leave home, or the day before you're planning your trip.
Our customer service people will always put a jacket, helmet or pair of boots aside for you, but if you don't call first we can't promise to have on our shelves whatever it is you want to look at when you get here.
And don't be disappointed, by the way, when you do turn up and discover that we're not really a shop. We're not! We're a warehouse with an integrated despatch operation and customer service centre.
But we've got a small reception area, and if there's something you want, our guys will go into the warehouse and locate it for you.
If you want to try a jacket or trousers on, we've got some changing rooms, but we're not a glossy steel and glass retail emporium.
Anyway, we hope you come and see us sometime soon and don't forget our special offer. Spend over £100 on protective bike gear on a Saturday and we'll throw in a free all-day breakfast at the One Forty café that will simply knock your socks off.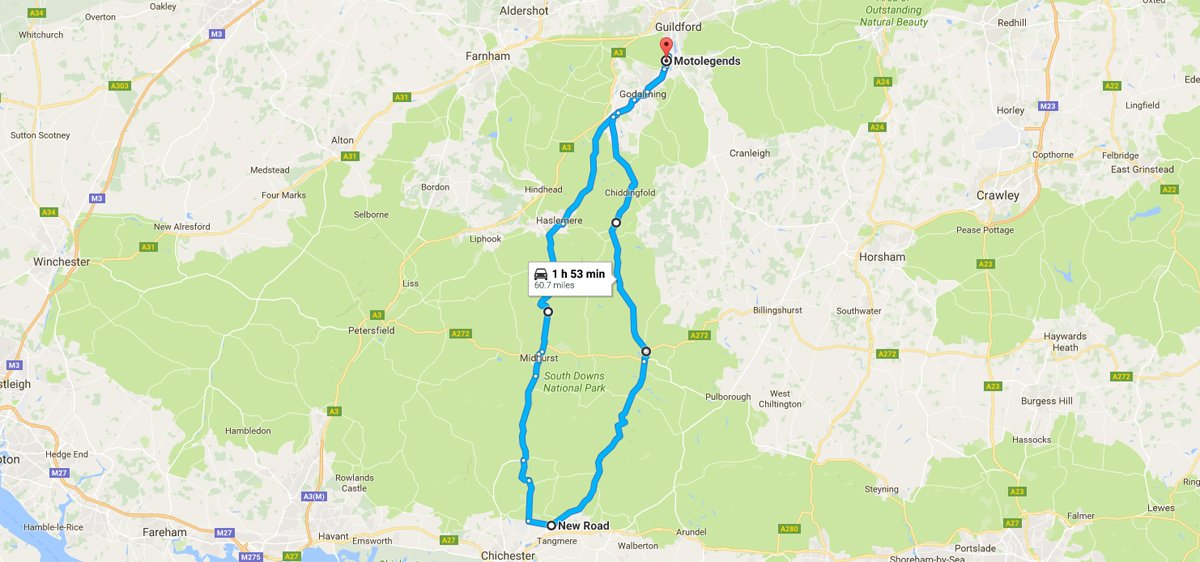 One of our favourite rides takes us through Godalming, then Petworth and on to Goodwood. We come back along the equally interesting roads through Midhurst and Haslemere. Click the map to view the route on Google Maps.
Want some more? Please click here to return to our editorial menu.
Share this page