Dainese Classic Tex pant review
Published on: 04/03/2022 11:38
We haven't, historically, always been huge fans of the famous Italian brand. They are notoriously arrogant and difficult to work with, and we have often been of the view that the company is more about style than substance. But for the first time in living memory Dainese now has a proper UK importer, and so we have decided to put our toe in the water and offer a few, hand-picked styles.
The first is this casual pant. Some people call pants like this chinos; some call them khakis. But, in essence, we're talking about a lightweight, casual trouser that is smarter than a denim jean and that, for many people, is the kind of trouser you could wear to the office. Okay, not if you're a banker or a lawyer, but for most of us a pant like this is more than smart enough for the workplace. Ironically, even though we had no input whatsoever on this trouser, it is exactly the style of pant we have been discussing with a number of brands in recent years.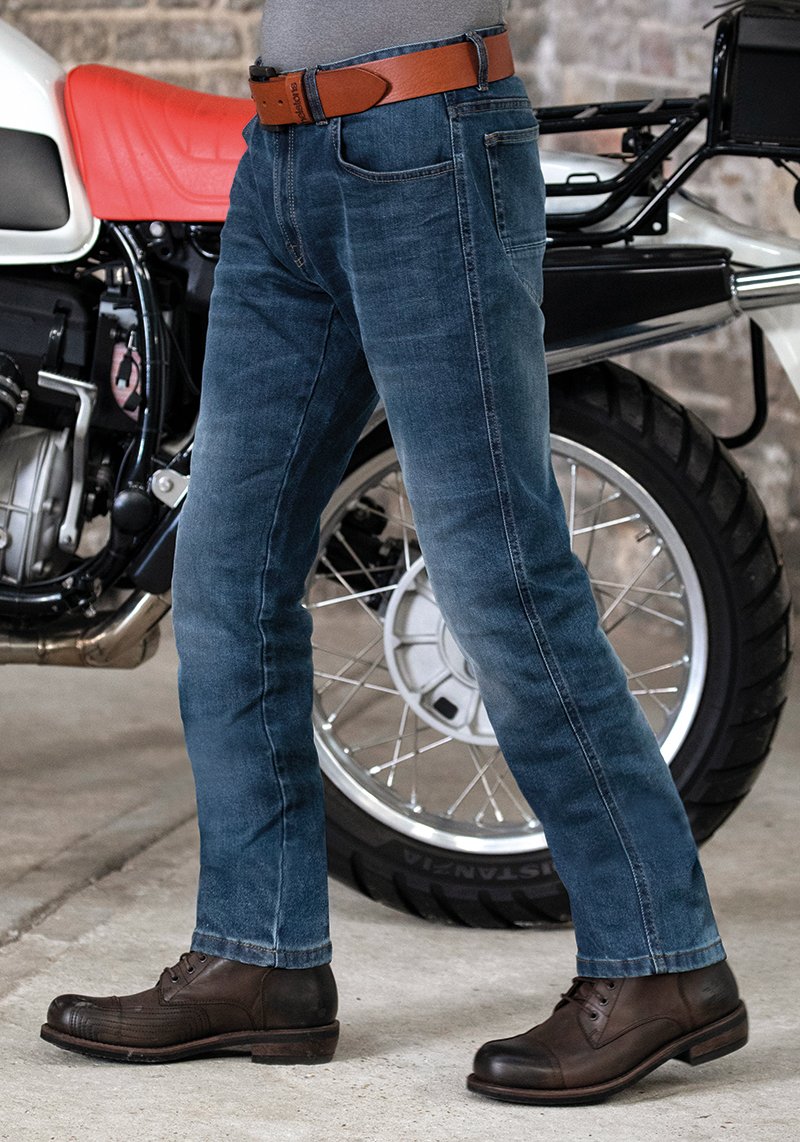 The jean has become the go-to riding pant, but for some it's not smart enough.
The truth is that, over the last few years, the jean has become the preferred mode of dress for many riders. Not for those who commute or ride professionally. And a jean is clearly not the perfect solution if you find yourself in heavy rain, but jeans can be horribly strong. They look cool. And for when it's hot, single-layer jeans flow huge amounts of air. And, of course, they are so comfortable, both to ride in and walk around in.
But some people do not feel totally comfortable in a pair of jeans. This can be an age thing. Some though, especially those who work in an office, will sometimes feel that a jean is not smart enough. Even if they change when they get into the office, a denim jean doesn't cut it for some.
And so we have long postulated that the next big thing, as far as riding pants are concerned, would be a lightweight chino or khaki pant. We expect to see a whole raft of these coming through in the coming years, but when we visited the Dainese importer recently we came across these Classic Tex pants and, from our perspective, they seem to be almost bang on the money. In fact, they are pretty much perfect; very much what we have been looking for.
So let's talk about the Classic Tex in a bit more detail.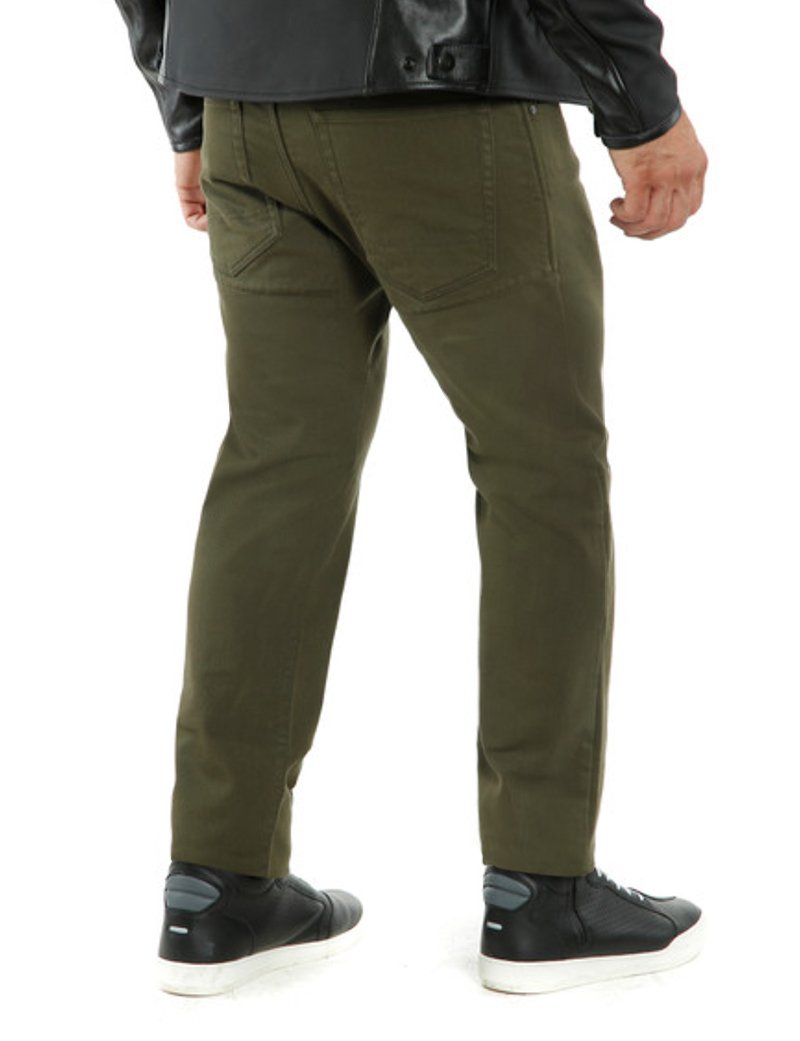 The pant is smart enough to wear into the office or out to dinner.
The Dainese pant dissected
The shape is bang on. Dainese call it a regular fit, but of course they are from Italy, the land of the tightly-clad snake hip, so they're still pretty slim. In our world, the pant looks flatteringly slim without being restrictive. Unless you're an obsessive, you're not going to find them baggy. But what we do have to acknowledge is that when you're riding a bike, legs spread apart and sometimes behind you, you do need a bit of movement. A pant like this is not intended for dancin'; it is designed for ridin'. And there's enough room in the calves for most people, especially given the woven-in Lycra. Olympic cyclists and prop forwards, however, might still find the fit a bit challenging!
The styling is classic five pocket. The fly is button, which won't suit everybody, but the buttons themselves are pretty small, so even the most horny-handed sons of toil should be able to manage. With its distinctive diagonal wales, the fabric has the look and feel of a cavalry twill, although a cloth merchant might disagree with my assertion.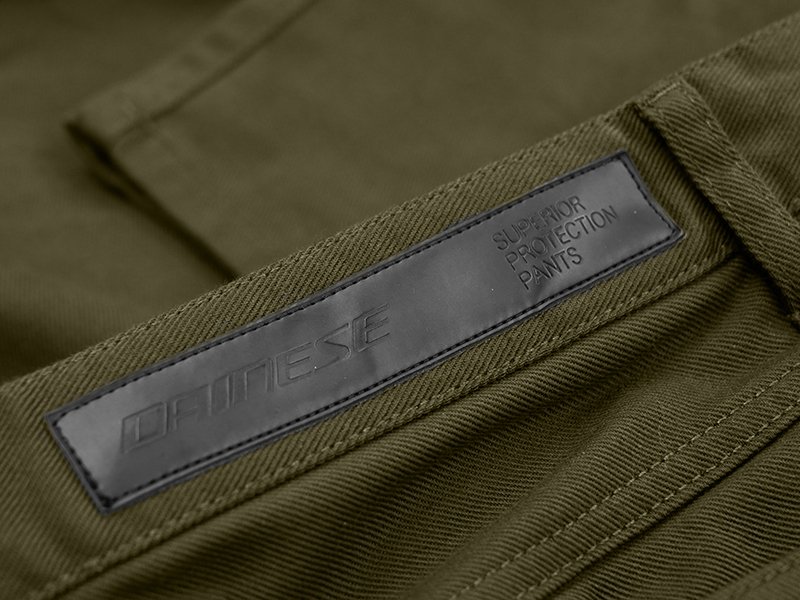 The diagonal 'wales' give the fabric the look of a cavalry twill.
The chassis of the pant is made from Armalith. Now Armalith is the same insanely strong UHMWPE fabric that is used by Rokker in all their jeans. We know it well. It is very abrasion resistant, yet is soft to the touch and flows large amounts of air, which is particularly important in warmer weather.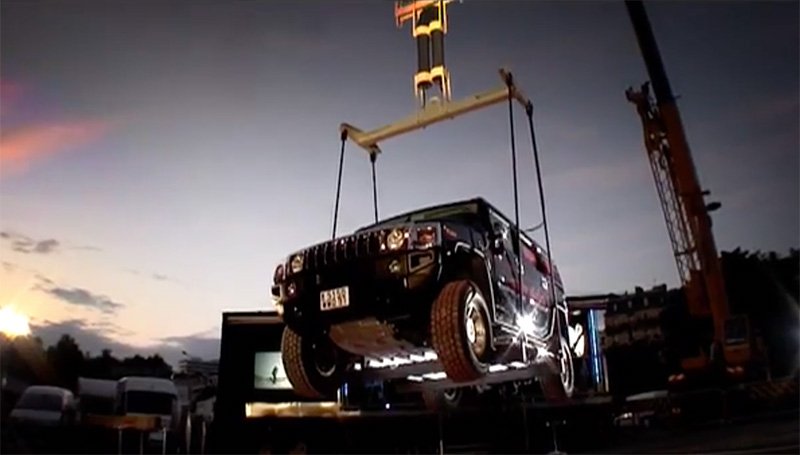 This hummer is being suspended on a pair of Armalith jeans. Quite impressive!
Armalith is used by a number of makers of motorcycle jeans. It makes for the nicest, single-layer jeans. But here we have to be totally honest. The Classic Tex is, technically, not a proper single-layer jean. A single-layer jean has the same single piece of fabric throughout its construction. Lots of retailers talk about single-layer jeans when, in truth, they are nothing of the sort because the outer material is reinforced in the most vulnerable zones with a second layer of some kind. And although it has been done beautifully well here, that's exactly what we have on the Classic Tex. We have an almost imperceptible, second layer of fabric in the seat and aramid inserts in the knee pockets. What we have to say is that, in the wearing, you would never know that these weren't single-layer trousers, but they are not quite the real deal.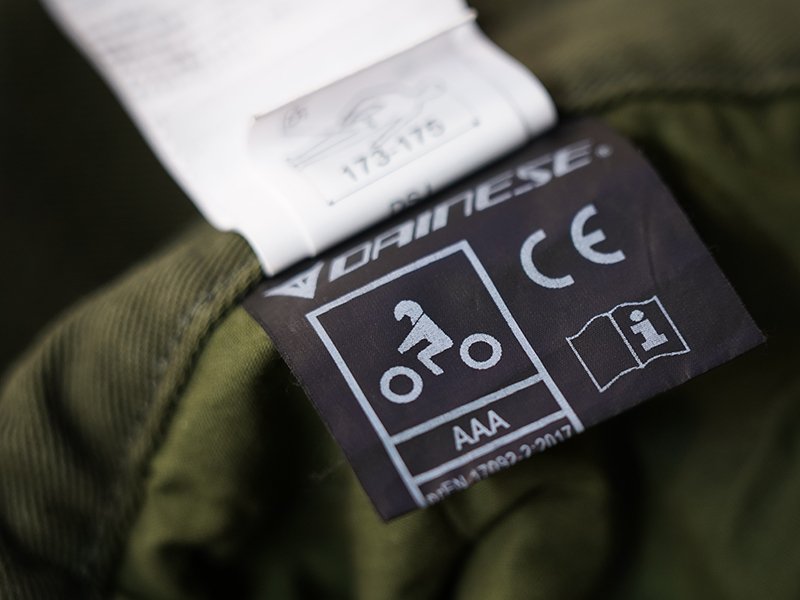 Okay, it's not quite single-layer, but the AAA rating is reassuring.
But the only company in the world that would notice or care about such a piffling detail is Motolegends. Because we are hugely anal pedants! And, in truth, even we don't care that much in this instance because the end result is a pant that is lovely to wear yet still meets the CE safety standard at the highest AAA level. And that's really impressive.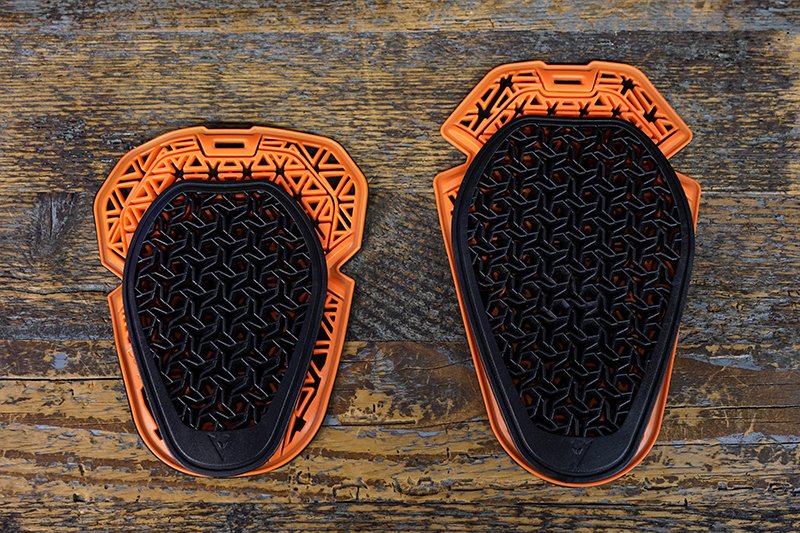 The CE armour in the Classic Tex pants is not the largest we've ever seen.
The armour is Dainese's own. It's not D3O, but it's just as pliable, and much more breathable. We can't help but remark that the armour is pretty small, however, so if you are going to have an accident, you may need to perform your manoeuvre with the kind of precision normally possessed of Olympic gymnasts.
The armour pockets are nice. There is some adjustability in them, but there's not the amount of adjustability you get with Rokker. And that will be a problem for some people because the jean only comes in one leg length: 34". The reason that this could be a problem is because if you are shorter in the leg, the armour may well sit too low. Clearly a lot of people will need the legs shortening, which is not a problem if you come to the shop, because we do this for free. But only experience will show us whether we are going to have problems getting the knee armour in the correct position for those less endowed in the lower limb region.
So where do we get to?
We were irrationally and childishly over-excited when we first came across these pants. The were very much the style of pants we had been trying to get a number of our preferred manufacturers to produce. And here they were; landed on our lap.
We like them a lot. We like the style, the fit, the cut and the detailing. I am told it's an age thing, but personally I really like the colour too. This is the kind of pant you could wear with a blazer for lunch at Simpsons, and nobody would bat an eyelid. They are very smart.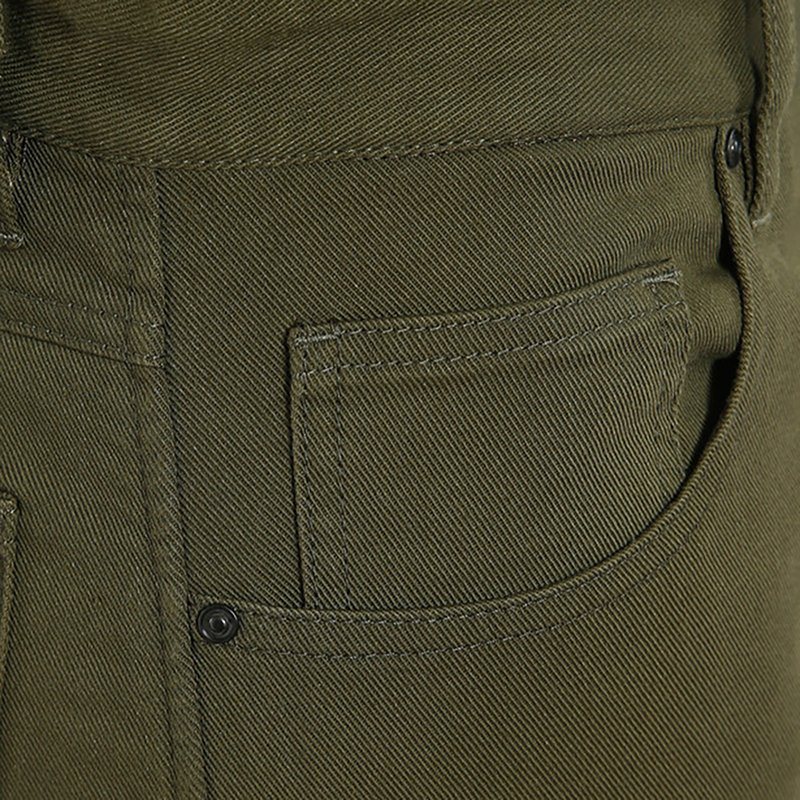 We like the style, the fit, the wearability. Even the colour!
Yet they are as protective as a motorcycle pant gets. There's a bit of conflation going on here, but we reckon that any AAA pant is going to be in the same ballpark as leather when it comes to abrasion resistance. Okay, so the classic Tex pant is technically not a single-layer jean, but in this case we have to ask whether that's a distinction without a difference.
Our only real disappointment concerns the length of the legs and what we fear is going to be a slightly inadequate amount of adjustability in the armour pockets. We cannot understand why someone like Dainese wouldn't offer different leg lengths when jeans from someone like Rokker come in four leg lengths. As a result it is sometimes not going to be possible to get the armour to sit in the right place. But perhaps Dainese's lack of concern for such detail should not surprise us. This is a company that is based in a country where most sportsbike riders seem to think that shorts and a pair of flip-flops are perfectly acceptable in the fast lane of the Autostrada!
Finally, price. The jeans cost £249.99. Frankly that's pretty good value for a high-end, highly protective, single(ish)-layer pant. You will find cheaper jeans, but probably none with this mix of style, wearability and protection.
For more information and to purchase online, click Dainese Classic Tex pant.
---
Want some more? Please

click here

to return to our editorial menu.

Share this story