Tricker's Roadster in black
Tricker's Roadster in black
x
We will beat any UK retailer's discounted price by a full 10%
If any UK retailer is selling anything at a price that is lower than ours, we will beat that price by a full 10%.For terms and conditions, click here.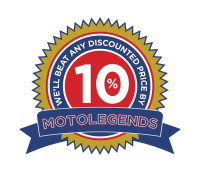 Tricker's Roadster in black Product Information
For a number of years, Motolegends has worked with Northampton-based bootmaker Tricker's on a motorcycle boot. The Roadster is our most recent collaboration. At its root it's a three-eyelet, Derby boot. The upper is made from the finest-grade Naster MC leather. This leather has been treated for waterproofing at the tanning stage. The boot does not have a waterproof membrane, but it will nonetheless be reasonably waterproof in most circumstances.
As with all of Tricker's' boots, the Roadster is Goodyear-welted. This is the traditional way of making boots. It involves a welt being sewn to the upper and insole. The midsole, containing a layer of cork and a wooden shank, is then sewn through the welt to attach it to the upper. Finally, the rubber outsole is sewn through the welt to complete the boot.
Our boot has a shorter shaft than some we have made in the past. The boot is done up by means of three eyelets and two speed hooks. Around the shaft there's suede padding for added comfort, and perhaps for a little extra cushioning. A hard counter in the toe and heel areas make the boot particularly strong. A panel runs across the toe, and this will serve as an extra layer for the gearchange.
What has to be acknowledged is that, technically, we cannot call this a protective motorcycle boot. To qualify as a motorcycle boot it would have to be tested under EN 13634. But as we make just 30 in each colour, the costs for so doing would be prohibitive. So the question that arises is whether this is a boot that you can wear safely on a motorbike? Despite its lack of accreditation, we would most certainly say yes. This is one of the strongest, sturdiest and most robust short boots you will ever wear. Quite frankly, it is in a different league to most motorcycle boots out there, many of which are more suited to the game of basketball than the riding of a motorbike.
We have made the boot in two configurations. The brown boot features some brogueing detail and a chunkier Commando sole for more of a country feel. The black boot is plainer and more formal. There's no brogueing. And the boot comes with a smoother Dainite sole.
Totally handmade by time-serving craftsmen and women, the Roadster is simply a work of art; an object of beauty. Tricker's is frequently cited as the world's best bootmaker. The company has a Royal Warrant, and Prince Charles is often found to be found conversing with the plants at Highgrove in his! Everybody should have a pair of proper, handmade boots at some point in their lives. If riding a motorbike is the excuse for indulging yourself, so be it. Look after the boots, and they'll last forever.
The Roadster costs £449. Now that probably makes it our most expensive short boot, but what price can one put on the company's near-200 year heritage? This is quite simply the most prestigious motorcycle boot ever!
Specification
Made from highest-grade Naster MC leather
Leather treated for waterproofing at tanning stage
Traditional Goodyear-welted construction
Three eyelets and two speed hooks
Suede panel at top of shaft
Hard counter in toe in heel
Shank embedded in cork layer in midsole
Extra layer of leather across toe
Not approved for motorcycling under EN 13634
Product Reviews
Reviews
JPW: Most comfortable shoes ever
Great to have an ultra smart pair of shoes which also double up as motorbike boots...such a special item which is beautifully made and ultra comfortable.
JPW: Wow
This bootshoe is the most comfortable and beautiful I have ever worn and I have a pair of the Rokker urban racers and Belstaff Trialmaster Pros. Well done to Motolegends in collaborating in the production of a masterpiece...the price is actually really good given that it is a niche shoe...compare the prices with conventional shoes on Trickers website if you have any concerns these are marginally cheaper than most of them.
Mike: Trickers Roadster
Phenomenally comfortable says it all. I accidentally stepped into 3 inches of water at a grassy knoll, and there was no seepage of water into the boots. These boots have become my every day wearers.
Leave us your review
Finance Options