Auritech Hearing Protectors
Auritech Hearing Protectors
x
We will beat any UK retailer's discounted price by a full 10%
If any UK retailer is selling anything at a price that is lower than ours, we will beat that price by a full 10%.For terms and conditions, click here.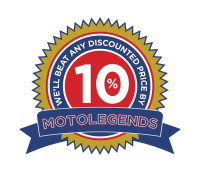 Auritech Hearing Protectors Product Information
The Auritech hearing protectors are specifically made for bikers. When riding, noise levels can reach up to 105dB, permanent hearing damage can occur from 85dB so it's always a good idea to wear hearing protection and these plugs from Autitech can reduce noise by 29.6dB. These ear plugs have been precision tuned to ensure maximum protection and a unique filtration system allows conversation, sirens and horns to remain clearly audible with no muffling. These plugs are suitable for all ages, can be cleaned and re-used.
Specification
Precision tuned
Reduce noice from 105dB to 29.6dB
Filtration allows sirens, horns and conversation noise through
Suitable for all ages
Resuable
Product Reviews
Reviews
Steve W: First impressions really good
Ive been using foam earplugs on and off, and finally decided I should take ear protection seriously so bought these. Easy to put in, and stay in place, very effective, so far really pleased!
Richard Smith: Great earplugs!
Ridden with these plugs for about 1000k, they have been comfortable and relatively easy to put in. Bought a second pair for my wife who is also happy with them.
Leave us your review