The Motolegends Gift Card
The Motolegends Gift Card
x
We will beat any UK retailer's discounted price by a full 10%
If any UK retailer is selling anything at a price that is lower than ours, we will beat that price by a full 10%.For terms and conditions, click here.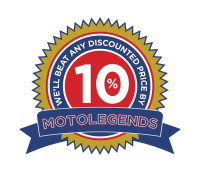 The Motolegends Gift Card Product Information
It's difficult buying motorcycle gear for somebody else. Motorcyclists are a funny lot, and we tend to have very particular tastes. One man's meat is another man's poison. And then, of course, there's the issue of fit. It's rarely a simple matter, and so buying someone an item of motorcycle apparel as a gift is fraught with danger. Best, in our view, to give someone one of our Gift Cards. You can choose the amount you want to gift. The recipient can spend it all, or just part of the amount. Or, obviously, they can pay extra. Giving someone a Gift Card is so much nicer than giving cash. And with Motolegends, you know they're going to end up with only the best gear.
Giftcards available in £50 to £500. Select size to choose amount.
Specification
This card can be redeemed at the Motolegends Guildford store, over the phone, and online. It may be exchanged for goods of a higher price than the face value of the card on payment of the difference. This gift card cannot be exchanged for cash. This gift card will be valid for 24 months from the date of purchase. Any remaining balance will be cancelled on expiry of the validity period. Please check in store or online for balance enquiries. Please treat this gift card as cash. Motolegends will not accept any responsibility for lost, stolen or damaged cards.
If you have received a Motolegends Giftcard, you can check your balance HERE.
Product Reviews