Helstons studded leather belt in black
Helstons studded leather belt in black
x
We will beat any UK retailer's discounted price by a full 10%
If any UK retailer is selling anything at a price that is lower than ours, we will beat that price by a full 10%.For terms and conditions, click here.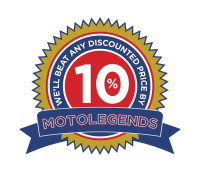 Helstons studded leather belt in black Product Information
Classic biker belt that features rivets running through it entire length. The belt strap itself is made from a full-grain, Italian, vegetable-tanned leather. The buckle can be removed if you wanted to replace it with your own buckle. It comes in six different lengths: 85cm, 90cm, 95cm, 100cm, 105cm and 110cm. And just so that you know, on these belts, the length of the belt is measured as the circumference of the belt when it is secured on its middle hole.
Specification
Full-grain Italian leather
Removable buckle
Helstons marking on loop
Made in EU
Product Reviews
Reviews
Stuart: Super stylish
Beautifully produced belt which on first inspection might appear heavy but the alloys used for the studs are very light. Nice to wear - pleased with my purchase.
Leave us your review