Klim Krios Pro Ventura helmet in electric blue
Klim Krios Pro Ventura helmet in electric blue
x
We will beat any UK retailer's discounted price by a full 10%
If any UK retailer is selling anything at a price that is lower than ours, we will beat that price by a full 10%.For terms and conditions, click here.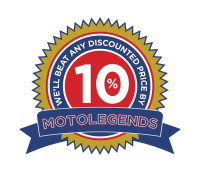 Klim Krios Pro Ventura helmet in electric blue Product Information
Klim's Krios Pro is a truly amazing helmet, but you need to read this before progressing to a purchase because it is a very specialist bit of kit, and it is certainly not for everybody.

Let's talk about the good stuff first. It is incredibly light; insanely light. This is partly down to the carbon shell, but partly down to the Koroyd that replaces the traditional eps that is to be found in most helmets. Koroyd relies on a honeycomb structure to absorb the energy of an impact. In many ways, it is outperforms expanded polystyrene. It absorbs energy in a very uniform manner, and its effectiveness is not affected by the temperature. Koroyd is amazing stuff, and may well have played its part in helping the helmet to achieve its 22-06 accreditation.

Impressively, the Krios Pro comes with a Transitions visor that lightens and darkens in accordance with the light. You also get the trickest fastening system you will find on any helmet. It's called Fidlock. It's simplicity itself to use and, despite appearances, it won't ever come undone. As a dual-sport helmet, you also get a removable peak, and obviously the main visor can be removed so that you can choose to ride with goggles.

But you need to understand that what we term dual-sport in Europe is different to what dual-sport means in the U.S. Over here, dual sport entails spending 90% of your time on road, with maybe 10% of it off. In America you can reverse the ratio. And so what this means is that the Krios Prois is an off-road helmet that can, in extremis, be worn on the road. It is unlike the Arai Tour-X 4 or the Shoei Hornet which are on road helmets than can be worn off road.

That may sound like semantics, but you need to understand this nuance because the Krios Pro really is not very suitable for wearing on the road. In fact, we think it makes for quite a poor road helmet. And that's largely down to noise. Now carbon helmets are often noisy because the shells don't absorb sound in the way that composite ones do. But what makes the Krios Pro particularly noisy is the Koroyd. As we have said, Koyroyd is amazing stuff, but the hollow tubes that sit at the heart of its construction don't so much absorb noise as transmit it. The Krios is very noisy; noisier even than the Bell Bullitt, hard as that might be to believe.

One customer recently reported that he could he hear the sound of every insect as it collided with the shell of his helmet. He even reckoned he could work out the sex! Another brought his back after an hour because, at 50 mph, he could not hear the music through the Krios's dedicated Sena comms. system.

There's another issue you need to be aware of. The Krios Pro is not very good at keeping the rain out. This is a helmet designed for riding off road. In such an environment, a bit of rain ingress is rarely considered the end of the world. But if you are used to the quality of seal that you would expect to find on a good-quality road helmet, you will be disappointed. In heavy rain, water will find its way past the visor into the helmet.

Finally, we don't really rate the cheekpads. They make the fit comfortable for some, disguising to an extent the fact that the helmet only comes in two shell sizes, but we don't think they are firm enough for a properly secure fit, and we reckon they will lose their volume quite quickly.

We believe that everybody looking to buy the Krios Pro should know this. As ever, there is no item of motorcycle apparel that does everything. The Krios Pro is an astounding helmet. Off the beaten track, it is perhaps amazing. It is as light of a feather that has been shorn of excess weight. It is probably as protective as any helmet on the market, and way safer than most. It also has some great trick features.

But don't buy it just because you want something with a peak to go with your GS, and because you have read some great online reviews about it. This is not the helmet you want for commuting or for touring on the black stuff. More than any product we have ever marketed, we feel the reviews online do not reflect the reality of living with the product. For some this helmet may be the very best out there; for others it might just be the very worst.

It's a case of Caveat Emptor and as always with a helmet, once you've ridden in it, you own it!

Specification
Full carbon fibre hand laid shell
Koroyd energy absorbing materials/construction
Fully adjustable chin and forehead vents
Anti-scratch polycarbonate shield and Pinlock
Transitions visor lens included
Fidlock strap closure system
Four ride modes: street, adventure, dirt, trail
Goggles-compatible
ECE 22-06 accredited
Klimatek antimicrobial/moisture-wicking liner
Sena 10U comms compatible
Quick-release, no-tool required for shield and visor
Product Reviews
Finance Options