Klim Ridgeline boots in black
Klim Ridgeline boots in black
x
We will beat any UK retailer's discounted price by a full 10%
If any UK retailer is selling anything at a price that is lower than ours, we will beat that price by a full 10%.For terms and conditions, click here.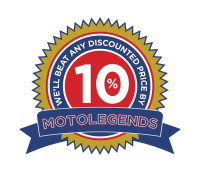 Klim Ridgeline boots in black Product Information
New for 2022 we have the Klim Ridgeline boot to join the Outlander that we already stock.

The Outlander is an exceptional boot. It is typical Klim in that it is very much aimed at the adventure rider. It is, in essence, a highly protective short, ankle boot. It is tough enough for riding in the roughest of terrains, but it's the kind of boot that, even after a long day in the saddle, you could then embark upon a long trek in.

The new Ridgeline is a sort of toned-down version of the Outlander. It's a bit less off-road, it's a bit more casual. You could wear the Outlander boots with a pair of jeans, and many people do. But the Ridgeline boots have been designed very much with that casual look in mind.

The boot is still rugged; in truth it's in a different league to most short ankle boots as far as protection is concerned. The chassis of the boot, as it is known, comprises a mix of natural leather and synthetic materials. It's not a boot that you will be able apply polish too, but then again this is the kind of boot you would normally clean under a tap.

One of the differentiating aspects of the Ridgeline is that does not come with a waterproof membrane. It is a boot that has been designed to keep the wearer cool in hot conditions. As a boot it is particularly breathable, and utilises vented materials in the toe box, on the tongue and down the sides of the boot.

You get what Klim calls an asymmetric gearchange pad; and what that means is that you get a panel on the left boot, but not the right. In terms of protection, there's a hard TPU counter to strengthen the toe area. The heel is also massively strong, whilst the ankles are padded to absorb the energy of an impact. The tongue is padded with a protective foam known as 3MM XRD. Embedded into the sole there's what the Americans call a lasting board, and what we call a shank. The Ridgeline may look less purposeful than the Outlander, but it gives little away to it in terms of substance.

And indeed the boot wears a pretty aggressive hyperGrip sole. It will cope with the muddiest of conditions, but will still not look out of place in wandering around a shopping mall.

But undoubtedly what is going to appeal to many is the BOA lacing system. This is really easy way to tighten or loosen your boots. It is super quick, and there's no fuss involved. We've all lived with laces since we were kids but, honestly, the twisting BOA knob is so much better than laces. For those who want to avoid faff, it's a brilliant system, and makes these boots so easy to live with.

Finally, Klim always bang on about how the fit of their boots has been informed by an American Nesbit programme that has measured the shape of tens of thousands of feet to come up with the optimum fit. We are not normally impressed with such high-fallout in' nonsense, but even we would admit that the fit on Klim's boot seems to work on a lot of people.


Specification
Well vented chassis with highly breathable toe box, tongue and sides
TPU reinforced toe box. Padded tongue and ankles. Strengthened heel
Shank embedded in sole
BOA lacing system
HyperGrip sole
Shifter pad on left foot
Nestfit optimised footbed
Product Reviews