Klim Viper Pro off-road photochromatic goggles in camo black
Klim Viper Pro off-road photochromatic goggles in camo black
x
We will beat any UK retailer's discounted price by a full 10%
If any UK retailer is selling anything at a price that is lower than ours, we will beat that price by a full 10%.For terms and conditions, click here.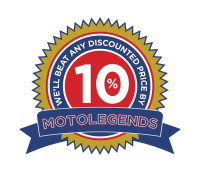 Klim Viper Pro off-road photochromatic goggles in camo black Product Information
Never to a motorcycle goggle has there ever been attributed such a comprehensive spec. as the one you'll find on Klim's website for these Camo Black Viper Pros. As a result, we could write a thousand word description for them, but thankfully we're not going to! So let us give you the short version. You get a super, high-quality lens that is 100% protective against UV rays. They're coated with some special Gemini coating that was developed for NASA that is, apparently,, three times more effective than a normal coating. The frame flows air more effectively to keep you cool in even the hottest of conditions. There are two densities of foam to improve fit and comfort against the face. What is particular to the Camo Black model that we have chosen to feature is a Photochromatic lens that darkens in the sunlight. Now when we decided to do these goggles, we knew none of this. We chose them because they fitted the aperture on the Shoei Ex-Zero like a glove. What makes the fit so good is that they have a removable nose piece that fits neatly inside the nose of the helmet. With these goggles inside the Ex-Zero there's literally no part of the face that is left exposed. We've since found out, of course, that they fit really well into loads of other off-road style goggles. The other thing we really like about these goggles is that they come in a killer box. They're not cheap, but they are amazing. Despite all this, however, they didn't stop Sara, who was wearing a pair at the time, from riding right into me in the Sahara. Think it would be harsh to blame the goggles, though!
Specification
Frame geometry engineered for maximum field of view
Polycarbonate UV400 single lens
100% UVA and UVB protection
Fogtech HD® anti-fog lens coating
GeminEYE anti-fog formula shields against fog up to 3x longer than competitor lenses
Triple layer medical-grade breathable face foam
Air Forced Induction creates airflow through the top frame
46mm non-slip silcone lined goggle strap
3 post tear-off system
Laminated tear-offs included
Dual-fabric cleaning cloth doubles as a storage bag
Product Reviews
Reviews
Luis: Fantastic Visor
Brilliant looking visor and quality product. Well recommended.
Leave us your review