Motorcycling 1970 to 1985
Motorcycling goes mainstream
After the war, motorcycles provided the cheap transport solution that a new, more mobile world demanded.
As the post-war, baby-boomer generation blossomed into adults, the bike became a means for them to experience thrills and excitement.
By the end of the sixties, this same generation was entering adulthood. They now had families and responsibilities. They could no longer spend all their evenings fettling their bikes in the garden shed, and all their nights hanging out at transport cafés.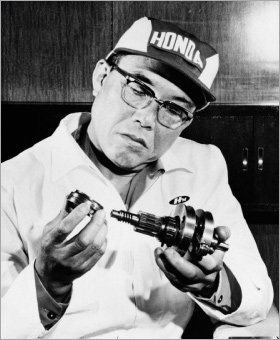 Cars were becoming more affordable, and the heyday of motorcycling might well have been coming to an end had it not been for the arrival of a new generation of machines from Japan.
Japan had been devastated by the war. Its economy lay in ruins, and resources of every kind were in short supply. But by the late 1950s, the Japanese economy was one of the fastest growing in the world. There was a huge demand for cheap transport, and so the motorcycle market, led by Honda and its inspirational founder Sochiro, flourished.
The Japanese motorcycle industry's assault on the world market was similarly impressive. Specialising in smaller capacity machines, they engineered their bikes to eradicate the types of problems normally associated with European and American bikes of the era. And the world took to them.
To ride one of this new generation of bikes, you didn't need to be a bad-ass with a studded leather jacket and winkle picker boots.
It was, of course, Honda who first recognised, and subsequently promoted, the changing face of the motorcycle audience. He realised how huge the potential was if only you could elevate the reputation of people who rode motorcycles.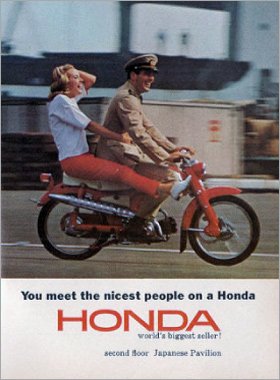 Their 'Nicest People' campaign set a tone, and conveyed a message that travelled all around the world. The ad. campaign showed housewives, parents with children, young couples, and other respectable professionals, all associating with motorcycles.
But it was probably Honda's new CB750, introduced to great fanfare in 1969, that most changed the nature of the motorcycle market.
Here was a bike with a super smooth, flexible engine, an easy-to-use, electric starter, disc brakes, a powerful 12 volt electrical system, and a comfortable dual seat.
Here was a bike you could ride everyday, go on holiday on, and feel proud of when it was in your driveway. Importantly, it wouldn't leave a pool of oil on the ground when you moved it.
It was a bike for a more mature and grown-up audience. And it brought a new aura of respectability to the motorcycle world, creating overnight a new category of motorbikes that would come to be known as "superbikes". Bikes were no longer the preserve of the young and foolhardy!
The market boomed again.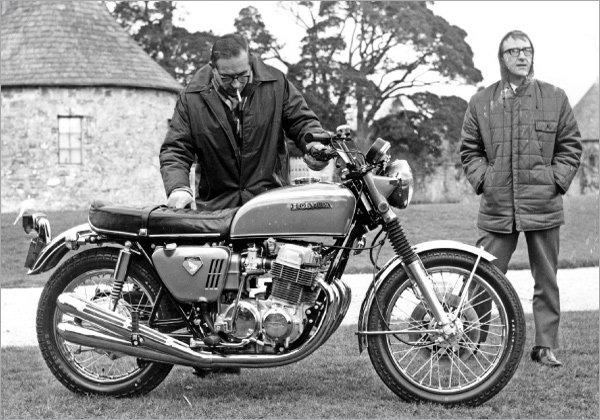 It is sad, but almost certainly true, to suggest that the CB750 sounded the final death knell for the British motorcycle industry which, riven by complacency, had failed to evolve its product. The domestic manufacturers simply couldn't respond quickly enough with a competitive offering.
Honda's Japanese competitors did respond, though; most notably Kawasaki with its 900cc Z1, which was launched in 1973. In 1977, Suzuki introduced its GS750. A year later, Yamaha joined the party with its X750.
Here in Europe, there was also renewed activity. BMW brought out its first real sporting machine, the R90S; in bright orange no less. Shortly after, came its iconic R100 RS sports tourer.
Not to be left out, the Italian manufacturers Benelli, Ducati, Laverda, Moto Guzzi and MV Agusta all created their own interpretations of this new breed of large capacity motorcycle.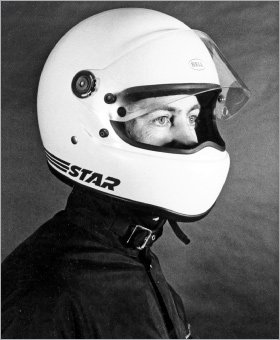 This really was a golden age. Motorcycles were sexy and highly desirable. They had become much more than a way to get from A to B. They were expensive and highly covetable. They were status symbols.
In 1963, in America, Bell had created the first ever full-face, crash helmet, the Bell Star.
Initially, at around $60, it was too expensive for your average motor-cyclist, but by the early 1970s, full face helmets were starting to replace the more traditional, open-face lid.
In the 1970s, the 'go-to' motorcycle riding garment was the two-piece, zip together, leather riding suit. And for the first time colour became a consideration in the biker's wardrobe. Jackets were available in green, pale blue, red, orange and yellow. You no longer needed to be embarrassed about riding a bike, quite the contrary, and if you wanted to be seen, what better than a bright and colourful jacket?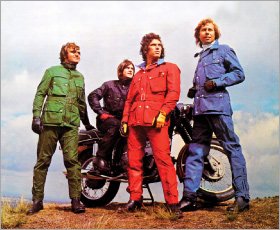 Leather was the material of choice. The motorcycle clothing manufacturers hadn't yet developed technical textile clothing with its waterproof and breathable membranes, thermal inners, venting, and so on.
And safety, per se, had not yet become a major consideration in motorcycling, certainly insofar as rider wear was concerned.
Body armour was not a concept that would have been recognised by bikers of the day. Barry Sheene was still taping rubber pads to his knees with gaffer tape. It would take some years for the idea to take hold!
Images courtesy of www.mortonsmediagroup.com