10 reasons why we're the only people for Rokker's Rokkertech jeans
Published on: 27/06/2018 12:04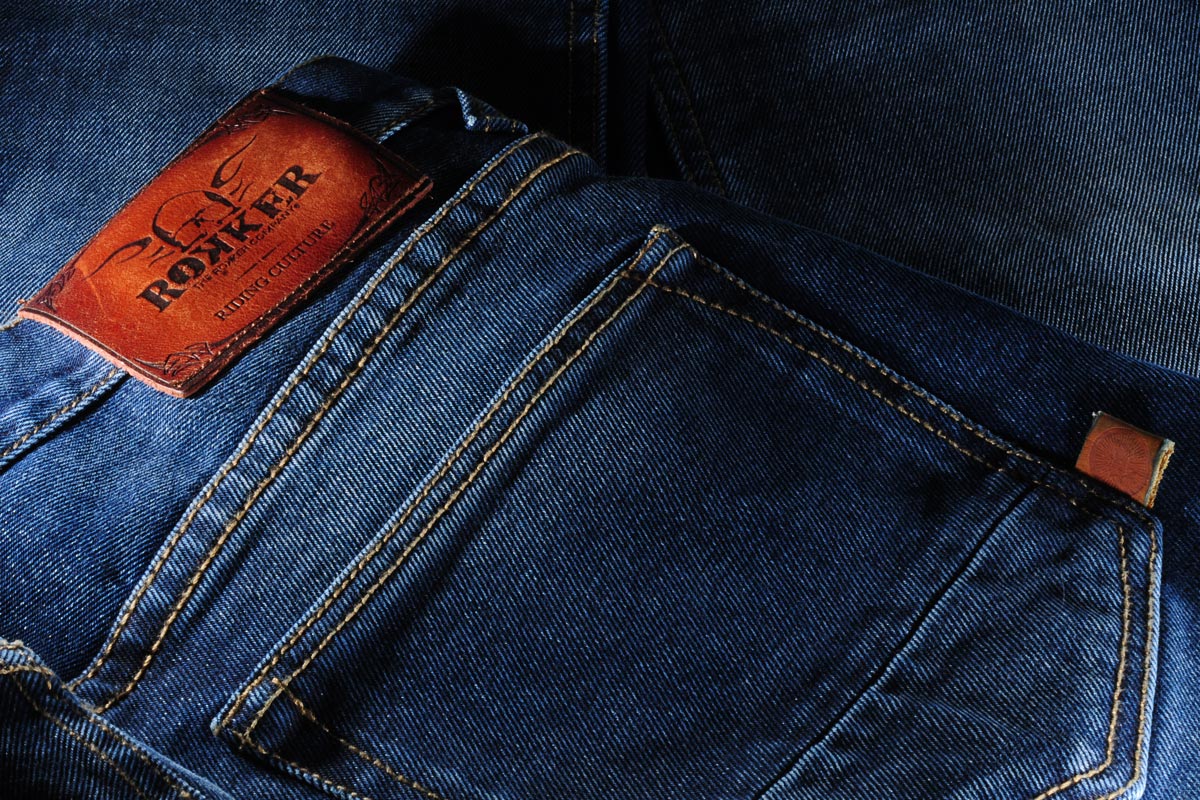 10 REASONS WHY WE'RE THE ONLY PEOPLE
FOR ROKKER'S ROKKERTECH JEANS

Of course, strictly speaking that's not completely true; there must be half a dozen retailers of them around the country.
But if you're serious about getting a pair of these amazing jeans, then we reckon a visit to us in Guildford will save you a lot of wasted effort.
Getting these jeans to fit right is not so straightforward, and nobody has more knowledge, or expertise, with them than Motolegends.
Below are the reasons you should find some time to visit us.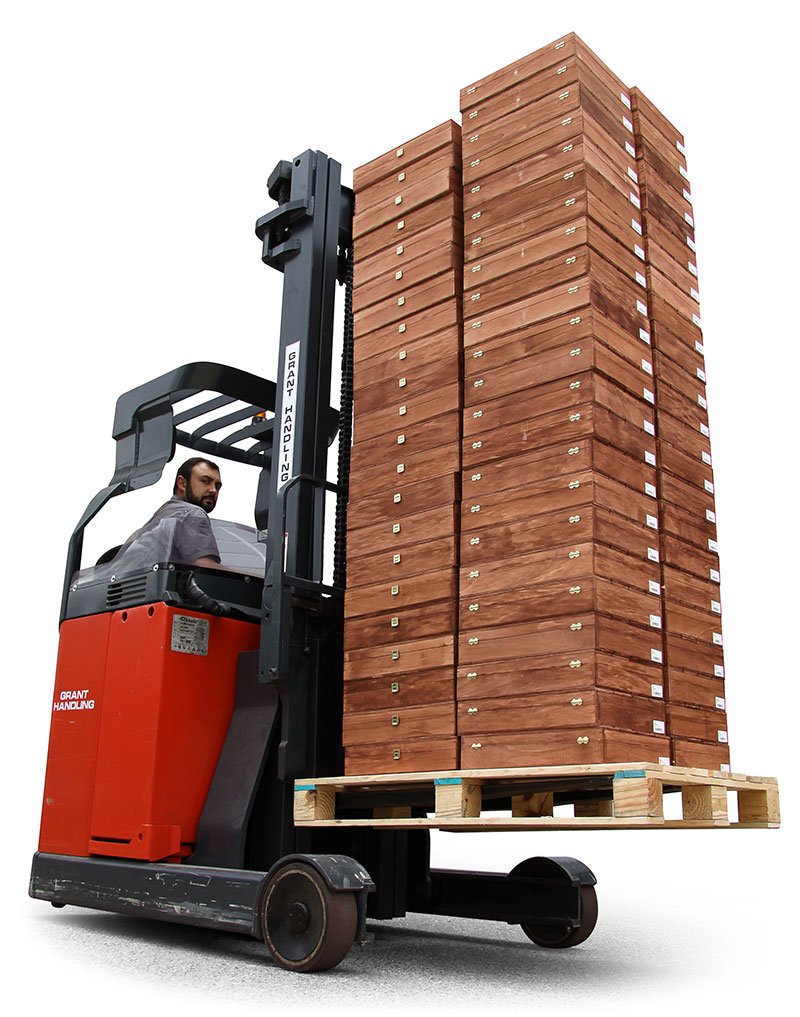 1. There are more than 70 different versions of the men's jean alone, once you take into account waist sizes, lengths and colour options.
We're the only retailer in the country to pretty much carry them all in stock just about all the time. Some retailers will have only half a dozen pairs in the shop. They'll order other sizes in for you, but you still won't necessarily know if they're going to work when you go back for a second round. What we also know that they don't is that you'll nearly always want one size down from your normal size, because they come up large. Blast, now they know too!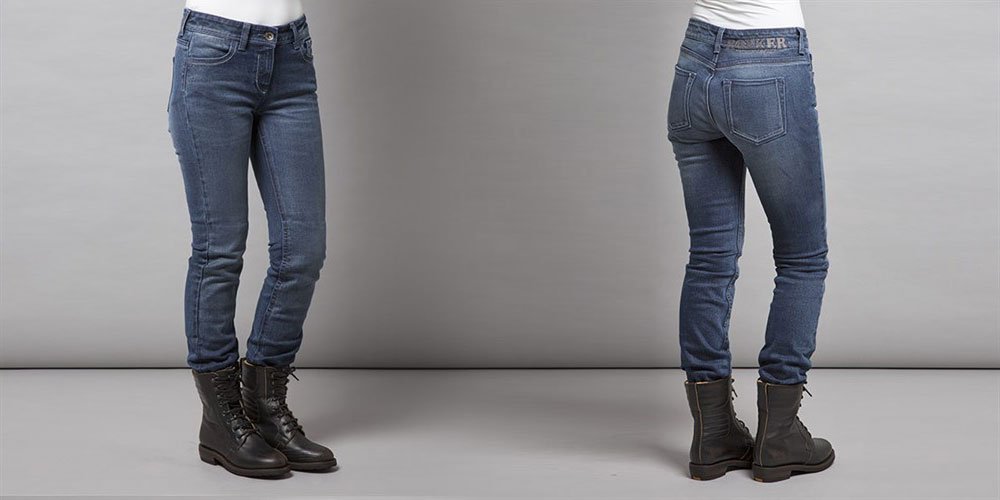 2. Almost nobody carries the ladies' Rokkertechs, which is a shame because they fit brilliantly and look great on.
Again we have all 26 waist and leg variants here in the shop.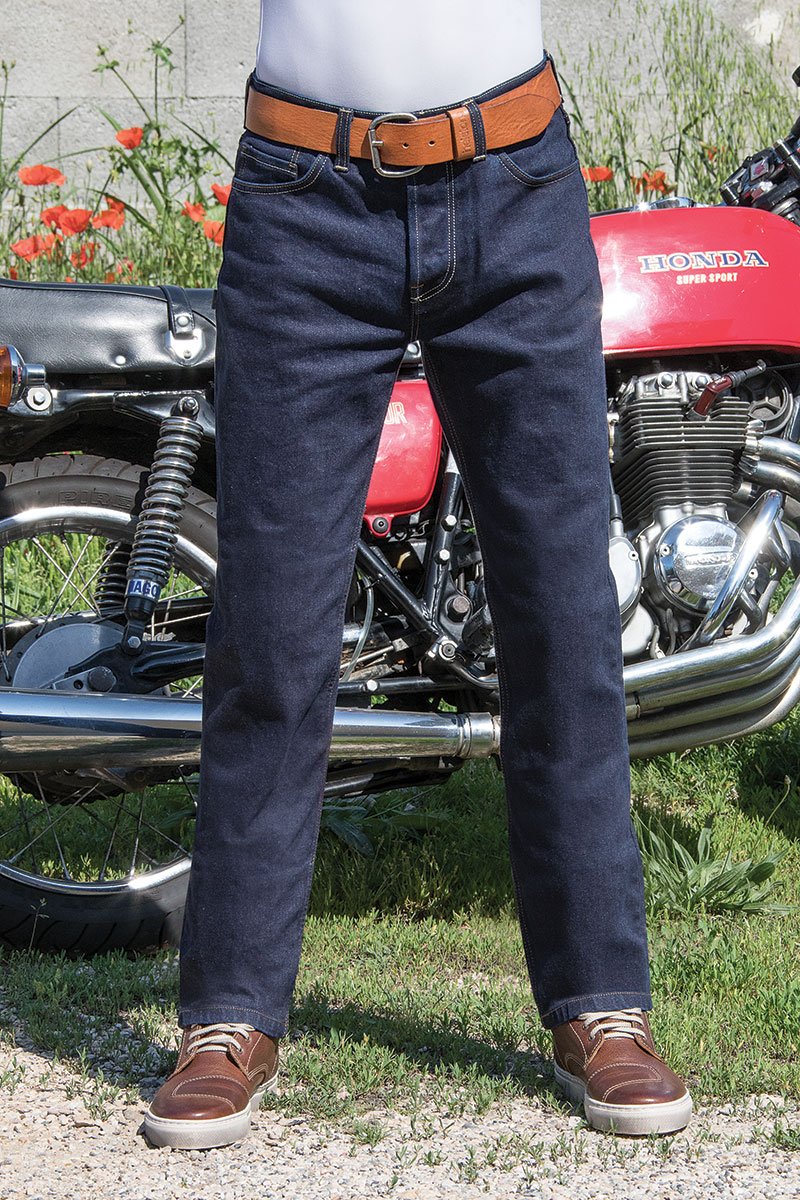 3. The standard Rokkertech has a washed finish, with a slim leg fit. The look great, but they won't usually go over taller, Daytona-style boots.
The other version of the Rokkertech is totally exclusive to Motolegends. It comes in a dark blue 'raw' wash that will fade with use and washing.
It has the same upper leg as the 'washed' version, but whereas the original jean tapers below the knee, the 'raw' jean does not, meaning that it will fit over a proper riding boot.
If you want to wear your jeans with proper riding boots, you will need this version. And only we have it.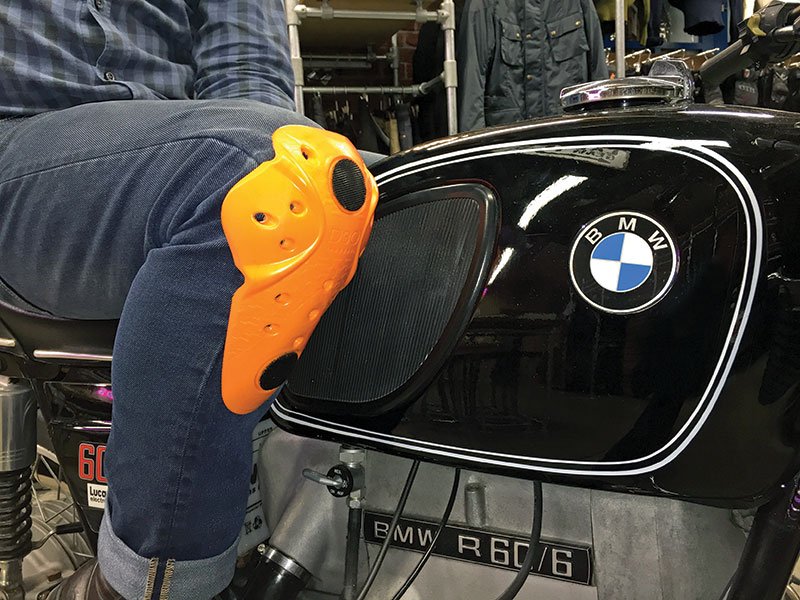 4. The knee pocket for D30 armour is in a fixed position. The armour cannot be moved up or down, therefore. This means that it is vital to get the length of the leg just right, as the length of the trouser dictates where the armour will sit.
It means that you may need to try one or more leg lengths in order to get the armour in the right place. Try the jeans on here in the shop, and even before we put the armour in, we can usually tell whether it's going to work.
What we know, that other dealers didn't until now, is that the trouser has to be two inches longer than a normal pair of jeans would be, in order to put the armour in the right place.
It's why it's important for any retailer to have any given waist size of Rokkertechs in all four leg lengths. The only way to be sure of getting the armour right is to try a number of pairs on.
Here's a clue. There aren't many, if any, retailers who hold enough stock to allow you to try a number of pairs on.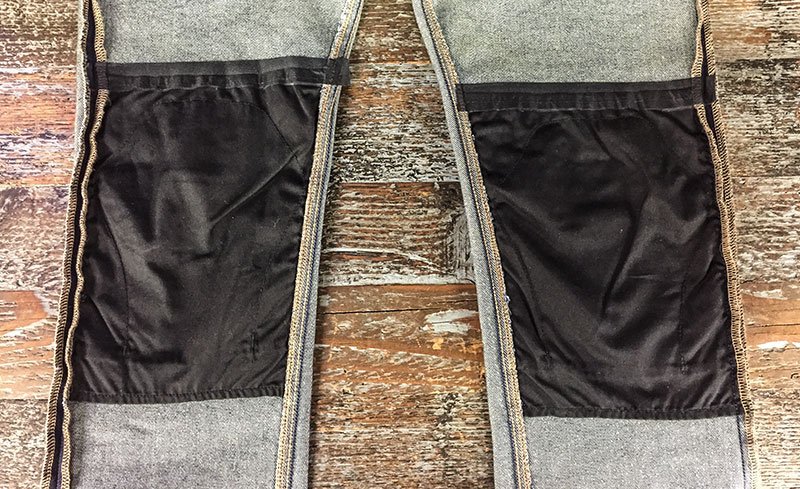 5. In most circumstances, getting the right leg length puts the armour where it should be.
But not always, and if the relationship between the upper and lower portions of your leg is different to the norm, the armour pocket might still be too high or too low.
If this happens, we will, at our expense, undo the pocket and move it up or down to get it in the correct position.
And we do this for free even though, every time we do it, it costs us £60 from our repairers at Hill 4 Leather.
The truth is that we love these jeans, we just want them to work, and we won't let you leave until they do. If that means we have to effect surgery on the jeans, so be it.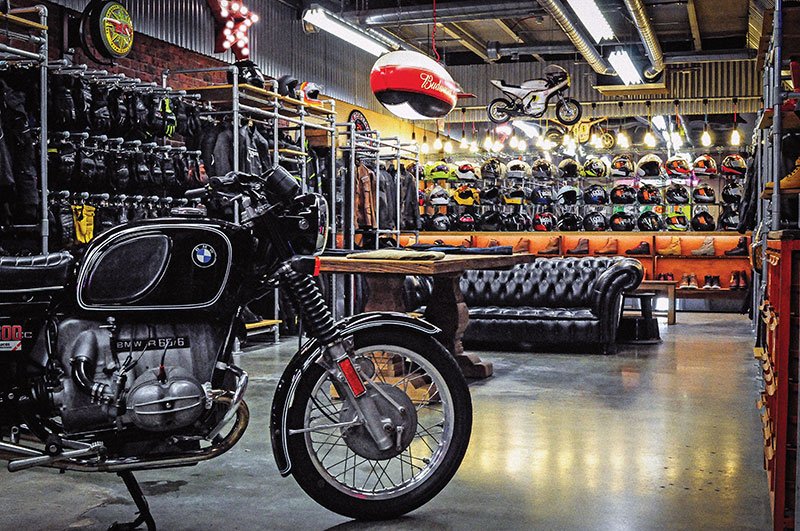 6. Most retailers don't give two hoots about how the armour works in jeans. They'd rather you got home before you find out. In fact, many shops work on the basis that a lot of customers don't actually know where the armour is meant to sit.
If they were bothered, they'd have a bike in the showroom like we do, so that you could try them on before you buy them.
We haven't seen many clothing dealers who do have a bike in the shop for you to sit on to see if the armour is in the right place. Obviously, this applies to all brands of jean, not just Rokker. If your local isn't prepared to fit the armour when you buy the jeans, so that you can see if it works, the solution is simple. Come and see us!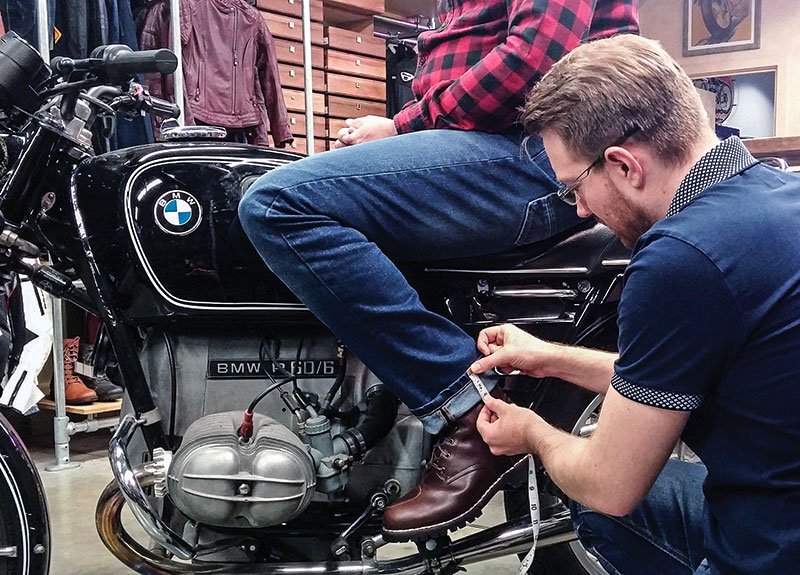 7. Regardless of the armour positioning, we also want you to get the leg length of the jeans spot on.
The issue is that it's either right on the bike or on the street. It cannot be perfect in both situations.
We sit you on the bike, and work out the right leg length on the bike with, say, the right leg. We then get you to stand up and, on the left leg, we work out the length you want when you walk around. (It is best to do this wearing your normal biking boots. But if you don't have them with you, we'll grab a similar pair from the warehouse for you to put on).
The right and leg lengths will be quite different. The challenge is to find a compromise with which you're happy, which is often somewhere between the two lengths. Remember, the starting point with the Rokkertech is that, on the street, they'll be too long in order to put the armour in the right place. None of this is rocket science, but its going to take 10 minutes to sort it out. We'll take that time. Most retailers wouldn't, even if they knew what they were doing.
Oh, and whatever shortening and hemming we do, we do at our cost; not yours. It takes a couple of days to get the work done, We'll then send the jeans out to you for free.
And finally only we have the correct coloured thread from Rokker that enables us to get a perfect, factory finish on the hemming.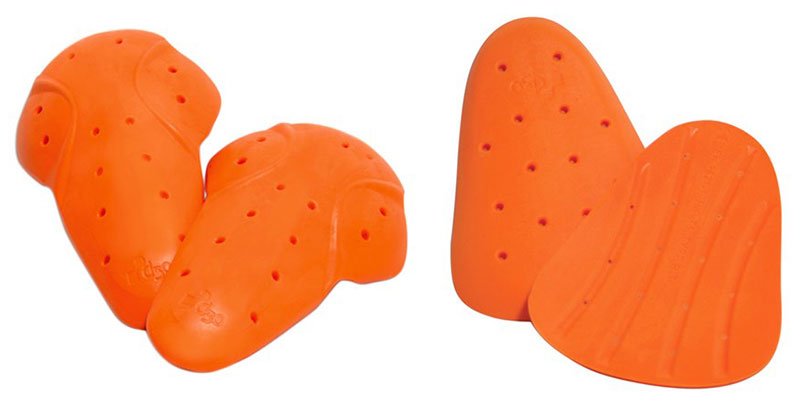 8. The Rokkertech jeans cost £350.; they're not cheap. And armour is not included. If you order over the internet, you won't get armour in them. It will cost extra.
But, and we'd ask you to keep this between us, if you take the time to visit us, we'll throw in the armour. We do so because, at this money, we think armour should be included, and If you visit us in person you potentially save us the cost of postage, returns and so on.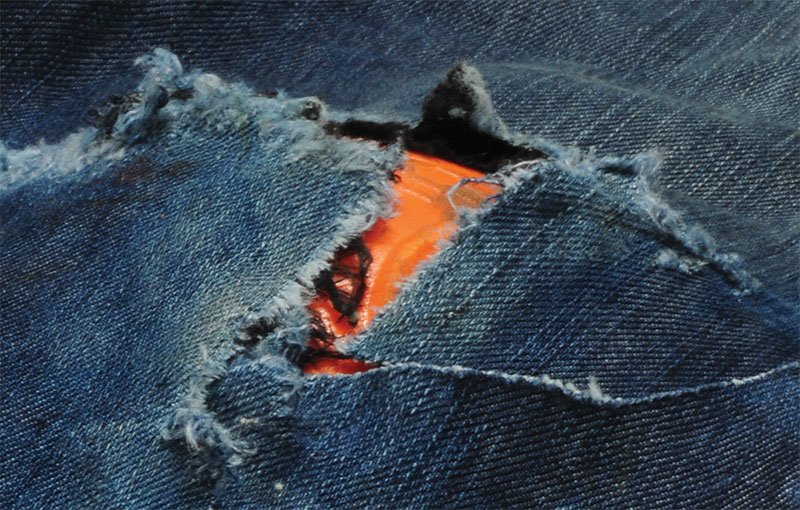 9. In conjunction with Rokker, Motolegends offers an exclusive 'crash' warranty. Basically, if you come off your bike and put a hole in the jeans by sliding down the road, we'll replace the jeans for free.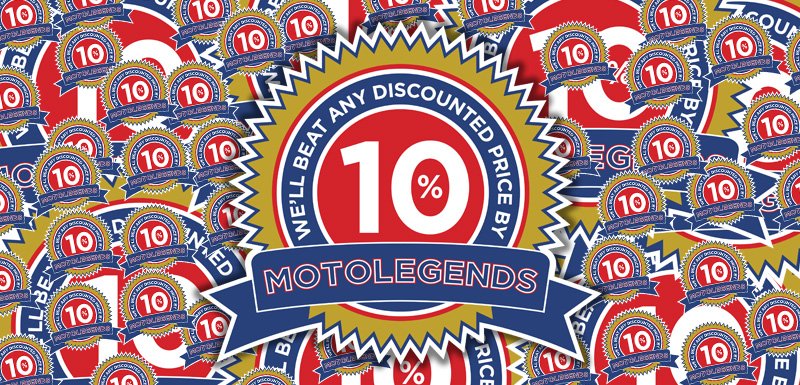 10. We price beat any retailer in the UK who sells the jeans cheaper than we do. We'll match the price of any seller in the EU.
The bottom line is this. We love these jeans. We all ride in them. We believe in them. In fact, we're a bit evangelical about them. They're 50% better than leather in terms of abrasion resistance. They look fabulous on. They're comfortable to wear, and they are lovely and cool in the summer. We want our customers to love them as much as we do. And we can only do that if we get them to fit just right. We'll make that happen. We don't think there's anybody else out there who can or will do what we're prepared to do. So if you're serious about buying a pair, come and see us in Guildford.
CLICK
ROKKER ROKKERTECH SLIM JEANS
TO SHOP NOW
CLICK
ROKKER ROKKERETCH LADIES JEANS
TO SHOP NOW
CLICK
ROKKER ROKKERTECH RAW JEANS
TO SHOP NOW
Want some more? Please click here to return to our editorial menu.
Share this story