AGV Sport Modular Helmet Review
Published on: 19 February 2018
THE ULTRA-LIGHT, FLIP-LID HELMET FOR THE SPORTIER RIDER

Here at Motolegends we love flip-lid helmets; we always have done. Some motorcyclists have a rather childish aversion to wearing one; some riders are put off by the fact that the police wear them; but our view is that if they're good enough for those guys, they're good enough for the rest of us.
Others associate flip-lids with traditional BMW riders; and so there's that whole joke about a pipe and slippers in the panniers. Anyone who still hangs on to this out-dated perception really needs to wake up and smell the coffee. BMW makes some of the most exciting bikes on the market; the S1000 RR is pure adrenalin, the GS is the adventure bike that every manufacturer wishes they had in their portfolio, the K1600 is a tour de force, whilst the rNinet shows everybody how retro really should be done. Pipe and slippers? I would cocoa.
The flip-lid helmet market has been dominated forever by Schuberth and Shoei. The Schuberth C3 Pro has for years been the benchmark, whilst the recently released Shoei Neotec 2 has raised the bar even higher, and is now arguably the king of the jungle.
Last year, Schuberth released the C4; their attempt to produce a flip-lid for sports bike riders. In truth, it hasn't hit the spot. It wasn't sporty enough for the sports bike brigade, and it actually did nothing better than the C3 Pro. It's also been beset with technical and build-quality issues.
Towards the end of 2017, we were invited to go and see AGV's forthcoming Sport Modular flip-lid. We weren't particularly excited. As far as we were concerned, AGV was a maker of racing helmets with teenager-like graphics. It wasn't exactly our kind of brand, and we couldn't see that AGV would be able to make a credible flip-lid.
But in early 2018, AGV actually came to see us with the new helmet, and in truth we were made to feel a bit foolish, because the Sport Modular is one serious helmet that has had a huge amount of technology applied to it. It's a truly unique helmet with a compelling proposition, and an array of features that differentiate it from any flip-lid on the market.
So let's get into it.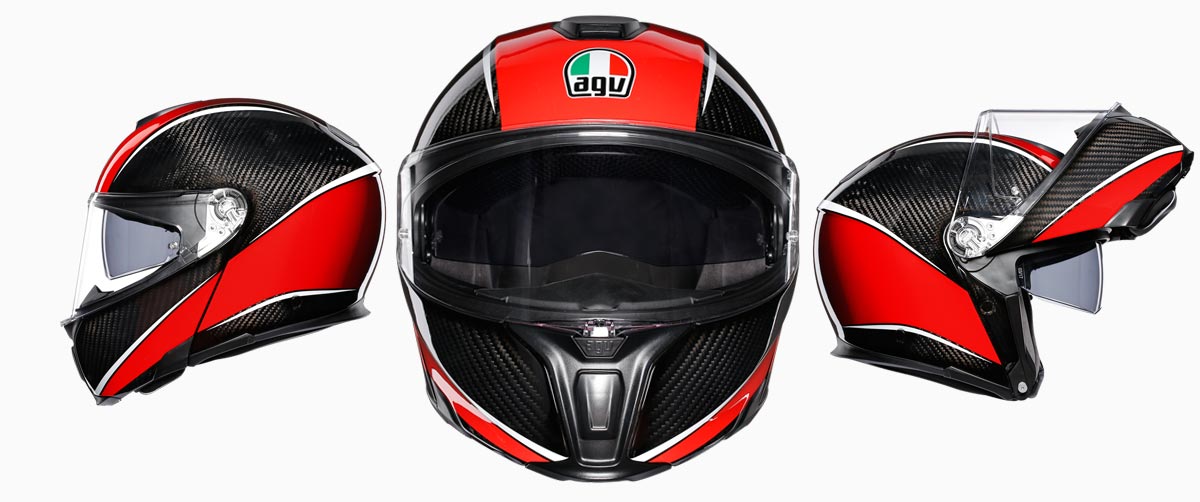 The Sport Modular helmet. The aggressively handsome new flip-lid from AGV.
AGV make sports helmets; no two ways about it. Valentino Rossi wears a Pista GPR, and a flip-lid at first appears to be right at the other end of the helmet spectrum to a racing helmet. But recognising the undeniable comfort, performance and convenience benefits of a flip-lid, AGV thought – and we agree with this – that if the design was right, many sports riders would wear one. The challenge was to make a helmet that worked as a flip-lid, but which would appeal to the owners of race-inspired machinery.
Of course, the first thing was that it had to look right, and in this respect we think that the AGV got it spot on. Close the chin bar, and the AGV Sport Modular doesn't just look like a full-face, it looks like a proper race helmet. It's the best-looking flip on the market, and by a country mile. No Ducati Panigale, Yamaha R1, Honda Fireblade or BMW S1000 RR rider is ever going to be embarrassed wearing this new helmet. It really is right on the button aesthetically.
The second thing that AGV had to get right with the Sport Modular was its weight. Whatever the size of the rider himself, the guys who ride high-end sportsbikes are obsessed with saving weight. Titanium exhaust headers, carbon faring panels, titanium foot pegs and hollow wheels; all in the interest of shaving off a few ounces here and there.
The problem is that flip-lid helmets are intrinsically heavy. The truth is that with the kind of bikes most flip-lid helmet wearers ride, weight just isn't a big deal. It's also true that flip-lid helmets have lots of extra moving parts that make them heavier than most full-face helmets.
The Pista GPR, the replica of Rossi's helmet, comes in at around 1500 grammes, the C3 Pro weighs around 1675 grammes, whilst the Shoei Neotec hits the scales at 1725 grammes. Given all this, it seems almost unbelievable that the AGV Sport Modular weighs just 1295 grammes in its smallest size. This is one light helmet; certainly it feels as light as any full-face we've ever come across.
To achieve this amazing weight saving, the helmet's shell is obviously made from carbon, but in a first in this market, so is the chin piece. Now the closure of a flip-lid has to be very precise; it has to be to seal perfectly, and in the past it has not been possible to mould carbon accurately enough to create a perfect closure. So AGV went to South Korea to a company that makes carbon wing panels for Boeing aircraft. The carbon conforms to the most stringent tolerances, the patterning is perfect and, of course, it's very light.
But AGV wasn't satisfied with a lighter shell, so they fashioned all the metalwork in titanium, even the visor mechanism. The releasing lock for the chin bar, sometimes a weakness in flip-lids, is also made from titanium, not only for weight saving, but also for strength. Even the double-D ring was made in titanium; apparently this made the fastener 43% lighter than it is on most helmets. Obsessive or what?
So let's venture deeper into the Sport Modular to see what else it has to offer.

The AGV Sport modular helmet is packed with many high-tech features.
The visor on the AGV Sport Modular helmet is pretty impressive. It's been designed to be suitable for a sports bike, so the visor has an 85° vertical span. This means that when you're leant over the bars you don't have to strain your neck to see down the road. Equally impressive is the 190° horizontal field of view. Now that's about the same as the human eye, so it offers an extraordinarily wide visual field Of course, you'll still need to turn your head for a life-saver, but in the dead-ahead position your peripheral vision will barely be impeded.
The visor itself is 5mm in thickness, and of Optical 1 visual quality. For anti-fogging, the Sport Modular is fitted with Pinlock's top-rated 120 insert. The detents are strong, so that when opened the visor will not fall back. When closed, it fully locks into place such that you have to press a small button to open it. There's a 'cracked' setting to allow a small amount of air to enter the helmet if required. As you would expect on a flip-lid, there's a drop-down sun visor.
The venting is good on the AGV Sport Modular helmet, but this doesn't mean the helmet is noisy. There's a large chin vent, and one on the crown. The exhaust vent is concealed beneath a small spoiler on the back of the helmet that can be raised or lowered. This spoiler is meant to also reduce turbulence at speed.
Inside, the helmet is pretty luxurious, particularly for a sports helmet. The cheek pads can be changed for thicker or thinner ones to improve the fit, but they're not due to be available until some time after the helmet is released. One neat feature of the interior is that the headliner can be turned inside out. One way is channelled for better breathability, and to allow hot air to be vented out of the helmet. The other side is fleece lined for extra warmth when it's cold. We've never seen this on any other helmet.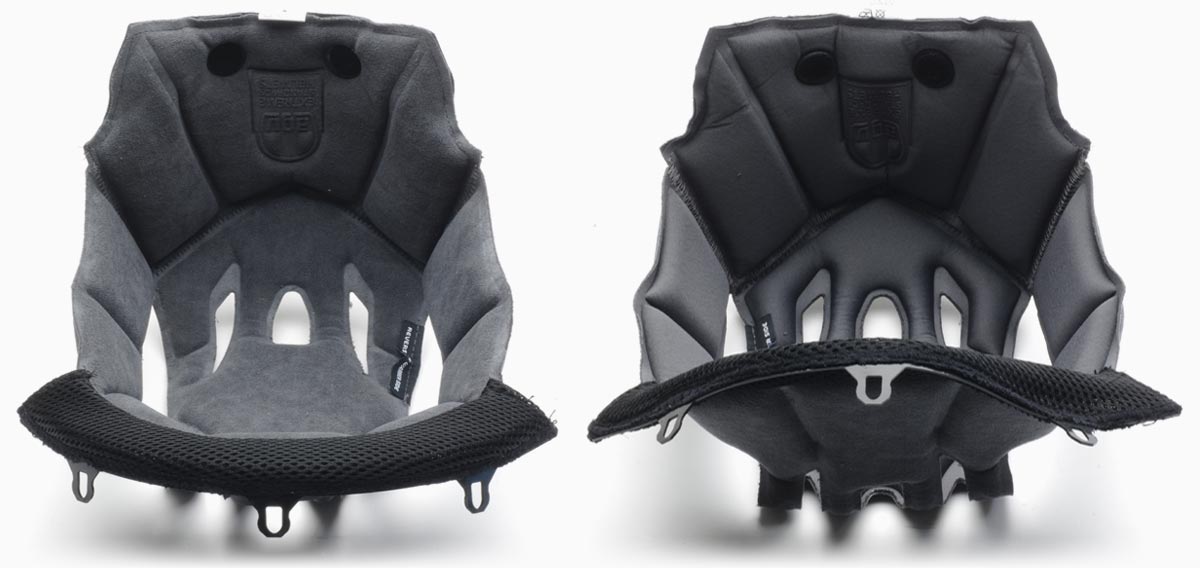 The removable liner is reversible. One side is channelled for better breathability on hot days, whilst the other side is fleece lined for extra warmth on cold days.
Which brings us onto the thorny subject of noise. There are a lot of incorrect views out there about flip-lid helmets, often held by bloggers, journalists and so-called experts who should know better.
Now AGV is very clear that this is their quietest helmet ever, and this doesn't surprise us because a good flip-lid should be quieter than a good full-face helmet. Some reviewers assume that because the chin bar is a separate piece, a flip-lid must be noisier that a normal full-face. They're wrong. A flip-lid is quieter because it has a tighter neck-roll that sits closer to the neck. It can sit closer to the neck because of the way you put a flip-lid on; we sort of slide it into place over the back of the head. Because the neck roll is tighter, wind and air are kept out. When the air can't get through to the inside of the helmet, it is quieter.
Here's a little test to prove the point. Get a flip-lid in your size. Close the chin bar, and then try to put it on your head. You simply won't be able to and, if you need it, this is the evidence that the neck roll is tighter than it would be in a normal helmet.
As we've said, AGV has in the past really been a maker of racing and sports helmets, but even they will have seen the huge decline in the sales of racing helmets, which is presumably why they have put so much effort into getting the Sport Modular helmet right.
To this end, they've gone to great lengths, both in the wind tunnel and with the interior lining, to make the Sport Modular a quiet helmet. There's even an optional chin-flap in the box to further improve the sealing. AGV tell us that they've tested the helmet in a wind tunnel against the C3 Pro, and they found their helmet to be quieter. We've not seen the data, but if it's true, or even close to being true, that's pretty impressive. A quiet sports helmet? That's an oxymoron if ever we've heard one! But perhaps AGV has done the impossible.
In terms of the spec. and features, there's not a lot more to add. It comes in a number of colourways. The ones we're doing cost £549 or £599. Other colours are available, and we can get these in, but the ones we've selected are our favourites.
There are eight sizes in total; they run from XXS to XXXL.

We offer the AGV Sport Modular helmet in three colourways: Gloss Carbon black, Aero Carbon red, and Matt Carbon black.
We're not big believers in the SHARP safety ratings, as we think the methodology for testing is imperfect, and that the manufacturers can easily reinforce their helmets to get the five stars. But, if it's of interest, AGV expects the helmet to get five stars like the Pista GPR, although the tests have not yet been completed.
So where do we get to? What's the Motolegends view?
Well, truly we are impressed. The AGV Sport Modular helmet is aggressively handsome. It really does look like a full-face sports helmet. And its weight is truly, truly amazing. Add to this, high levels of comfort and low levels of noise, and you've got something that is rather special.
You can, in truth, wear this helmet on any bike, but if you're a sports bike rider who wants the convenience, comfort and quiet of a flip-lid, there's nothing that compares. It's got to be the one to choose.

The AGV Sport modular helmet is packed with many high-tech features.
As far as we're concerned, there's only one weakness in the package. And for some it will be a deal breaker. For many motorcyclists, flip-lids go hand-in-hand with comms. systems. Comms. work best in quiet helmets, and flip-lids are quiet, so both Schuberth and Shoei have got together with Sena to create the ultimate packages as far as comms. are concerned. The Sena 20 comms. that integrates into the Shoei Neotec 2 is particularly impressive.
By contrast, AGV seems to have given little or no thought to the idea of listening to your satnav, taking phone calls, conversing with the pillion and other riders, or playing music. Presumably, they think sportsbike riders will be more concerned with doing wheelies and getting their knees down. I'm just guessing!
But right now comms. is not part of the package. I'm sure you can fit a comms. into the AGV, and there are many systems that might work, but AGV is silent on the subject. It might be part of future plans; we just don't know.
So, brilliant as the new Sport Modular is, in so many ways, If you're thinking comms., forget it. This one's not for you.
Want some more? Please

click here

to return to our editorial menu.
Share this story