Arai Rapide Neo helmet review
Published on: 28/08/2019 13:01
The motorcycle market has changed a lot in recent years. Not that changing trends are anything new to the motorcycling world. In the sixties, kids took the bikes their dads rode into work, and turned them into café racers. In the seventies the Japanese arrived, and showed us all what reliability meant. In the eighties we all became obsessed by the superbike, and thought we should dress up like racers. Early on in the new millennium, Charley and Ewan made the adventure bike the machine to be seen on.
More recently, the bikes we all remembered as kids have caused our hearts to swell with nostalgia! Classic bikes have grown hugely in popularity, but a proper classic is a commitment requiring greater resolve than most of us possess, and so the manufacturers set out to create bikes that would deliver the style and visceral experience of a true classic, but with the ease of use of a more modern bike. The 'retro' bike was born.
And they were eagerly adopted by those for whom the sheer speed and discomfort of a sports bike had become less appealing. Motorcycling has grown up. It's all a bit more relaxed and laid back than it was back in the day. Biking is cool again. It's become more about making a stylish entrance than about making a speedy getaway.

A modern retro may have a classic look, but that doesn't mean these bikes ride like classics. We're talking about bikes like the R NineT, CB1100, XSR900 and Z900RS.
With this new breed of bike a new aesthetic has emerged. Out have gone one-piece leathers with sliders and racing humps, gloves with carbon knuckles, and helmets with aerofoils and spoilers. To be replaced by cool-looking riding jeans, classic leather jackets, short gloves and ankle boots. But, until now, nobody has made a helmet that was appropriate for this new genre of classically-styled motorbike.
A modern, aggressive, race-oriented helmet just looks wrong on these bikes, yet it should not be forgotten that the kind of bikes we're talking about still often have a fair turn of speed. Most of them will still get to sixty in a couple of seconds, and 140mph is well within the reach of many. Which is why most of the helmets out there that are aimed at the riders of these modern-retro bikes just aren't up to the job.
For more years than we can bear to remember, we have been searching for a helmet that looks right on the Triumphs, Guzzis, Nortons, Yamahas, Kawasakis and BMWs that we are talking about. A helmet with a classic look, but that doesn't make compromises as far as comfort, wearability and safety are concerned.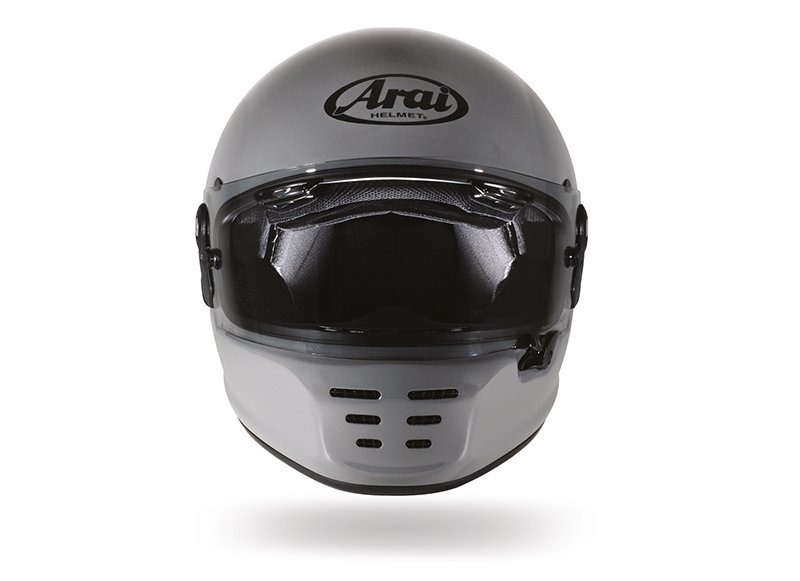 ARAI'S NEW RETRO-STYLED, FULL-FACE HELMET DUE SOON
We have often spoken of, and written about, our disappointment with most retro-styled, full-face helmets.
We have tested and ridden in them all, and have, in the past, offered quite a number of them to customers. Some of them were okay. Some looked the part, some were comfortable enough. Some were horribly over priced for what they offered, but none of them was the real deal. And so we have never felt that any of these helmets was quite what we were looking for.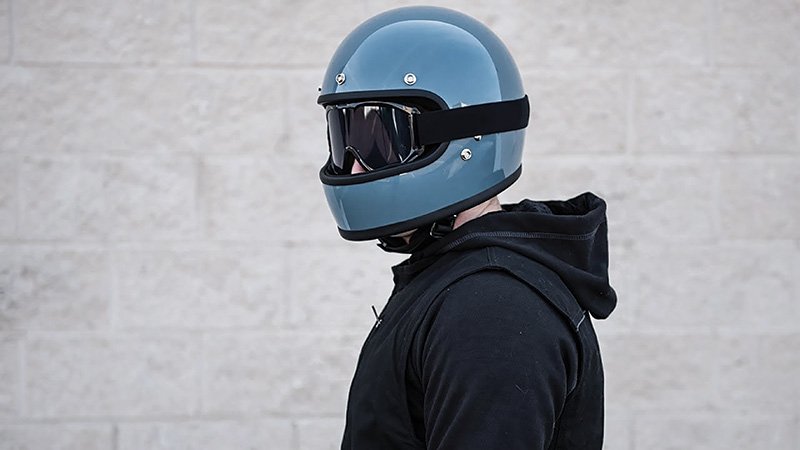 There are quite a few, smooth-domed, so-called, retro helmets out there. Some are cheap, some are certainly not. But none of them is sophisticated, or particularly technical. Not one, in our view, is designed with safety at the top of the priority list..
It was more than five years ago that we started lobbying the manufacturers to create the helmet we sought. What we wanted was a helmet with the smooth, uncluttered, totally round profile of a race helmet from the seventies and eighties, but with all the mod. cons. that you would expect to find on a high-end, modern helmet.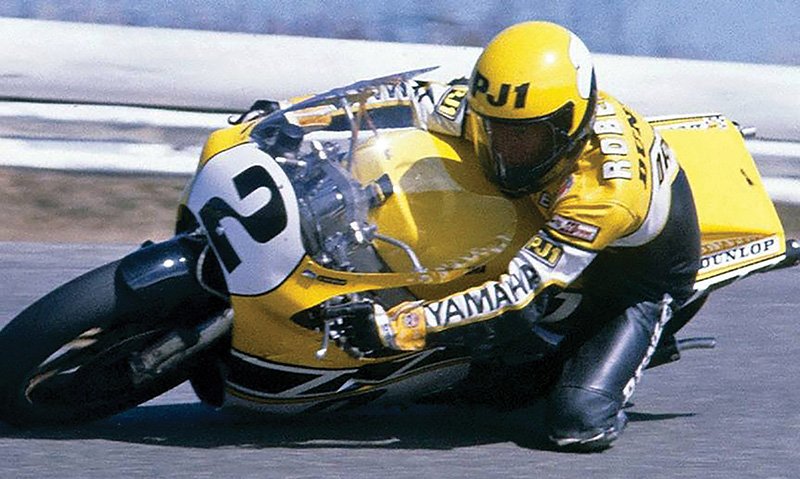 The helmet we have been looking for would have the simplicity and cleanliness of line of a race helmet from the seventies and eighties, but with the technical features of the best, modern helmets.
We wanted a helmet that fitted properly which, frankly, which most of the current crop of retro helmets don't. We wanted a helmet that would be reasonably quiet which, again, many of the retro helmets on the market certainly are not. In fact, some of them are so noisy that you wouldn't want to ride in them at anything over 60 mph. We wanted a helmet with a proper, modern seal so that it wouldn't let the wind and the rain in. And we wanted it to be well-vented. Of course, venting is not really an issue with most of the existing retro lids. On some, the gap between the shell and the visor is so large that you could squeeze a little finger into it. Very few have a chin vent. And rarely is there much of a facility to allow the flow of air to be controlled.
We also would have to admit that, whilst we would never have offered those helmets that only came with a DOT rating, we still don't believe that many of the retro helmets we're talking about have been put together with safety as a significant part of the design brief. We're not, by and large, talking about helmets with multi-layer and multi-density EPS liners. And none has been produced by those manufacturers whose in-house standards far exceed ECE 22/05. Of course, they all met and meet the EC standard, but then again so will a £25 helmet from Lidl.
If we could've written the spec. for the helmet we sought, it would also have included changeable cheek pads and liners to allow the helmet to be custom fitted. It would also have specified a top-of-the-range 120 Pinlock and, in an ideal world, a drop-down sun visor.
Right now, there's no helmet out there that comes even close to delivering on these criteria.
And we thought this was a shame. What did give us some hope, however, was a chance encounter we had with a chap from Arai at the International Motorcycle Show in Milan last autumn. Hidden in the corner of the Arai stand was a solitary prototype of a helmet that, visually at least, looked to be almost exactly what we had in mind.
We ran a little story about the prototype we saw, in the Christmas issue of Motolegends. We corresponded with our man in the weeks and months after the show. We told him how great we thought the new helmet's potential was, and we tried to persuade him to at least make the helmet Pinlock compatible, which the prototype wasn't.
Well, a few weeks ago, a helmet arrived from Japan for us to look at and test. And that's exactly what we've been doing.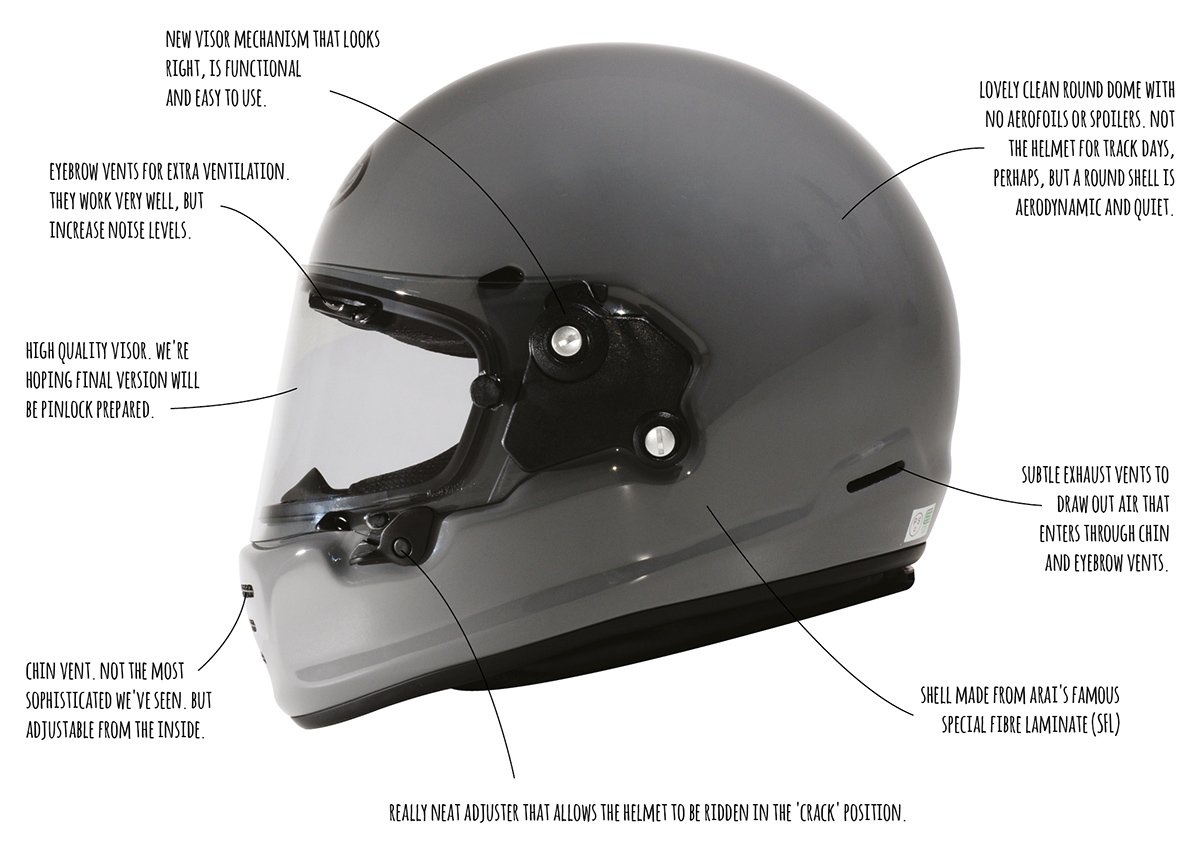 LIVING WITH THE NEW ARAI RAPIDE NEO HELMET
The Arai Rapide Neo, as it is called, may not be 100% the helmet we have been looking for, but it is pretty darned close. In fact, we always thought it would be easy for an Arai or Shoei to make the helmet we wanted because, in truth, what we sought was something that looked like what both these guys actually produced 30 years ago.
The Rapide Neo has the perfect round dome of Arais of old. We're not sure quite how we feel about the Simpson Bandit-style nose on the helmet, but it was explained to us that the designer wanted to do classic with a twist, to also make the helmet appealing to the custom-bike crowd, as well as to those looking for a slightly more aggressive street-fighter look. We certainly don't dislike the helmet's chin design. It perhaps just wasn't quite what we expected.
In terms of spec., the helmet we have been sent still isn't Pinlock prepared, although this is a Japanese-market helmet. We have been in communication with the UK importer, and we hope that the UK version will come with a Pinlock in the box. This won't necessarily be the case, but the worst case scenario will be an optional Pinlock-prepared visor.
For the first time ever on an Arai, we believe, the Rapide does not come with the company's trademark side-pods. Arai has always said that this was something they would never abandon, even though it makes removing the visor tricky, and makes a significant contribution to the Japanese brand's reputation for producing noisy helmets. We like the new system that Arai has used on the Rapide Neo. It's got a pleasing, old-school look to it, and we also reckon that it can only help as far as noise is concerned.

There's a pretty basic chin-vent, airflow adjuster inside the helmet. You also get two eyebrow vents in the top of the visor. We can see why Arai has done this; and it's because they didn't want to add bits of plastic on to the shell. All we can say is that, having ridden in the helmet, these vents work. You really can feel air running over the top of the head when the eyebrow vents are open. But these vents definitely add to noise levels. I suppose where we get to is the realisation that the Rapide Neo is no Shoei Neotec or Schuberth C3 Pro. It's still not a helmet you'd necessarily commute or go touring in, but it's more than acceptable at road-legal speeds. Close the eyebrow vents, and it's actually quite quiet. For many, of course, the Rapide Neo will be used in the urban environment, or for riding to the local bike meet to pick up a bacon bap. And used in this way, you'll never notice a problem. But for the more committed rider, riding longer distances at higher speeds, earplugs are going to be desirable; as indeed they always are.
Comfort-wise, despite the fact that the helmet we have been testing has what Arai calls an 'Asiatic' head fit, we have found the Rapide Neo to be supremely comfortable.
You can't beat Arai or Shoei when it comes to comfort and fit, and we can only say that, even though this helmet is not a European-spec. model, it fits way better than any of the usual suspects. And it's not just a bit more comfortable; it's in a different league!
We also know that we will have the facility to custom fit the Rapide Neo with different thicknesses of cheek pad. And we know that because the Chaser X pads fit the helmet perfectly. The headliner can also be removed, so we are hoping that we may be able to offer different head liners as well.
Now, as ever, the Rapide Neo isn't going to fit everybody well. Over the years, some people have managed to convince themselves that they have an Arai-shaped head, but this is a bit of a myth because Arai is constantly changing its fits and, right now, different models in the Arai line up fit quite differently.
Some have what they call a long-oval fit, others are labelled intermediate oval. But they also have a wider oval shape in some helmets.
The problem is that, right now, it's difficult to be definitive about what the shape of the Rapide Neo will be, especially as the version we have been sent could be very different to the helmet that hits the UK later this year.
What we can be fairly certain of, however, is that the fit will be more or less oval in shape. It won't, we suspect, be that different to a Shoei. It will definitely be less round than a Shark or Schuberth.
But because this is such a new project, the only solution is going to be to try one on. Now, as we do with all Shoei models, we're going to try and keep all the liners on the shelf here in Guildford, so visiting us in the shop is going to give you the best chance of getting a perfect fit.
GETTING YOUR HANDS ON THE NEW ARAI RAPIDE NEO HELMET
Our understanding is that a production run of Rapide Neos for the UK market was going to happen over the summer, with a view to helmets being put on the water in September for an October or November delivery. But there's no guarantee that this is going to happen. The importer is determined to get the helmet into the market well before Christmas, however.
Notwithstanding what we've said about fit, we think that if you want one of these helmets you should place an order sooner rather than later, and that's because, if they sell out, it's going to be easier to swap a size than it is to jump the queue.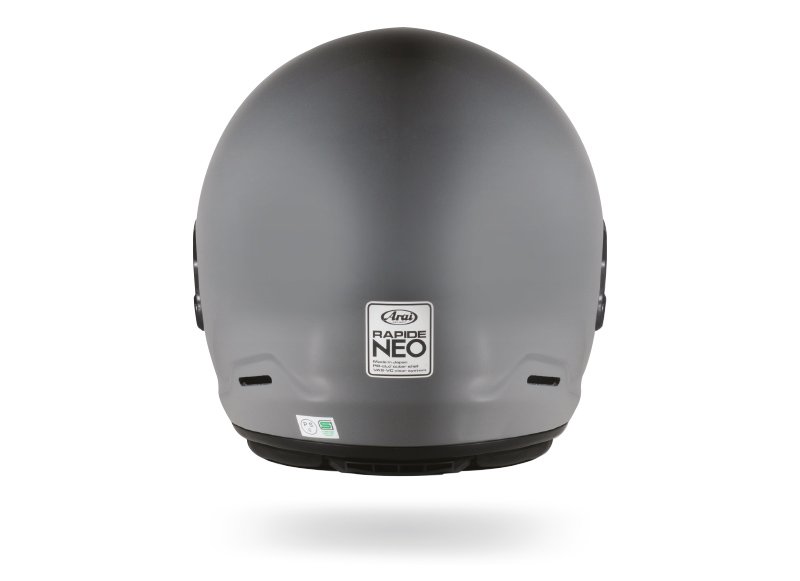 All we can say is this. We think the demand for this helmet is going to be huge. We are going to sell a large quantity of Rapide Neos, because we know it's what we and many of our customers are looking for. And so we are going to place an order for a good quantity; in effect, as many as we can afford. But we get the impression that the importer is still a little cautious.
For them Arai is all about racing. They don't know much about the retro market, and they are not sure how their traditional dealers are going to react. If the helmet goes down as well as we think it will go down, it could sell it out very quickly; conceivably on release, or very shortly thereafter. So, as we've intimated, a pre-order makes sense.
The importer has told us that the helmet will be priced at £450 for the plain colours, and probably £550 for the graphics. Truth be told, we are not huge fans of the graphic treatments. They're quite Japanese, and whilst they may talk to some, they are not yet talking to us. But we will be offering them for those who want to make more of an oriental statement.
The helmets are all listed on the site. The prices may change between now and when they arrive with us, but if they do that will probably be down to Brexit, exchange rates, and potentially even tariffs, although we are still keeping our fingers crossed that the helmets will arrive before the potential EU leaving date of 31st October.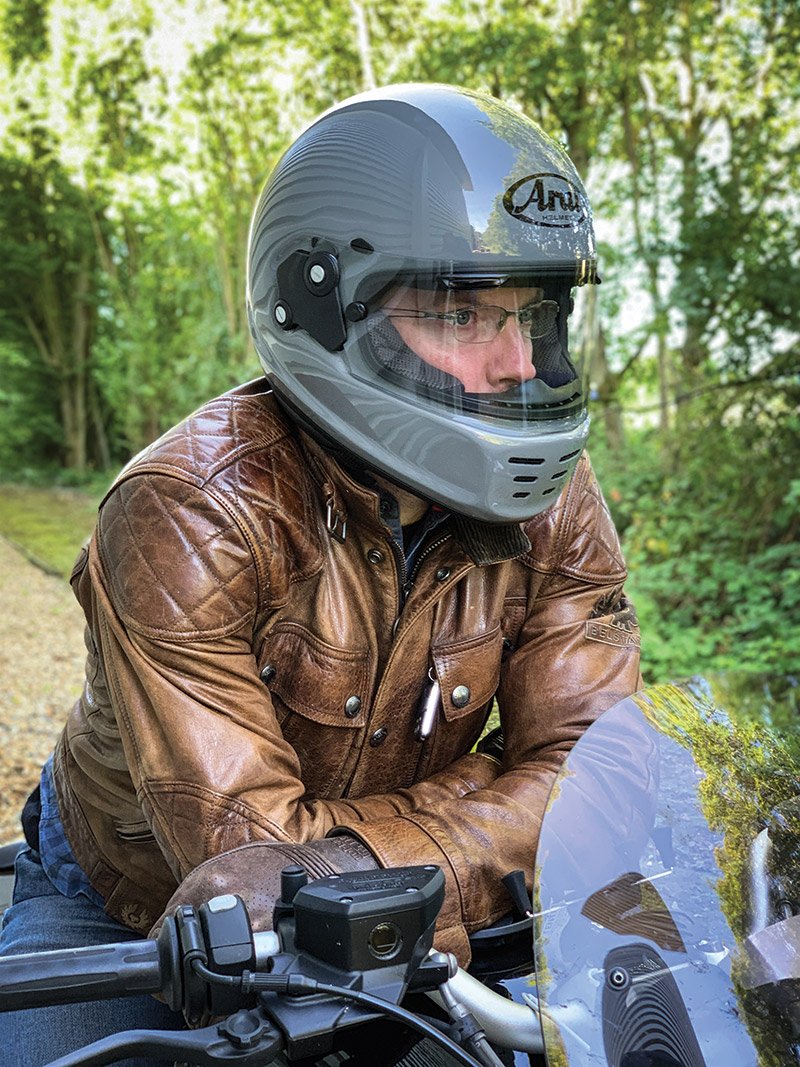 This is Sean, our shop manager. He commutes about 90 miles a day from central London to Guildford, and he's been testing the Arai for comfort, noise, venting and so on. Well, he likes it; he likes it a lot, although it's more suited to his R nineT than his Pan European!
And the way we see it, you risk nothing by placing a pre-order. It will, to the extent that it is possible, guarantee you a helmet from the first shipment. We won't debit your card until your helmet has been sent to you, or until you collect it, and if you don't like it when you see it, you have 365 days in which to get it back to us for a full refund.
Finally, if you want a sneak preview, you can always come to Guildford to see the sample we have here.
Interestingly, we have recently heard that another one of the big players will also be bringing out a new retro helmet. We haven't seen it in the flesh, but you can expect it to sit in the same ball-park, in terms of quality and fit. But it won't be with us until next April at the earliest.
You wait ages for a bus to come along, and then two arrive, one after the other. That's how it feels to us. Personally, as we know that both these new buses have the same destination in mind, we'd hop on the first one rather than wait.
Anyway, visit the website and get a 'pre-order' in now. We're convinced that this is the helmet we've all been waiting for. It looks right, it feels and fits right, and you can be pretty sure that Arai has put it together right!
---
Want some more? Please click here to return to our editorial menu.

Share this story