Arai Urban-V helmet review
Published on: 15/03/2021 16:41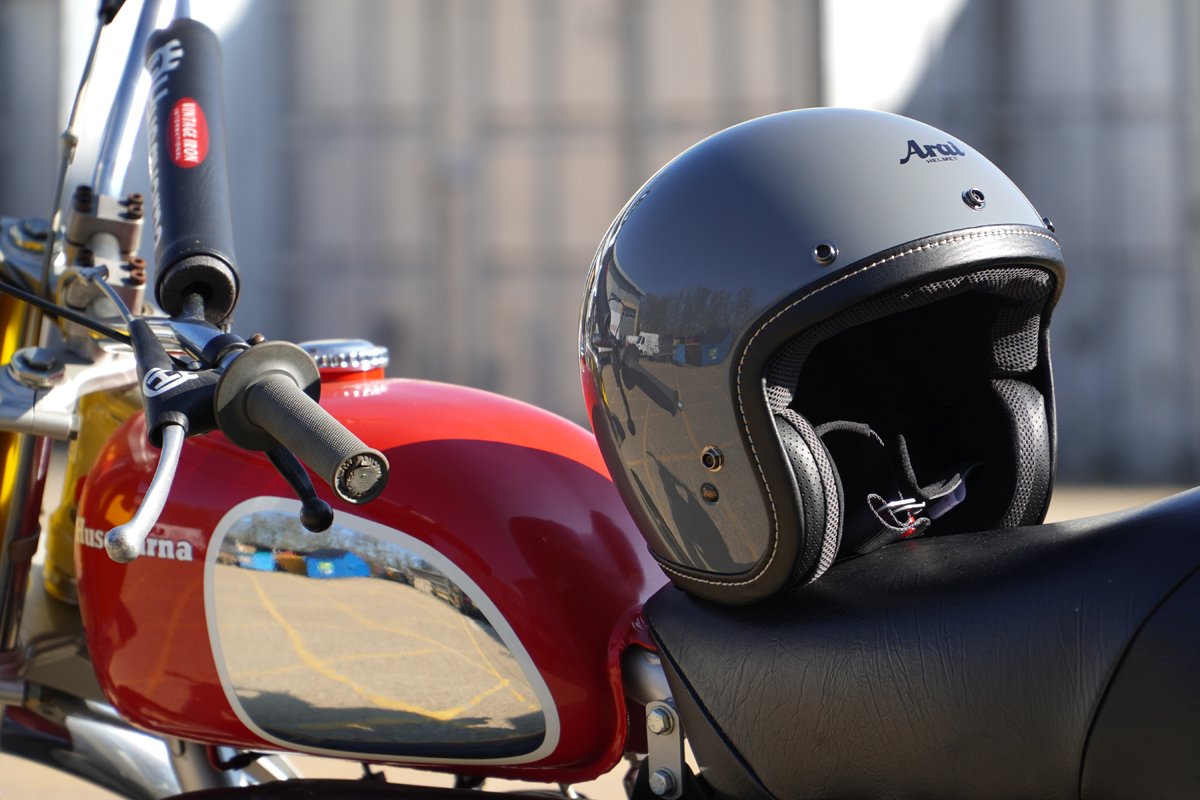 The first thing that we need to make clear is that this is not a brand new helmet. It has been around for a number of years, but the Arai importer tells us that they no longer bring it into the UK for any other retailer because, in all honesty, it is just too expensive for most of them to want to stock. I hasten to add that we have not decided to offer the helmet because of its price. We never seek out expensive products, per se. It is true that we are drawn to higher quality products; but we can hardly be blamed if such products sometimes end up being a little more costly!
Open-face helmets, it has to be said, do not appeal to everybody. Motorcycles are dangerous. They can travel at insane speeds. Their contact with the road is via a piece of rubber barely an inch or so wide. And when things go awry, there's nowhere to hide. There's no crumple zone, and no safety belt. It's no wonder, therefore, that so many of us set such great store by the protective qualities of the gear we ride in. And in such a world, it might appear that there's no place for open-face helmets because, let's face it, an open-face is never going to protect you in the way that a full-face helmet will.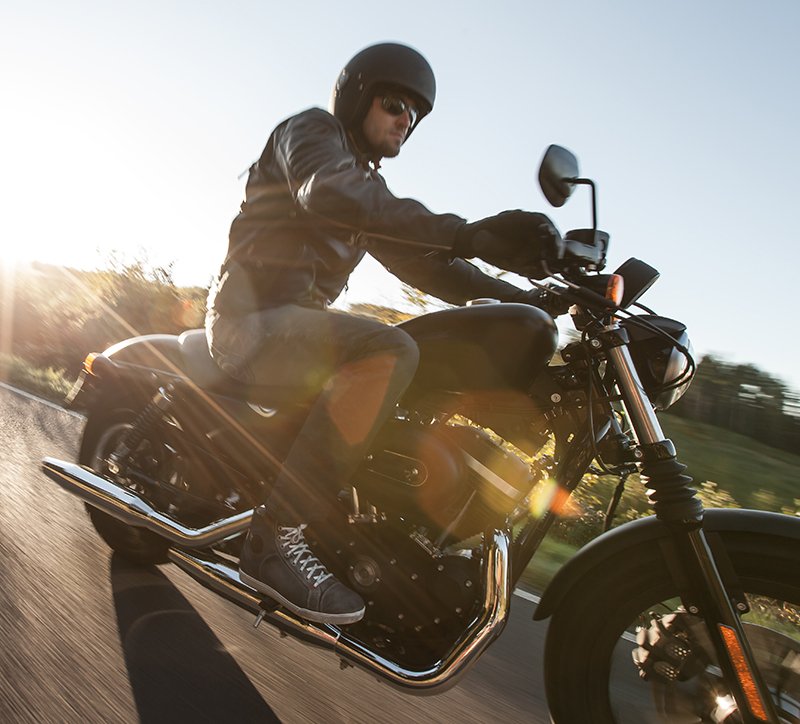 In an activity as dangerous as motorcycling, how can one justify wearing an open-face helmet. Our retort would be that it's all about your attitude and approach to risk.
Yet, we come back to notion that we all have different risk profiles. The fact that somebody is prepared to throw a leg over a motorbike is evidence that they are accepting of a certain level of risk. (Well, either that, or they simply haven't thought it all through). We all decide the level of risk we are prepared to accept. Mine, for example, is way lower than it used to be. The thrill of going round a sweeping bend at speed without knowing what is parked up out of sight around the corner seems to have waned over time! Yet, I still love my bike. And on a nice day, if I am popping out on a Sunday morning for a bacon bap, I am more than happy to ride in an open-face helmet. In fact, it's what I would prefer to ride in. Even though I now have very little hair through which the wind can flow, I still relish the feeling. There is nothing quite like it. And, as an aside, I quite relish the fact that I don't need to ride as fast to get my kicks.
This having been said, if we are going to recommend an open-face helmet, we are going to want it to be a good one; preferably the best one. Over the years, we have offered a number of open-face helmets. But in recent times we have discontinued most of them. The fit on most has been poor. Some have featured fantastic graphics, and whilst many have effected a very fashionable low profile, few have been truly comfortable. Nor have we always been convinced of the protective qualities of some of these helmets.
In this review Chris talks us through the Arai Urban-V. We sell expensive products; not because they are expensive, but largely because we are only interested in the best products. The Arai is the best.
The problem with open-face helmets, we are informed by the UK distributors, is that over 90% of them are sold into the ever-burgeoning scooter and moped market. And for this market the optimal price point is apparently £100. Unfortunately, for that kind of money you don't get a particularly well-made helmet, a particularly comfortable one or a particularly protective one. We fully support any rider's desire to ride in an open-face helmet, but we will still expect the fit to be comfortable, and we will still want such a helmet to be as protective as it can be if you end up banging your head against the road.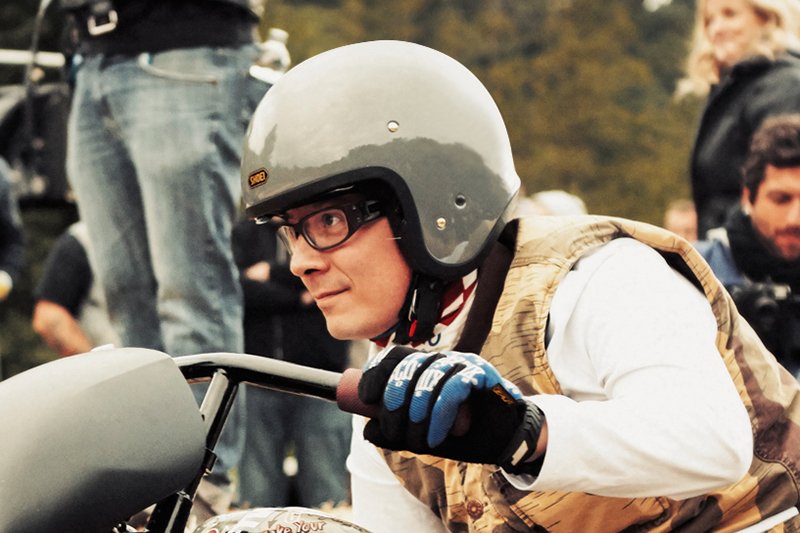 To date, our favourite open-face helmet has been the Shoei JO. It really is a cracker, but if we were being totally honest even we would have to admit that it's not a classic café-racer helmet in the way the Arai is.
The only open-face helmet that we have historically had full confidence in is the Shoei JO. It is an exceptional helmet that we can customise to get the fit pretty near perfect. It's got a great, adjustable, drop-down visor and, of course, as it's a Shoei we have no qualms about its protective capabilities. The only problem is that it's not a classic, full-jet helmet; and so it simply doesn't look right on a certain kind of bike. It doesn't look right with a pair of goggles, and it's not the perfect complement for your café racer, cruiser or scrambler!
The Urban-V, by contrast, is.
What you need to know about the Arai Urban-V
The Urban-V is not made in China or Vietnam, like so many cheaper, open-face helmets are. It is made on the same production line in Japan as every other Arai. It takes 18 man-hours to make one Urban-V helmet, during which process it will be inspected by the quality-control team on no less than five occasions. Arai doesn't operate to a dual standard. Everything that goes into an Arai race helmet will also apply to the Urban-V. And like every Arai, it is tested to a standard that far exceeds the current ECE 22-05 standard, in a protocol that even includes a penetration test; and that's something you still won't get in the very latest ECE 22-06 standard.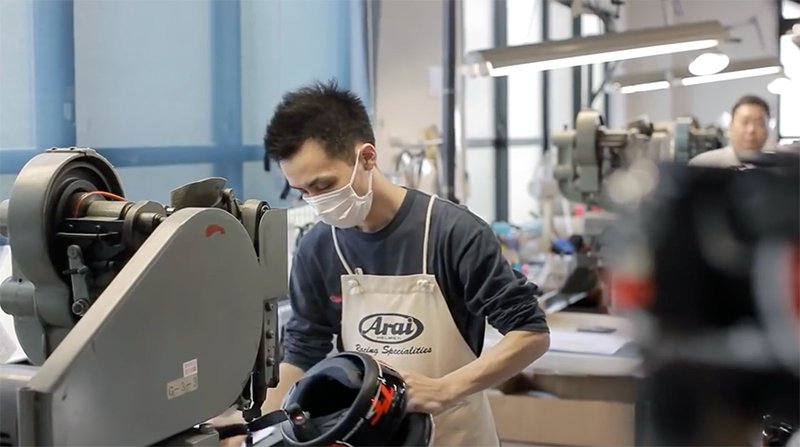 It may be an open-face helmet, but the Urban-V is made on the same production line as every Arai.
The shell of the Urban-V utilises Arai's proprietary Peripheral Belt that runs around the shell just above the eye port. This increases the strength of the shell, enabling it to be thinner and lighter. The shell is made from a mix of synthetic and organic fibres. It comes in three sizes, so one shell size to every two helmet sizes; and we think that's the optimum solution. We have no time at all for open-face helmets that only come in one shell size. If you have a small head, such a helmet will look like a cannon ball. And we even take the view that two shell sizes is less than optimum. Three is the distinguishing feature of the very best helmets on the market.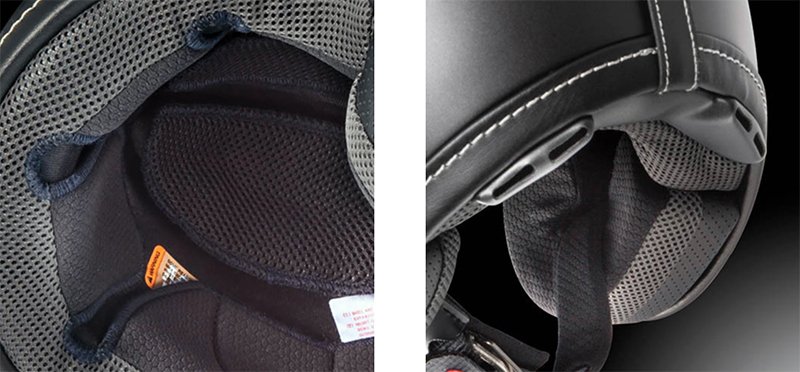 You can still get hot in an open-face, so you get three inlet vents and two Venturi exhaust vents.
The Urban-V is well vented, and you might think that this is not necessary in an open-face helmet, but in certain conditions your head can still get very hot in an open-face. On the Urban-V, there are three inlets under the brow. At the back of the helmet, there are two Venturi exhaust vents. Now, as air passes under these vents, it creates negative pressure that sucks air out of the helmet. This pulls the incoming air out through the channels in the eps. In so doing it helps dissipate heat from the head.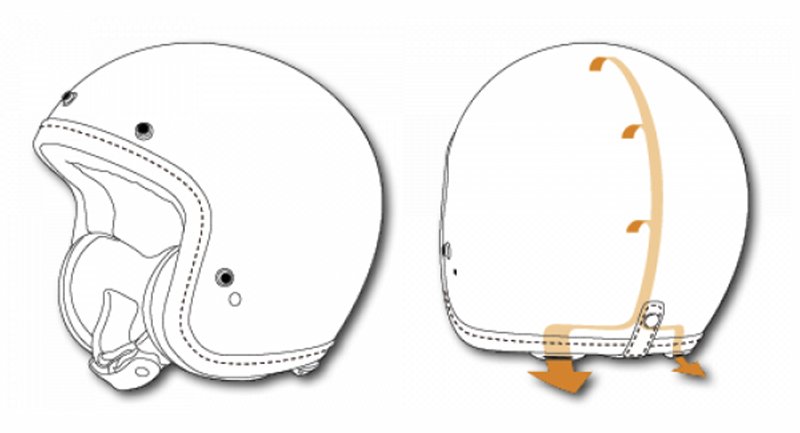 Incoming air is drawn through the helmet by the negative pressure as air passes below the Venturi vents. This pulls heat away from the head through channels in the eps.
Now Arai is no less inclined than others to spout mumbo jumbo when describing its products, in an attempt to blind the potential buyer with science. And so when it comes to the helmet's lining, they talk about the acidity level of the human skin and antibacterial consumption. We are not going to attempt to go there; all we can say is that Arai will not have cut corners here. The Urban-V is supremely comfortable, in the way that Arais always are. But one of the key reasons we are drawn to the Urban-V is the opportunity it offers to change the cheekpads to enable us to customise the fit. And for us that is vital, because we all have differently-shaped heads and faces. Just one word here, however. Even though this helmet is not new, no UK retailers have ever offered different cheekpads in the past, so the importer doesn't currently hold them. The helmet is in stock with us now in three colours,but it may well be a month or so before we get the replacement cheekpads from Japan.
The Urban-V, by contrast, is.
Other things you need to know
The Urban-V comes in a really rather restricted range of colours. There are two blacks, two greys and a white. That's the deal. If you want to look like Evel Knievel, or Peter Fonda in Easy Rider, this is probably not the helmet for you. It fastens by means of a traditional, D-ring. It has five poppers so that you can attach either a full-face visor or a peak. You also get a loop at the back for a goggle strap. The helmet has a five-year warranty.

Okay, so it's disappointing that the Urban-Vonly comes in a somewhat muted range of colours.
Of course, one thing you will definitely want to know is the price. It is £350. Of course, there will be people who will point out that you can get a very similar-looking helmet for much less money, and without doubt in much funkier graphics, but that is to miss the point. You don't buy an Arai because you want to save money. You buy an Arai, (or frankly a Shoei) because you want the best. And very rarely is the best the cheapest.
He was not expounding on the dilemma of price and quality, but it was Robert Daley, author of The Cruel Sport, who wrote something along the lines of: "There are those who understand. And there are those who never will. It is foolish to try and explain it to them".
---
Want some more? Please

click here

to return to our editorial menu.

Share this story