Bell Bullitt helmet review
Published on: 17/12/2017 12:25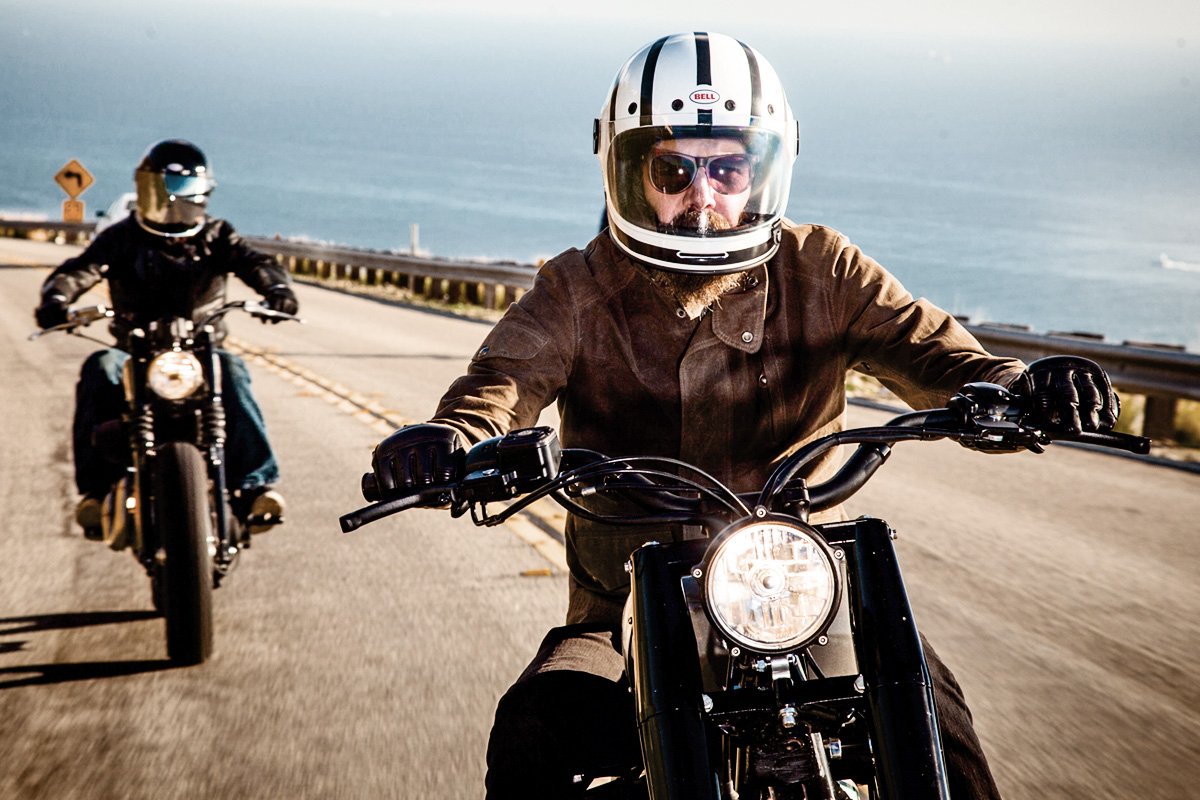 THE ORIGINAL, AND STILL THE COOLEST, RETRO-STYLED FULL-FACE HELMET

The Bell Bullitt helmet was not designed by Bell Helmets, but rather by a college student, Chad Hodge, who designed the kind of helmet he wanted to ride in as part of his final year degree project. But when Chad first penned his designs, he very much had Bell in mind. In fact, he had gown up wearing helmets like the Motostar when he rode dirt bikes as a kid.
As a biker he was into retro-styled, custom bikes. He couldn't find anybody making the kind of helmet he wanted to ride in, and he didn't want to wear a 20 year old helmet, so he got his college to accept the brief as his final year degree project.
Somehow, Bell Helmets heard about the project. They bought the design rights, and put the helmet into production. When it was first launched in 2014, it was a revelation. At that time, nobody was really making a retro helmet. And here was a helmet with great, classic styling, but with all the modern conveniences that one would expect in a twenty first century helmet. It's a helmet that looks right on anything from a genuine Vincent Black Shadow to a custom BMW R nine T. And so the Bell Bullitt became the darling of the new-wave bike scene.
So let us talk you through the spec., the helmet's strong points, as well as its weaknesses. At 1.4kg in weight, it's about average for a modern helmet. It's no racing lightweight, but neither is it lardy. The interior is plushly lined with Alacantra, giving it a very soft and luxurious feel. The visor aperture is huge, so it gives a great field of view. If you want to remove the visor and wear goggles, that's not a problem; there's plenty of room.
Ventilation is good but the inlets on the forehead are not adjustable. There is also a chin vent, and this can be opened or closed from inside the helmet. At the back of the helmet is an exhaust vent to allow air to flow through the helmet.
The fit on the Bell Bullitt helmet is challenging, and frankly it won't work on everybody. The shape of the shell is a touch Buzz Aldrin in concept, so it's never going to fit tightly like a race helmet. It more naturally fits a rounder shaped head, but if it's loose around the cheeks, the helmet can be made to fit more snugly by changing over to thicker cheek pads. We have had some people who needed thinner cheekpads; it's a rarer occurrence, but again not an issue.
Some faces, however, simply don't work in the Bell Bullitt helmet, and sometimes we have a situation where a person's chin almost touches the chin bar, or even protrudes below it. Occasionally, once one has tried all the possible variations, it may be necessary to accept that a Bell Bullitt helmet is simply not for you.
There are six sizes in the Bullitt Bullitt helmet and three shell sizes, so in theory whilst the helmet has a slightly bulbous shape, it rarely looks out of proportion in the way that a helmet with just one shell size can. The articulating visor on the Bell Bullitt helmet has just three positions; open, closed and in the middle, but on a lid like this we don't see this as an issue. It's not after all a Shoei touring helmet; one cannot expect it to be the ultimate in high-tech. gadgetry.
A really nice feature on the Bell Bullitt helmet's visor is its magnetic closure. We've never seen this on any other helmet. It's very neat and works well. Some helmets come with a bubble visor; some with a flat visor. It's really just a fashion thing. We quite like the bubble visor, though. It makes the helmet feel more airy. In theory, it should also cause the rain to run off more easily. That, after all, is why the bubble visor was first invented.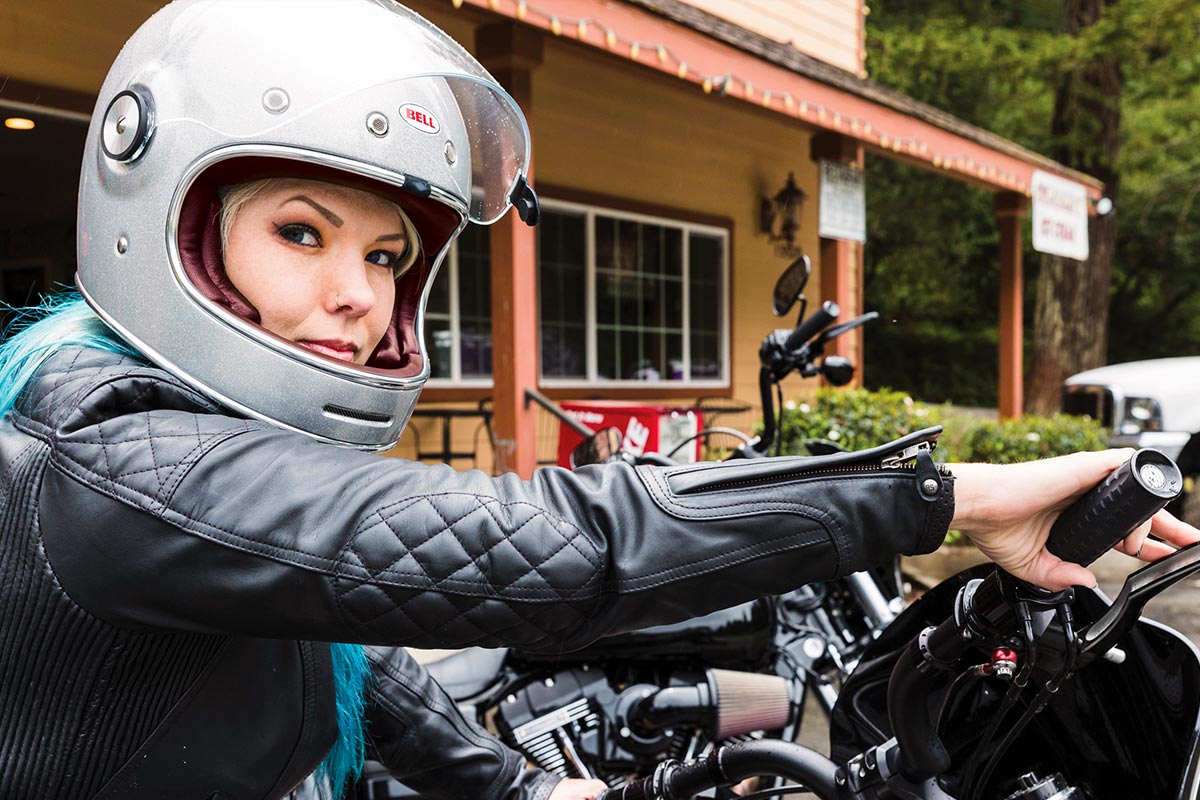 Now this is the point where we have to be totally honest about the Bell Bullitt helmet; what its strengths are and its weaknesses, for this is not the helmet for everybody, and if its not the helmet for you, it could constitute an expensive mistake.
The bottom line is this; since the demise of the Ruby (the original Ruby not the more recent Chinese copy), the Bell Bullitt helmet is the coolest helmet on the planet. It looks fabulous, and goes nicely with the right kind of bike. If you ride a Harley, a classic, a customized BMW airhead, a Bonnie or a Scrambler of any description from any era, it doesn't get any cooler.
For a ride out on a sunny Sunday morning to meet the boys for a bacon sandwich, it's the business. But it's better for bumbling down the lanes or navigating the urban sprawl than it is for pegging it down the motorway. There's nothing aerodynamic about the Bell Bullitt helmet; it's not been designed to eliminate buffeting or to create negative lift at speed. In fact, at speed the Bullitt will reach its limitations quite quickly. Air will come in under the helmet, where you won't find a chin guard. This will generate the kind of noise that, after 100 miles or so, will become annoying. And because the fit is a little on the relaxed side, it won't be particularly stable either.
We don't think the Bell Bullitt helmet is the kind of helmet you'd want to commute or tour in. And if you're a speed merchant who doesn't think he's really riding until he hits a three figure speed, then give the Bell Bullitt helmet a miss.
The Bell Bullitt helmet is a triumph of form over function. Don't get us wrong; this is a well appointed lid that, on the right head, is very comfortable to wear, but the Bell Bullitt helmet is all about the look. For many riders, it will be a second helmet to be brought out on those days where the journey is more important than the destination. But of course, if all your riding is local then the Bell Bullitt helmet may well be all you ever need.
We love the Bullitt helmet, and Bell is to be congratulated for continuing to innovate in a market where, these days, change tends to come slowly. It's a heck of a lid. It's a masterclass in helmet design. It's a real beauty, and there's nothing out there that's as cool. Accept it for what it is, and you'll love it. But just make sure you go to somebody who can fit it properly, because most of the people who come into our shop in one are wearing the wrong size. This is a helmet where the heart can over-rule the head, but a helmet that doesn't fit will quickly bring any love affair to an end.
The range of colourways is huge, and some of the designs are totally breathtaking. The more expensive carbon editions are both mouth watering and eye watering! We're almost certainly the UK's largest stockist of the Bell retro helmet range, so feel free to come and see us in Guildford if you want to look at all the designs, and if you really want to work out if a Bell Bullitt helmet will work for you. To see the full range, click below.
SHOP THE BELL BULLITT HELMET (CLICK HERE)
Want some more? Please

click here

to return to our editorial menu.
Share this story