Bering Yukon and Balistik review
Published on: 24/10/2018 09:13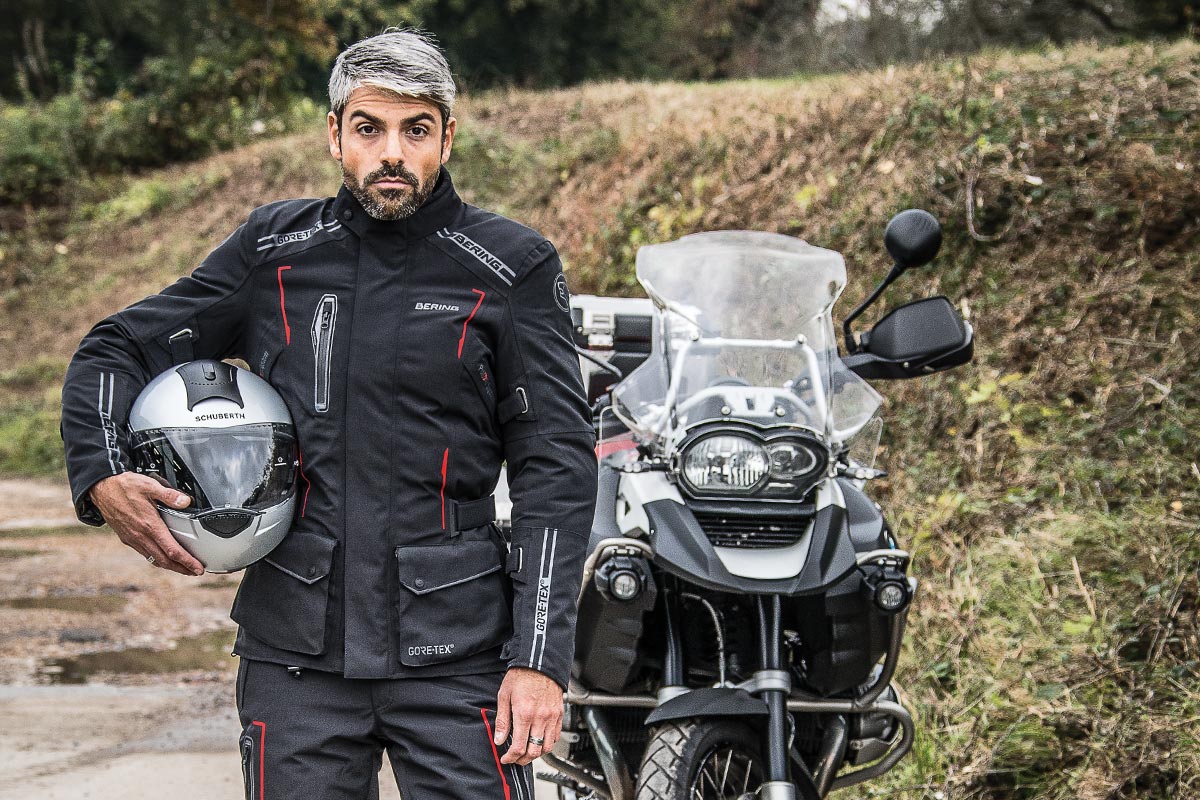 TWO NEW RATHER SPECIAL LAMINATE SUITS

A few years ago, laminated motorcycle clothing wasn't really much understood; even, we suspect, by many of those who wore it.
It was the preserve of the professional or semi-professional rider, and well-heeled, high mileage commuters.
10 years ago, Rukka, the company most associated with laminated garments, was asking £2000 for its top-of-the-range laminated suit. In recent years, laminate technology has come to be much better understood by motorcyclists. It has become nicer to wear. And it has become more affordable.
Today, Rukka's Nivala suit is about as good as it gets. But it will still set you back a little over two grand. Whilst the uncompromising Stadler 4AllPro, very much its equal, is only a few hundred quid cheaper.
But earlier this year, respected Scandinavian player, Halvarssons, renowned for its technically sophisticated products, introduced an amazing laminate suit that cost a little under a grand.
In the coming years, we predict, there's going to be a seismic shift in the way we view waterproof motorcycle gear. As laminate garments become more affordable, there's going to be a massive move away from traditional, drop-liner constructed clothing towards laminated gear.
Any why wouldn't there be? Performance-wise, laminated gear is simply better. Because the waterproof membrane is bonded to the inner surface of the outer fabric, water cannot enter through the garment's outer fabric, as it does when the membrane hangs independently in a drop-liner product.
In heavy and prolonged rain, a drop-liner garment will eventually 'wet out'; that is to say that, in heavy and sustained downpour, it will absorb water and become sodden. And as it becomes waterlogged, it will make the wearer feel cold. Ultimately, after many, many hours' riding, the membrane in a drop-liner jacket can give way. And the rider will get wet.
This won't happen with a laminated jacket because the rain will not be able to penetrate the outer fabric. The other benefit, and for some it's the most important benefit, is that after heavy rain a laminate jacket will dry out quickly; in a couple of hours at most. By contrast, a drop-liner jacket can take 24 hours or more to dry out.
Well, anyway, French manufacturer Bering has recently introduced two new laminate outfits, and we think they are as strong an indication as we have seen that laminate outfits are becoming something that all motorcyclists can buy into.
These two new suits, the Yukon and the Balistik, are deeply impressive. Yes, they're laminate jackets, but they are both of them extremely comfortable to wear. And they come with an amazingly comprehensive specification. They're also not overly expensive.
The Yukon is actually a Gore-Tex laminated jacket. It's not what is known as a three-layer Pro-Shell garment, because it's made from a two-layer material. It's one of the reasons the Yukon is so comfortable.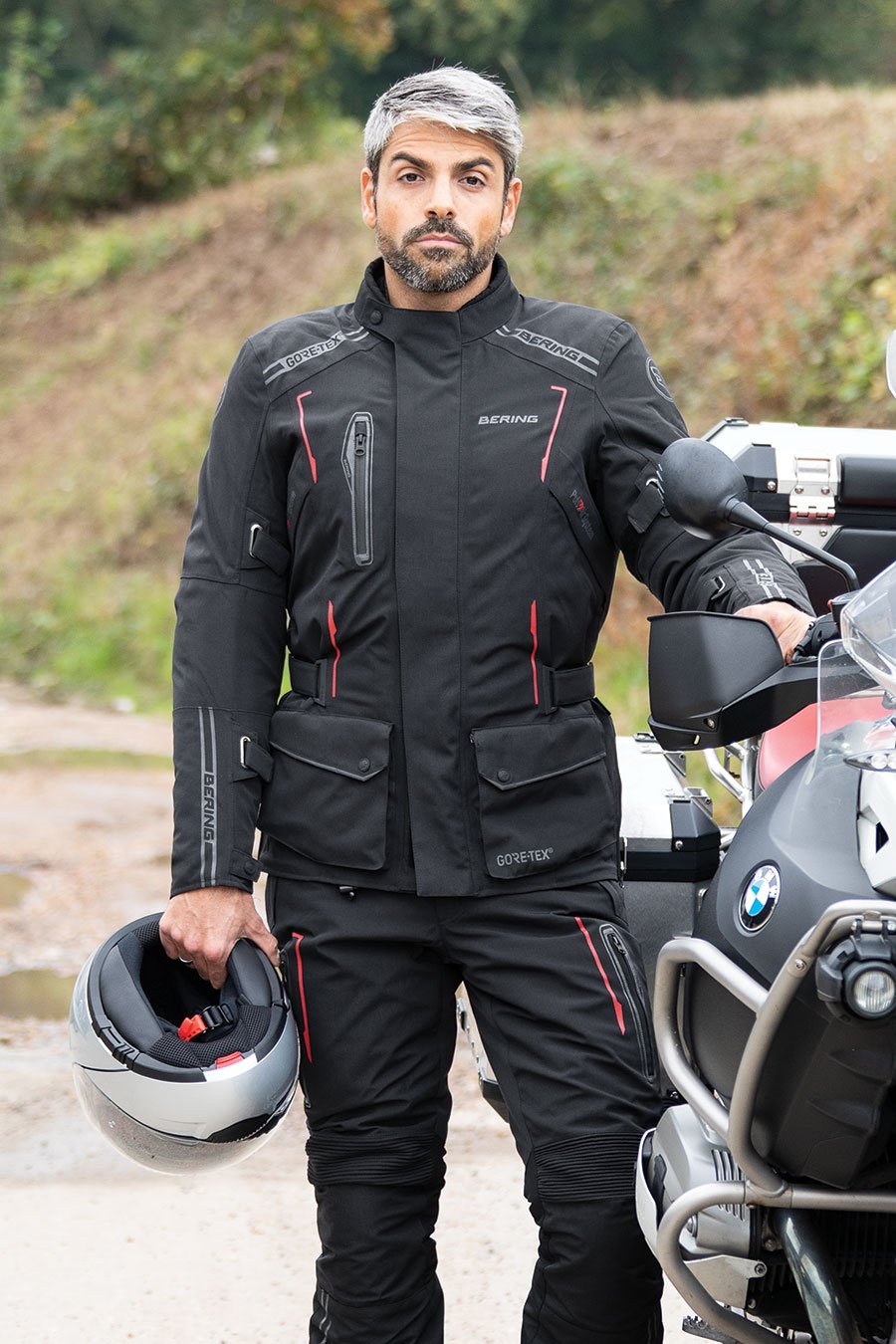 The Bering Yukon two-piece suit.
Superb waterproofing, though, is only one of the qualities of the Yukon. For warmth, it comes with a removable 90 gramme thermal lining. There's CE approved armour in the elbows and shoulders, and a pocket for a back protector. And, as you would expect, the jacket and pant zip to one another.
Velcro adjusters abound, with systems for the neck, the waist, the arms and the cuffs. You also get side zips to make the jacket easier to wear on the bike. Obviously, you get loads of pockets. There are three on the outside and two on the inside, and a large map pocket on the back.
Bering has developed a venting system that it calls Pulsair that ensures a strong flow of air to the body. And, of course, venting on a laminated jacket works better than it does on a drop-liner jacket because, once there's an aperture, there's no waterproof membrane to impede the flow of air.
Now, in theory, anybody can knock out a laminated jacket. There are already quite a few on the market, and some are pretty cheap, but the technology is complicated, and not all laminated jackets and pants work as they should. But any garment that uses a Gore-Tex laminate material can be relied upon. And that's because it is Gore-Tex themselves who 'bond' the membrane to the outer fabric. And also because Gore-Tex insists on approving the method of construction on any garment, to be doubly sure that it comes up to scratch. Gore-Tex also demands to see and review the finished garment.
It's this attention to detail that allows Bering to endow this jacket with a five-year warranty; that's just a year less than a Rukka warranty. Impressive, we reckon.
Now the price of Bering's suit is not unsubstantial; it's a few quid over a grand. That's not what one might normally expect to pay for a Bering suit, but it is a pretty amazing price for a Gore-Tex laminated outfit.
Halvarssons' laminate suit, the Wolf and Wish, costs £100 less than the Bering, but even we, the world's greatest Halvarssons' fans, have to acknowledge that, in some respects, the Bering Yukon is a better bit of kit.
The jacket is longer, which we like. But it's also more comfortable and better fitting than the Halvarssons Wolf.
We think it's probably also a warmer jacket to wear in some conditions, and it has better venting. But the biggest difference between the Halvarssons and the Bering is that the Bering comes with a five year warranty, whereas Halvarssons only offers two years.
And that's worth paying something for. As we see it, a warranty is basically an insurance policy, and it's that insurance policy that partly accounts for why many people are prepared to pay so much money for a Rukka or a Stadler. But a five year warranty on a £550 jacket, it's unheard of. Look at it like this: just over a £100 a year for a Gore-Tex laminated jacket. That's got to be a bargain in anybody's book.
But if £1000 for a motorcycle suit is still out of reach, Bering has another trick up its sleeve, with a second laminated outfit, called the Balistik, that is priced at just £570 for the jacket and pants combined.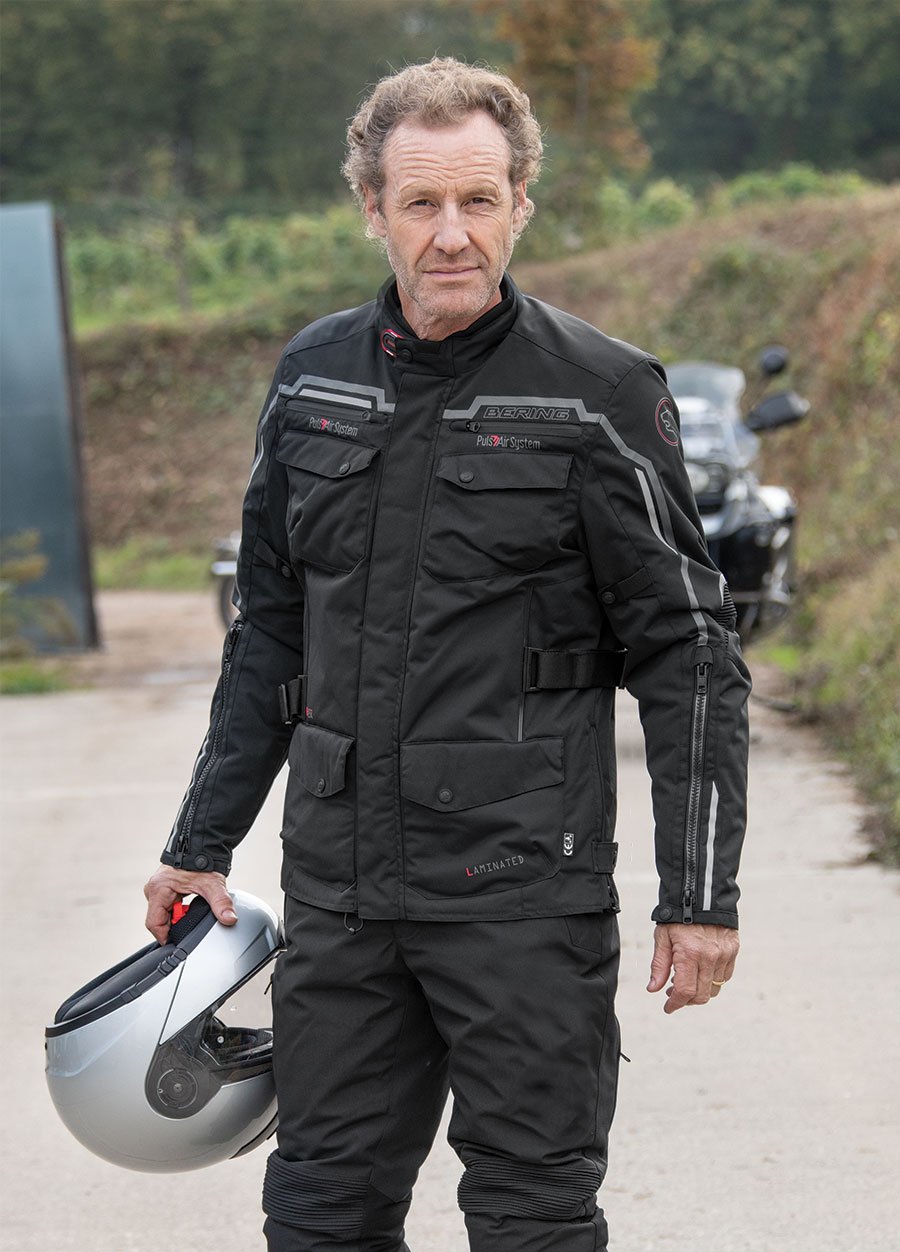 The Bering Balistik two-piece suit.
The Balistik does not have a Gore-Tex membrane but, unlike the Yukon, it is actually a three-layer laminated suit.
The main difference between a three-layer garment and a two-layer garment is that the former is technically more robust, and therefore more immune to damage. Slightly counter-intuitively, a three-layer garment, in certain circumstances, is also more breathable. It's no more waterproof than a two-layer laminate, however.
In other respects, the spec. of the Balistik is pretty similar to that of the more expensive Yukon.
It has a warmer, 120 gramme, removable thermal liner. It has CE armour in the elbows and shoulders, and a pocket for a back protector. It has more pockets than you'll ever need, loads of fit adjusters and the same Pulsair venting system as the Yukon.
As with the Yukon, the Balistik jacket zips to its matching pant. It is also CE approved, but because this is not a Gore product, it comes only with a three-year warranty rather than a five-year one. This having been said, three years is till two years more than most motorcycle garments, and one year more than is offered by Halvarssons!
Again, as with the Yukon, we would have to say that Bering has delivered a simply outstanding combination. When, earlier this year, Halvarssons introduced its Wolf and Wish laminate suit at a cost of around £900, everybody thought it was amazing.
But here we have a Gore-Tex laminate suit with a five years warranty for just over a thousand pounds, and a three-layer outfit with a three year warranty for less than £600.
Not long ago, we wouldn't have thought it possible, but both these suits are available now. And what we can confirm is that, on neither of these suits, have corners been cut. They are both supremely comfortable. They'll be 100% waterproof. They're superbly constructed from the best fabrics and materials. They come with all the necessary protection, are well vented, and offer impressive warranties.
Through Bering, laminate motorcycle clothing has entered the mainstream. Try either of these suits on, and we think you'll be as impressed as we are.
Want some more? Please

click here

to return to our editorial menu.
Share this story