Best laminated motorcycle jackets winter 2022-2023
Published on: 17 November 2022
In this review, which has been produced in both a video and an editorial format, we look at some of the best laminated motorcycle jackets on the market.
Now when retailers like us set out to review the 'best of….' in whatever the category of subject matter, it's not always totally credible because we don't sell, in this instance, all the laminated jackets the market has to offer. This having been said, I would suggest that our reviews are certainly more valid than those so-called 'best of..' reviews that are compiled by affiliate websites that exist purely to earn a commission on sales through their chosen retail partners. Those reviews are pretty much meaningless, as the people who compile them usually have very limited knowledge of, or interest in, the products themselves. They are merely in the business of creating 'click bait' to get you to visit the websites in question.
Nevertheless, we cannot realistically claim to have put together a definitive list of the best laminated jackets on the market. It is true that, as a company, we do tend to seek out the most technical products. And certainly we don't tend to get involved so much with the budget end of the market. But even so we may well have missed out on some very good laminated jackets. In reality, though, the way we work, if we thought there was something absolutely extraordinary out there, we would find a way of offerring it.
Anyway, in this review, we've been brutally honest in our assessments of the selected jackets. Sometimes the manufacturers get a little upset about our conclusions, but it is never our aim to be rude for the sake of it. For every jacket there's a rider for whom it is the best option. And we always try to cut to the chase to help people work out what the best jacket is for their kind of riding. And sometimes this means telling people what is not so good about a particular jacket.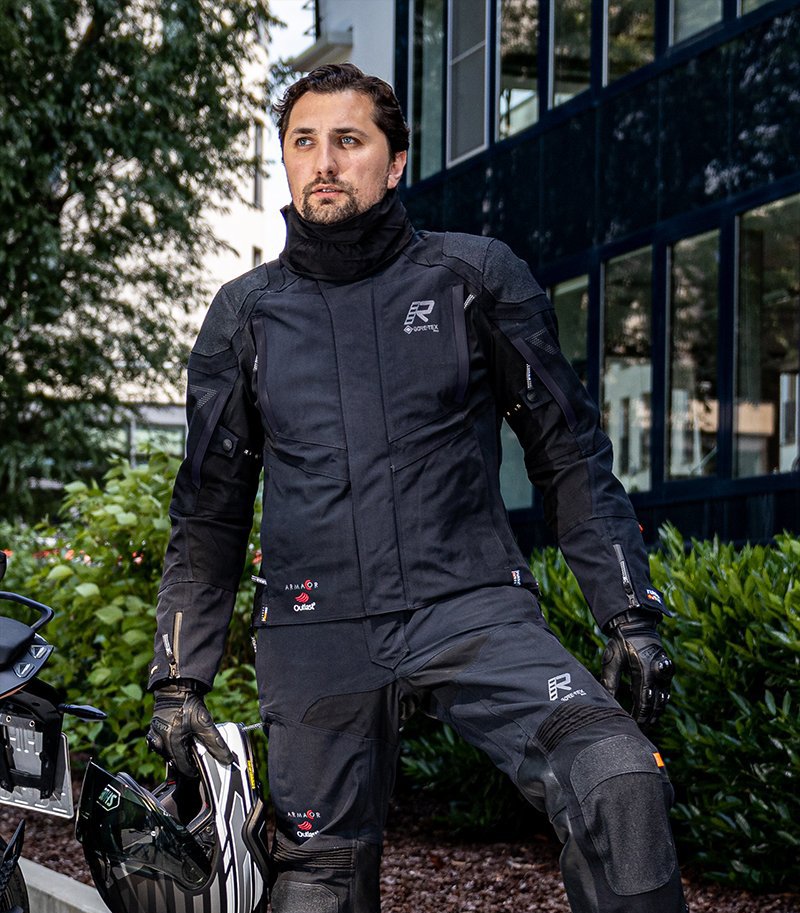 The Rukka Kingsley
The Kingsley is, in terms of cost, Rukka's top textile jacket, although that doesn't necesarily mean that it's the best or nicest to wear. The Kingsley was produced at the behest of the U.K. market, and it was created specifically to meet the requirements of the British Police. The truth is that most Police riders would prefer to ride in the much more comfortable Rukka Nivala. But the Health & Safety wallahs at head office stipulated that they had to ride in a suit with an AA rating under EN17092; the Nivala isn't AA rated, and so the Kingsley was born. The problem was that, by the time it got here, it was too expensive for the Police. And so, eventually, the Met. ended up with the Rukka Kalix, which is basically an entry-level suit that, ironically, predates EN17092 completely. There is nothing wrong with the Kingsley. It has extra Armacor and Keprotec reinforcement at the elbows and shoulders. Its venting is about as good as it gets with Rukka. It has D3O throughout. Lots of pockets. And comes equipped with Rukka's fabulous duck-down, Down-X jacket. For us, the Nivala wins this battle hands down, however, because it is so much nicer to wear. In our world, passive safety is what it's all about, and on this basis the Nivala is the winner. But if you're somebody who likes to tick all the boxes you might feel re-assured by the AA label in the Kingsley. And, if so, no problem; it's a great bit of kit.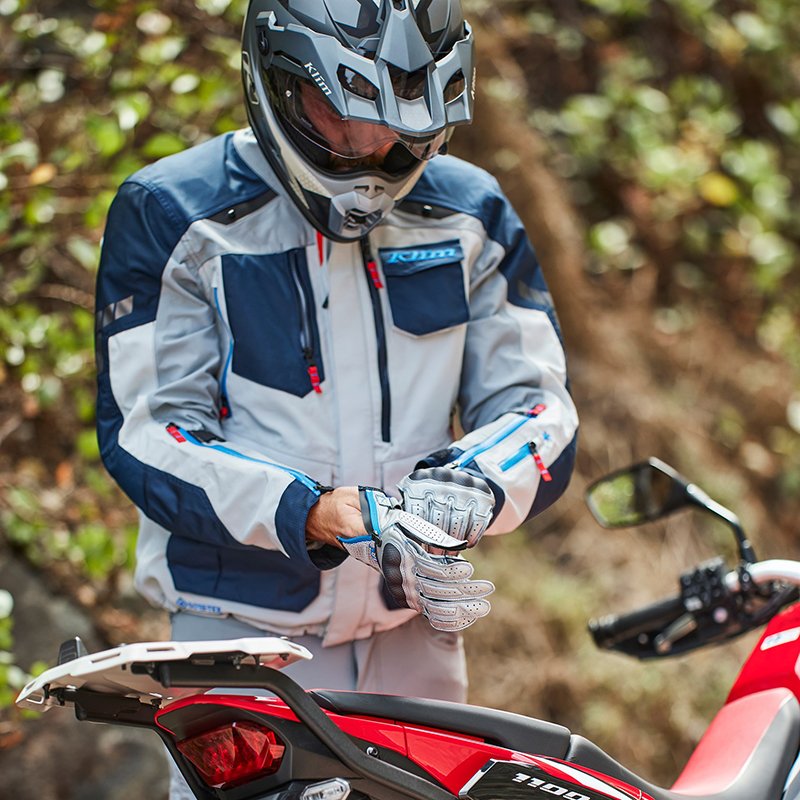 The Klim Carlsbad
We love Klim's gear; nobody does it better. But perhaps it is something to do with a different perspective we have here in the UK, but we often disagree with Klim's philosophy with regard to clothing. Now, with its boxy, somewhat baggy, fit the Carlsbad is apparently Klim's best selling 'adventure' jacket. They say it is aimed fairly and squarely at the off-road rider, and its relaxed fit would suggest that this is correct. But in our view you would never seriously venture off road in a laminated outfit, even one as well vented as the Carlsbad. You would simply get too hot. But off-road riding is different over there. There you can ride for hours and hours on off-road trails in the way that you cannot here in the UK. Their off-road riding is not necessarily all that demanding, and so a well-vented laminated suit might well work. Over here, where off-road riding tends to be more technical, a laminated off-road jacket makes far less sense. But our problem with the Carlsbad is that, with its more relaxed fit, it doesn't make for a great road suit either. Yet a lot of people like it. It has that adventure look that many riders seek, and on paper it seems to tick all the boxes. Gore-Tex Performance Shell construction. Lots and lots of vents. Pockets. Adjusters, and so on. For some it seems to offer the nirvana of an off-road garment that works on the road too. And for some this may indeed be the perfect jacket. But being the glass-half-empty kind of guy that I am, I look at it and think: "I wouldn't go off-road in that, and there are certainly much better options when you're not off road". But that's just me, perhaps!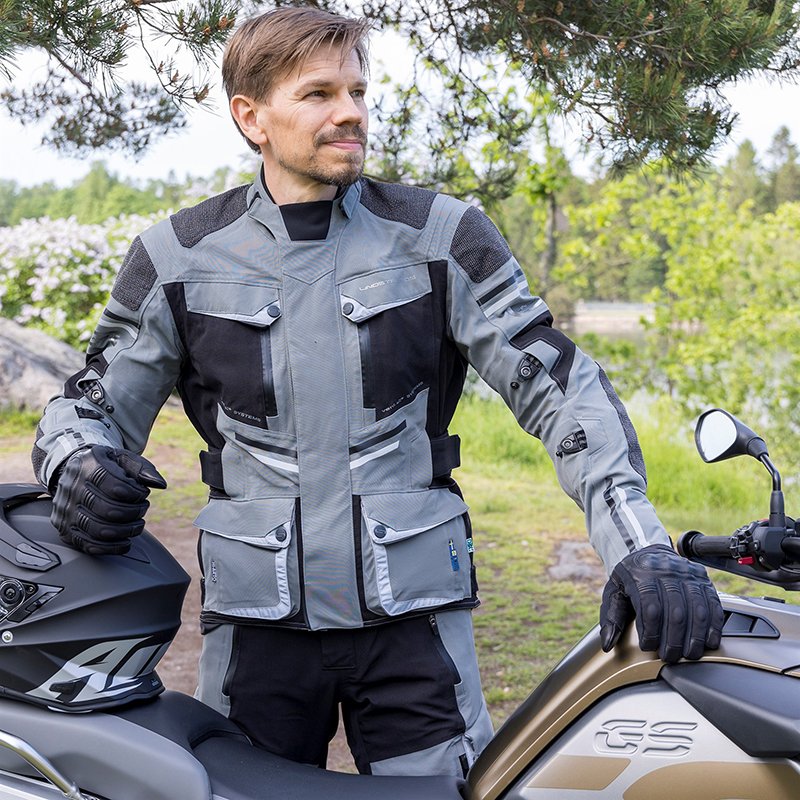 The Halvarssons Sunne
The Sunne is an adventure-style jacket that is aimed at the adventure bike rider who is going to spend most, or conceivably even all, of his time on the road. It is a two-layer laminated jacket that uses Halvarssons' own Dryway membrane. It is a nicely styled jacket that we think looks particularly good in its grey/black colourway. Halvarssons is a brand that does things properly. Their gear is well put together, so we know it works. You won't get wet in the Sunne. You get lots of venting, very much in keeping with the jacket's adventure positioning. You get high standards of manufacture, a really effective waist-adjustment system, a good quality, removable thermal, a detachable neck collar, and so on. Halvarssons as a brand sits firmly in the middle of the market. We often think of the brand as offering 80%/90% Rukka quality for 50% Rukka money, and that's about right. This is a jacket that is going to look right on an adventure bike. It will vent well enough if you go somewhere warmer, but it's a jacket you could also commute in. The matching trousers come in two leg lengths, which is better than one. They are, though, quite wide fitting, because Halvarssons wanted to imbue them with a slightly off-road oriented aesthetic.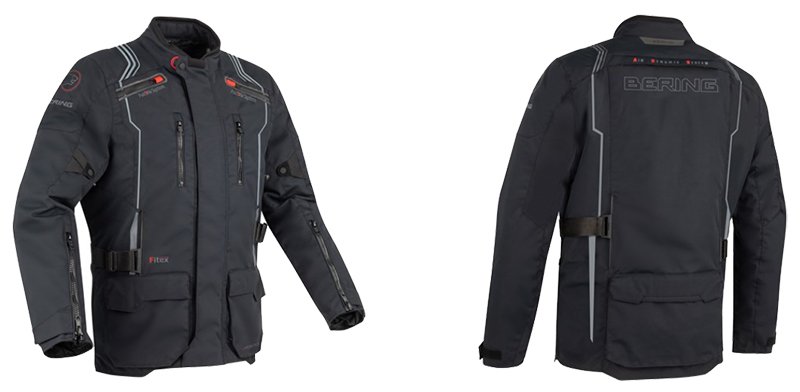 The Bering Flagstaff
Because laminate motorcycle clothing is the big thing these days, even the budget manufacturers have come out with offerings. The problem is that it's awfully expensive to make a laminate garment work, and so the ones that are properly put together don't tend to be cheap. The 2-layer Flagstaff, at under £400, is inexpensive, but it's not so cheap that you know it's not going to last. And the truth is that we very, very rarely have waterproof issues with Bering, so we reckon the Flagstaff can be relied upon. And indeed it comes with a three-year warranty. It's got all bits you would expect on a touring jacket; so adjusters, CE armour in the elbows and shoulders, a removable thermal, vents, and more than a sufficient quantity of pockets. Frankly, you don't get the best of anything with the Flagstaff, but Bering has made sure all the boxes are ticked. But as always with the French brand the problem is the trousers. First the recommended pairing, the Westport, is not particularly nice, but it also only comes in one length. So if it's an inexpensive, laminate jacket you're looking for, for mostly leisure riding, then the Flagstaff offers great value. But if you want a suit for more serious undertakings, there are better options.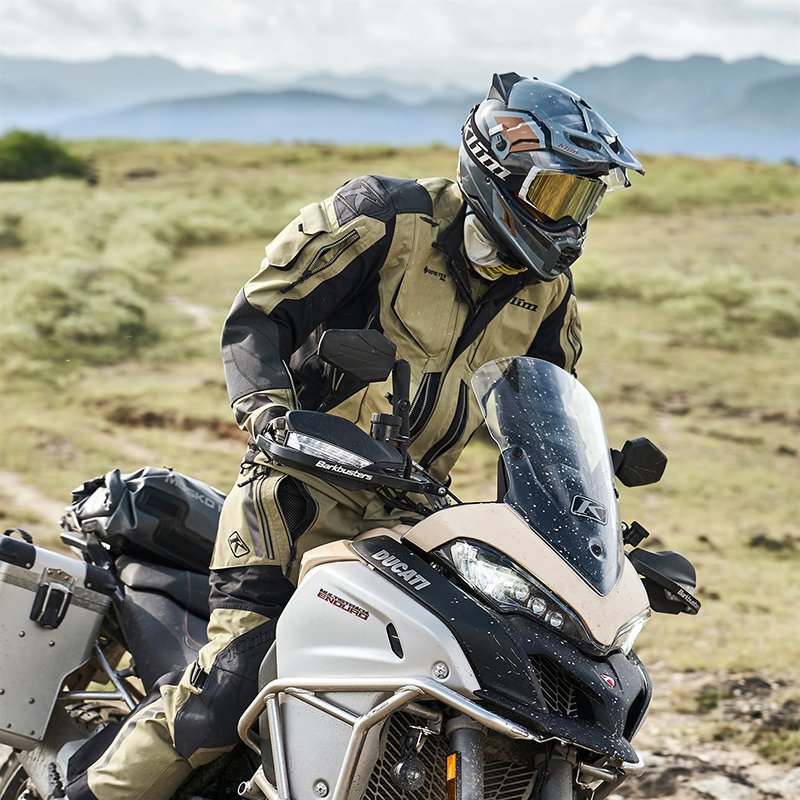 The Klim Badlands Pro A3
We have never really rated the Badlands jacket; the same goes for the pants. We are not huge fans of the Carlsbad either because, like the Badlands, it is in our view neither one thing nor t'other. It's not a proper off-road suit, because nothing with a membrane is perfect off road, and it's not perfect on road either. Well, that applies even more so to the Badlands because it is even heavier and baggier. Which begs the question, why did we, why do we, offer the Badlands A3 Pro, which, after all, is little more than a heavier, less comfortable version of the standard Badlands? And the answer is that it is a technical masterpiece. Using a specially developed material called Vectran, it is the only AAA-rated, Gore-Tex laminate suit on the market. And such a proposition is hard for us to resist. To come up with an AAA-rated material that meets Gore's permeability criteria is impressive. Nobody else has done that, so we felt we had to offer it. But what seems impressive on paper does not always translate to the bike. Yes, the A3 Pro has more pockets and vents than anything out there. It has SuperFabric. It has adjusters everywhere you look. It has pretty much everything that Klim felt they could throw at it; well except a Maverick down jacket. But the result is a jacket that is just too heavy, stiff and unwieldy. It is a demonstration of the fact that less can be more; or more pertinently that more can be less. If you are someone who has to have the most expensive products with the most features, go for it. But we just don't think it works!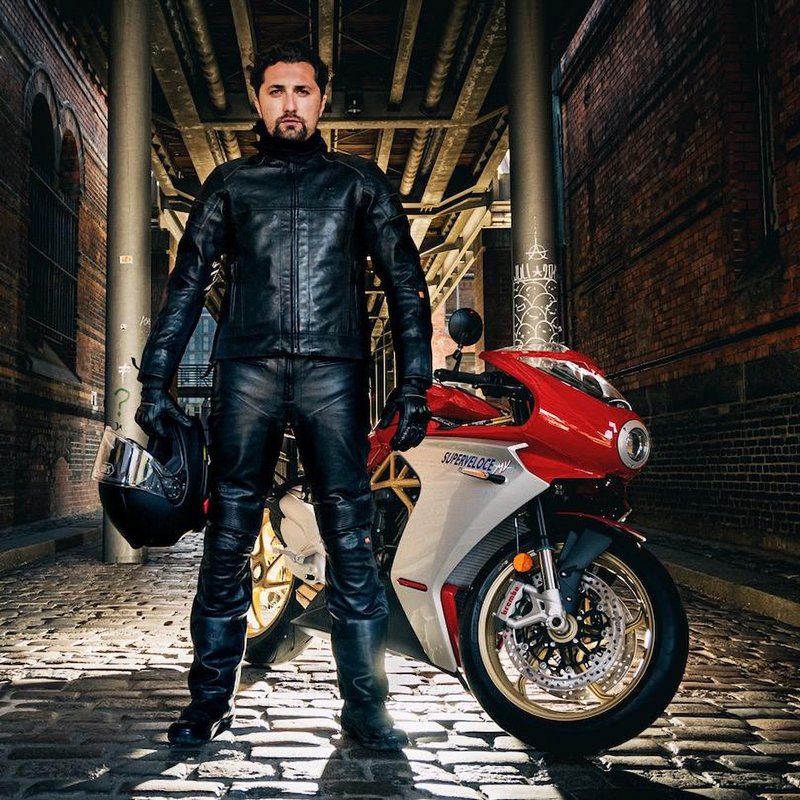 The Rukka Coriace 2.0
The Coriace is the jacket that a lot of bikers think they want. That is to say that it's a leather jacket with a laminated waterproof membrane. Some people like the reassurance of riding in leather, whilst other want the knowledge that they have a garment that will never wet out. The Coriace is furiously expensive, but that is not our issue with it. Our issue with the Coriace is that it is also furiously uncomfortable. Now there was a Coriace before the current one, and it has to be acknowledged that the new version is a bit lighter and easier to wear, but you have to really, really want to ride in a laminated, leather jacket to be prepared to live with the Coriace. Rukka has added stretch panels to the new version to make it less stiff, and they have shaved the thickness of the leather too, but in a market that recognises the contribution that comfort makes to 'passive safety', the Rukka seems out of step. And whilst we have no doubt that the suit will be waterproof, and will not wet out, the counter is that, despite the all-over perforations, it is going to be horribly hot and sweaty when the temperatures start to rise. There is one other minor niggle. You pay all that money to get a highly waterproof, highly protective, leather suit, but you still only get an AA safety rating, which leads one to ask whether you wouldn't be better off getting a less expensive and much more comfortable, AA-rated, textile outfit?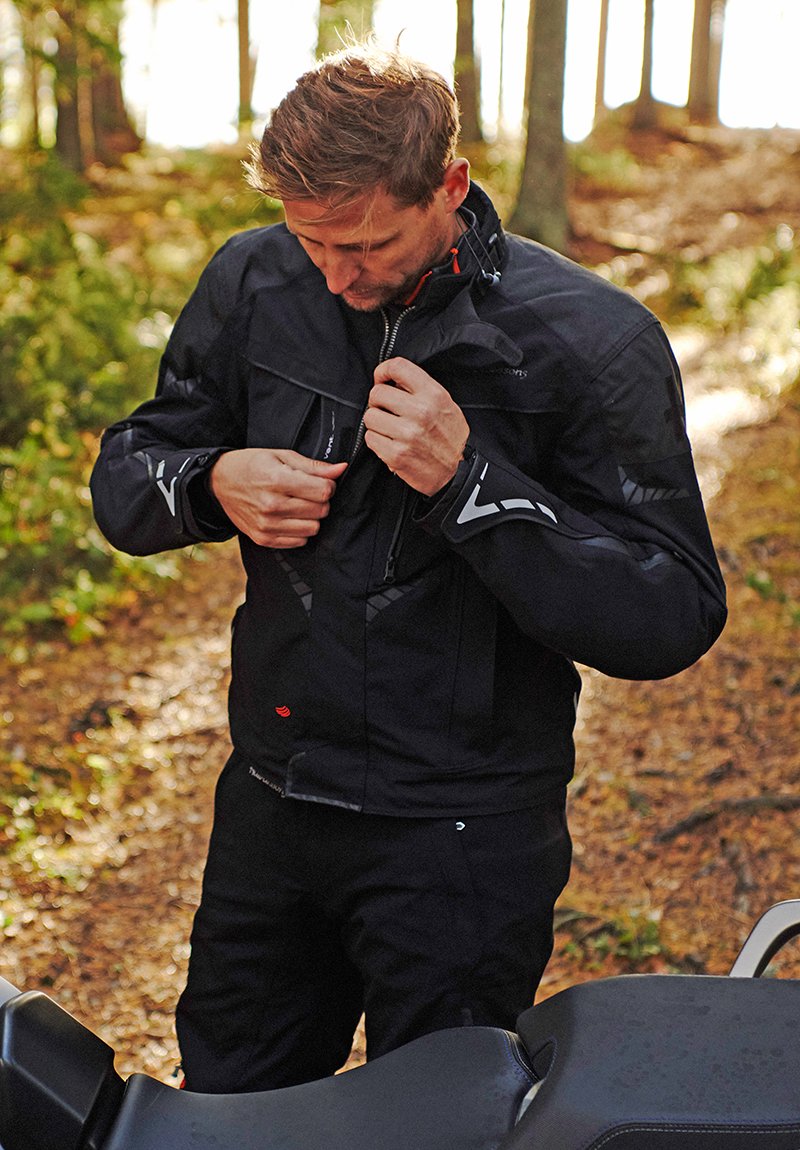 The Halvarssons Vansbro
Truth be told, I personally have never been a great fan of the Vansbro jacket. But I am not sure my concerns are totally justified. When it first came out I was disappointed to discover that, as opposed to something like Halvarssons' Wien jacket, it had very little adjustability at the waist. I also personally thought it sat a little short for a waterproof jacket, although this issue disappears when you zip into a pant. What we have discovered, however, is that the Vansbro works better on those who are slightly more stout of timber. As a result it fits a lot of people very well! It won't work as well, though, if you're a stick insect. Technically, the jacket does everything you'd want. It is two-layer, so the material is reasonably soft and pliable, meaning it is comfortable to wear. You get a decent, removable, thermal inner that incorporates Outlast, pretty good venting, and Level 2 armour, although we would upgrade it to Halvarssons' new stuff. Like all of Halvarssons' gear it is well put together and thought through. If you like the look of it, and if it fits you, there's nothing not to like; and the price is reasonable. But one thing we do really like is the Wish pant that pairs to the Vansbro. It is one of the nicest laminated trousers out there. It fits quite flatteringly; it's really comfortable, and it's totally waterproof. Many jackets are let down by the poor quality of the pants that go with them. That's not the case here; in fact, quite the contrary.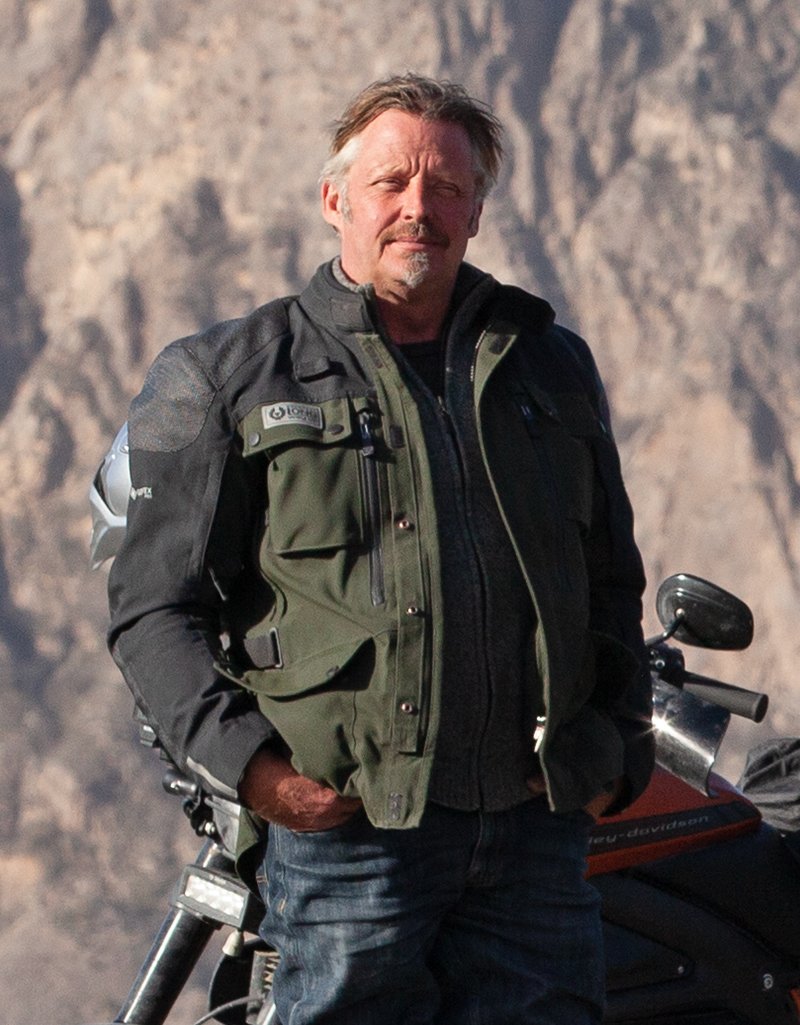 The Belstaff Long Way Up
This was Belstaff's first, and potentially last, attempt to become a serious player at the technical end of the motorcycle apparel market. In fact, we were much involved in shaping the specification. And to be fair, Belstaff did not hold back. They threw everything at the jacket. Three-layer Gore-Tex Pro Shell. SuperFabric. D3O throughout. The best zips. Loads of vents. Loads of adjusters. Zipped gussets on the hem. More pockets than you'll ever need. Water bladder compatibility, and so on. Although you get no thermal component. The end result is a little on the heavy side, however; it's certainly not the jacket we would have chosen for a trip up through South America. But it is, as one might expect of Belstaff, the best looking, smartest laminate jacket on the market. It has what Belstaff call 'boardroom appeal'. But ultimately the jacket is let down by the fact that Belstaff only offers the matching pant in one leg length, meaning that the suit cannot be taken too seriously. It perhaps indicates that their venture into laminated technology was a marketing exercise rather than a commitment to the upper reaches of the motorcycle market. Given that the jacket comes with no liner, it's not inexpensive. But, then again, it is a Belstaff!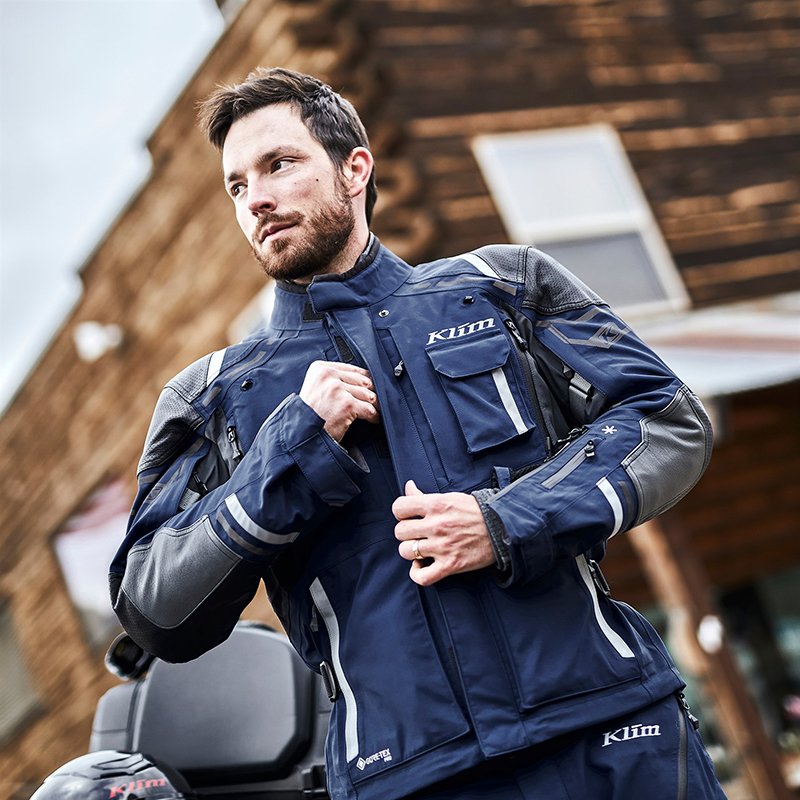 The Klim Kodiak 2
Very few would disagree with the assertion that Klim kind of 'owns' the adventure space. Everybody wants a bit of it, and so everybody from BMW and Revitt to Rukka and Held tries to get a slice of the pie, although usually these guys tend to emulate rather than innovate, and very rarely do they get it right. But more recently Klim decided that it wanted a slice of the lucrative, 'on-road' market. Their first serious offering was the original GTX Pro Shell Kodiak. It was okay, but not very nice to wear, and so, a couple of years ago, they released the Kodiak 2. And the Kodiak 2 is very impressive. With its stretch panels it's more comfortable than its predecessor. You get leather on the elbows and shoulders. Eight different vents. 11 different pockets. Level 2 D3O throughout. Everything you might ask for; including a Maverick down, inner jacket. It's an impressive, if not inexpensive, bit of kit. It is more wearable than the Kodiak 1, but the cheaper Latitude is still a whole magnitude of easier to wear. Now we shouldn't make too big a deal of this because it's a much more complicated matter than we can go into here, but perceptually one of the issues with the Kodiak 2 is that it is only A rated under EN17092, whereas the Latitude is AA. For various reasons we can be confident that the Kodiak is still the more protective jacket, but the reality is that when you buy the Latitude you are not really taking a significant step backward in terms of protection.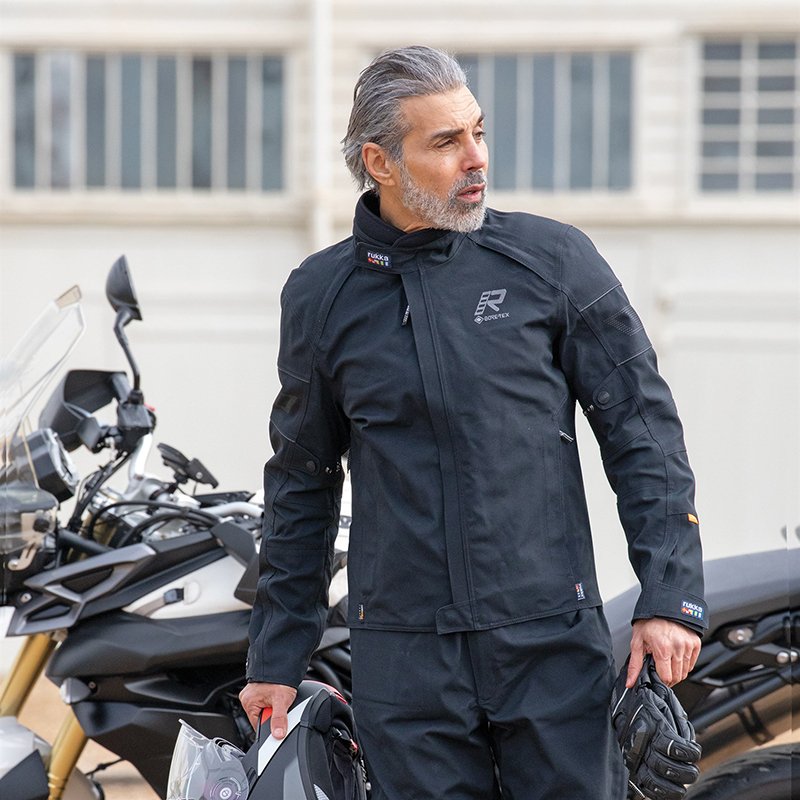 The Rukka Kalix 2.0
The original Kalix jacket from Rukka was a bit of a disaster. Designed to hit a price point, it was still constructed from a 3-layer Pro-Shell fabric, but what made it almost impossible to wear was that it offered virtually no venting. It just didn't work. But the Kalix 2, which evolved from it, is another kettle of fish. With its 2-layer Performance Shell construction, it is far lighter, nicer and easier to wear; and it's now pretty much as well vented as any Rukka jacket. It still comes in at a very competitive £600. You can get a pretty decent laminate jacket for less than that, but you need to ask yourself whether it offers the level of reassurance you get from a Gore-Tex membrane, not to mention the benefit of Rukka's six year warranty. Of course, to bring this jacket in at such a price, you lose some bells and whistles. So no GTX cuffs. No back protector. And no thermal lining, but it's perhaps interesting to note that the Kalix 2 is the suit chosen by the Metropolitan Police for its riders. It's good to know that nothing but the 'very best value' is good enough for London's finest!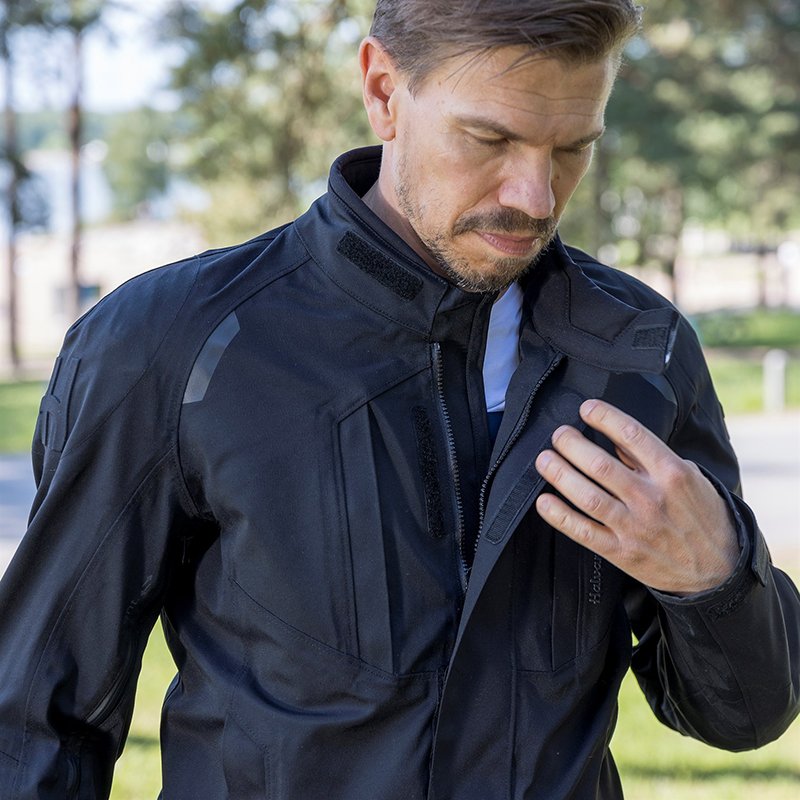 The Halvarssons Naren
The Naren was new for 2022, and we didn't initially take to it. And that was perhaps it lacked a certain level of 'hanger appeal'. The truth is that it's about as plain a jacket as one can imagine. We are often critical of what happens when Halvarssons gives its designers more than two colouring-in crayons, so perhaps we shouldn't complain when we get a jacket that is all black! The jacket also, in truth, didn't feel substantial and re-assuring in the way that the Wien did and does. Lastly, the Naren's fabric was light weight and a bit shiny; it just didn't look expensive, but the more we got to know the Naren the more we got to like it. Yes it's lighter than some laminated jackets, but the upside is comfort. You get stretch built into the outer chassis, and the jacket incorporates the company's wonderful, super-light and flexible, Level 2 armour. You would be hard pushed to find a more comfortable laminate jacket out there. It's got lots of vents, and a fixed Outlast liner, which truthfully we are not sure about because it will impede the direct-to-body venting that you get with laminate jackets. You also get adjusters all over, and a detachable neck collar. In our view, comfort is often undervalued; but as believers in the concept of passive safety we think being comfortable on the bike is a major contributor to riding safely. It should not be forgotten, though, that the Naren still comes in at AA under En17092. The jacket's matching Laggan pant is equally comfortable, and comes in three leg lengths. At just over £500, we think the Naren jacket is pretty well priced too.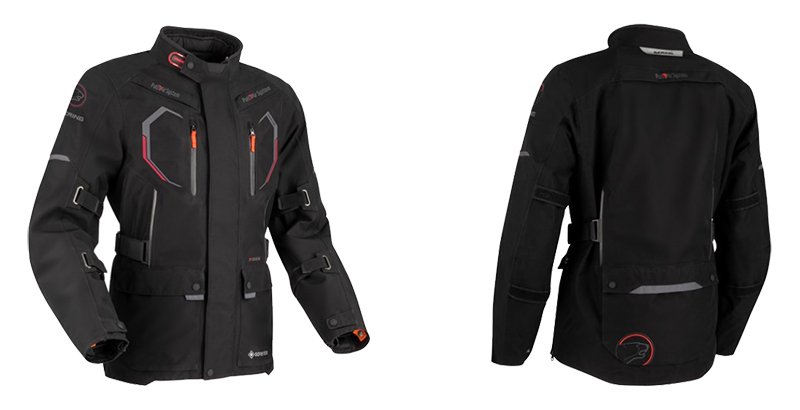 The Bering Hurricane GTX
In truth, when we talk about Gore-Tex, and the highest levels of waterproofing, the mid-market brand Bering is not the first name that comes to mind. But when a manufacturer works with Gore, it loses the ability to cut corners, and so one can be confident that this two-layer, Performance Shell jacket is going to be every bit as waterproof as any other manufacturer's offering. The jacket also incorporates everything you would expect. It's got a thermal liner, multiple adjusters, vents and so on. What lets the Hurricane down is the trousers that are designed to go with it. First, they come across as an afterthought designed by someone in the warehouse. Second, they only come in one leg length. At £600, the Hurricane is not cheap; in fact it's more than both of Halvarssons' laminate offerings. But, in fairness, the Hurricane is Gore-Tex, and it does come with a five-year warranty.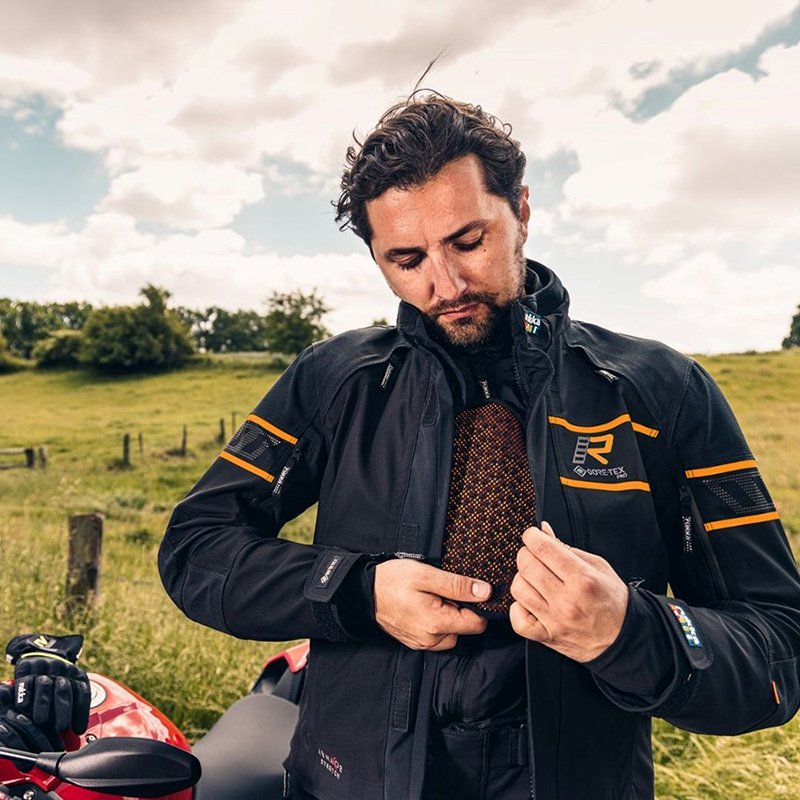 The Rukka Nivala 2.0
The Rukka Nivala is still the daddy when it comes to comfort in a laminated jacket. You will get more protection from the Stadler, and much better venting from a number of suits from Klim, but if you want the last word in wearability for commuting the the Nivala is still the one to go for. It is, of course, a 3-layer, Pro-Shell suit; and it doesn't get more waterproof than that, but the secret to the Nivala is that the outer fabric has stretch built into it. And this makes it so much nicer to wear than just about any other laminated suit on the market: certainly any other 3-layer jacket. It's also very forgiving, meaning that if you ever do put on a few pounds the Nivala may well grow with you. The Nivala is supplied with a fabulous down jacket that you wear independently within the outer jacket; that is to say, no buttons or zips. And even though we preferred the down jacket on the previous iteration of the Nivala, there's still nothing this side of electric that will keep you as warm. It would have to be acknowledged that the Nivala is not the most vented jacket on the market, but the reality is that Rukka is more about the cold and the wet than the hot and the sticky, so for winter commuting the Nivala package is unbeatable. The downside is the single A rating, and whilst this might seem shocking on a suit at this price, it is acknowledged that the Darmstadt abrasion test does not like stretch materials. Personally, we would have no concerns about the Nivala's protective performance. And one of the reasons is that, like all Rukka products, the Nivala has hugely large armour, and this armour contributes not just to impact protection but also to abrasion resistance. But unfortunately, the role of armour in abrasion resistance is something EN17092 doesn't take into consideration.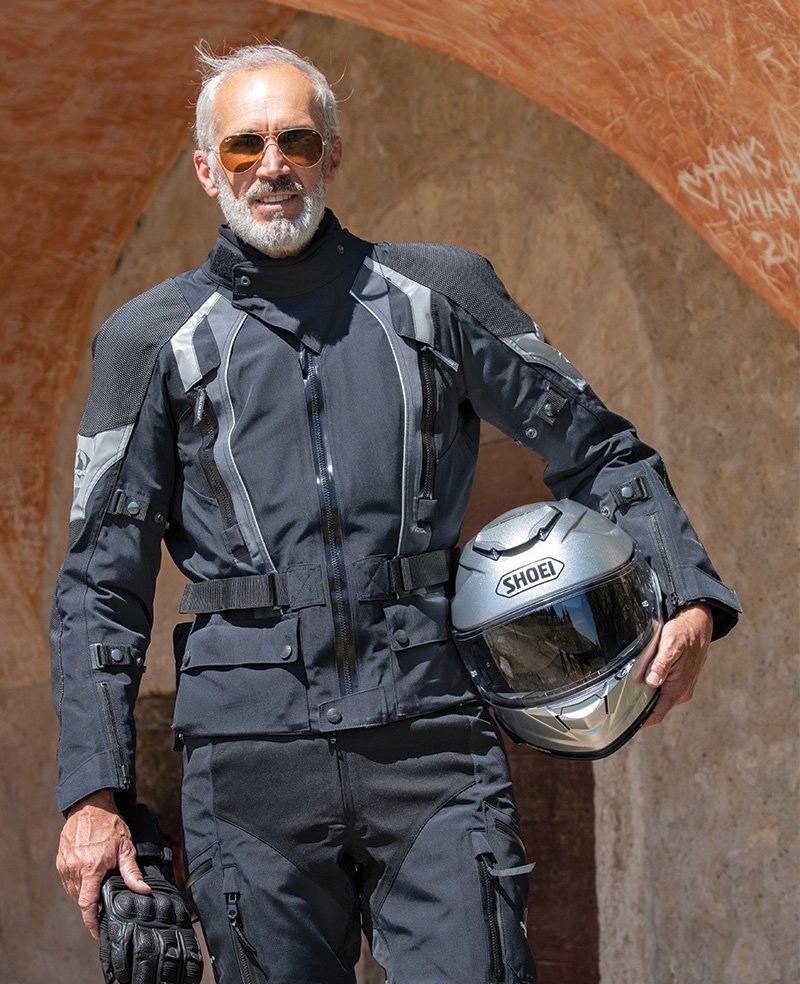 The Stadler Supervent 3
People often ask us, what the best laminated motorcycle jacket is. And of course there is no right answer. It depends on the riding you do. If comfort is the primary driver, then it could well be the Nivala. If venting is your primary concern, then we might suggest the Klim Carlsbad. For lightness, the Klim Lattitude stacks up well, as does the Rukka Rimo-R. But in terms of an all-round package, we'd suggest that the Stadler Supervent takes a lot of beating. It is almost certainly the most protective laminated jacket, with huge armour that exceeds the highest Level 2 standard by up to 60%, and it comes with incredibly abrasion-resistant SuperFabric on the elbows and shoulders. The venting is pretty impressive too, with uncrushable, 3D piping inside the jacket that forces incoming air around the body. It's got a 3-layer GTX Pro-Shell construction, so it's as waterproof as anything. The jacket also features lots of great detailing. It's supremely well made, and comes with a limited, 10-year warranty. The downside is that it's not the most comfortable jacket; certainly to begin with. We know how quickly the Supervent softens and moulds to the body, but when you first put it on you might think you're wearing a suit of medieval torture. The thermal liner it comes with, by the way, is rubbish. We know why it's rubbish, but the best thing is to put it in a drawer, and forget about it. Impressively, the jacket also comes in both short and long configurations, as well as standard. And we can offer bespoke too, albeit at a price. In terms of pricing it's up there with the best from Rukka and Klim, as you'd expect. Just one last word. The matching 4AllPro pant is the nicest, most protective and most comfortable laminate pant you will ever ride in.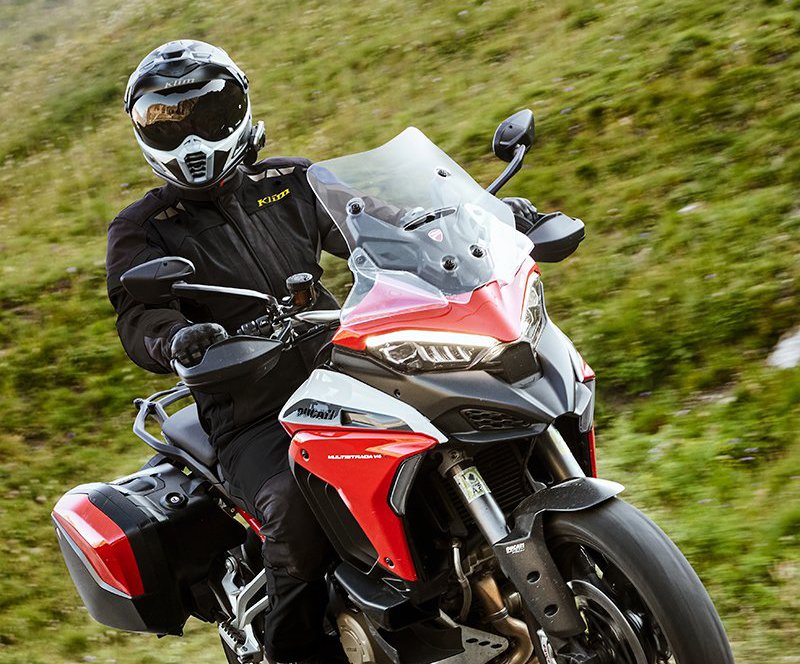 The Klim Latitude
We really only discovered the Latitude quite recently; it's not a new model, but we think it's brilliant. It's very much a road suit, but given that it's a Klim it comes with great venting. It's lightweight, and has a full suite of D3O armour, including in the back. Adjusters abound. You get millions of pockets and, as ever with Klim, you get lots of lovely, lovely detailing, such as the elastic tabs to hold the collar back, and so on. One thing that we really love about the Latitude is that it comes in a short version. It's one of very few laminated jackets that comes in a 'short' configuration. One thing you don't get with the Latitude is a thermal liner, but we long ago came to the conclusion that you're better off supplying your own. The Maverick jacket, obviously, would be perfect. We really rate the Latitude. If you want Klim levels of quality, Klim's levels of thoughtfulness, and Klim's level of venting, but in a road suit, then the Latitude is something you should look at. In truth it is not Klim's premier touring outfit; that would be the Kodiak. But the Latitude is lighter, easier to live with, and far less expensive. It also has a higher safety rating. It's the Klim road suit to go for, in our book.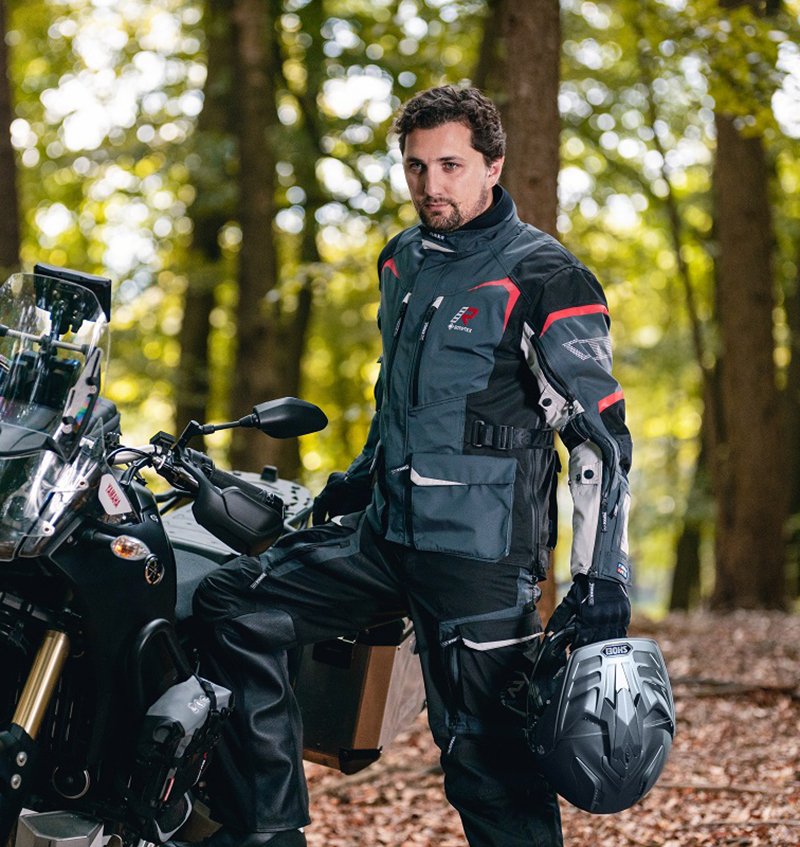 The Rukka Rimo-R
We really like the Rimo-R. In styling terms, it's a classic, longer, adventure-style jacket with side straps for cinching the waist. It's incredibly comfortable. It doesn't have the stretch of the Nivala, but it's much, much lighter. It has a two-layer Performance Shell construction, but one of the secrets of its comfort is the super-soft, outer fabric that has a near peachskin feel to it. The jacket has all the other stuff you might expect. Lots of vents. Lots of pockets. Lots of adjusters. And so on. But there are two things it doesn't have. The first is a thermal layer, but these days this doesn't bother us. You'll be better off with Merino, or perhaps a down jacket. In extremis, there's electric. The other thing that is missing from the Rimo-R is armour! Now Rukka has done this because they think people will often want to wear something like their armoured RPS AFT shirt beneath it. Well, we don't think so. You wear separate body armour when you ride seriously off road, and when you ride seriously off road you really don't want to be within a mile of a waterproof membrane. So we can only take the Rimo-R seriously as a jacket that is fitted with armour that has been inserted into the shoulder, elbow and armour pockets. This will add £180 to the price, bringing the total price up to around £780. But even at that price we think the Rimo-R makes for something rather special.
For shop all our laminated motorcycle jackets, click laminated motorcycle jackets.
---
Want some more? Please

click here

to return to our editorial menu.

Share this story