Brand focus: Rokker
Published on: 19/08/2019 11:40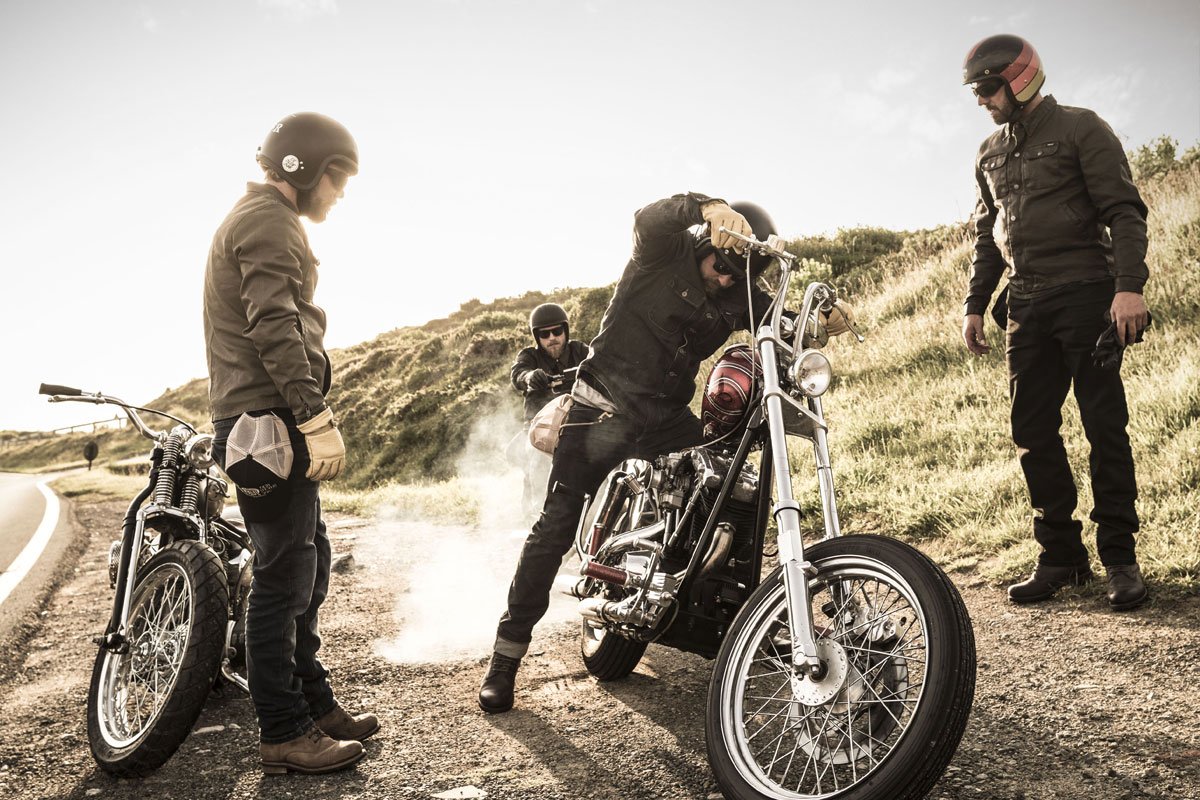 Rokker is one of our favourite motorcycle apparel brands. The Swiss company does not do cheap, but we are firmly convinced that nobody in this business has a better eye when it comes to combining wearability with protection. Rokker is a pioneer in single-layer jeans, with models like the Rokkertech that offer the protection of leather, but that are as easy to wear as a pair of Levi's. Their boots are as tough as they come, whilst their shirts and jackets are super cool. These guys source the very best quality, most technical and most hard wearing fabrics and textiles. They then turn them into the kind of clothes you'd be happy to wear even if you didn't ride a bike. Everything they make is just a little bit special.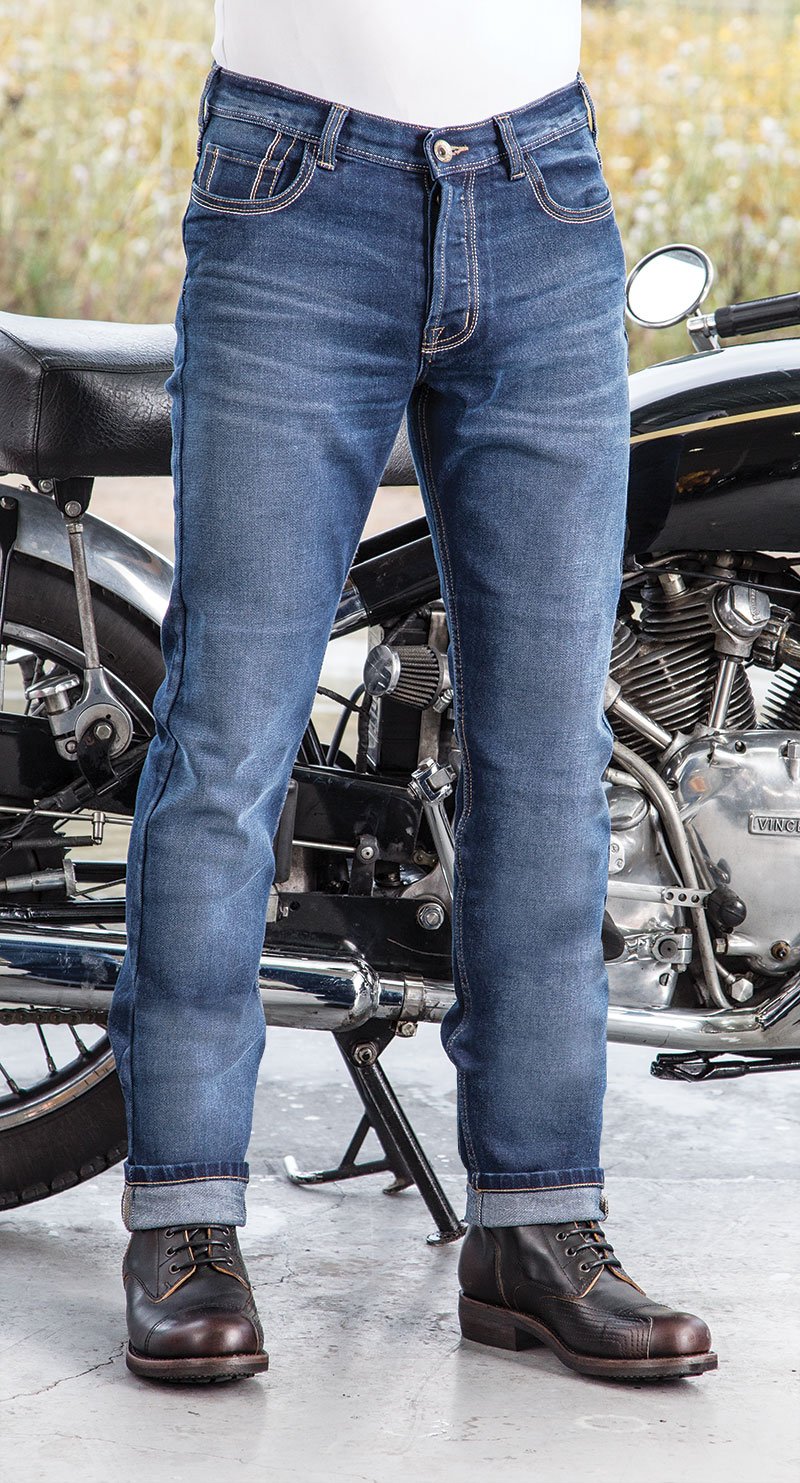 THE ROKKERTECH SINGLE-LAYER JEAN
As single-layer jeans, Rokker's Rokkertechs flow air beautifully. On the move, they're as cool as any motorcycle pant you'll ever ride in, because the incoming air only has to pass through the outer layer. There's no protective lining, no comfort lining, no thermal lining and no membrane, to get in the way. Yet, despite this, the Rokkertech jeans have a slide time that's about 50% better than leather. For impact protection, as opposed to abrasion protection, the Rokkertechs take D30 armour in the knees and hips. But what makes these jeans so impressive is that, to wear, they are every bit as comfortable as a regular pair of Levis. This is a jean you could wear all day long; and it would simply never occur to you that you were wearing a highly protective item of motorcycle wear. There are now four different Rokkertech fits/washes. Our favourite is what we call the 'light wash'. It is faded, but not aggressively so. The fit is slim. There's another slim-fit version with a more aggressive wash known as 'Vintage'. The widest leg Rokkertech has a classic straight-leg; it comes in a 'raw', indigo-coloured finish. The final jean in the Rokkertech range is in black. Rokker say it is a skinny fit, but in our book it most certainly isn't. We'd call it a slim-tapered fit. That means it's relaxed above the knee, then tapering below the knee to a tight fit at the ankle. You can fit any boot under the raw jean. Under the slim jeans, you can usually fit a Daytona-style boot. With the black jeans, it's strictly ankle boots only. Come and see us in Guildford to see the entire range. We'll move the knee armour if we have to, to get it in the right place. And we'll shorten the leg. Both at our cost. Oh, and we'll throw in the armour for free. We're also the only people to carry all the sizes in stock pretty much all the time. To see the range, click below.
£349.00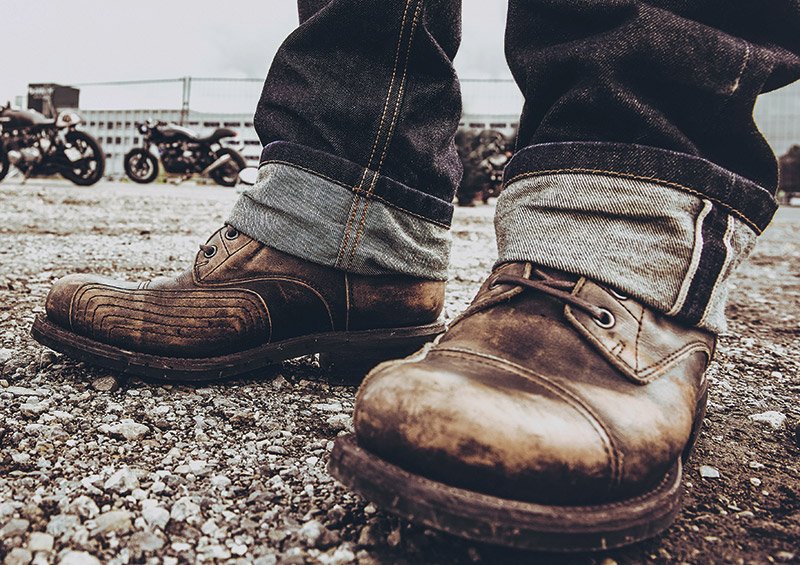 Like everything produced by the guys at Rokker, the Urban Racer has that good-as-it-gets feel to it. This is not a flimsy boot for moped riders. It's a heavy and solid bit of kit that's going to take a bit of time to wear in. We love the styling, but this is a boot that will look after your feet. The leather is thick. It is treated for waterproofing, but it doesn't have a membrane, so it's going to breathe. There are hard, industrial-quality protectors in the toes and heel, and you get padded protection for the ankles. The Vibram sole is Goodyear welted, and for incredible stiffness there's a heavy-duty shank in the sole. This is a proper biking boot. To see the full range, click below.
£299.00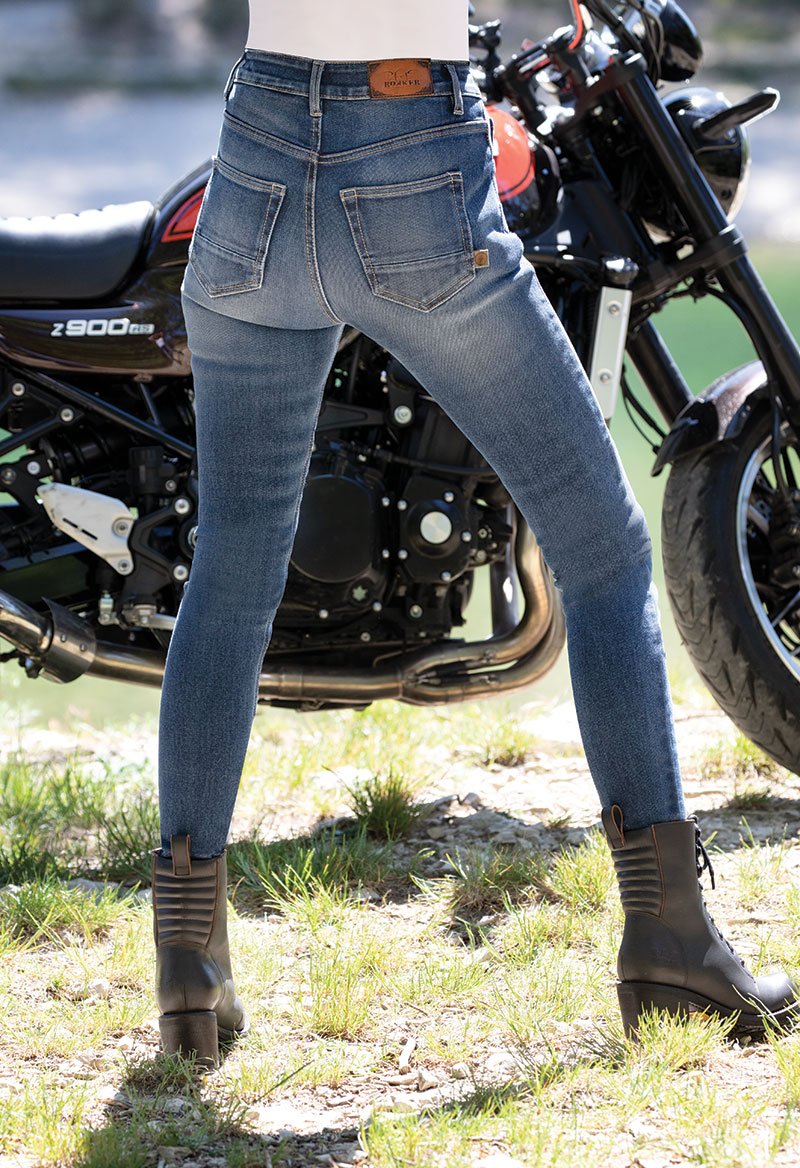 THE ROKKERTECH HIGH-WAIST SINGLE-LAYER JEAN
There are lots of ladies' motorcycle jeans on the market, but nearly all are compromised in one way or another. In some cases, it seems that they are more designed for the street than the bike, and so many have an unflatteringly low rise on the hips, which means that, on the bike, they reveal more than you might want. Others, at times, look nice, but offer little by way of abrasion resistance. In fact some offer no abrasion resistance at all, making do instead with no more than impact protectors in the knees. Those that offer higher levels of protection often come with thick Kevlar-style linings. Now these jeans work if you come off, but rarely do they look particularly flattering. And they can be unbearable hot on the bike. What was required was a highly abrasion resistant, single-layer jean with no lining, with good, pliable armour, a high waist and, if at all possible, some stretch in the fabric. Well, the good news is that this is exactly what we have developed with Rokker. Called the Rokkertech High Waisted Ladies Jean, they are made from an Armalith fabric that delivers a slide time of over six seconds, and that's better than leather. They have an old-fashioned high waist, although we understand that high-waisted jeans are now very much on trend! The jeans contain Elastane for stretch, and take D30 armour in the hips and knees. They look fabulous on. They are hip-hugging yet immensely comfortable. They may not be cheap, but they are, in our humble opinion, the perfect ladies' motorcycle jeans. Klim has cracked it. It's a brilliant suit; a future classic. Available in grey or black.
£349.00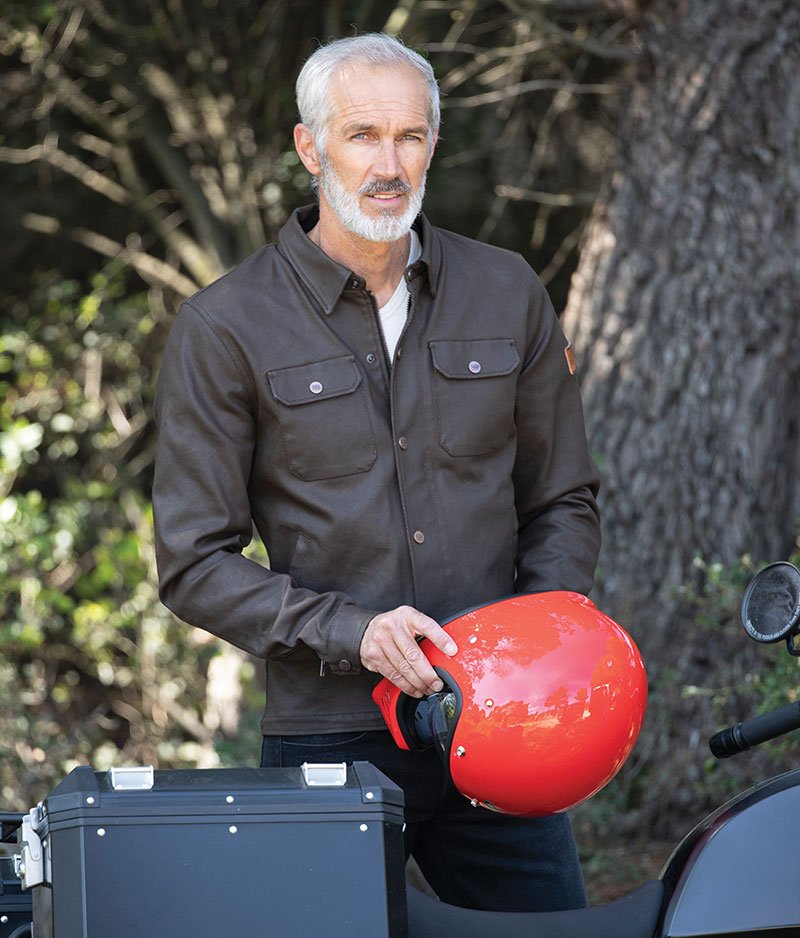 We really, really like this jacket. It's manufactured from a 14 ounce denim-style fabric that is made from the amazing Armalith material that has an abrasion resistance way beyond leather. The material on the Rokkertech jacket also contains some stretch for comfort. The material is then treated with a coating that, from a distance, makes the jacket look as though it's made from leather. The effect is very pleasing to the eye. In our opinion, it's the perfect summer-weight jacket. It's going to flow air reasonably nicely such that, If it's cold, you'll need to layer up. There's a waterproof coating to the material, but don't think of it as a properly waterproof garment. For impact protection, the jacket comes with D3O armour in the shoulders, elbows and back as standard. On the outside you get two upper flap pockets and two lower slash pockets. The internal pockets are the only ones to have zips. The main front zip is by YKK, but there's a button flap over this. The two bottom buttons are rubberised to protect your paintwork.
£529.00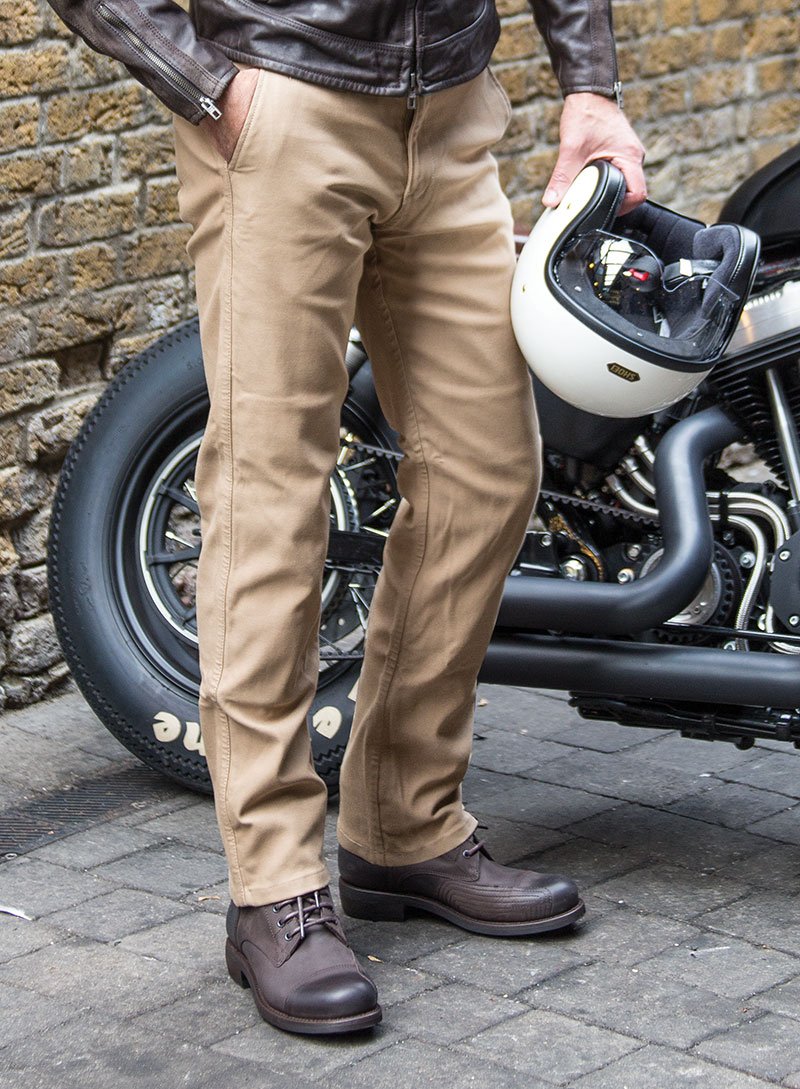 We love these chinos. They're so sharp and smart, you could wear them to any meeting. They're also comfortable enough to wear all day. The outer is 100% Schoeller Dynatec for abrasion resistance, wind resistance, and water-repellency. This material makes the jeans about 50% more abrasion resistant than a leather pant. They come with protector pockets for D3O's armour in the knees and hips. They have a Nanosphere finish which makes them even more dirt and water-repellent. Everyone who tries a pair of these chinos wants a pair, so don't order a pair or try them unless you're sure, as you're going to want them in both colours!
£299.00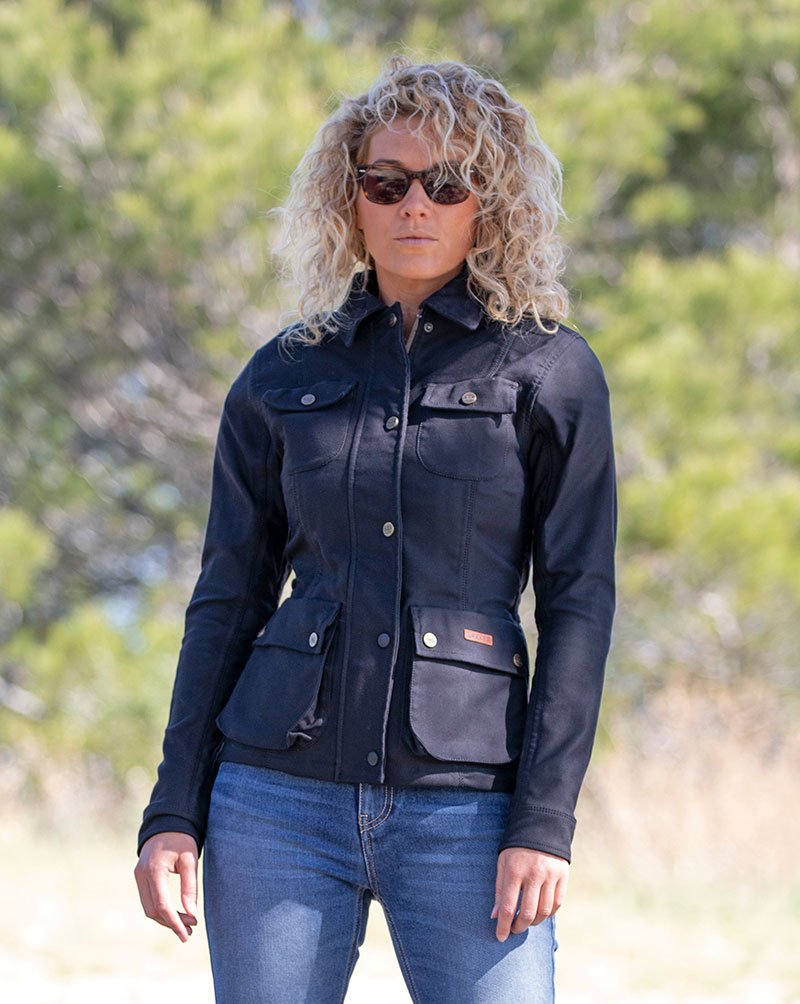 Made from a high-tech material called Dynatec that is produced for Rokker by Schoeller Industries. Whilst the fabric is soft to the touch, it is much more abrasion resistant than Cordura. In fact, the material is 50% more abrasion resistant than leather. It's also wind -resistant and water-repellent. We're not going to claim that the jacket is 100% waterproof, but with its Nanosphere coating, taped seams and waterproof zips, it's going to keep you far drier than you'd ever have a right to expect of a casual jacket. For summer riding, it's also got what's called a Coldblack finish that reflects the UV rays of the sun to stop you over heating. And, as with most Rokker garments; the Black Jakket comes with D3O body armour; in this case for the elbows, shoulders and back.
£429.00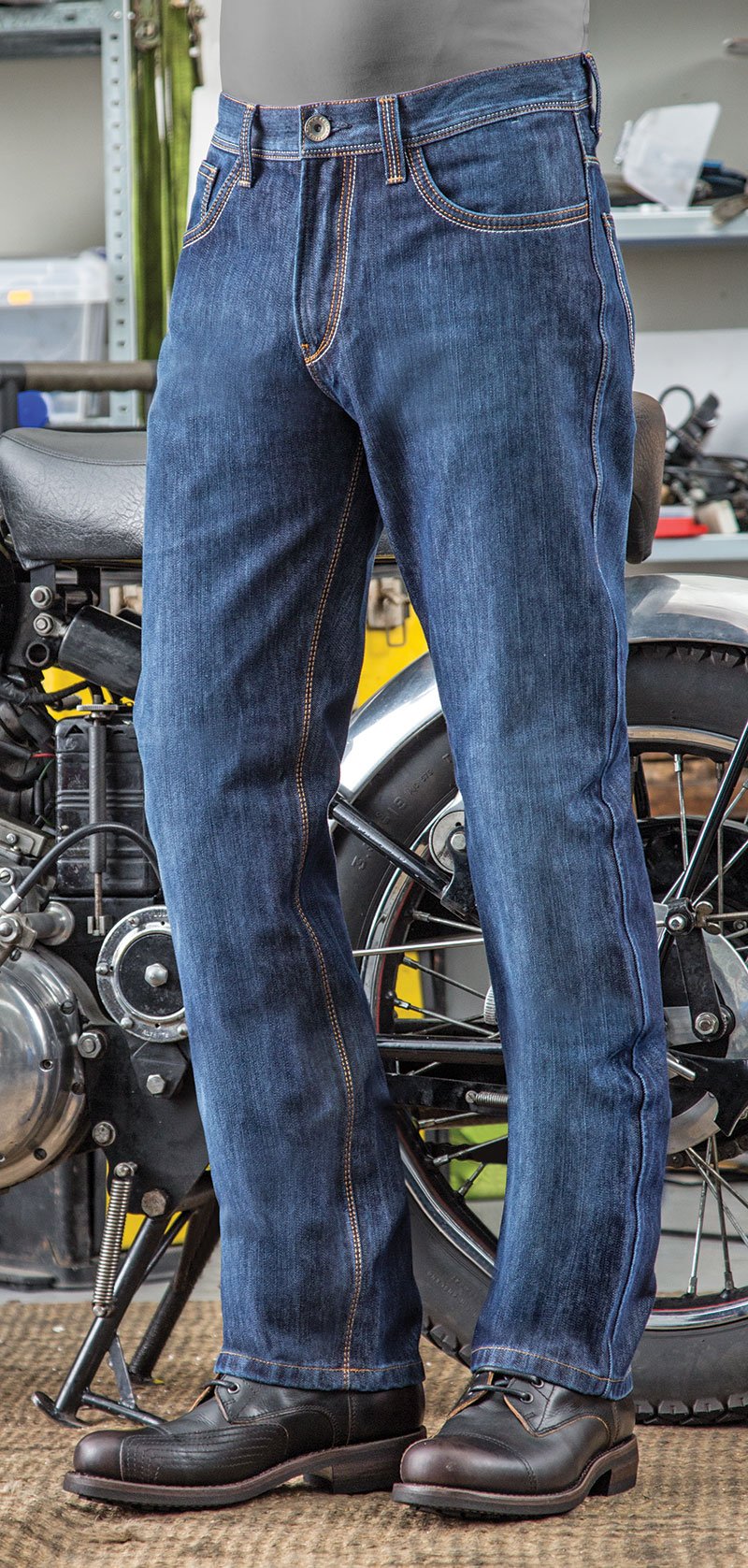 The Rokker Revolution is a single-layer jean, but it is a single-layer jean with a difference; that difference being that it's waterproof. And we mean totally waterproof, because the 'C-Change' waterproof membrane in the Revolutions is bonded to the inner side of the highly abrasion-resistant outer fabric. This makes them every bit as waterproof as a £900 Rukka pant, and indeed you can ride in the rain all day in the Revolutions, and not get wet. The only way the rain can get into these jeans is via the two front pockets, so just occasionally you might get a touch of dampness on your boxers. The outer material is made from denim woven with Dynatec. This gives them a pretty impressive slide time of over three seconds. The jeans are super light, and they can best be described as relaxed in fit. But there is a downside to the Revolutions, and it is that, in really hot conditions, they can get a little sticky. And this is because there can be times when the membrane simply cannot cope with the amount of perspiration that is being generated by the rider. What we're talking about here is temperatures approaching the thirties. But in cooler conditions, and obviously when it's raining, these jeans are brilliant. The Revolutions do come supplied with D30 armour for the hips and knees, but to get the knee armour in the correct position, you need to order them in the right leg length, because the armour pocket is fixed. The leg lengths are 30", 32", 34" and 36", and we recommend going for a leg length that is a little longer than you would go for on a street jean. Rokker's Revolution jeans are quite special; there's nothing else quite like them.
£349.00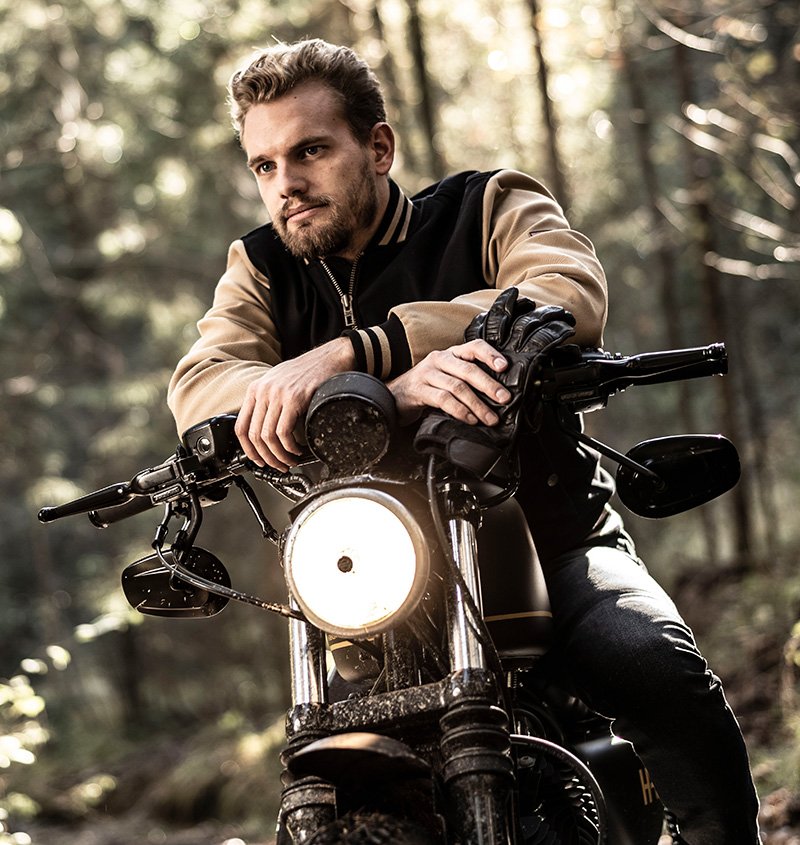 Rokker came over from Switzerland to present to us their new collection for 2020. One item they showed us was a melton wool, college jacket with leather sleeves. For various reasons, we didn't like it. What we wanted, we told them, was a college jacket made from denim-Dynatech like their chinos. We hold all of Rokker's UK stock in our warehouse, and it was with some embarrassment that we learned that the jacket we had asked for has been in the building for the last six months. We went and fetched it off the shelf, and kind of fell in love with it. If the college jacket is a style you like, then we have to tell you that the Rokker iteration is perfect for the bike. It's really lightweight, but the Dynatech delivers leather plus levels of abrasion resistance. It comes as standard with D30 in the elbows, shoulders and back. It doesn't come with a waterproof membrane, but the material is impregnated when it is woven, so delivers a decent level of get-you-home water resistance. The bottom line is a super-lightweight jacket that is more than up to the rigours of motorcycling. It is also, of course, more cool in styling terms than a motorbike jacket has a right to be.
£449.00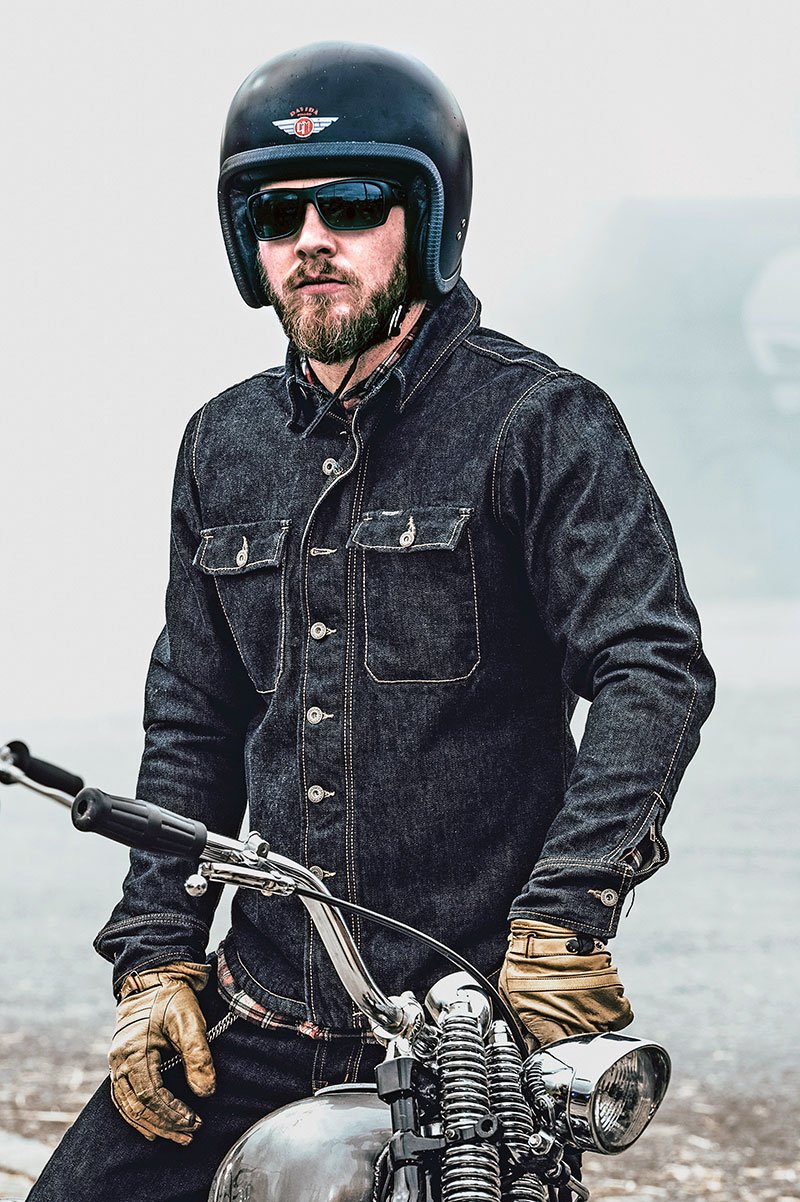 We like this shirt, but then again we like pretty much everything that Rokker produces. It's not just a denim shirt, although the outer is made from the finest 13 ounce raw denim. Inside, it's 100% lined with a Schoeller-Dynatec layer. This is the same fabric that Rokker's Chinos are made from. It is more abrasion resistant than leather. It's also windproof and water repellant. The Denim Rider Shirt comes complete with D3O armour in the elbows, shoulders and back. This shirt is super-strong; it really is a thing of great beauty and ruggedness.
£279.00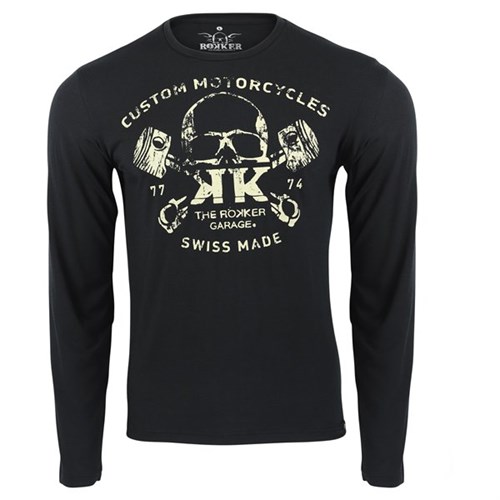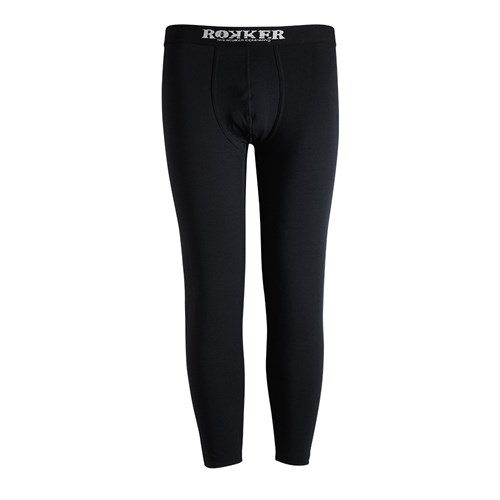 THE BASE LAYER
When it comes to technical wear we tend to avoid T-shirts with designs on, because most of them are for decoration, and don't do much for the rider. But, of course, Rokker is a bit different, and even when they produce a proper base-layer they will often add a graphic to it. So, as it's Rokker we're prepared to make an exception. This long-sleeve top and long-john are super thin and super stretchy but, more importantly, they're infused with temperature-regulating Outlast. Outlast is a magical ingredient that stores heat in paraffin molecules, and then releases it when the body gets cold. When, by contrast, you are hot it takes heat away from the body. The bottoms are perfect for wearing under jeans.