Buying a custom-fitted Cafe Racer jacket from BKS
Published on: 27/06/2018 12:59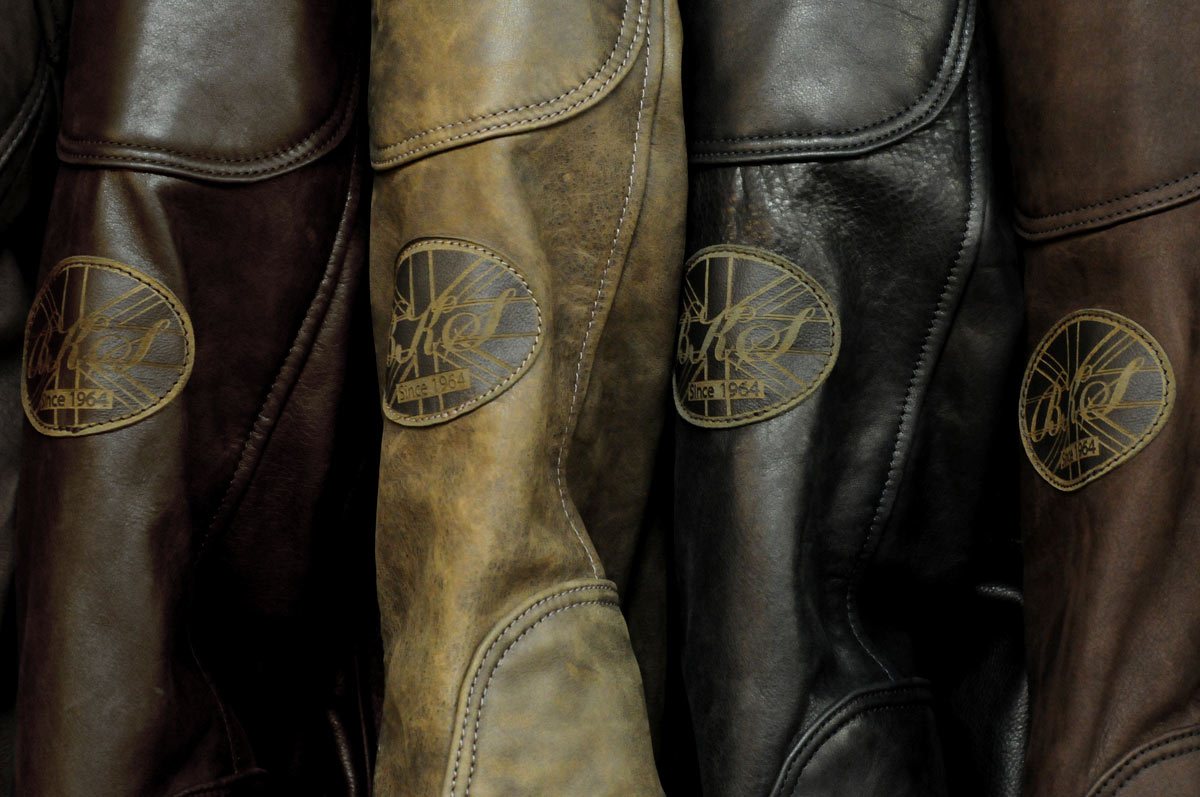 BUYING A BESPOKE CAFÉ RACER JACKET FROM BKS LEATHER
The jacket we're talking about, of course, is the new Café Racer jacket that we have created with Brian Sansom; maker of quite simply the world's finest one and two-piece, leather, motorcycle suits.
The gestation period for this project has been akin to that of an elephant. We've seen many samples and designs over the months, and it was only earlier this year that Brian announced that he was fully happy with the end result.
Here in the Guildford shop, we have samples of the jackets in a range of different leathers across all the key sizes from Extra Small to Extra Extra Large.
You can come and look at these jackets at any time, but the premiss is that we will arrange a time for you to meet with Brian, so that he can tailor your jacket for a perfect fit. In so doing, there are a number of options that you can choose, in order to make the jacket truly individual and unique.
We thought it might be interesting to explain how it all works.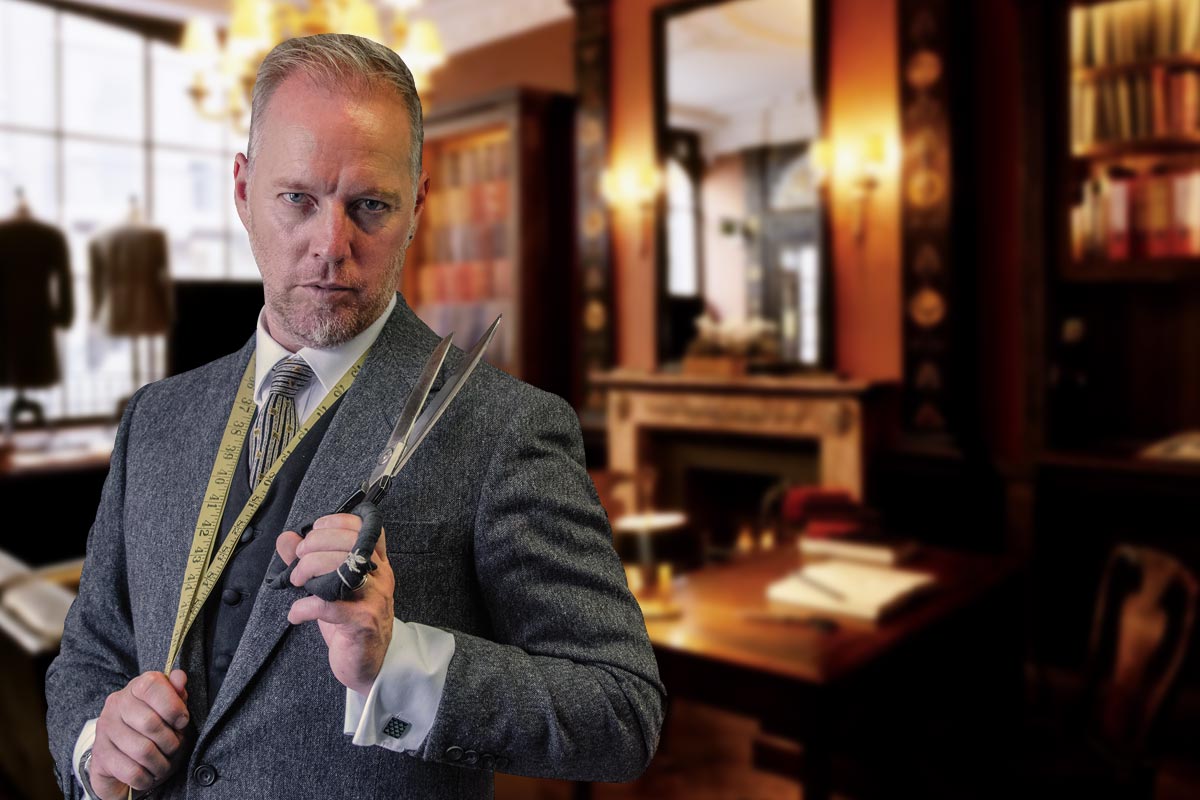 If you want to take things forward, we would get an appointment in the diary for Brian's next visit.
When you meet up with Brian, he will get you to put on one of the standard jackets here in the shop. He will then use whichever size fits you best as a starting point for his bespoke fitting.
If all you need is to have the sleeves shortened or lengthened, there'll be no charge.
But if the fit around the body isn't perfect, Brian will make it so.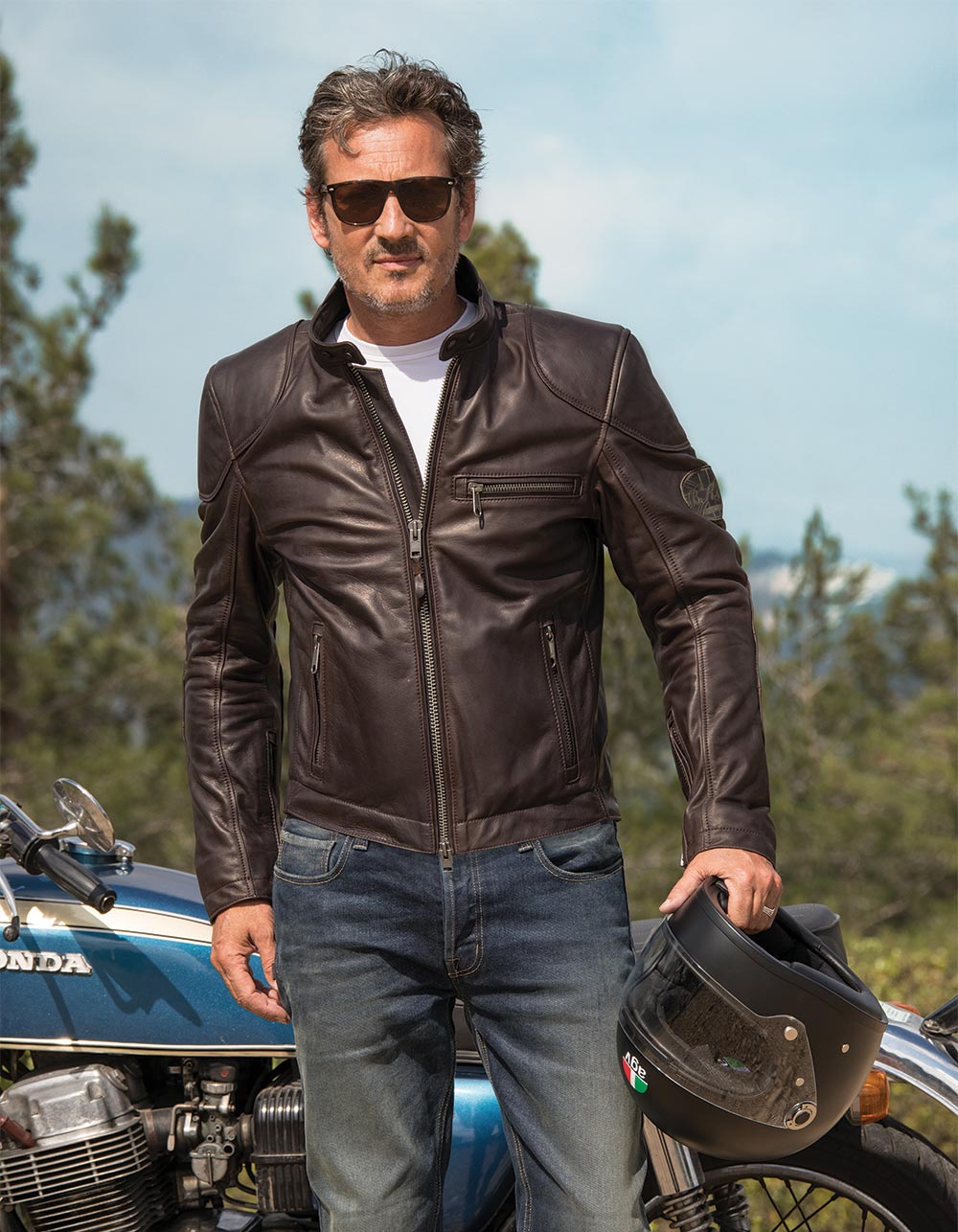 He'll reduce or elongate the body length, lower the front collar a smidge, add or take off an inch or so at the chest.
If you don't want to wear your gloves inside the sleeves, Brian will reduce the cuff size. It could be that you need more space on the forearm or around the elbow. Perhaps a deeper armhole. Not a problem.
Would Sir like an extra inch in the waist? Of course, that will be fine.
There are seven different adjustments that can be made, as far as sizing is concerned. In truth, because the jacket is already so well proportioned, it's unlikely that anybody will need more than a couple of alterations. For each adjustment, however, there'll be a small charge of £30.
Once Brian has got the sizing sorted, he'll move onto the various options, some of which would mean an extra cost, but most of which won't.
Here in Guildford, we have examples of the jacket in four different types of leather, but the book of swatches that we have here in the shop mean that there are actually no less than 16 options as far as the style and shade of the leather is concerned.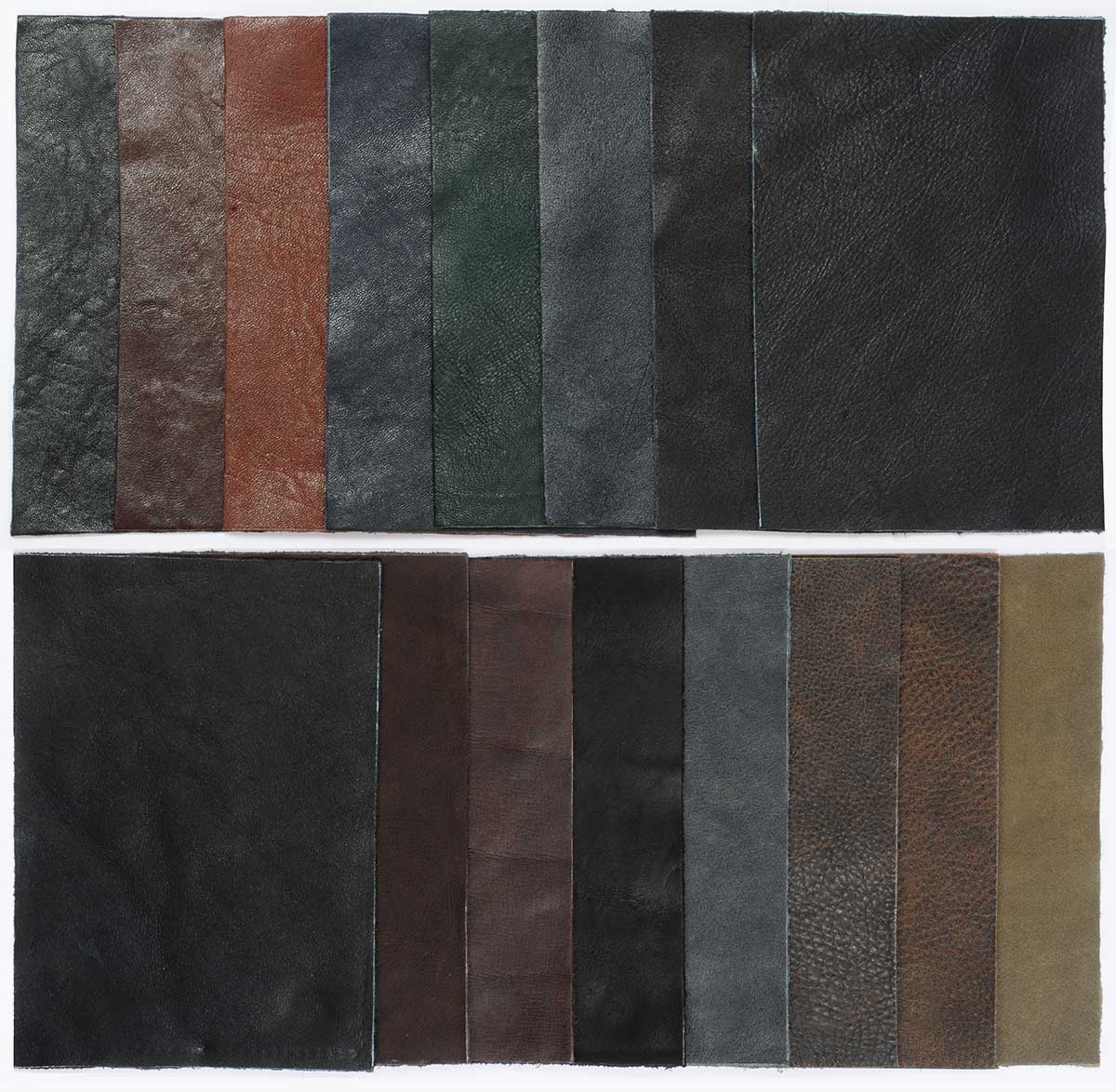 At no extra cost, you can specify whether you want silver, brass or black zips on your jacket.

The collar roll at the back of the collar can be removed if you'd rather not have it.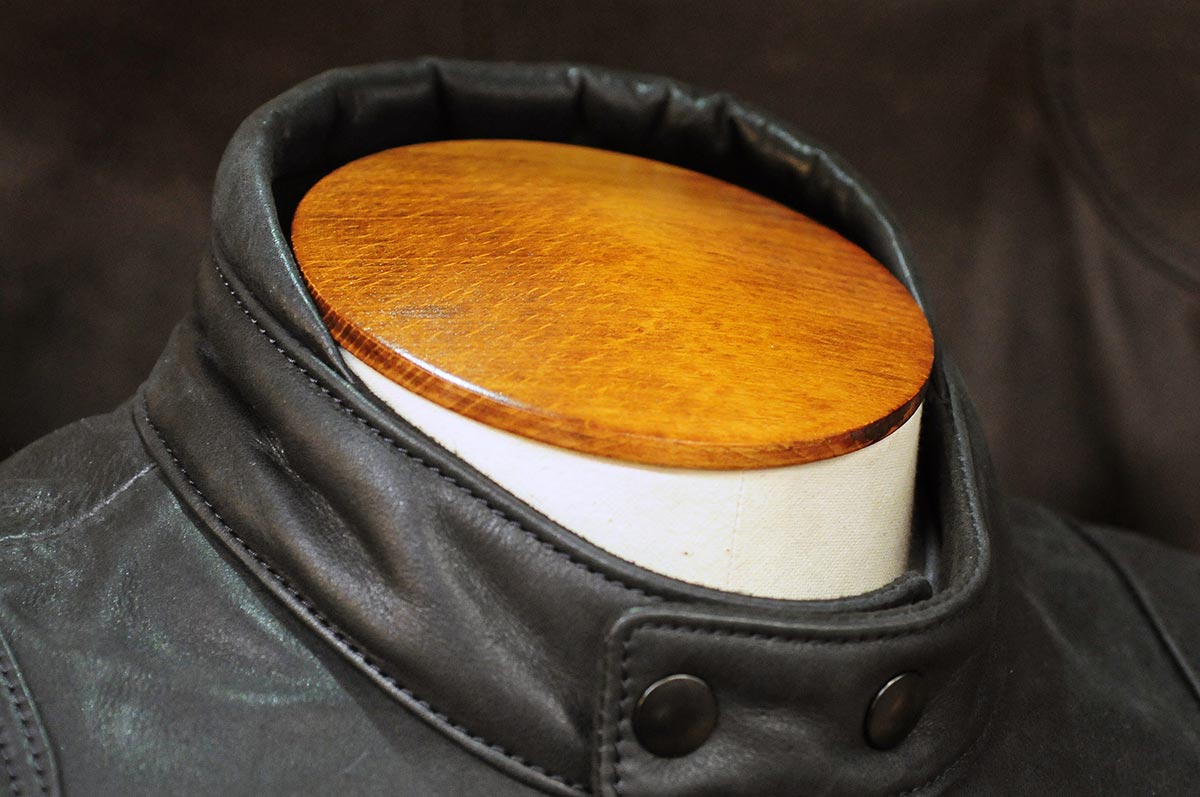 You can also decide to delete the leather patches on the shoulders and elbows. No cost again, but you would marginally be reducing the abrasion resistance in those areas. Brian tells us the slide time for the elbows and shoulders is a mind blowing 21 seconds, so you'll still be more than safe if you delete the outer patches. Another option might be to have the elbow and shoulder patches quilted.

Perhaps you prefer a cleaner look, and want to delete the internal zip flap? No problem. No charge.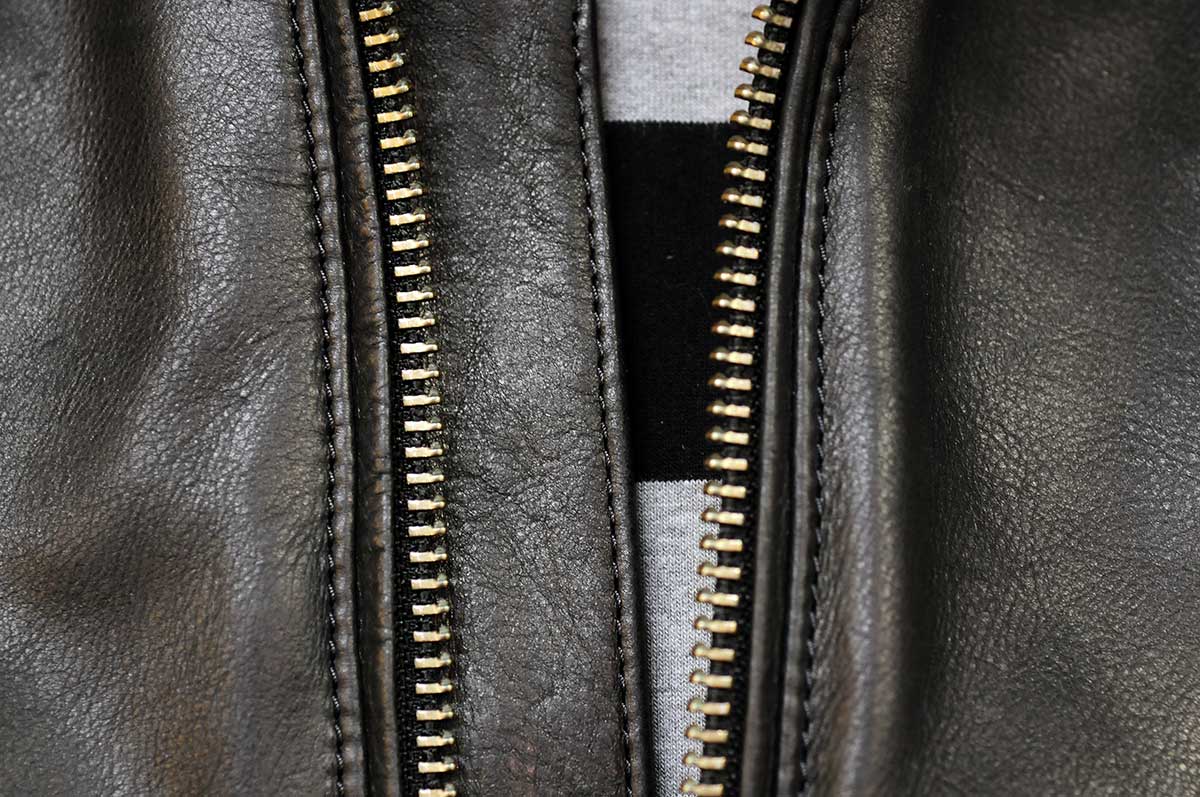 And you can choose whether you want two, one or no internal pockets. The jacket comes as standard with three external pockets, but any or all can be deleted at no charge. A fourth external pocket would, however, cost an extra £40.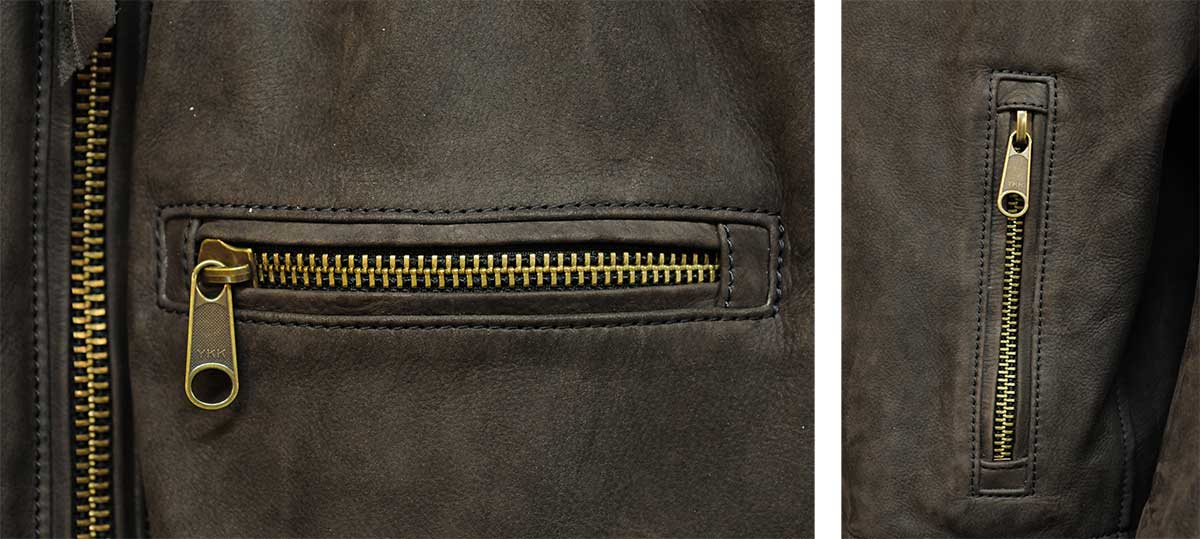 The BKS logos are optional; you can also chose the thread colour, the number of poppers on the collar, and whether you go with distressed brass or plain gunmetal studs.

For the inside of the jacket, Brian has selected many different linings that you can choose from, all of which have been chosen from one Savile Row's most exclusive cloth merchants.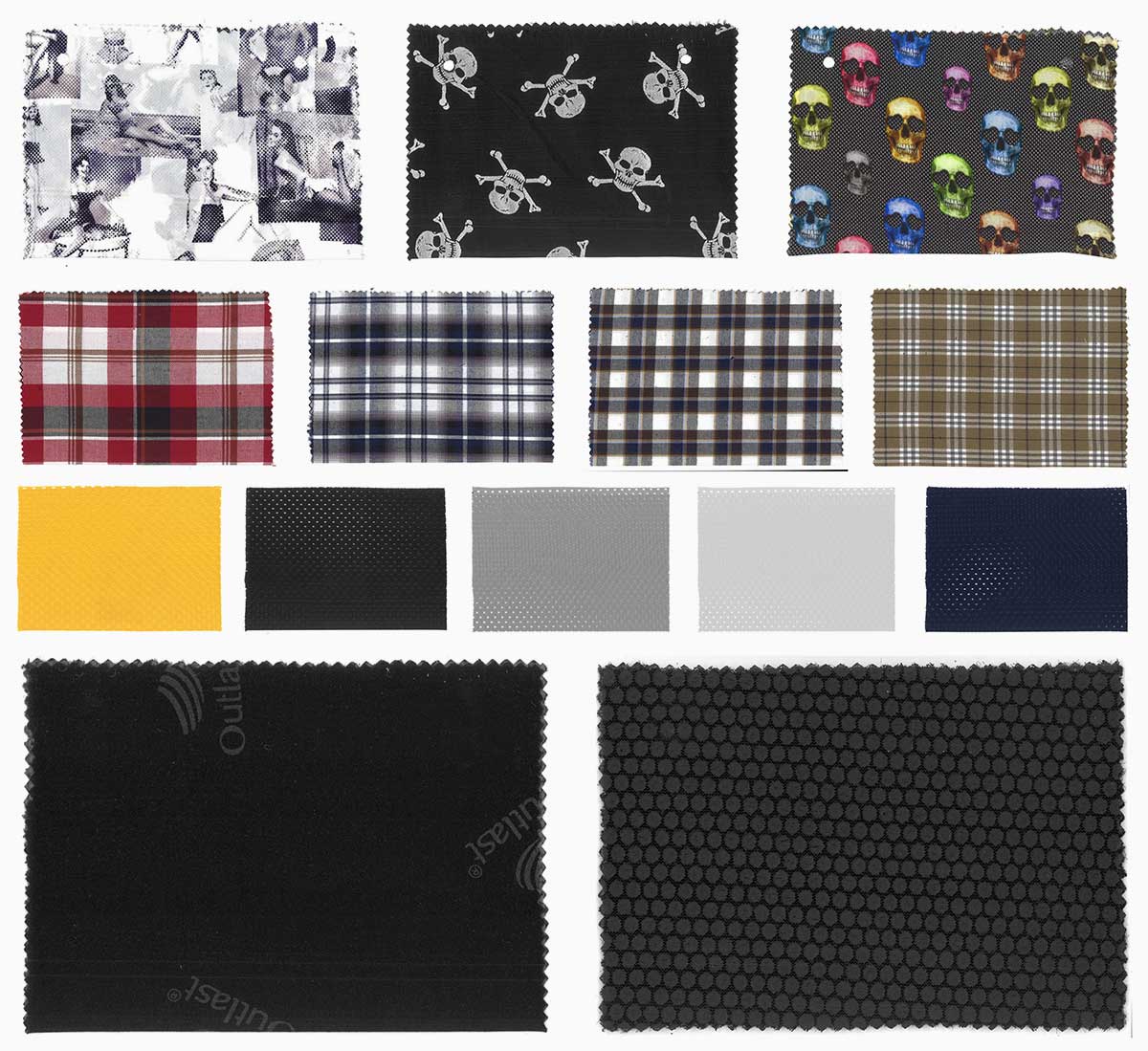 But pretty as all these are, you can go more practical if you want. The jacket comes with zips to allow an Outlast liner to be fitted; to help you stay cooler in the summer, and warmer in the winter. The zip-in liner would add £75 to the cost.
Or, instead, you could line the body or sleeve linings in Outlast for a small charge.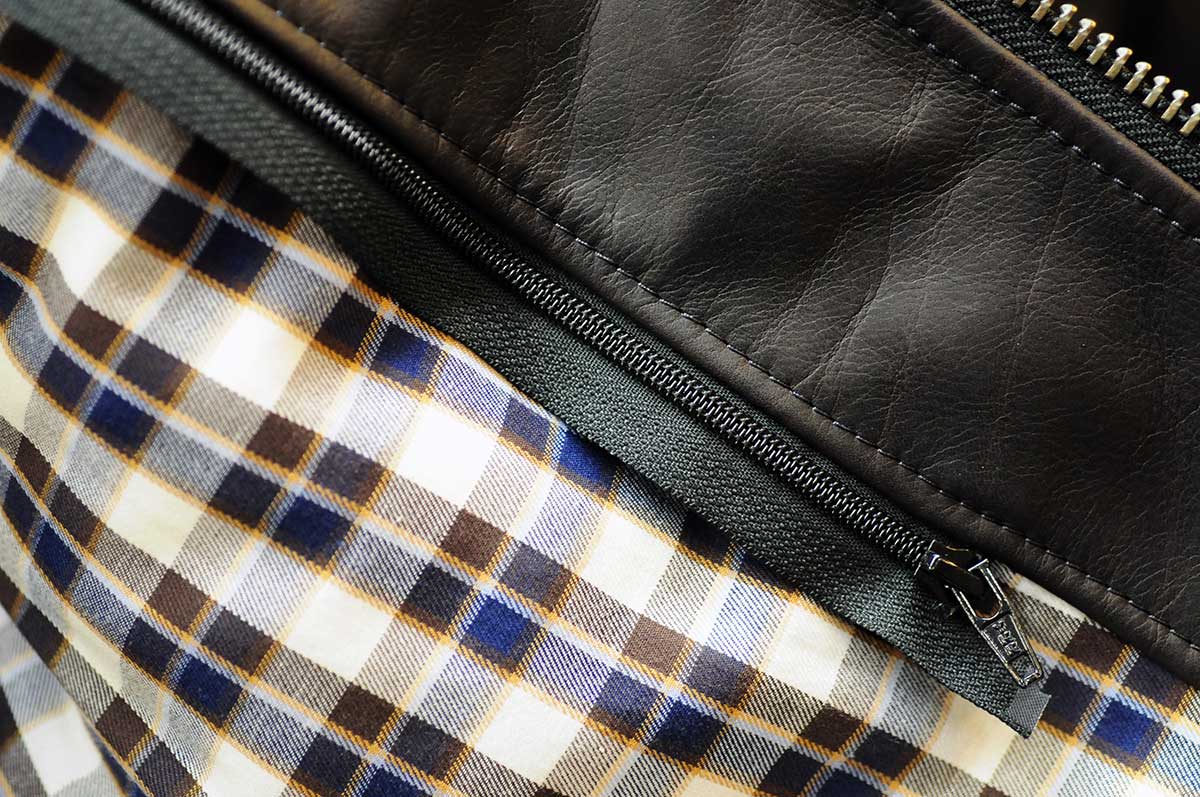 It all sounds a bit complicated, but in an hour's appointment, Brian will talk you through all the options, advising you of what's going to work best for you.
Now, obviously we've all heard of Savile Row, and there are some who will have been fortunate enough to have had suits or shirts bespoke made for them. But until now, it's not a service that's been offered by anybody for a classically-styled café racer jacket.
Clearly this in not a jacket for everybody. For many, the price alone will be prohibitive. But if you're fed up with buying and owning jackets that don't fit quite right right, that fit across the shoulders but not over the tummy perhaps, or with sleeves that are too long or too short, Brian offers a solution.
You'll end up with a jacket that, in its detail and styling, is totally unique to you. But more importantly it will be a jacket that has been made to fit you and you alone, and not the average guy with a chest measurement a little similar to yours.
We'd be happy to talk you through the process, and show you the jackets here in Guildford at any time. But, honestly, if you want your jacket to be perfect, you need to get together with the man himself.
It's currently our thinking that Brian will visit us on a Saturday about once every four weeks, and if you'd like to make an appointment, you should phone us on 0844 887 7788, and get a time in the diary.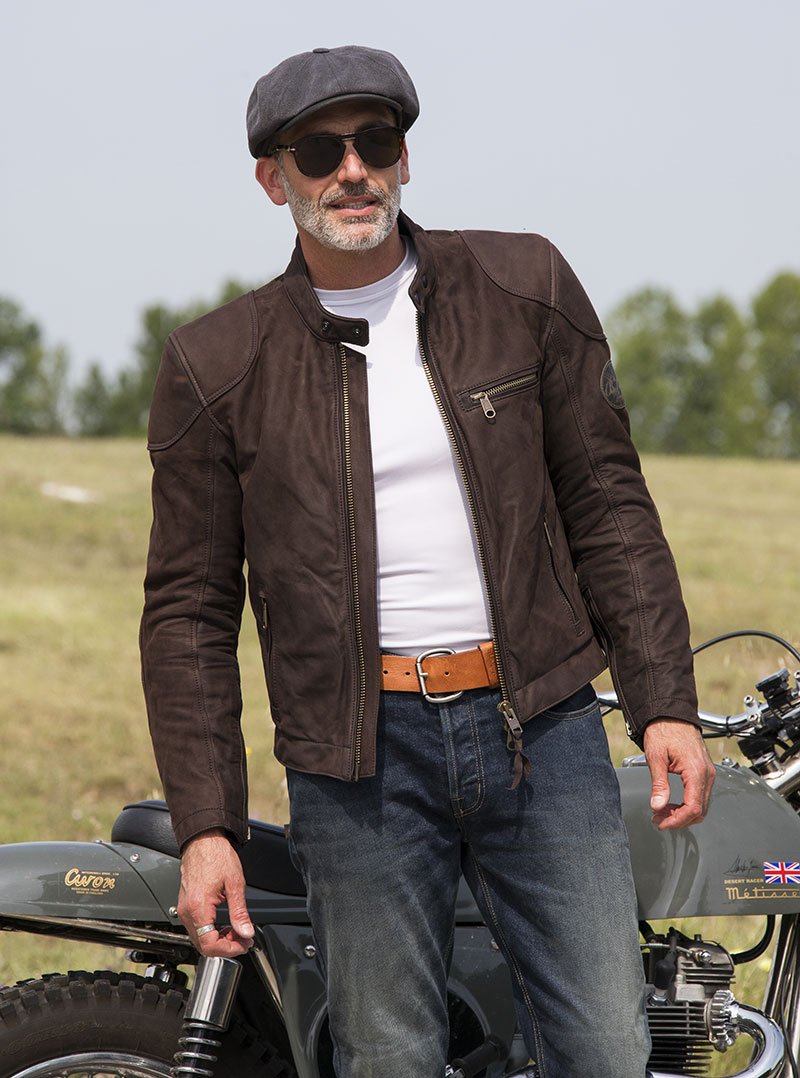 In terms of delivery timing, it will depend a little. Brian's quoting eight weeks, but sometimes it will be quicker than this. Very, very rarely, it might take a bit longer.
But, as my old Dad used to say; "You can have it now or you can have it right". I've never forgotten that but, in truth, as he was a butcher in a small Lincolnshire village, I was never quite sure why he held by it, as most people wanted their sausages there and then. Nowt so queer as folk, eh!
Anyway, in the case of Brian and his jacket, I prefer Benjamin Franklin's assertion that the bitterness of poor quality lingers long after the sweetness of low price is forgotten.
We've never come across a café racer jacket that looks as good, is as well made, and fits as nicely as Brian's. Expensive it is, but you'll wear it forever, and never need or want another one. Could you honestly say that about all the other leather jackets you have bought?

Want some more? Please

click here

to return to our editorial menu.
Share this story