Desperately seeking a decent retro helmet
Published on: 18/06/2019 16:28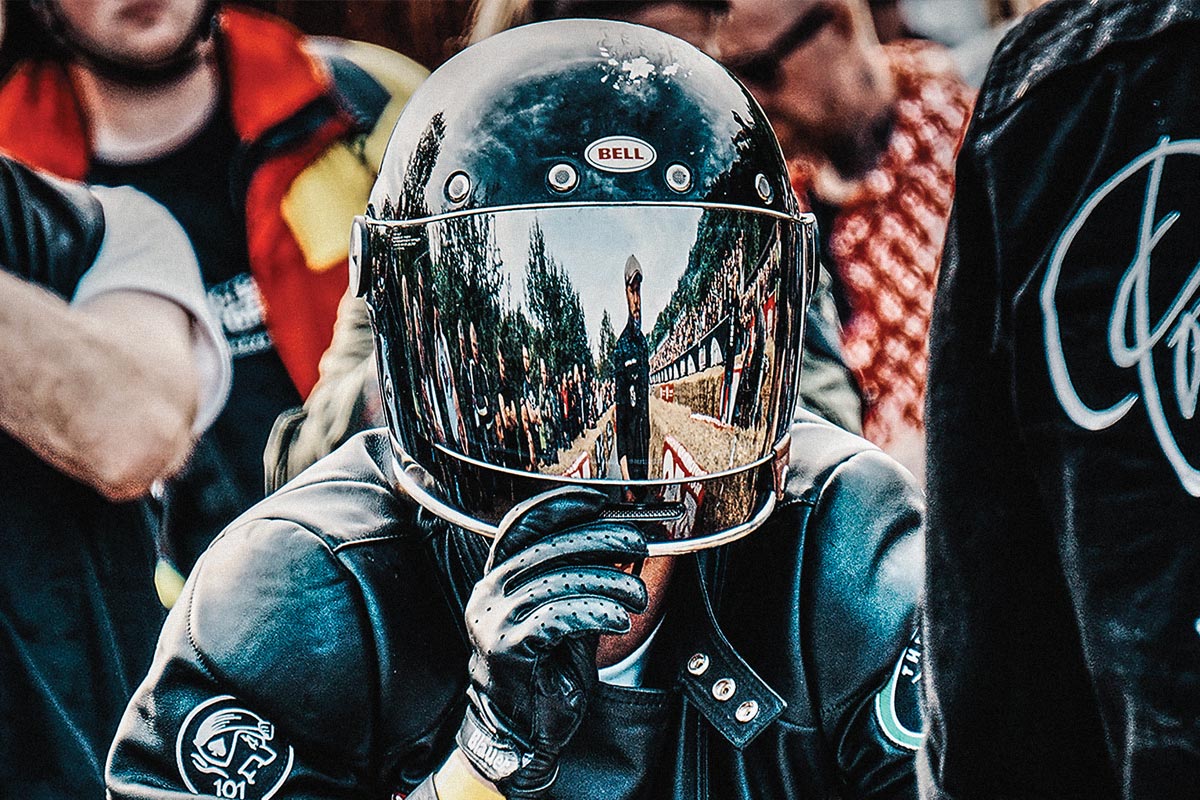 DESPERATELY SEEKING A DECENT 'RETRO' HELMET
It was more than five years ago that we first lobbied a helmet maker to produce a retro-styled, full-face helmet to a modern standard. I remember the meeting, where it was, and who was there. They simply laughed at us.
Even though the market is very different today to what it was then, we still reckoned we had a good idea about the trajectory of travel. Today, the market we envisioned is here. Superbikes are, to all intents and purposes, dead. They sell in tiny numbers these days, and those numbers are falling. Retro-styled bikes are very much in the ascendancy, and nearly all the major manufacturers have some skin in the game.
We are talking about bikes like the RnineT from BMW, the Scrambler from Ducati, just about everything produced by Triumph, the V7 and V9 from Guzzi, the Z900RS from Kawasaki, the Katana from Suzuki, the CB 1100 from Honda, and the XSR900 from Yamaha. And then, of course, there's Harley, Indian, Norton, Royal Enfield, and so on.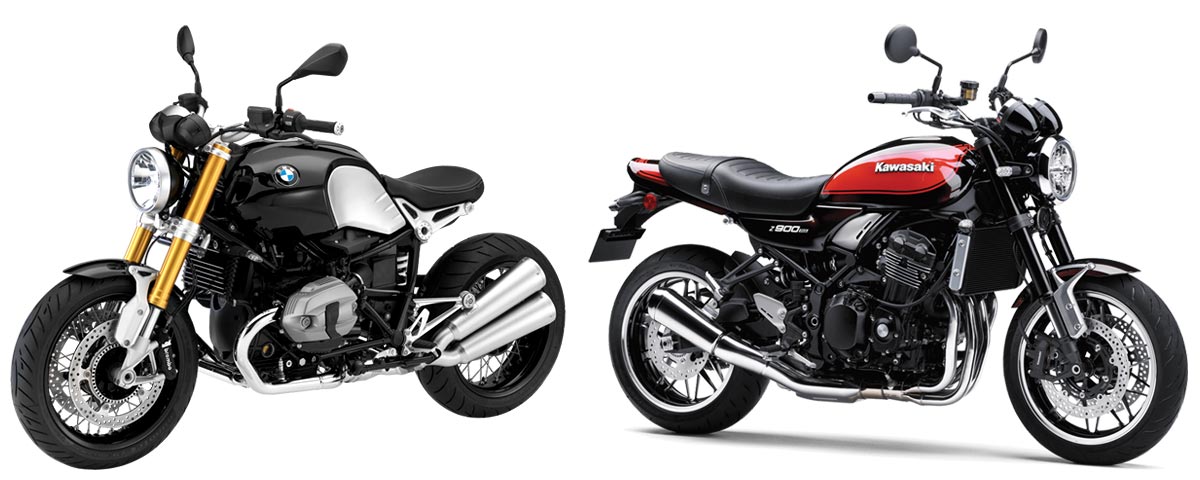 The only people who get excited by new sportsbikes these days are journalists. The real growth in interest is in the retro sector and, these days, pretty much all the major motorcycle manufacturers have some kind of offering.
This move towards a more relaxed and style-oriented approach to motorcycling has brought with it a totally new aesthetic.
One-piece suits are out, to be replaced by riding jeans, short boots, and the kind of leather jacket that doesn't necessarily mark you out as a hairy-arsed biker.
Personally, we really love this new biking world. It's so much more inclusive and open than the testosterone-fueled scene of, say, the eighties and nineties, when it was all about men behaving badly, popping wheelies, getting their knees down, and basically scaring the living daylights out of old ladies!
But what all the bikes we're talking about have in common is that, when you're riding one of them, an aggressive, race-oriented helmet just looks wrong. There you are on your tricked-out café-racer. It simply doesn't look cool if you rock up with a helmet sporting a lairy 46 on the side, or indeed any racing number. In fact, any pointy-nosed lid looks inappropriate. As does anything in carbon fibre, or anything with aerofoils or spoilers.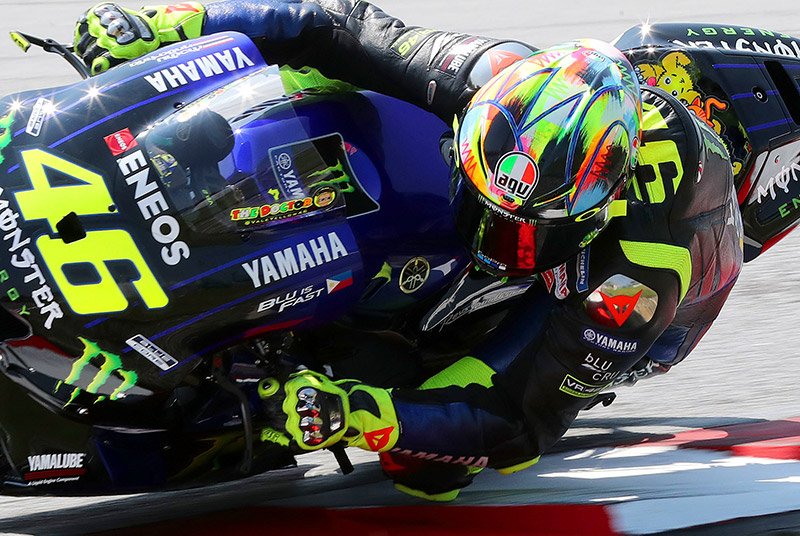 Don't get us wrong, we love MotoGP, Rossi, et al. But if you've got a 'cool' bike of some description, it just looks wrong if you turn up wearing a helmet with aerofoils, spoilers and racing graphics.
What looks right is the style of helmet worn by the likes of Sheene, Hailwood, Agostini, Read, Lawson, Spencer, Rainey, Schwantz or Doohan. We're not talking about the graphics, obviously; we're talking about the shape. And back in the day pretty much all helmets looked the same. They were round, smooth and almost totally devoid of clutter.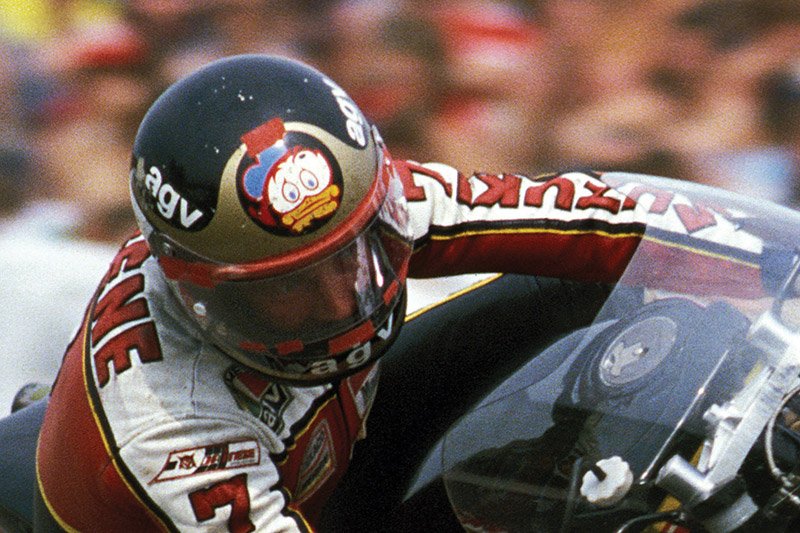 The 'retro' helmet that everybody wants resembles the kind of lid worn by the likes of Sheene, Rainey, Schwantz and Roberts. We grew up with these guys and, back in the day, we all wore helmets that looked like theirs. Well, with our retro-styled machines, that's the style of helmet we all want to wear again.
What surprises us, given the huge growth in the whole retro thing, is that none of the major helmet manufacturers has entered the market. Of course, there are lots of retro-helmets out there, but they're mostly made by the smaller, less sophisticated manufacturers; the niche players, the artisans. In fact, that's not completely true. Some of the bigger players have become involved, but where they have, they have been lazy. They have looked to make a quick buck. They have invested little time in R&D and testing; instead, they have produced helmets that look cool on the outside, but that have very little to commend them in terms of functionality. They have merely followed the crowd, and have produced helmets that are all about how they look, and not so much about how they perform.
The result, right now, is that there's not really a proper, serious, retro helmet out there. They are pretty much all, in our opinion, 'toy' helmets; okay for running around town, or for a Sunday morning ride out to pick up a bacon sandwich, but pretty much universally inadequate for higher speed, or longer distance, riding.
It was, of course, Ruby in France who first got the ball rolling. Their Castel full-face helmet was a beauty, with a price to match. But it was so expensive that nobody ever rode fast enough, or far enough, in one to get flies on it, so nobody really cared whether or not it was a good helmet. You bought a Ruby to make a statement, not because you wanted a quality helmet.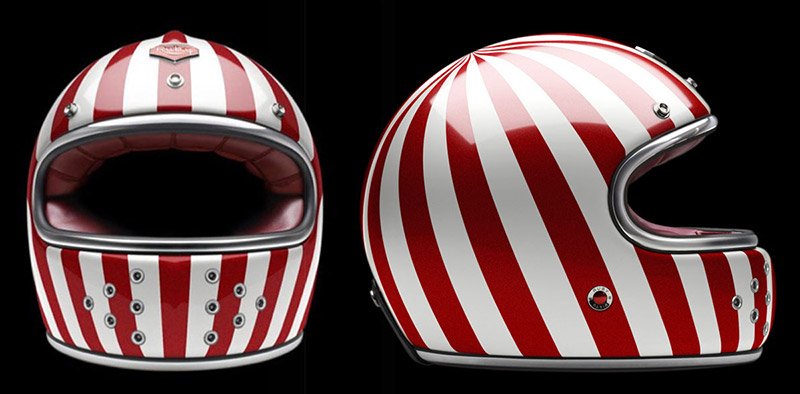 Ruby from Paris was the first company to realise the potential of a helmet that was more about style than speed. Their helmets were gorgeous and, if they hadn't been £1,200 a piece, they might still be selling them today.
It was Bell that really shook the market up with its Bullitt, launched in 2014. When it was first released, it touched a nerve. Everybody with any kind of retro, custom or 'new-wave' bike had to have one. It looked super cool, and came with funky, seventies' graphics.
It also went down really well with the Harley guys and, of course, with scooterists, another group that couldn't find an appropriate full-face helmet that worked on their machines.
And the design of the Bullitt really was spot on. It was, in fact, not based on an historic Bell helmet; it was based on a concept purchased by Bell from a final-year art student in New York. The shape of the helmet was beautifully round; it was luxuriously appointed, and exquisitely detailed.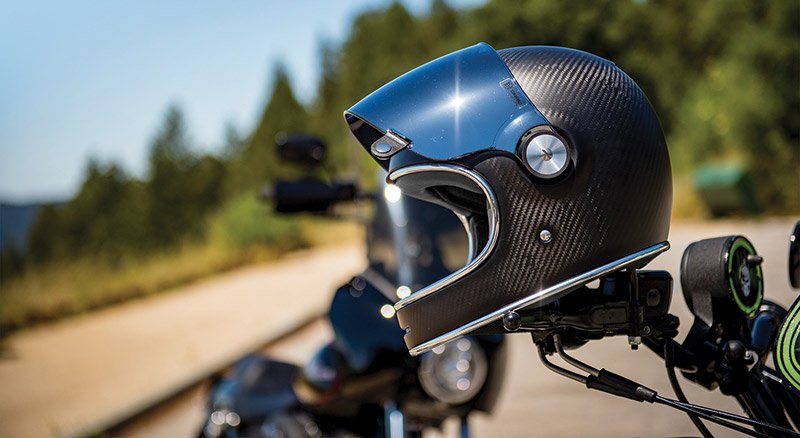 The first helmet that really touched a nerve was the Bell Bullitt. It really was, and is, an object of desire. It is beautifully styled and exquisitely appointed. But it doesn't fit everybody, and at anything above an urban crawl, it really is rather noisy!.
But here's the rub. It was, and is, from a technical perspective, a very average helmet. In fact, in many ways it's a below average helmet. It's so wide that it fits most people quite poorly. The lining lacks padding, and thus comfort; the venting is primitive; there's no Pinlock and, at anywhere near the national speed limit, the noise is deafening!
A year or so before the Bullitt came out, we asked Premier in Italy to create a classic, full-face helmet. The Trophy helmet they released was, to say the least, authentic. In fact, it was little more than a re-manufacturing of Phil Read's original, race helmet. But it was crude. There was no attempt to keep the wind or the rain out. You could fit a drinking straw in the gap between the visor and the helmet. And, in truth, the fit was never great. And you didn't need venting because that was taken care of by the gap behind the visor!
Today, we have quite a few helmets that fall into a similar category: the Nexx XG100R, the AGV X3000, the Biltwell Gringo, the Hedon, and so on. But they are all much of a muchness. The Nexx, for example, has a letter-box sized visor aperture that makes it less than ideal for road riding; it also has very little by way of ventilation. And again, whoever designed the helmet put little thought into how it might fit.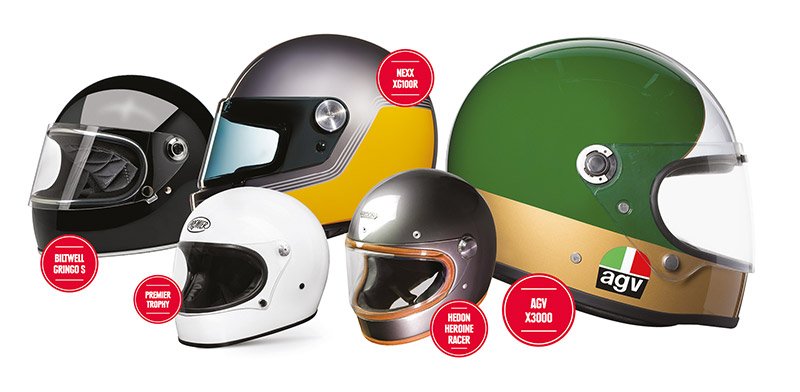 There are lots and lots of smooth-domed, retro-style helmets on the market. And they all have their strengths. But, in our view, none is the real deal. They do look cool, but they're all compromised in one way or another, and none is appropriate for riding at higher speeds, or for longer distances.
The AGV X3000 is beautifully put together, and it really does look the business, but a slavish adherence to originality means that it fits far too close to the chin. It also has a chin bar that is so shallow that, in many cases, it doesn't actually protect the chin. The mechanism for ventilation is also somewhat risible. The Biltwell Gringo, by contrast, is super cheap, and it feels it. It has a classic look, but also a more than classic feel. It's neither quiet, nor comfortable. You certainly wouldn't want to ride far in one. The Hedon looks lovely, comes with a sumptuously appointed interior, and is available in some striking colours, but frankly we cannot find it within us to ask between £650 and £800 for a helmet that, in our book, is totally devoid of any technical virtues.
More recently, Bell has introduced its Eliminator helmet. Now we like the Eliminator a lot. It's much more comfortable than the Bullitt, the visor works well, and it even comes with a kind of Pinlock. But with nine pencil-sized holes in the shell, the ventilation has been designed more with Southern California in mind than than Northern Europe. It's a fun helmet, but still a basic one, and it's never going to be quiet to ride in. It's still a long way from being the helmet we are so desperately seeking.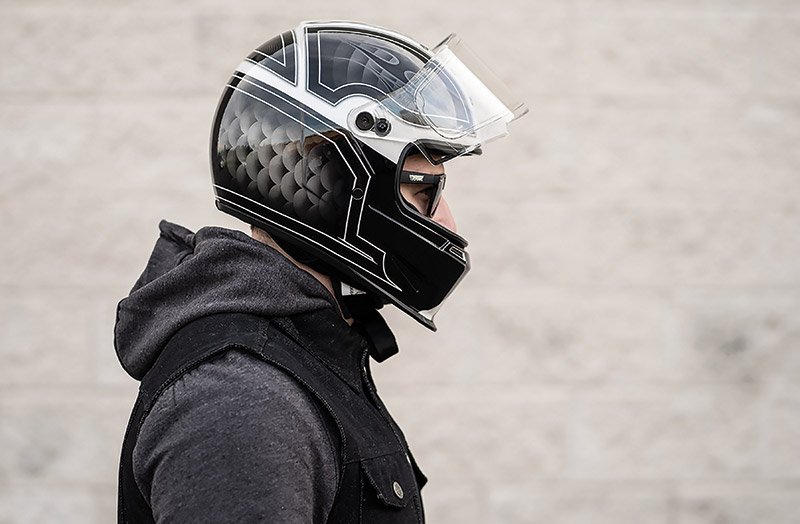 Bell's most recent offering, the Eliminator, is the best-fitting, retro-styled Bell to date. We like it a lot. But the venting cannot be adjusted which, like the Bullitt, means that it's noisy at speed. Perfect for Santa Barbara; less so for Sutton Coldfield.
The bottom line, as we've suggested, is that none of the current crop of retro helmets is very good. They may look cool, but they all reach their level of incompetence frighteningly quickly if you want to ride more quickly, in the cold, in the wet, or for any great distance.
What we are waiting for is a Shoei, an Arai, a Schuberth, or indeed any one of the major manufacturers, to produce a serious retro helmet that fits well, safely and comfortably; a helmet that delivers acceptable noise levels, good ventilation, adequate demisting and so on.
The helmet we're waiting for will look like a classic Shoei or Arai from the eighties, but it will have a properly-sealing visor, and will come fitted with a Pinlock insert. It will have adjustable, incoming and exhaust vents, changeable internal pads, and perhaps even a drop-down sun visor. It will come in at least three different shell sizes, have a proper chin curtain, and a multi-density eps.
It sometimes seems to us that the two companies best placed to create the perfect retro helmet are Arai and Shoei. Back in the day, the helmet choices were limited, and many riders ended up with one or the other. If only one of them could simply re-create one of their historic models, we think they'd make a killing. Ironically, of course, Arai hasn't really changed the shape of its helmets since the eighties, so all they would really need to do is remove all the ugly bits of go-faster plastic that adorn many of their helmets. Bingo, a retro helmet!
Just because you ride a retro bike, it doesn't mean that you want to ride around as though you're in a time warp. Some of the bikes we're talking about have a very decent turn of pace. Of course, you want a helmet that looks like a classic. But there's no reason you should put up with a helmet that behaves like a classic. It really is about time somebody stepped up to the plate.
For now, our best option tends to be the Shoei RYD. Now the RYD is a brilliant helmet. It's light in weight, quiet, fits nicely, is super comfortable and has changeable, internal parts. It tends to be our go-to helmet for those who don't want to spend a fortune. And indeed, you could spend twice as much, and get no more.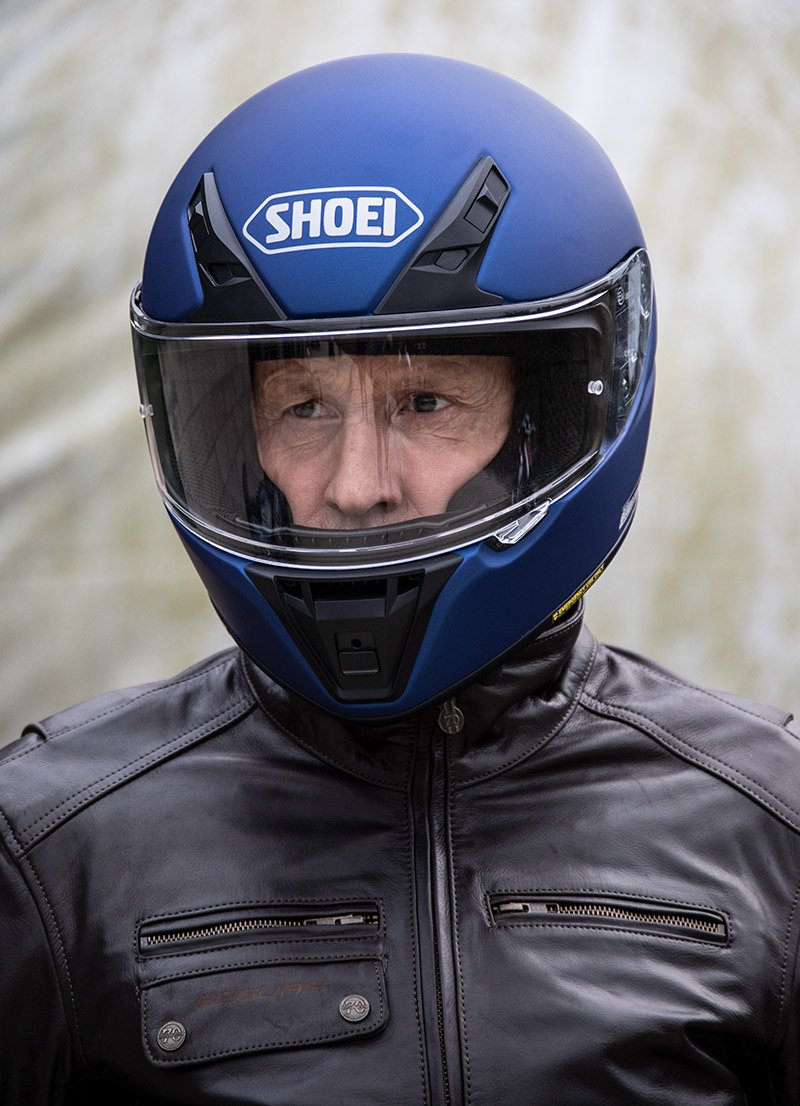 At this point in time, if somebody is looking for a helmet to wear on a retro bike, we often end up recommending the Shoei RYD. No, it's not as cool as the Bell, the Nexx, the Hedon and so on. But it is a grown up helmet. It fits beautifully, is safe, quiet, well vented, comes with a Pinlock 120. The sensible option; not necessarily the coolest one.
But in this context, what we like about the RYD is that it is pretty generic. Okay, it's not eighties-like in its profile, but it doesn't have a particularly pointy nose, and the shell isn't bedecked with go-faster accoutrements. I suppose the thing we like is that it is totally inoffensive. You could wear it on any kind of bike and it wouldn't look out of place. There are some black plastic pieces of trim around the vents, but in either Matt or gloss black you can barely notice them.
We're not pretending that the RYD is the ultimate cool lid; most emphatically it is not. But right now if you want to wear a modern, technical helmet that doesn't look out of place on a retro-style bike, there's probably nothing else that fits the bill as well.
And until somebody comes up with the helmet we're looking for, it's the best option, in our book. We perfectly understand looking cool on the bike. Some will scoff at the notion that the 'look' has any place in motorcycling, but often those who espouse this view will still spend plenty of time looking at themselves in the mirror before they make a purchase. Whether you've got a super sport bike, an adventure bike, a cruiser or something with more of a classic look, you're going to want to want the gear that looks right, and that looks right on you.
In our view, if somebody made a really good quality, retro-styled helmet that you could comfortably ride in all day, they would clean up. This may seem like a crowded, over-subscribed end of the market, but the reality is that it's not. At this point in time, none of the unusual suspects, as far as cool helmets are concerned, really measures up. The demand for the right helmet would be huge in our view. The people we're talking about are prepared to spend the money to get the gear they want. When it comes to protective headwear, all we need is for somebody to make it available.
Do you need some advice on choosing a motorcycle helmet? Read this: How to choose a motorcycle helmet.
---
Want some more? Please click here to return to our editorial menu.

Share this story