Follow us on Facebook and you could win this Fantic 250cc Caballero Scrambler
Published on: 14/01/2021 13:54
We admit that we can be a little bit old-fashioned here at Motolegends. We don't tend to follow trends. We do things the way we know how to do them, and the way we like to do them. Take our shop, for example; we fly in the face of every conceivable tenet of modern retail practice. But we really like our shop; and actually quite a few of our customers seem to quite enjoy visiting it as well.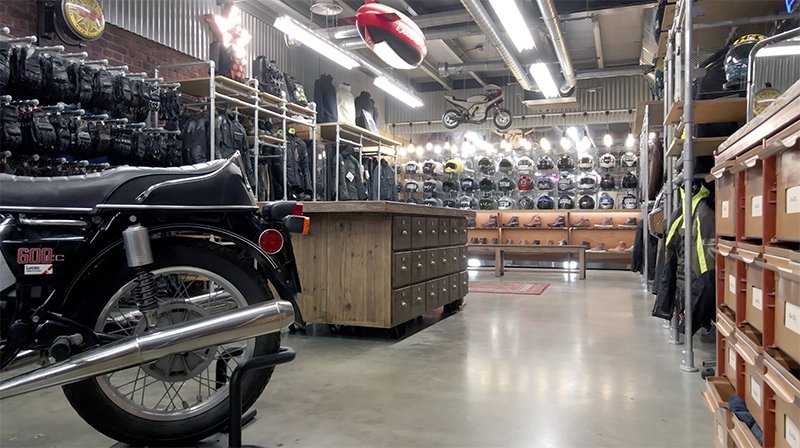 We are old-fashioned. We don't follow trends. If we were to listen to any retailing guru, we would swiftly learn that everything to do with our shop is wrong. But it's our shop and we like it just the way it is.
Now, most of our competitors have had Facebook pages forever but, in truth, even though we kind of had one we didn't really know why, or what to do with it. Let's face it; until recently we still saw paper catalogues as our primary form of communication with customers. Companies have been sending out catalogues and flyers since the back end of the 19th Century, so nobody is ever going to accuse us of being early adopters.
But now we have come to a view about Facebook, and how it might work for us. In essence, we are going to use Facebook as a kind of daily diary. We are going to post about any news we have on product launches, new arrivals into the warehouse, news about technical developments, safety issues and so on. We'll post just about every day, because rarely does a day go by when there's not, in our view, something interesting to impart.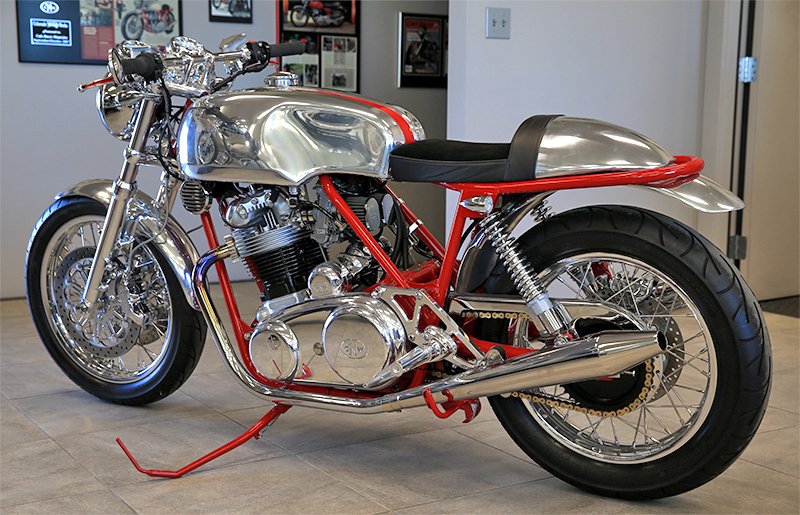 Social media can be fun and just a little bit addictive, but our Facebook page does not set out to entertain. No silly videos or cool-looking bikes like the one above, even though this is one I love!
We do not want, though, our Facebook page to be like some of those we've visited. We are not going to post pictures of sexy new bikes from manufacturers or custom builders, or photographs of the bikes our customers turn up on. We will not post other people's funny videos; only our own rather dull ones. We won't be providing lists of the best 10 bike films or most famous bikers. And we certainly won't be asking you to vote in some spurious survey or popularity contest. We are not on Facebook to create a community or to win new friends. We are on Facebook in order to tell people about new gear and developments as soon as we hear about them. And normally that will mean before anybody else.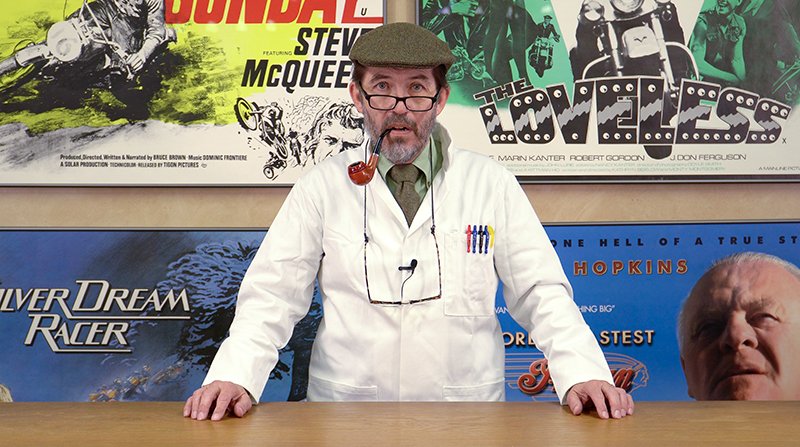 There will be links to videos on our Facebook page, but their aim will always be to educate and inform.
All this is well and good, but the truth is that we are late to the party. Very late. We have some ground to catch up; and so we are on a bit of a mission. We could just wait for word to get around, but being somewhat impatient by nature we've decided to spice things up a bit with an incentive to come and 'follow' us.
And that incentive is this Fantic 250cc Scrambler. The fact that we've gone with a Fantic is not an accident. We knew how much we wanted to spend; we could have gone with a lot of different machines, but ever since I first saw these new bikes at Bikeshed a couple of years ago, I kind of fell in love with them.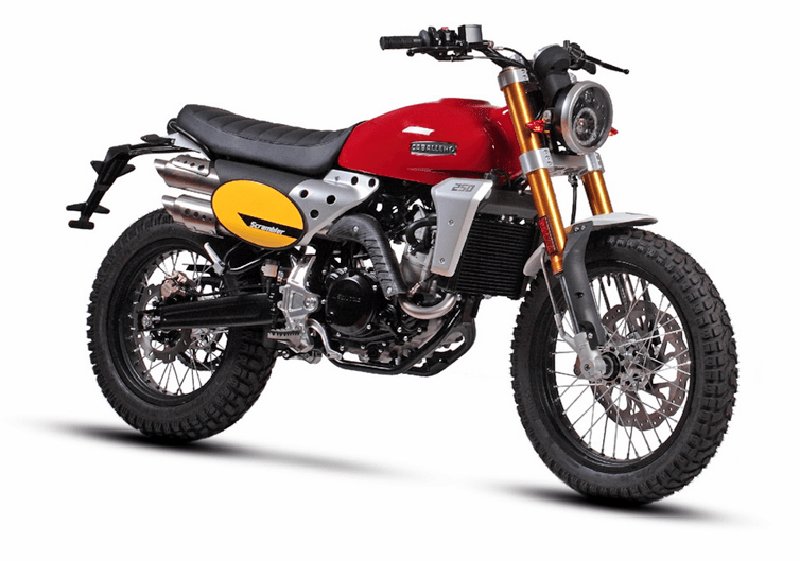 We really love this little bike. There are lots of bikers who take the view that they really do need 1200cc and 160 horsepower for their weekend jaunts. Ride one of these and you might see things differently.
It all goes back to when I was a spotty, sixteen year old teenager at school. A lot of my mates had motorbikes; in fact, of course, they were actually mopeds designed to look like motorbikes. There were Yamaha FS1Es, Honda SS 50s and Garelli Tiger Crosses. One guy even had a very cool and butch-looking Puch M50. But my heart was set on a Fantic Caballero in the same colourway as the bike we're giving away. I drooled over the pictures in Bike magazine. But it all came to nought. My dad made it clear that if ever I bought a motorbike, I would have to find a garage where me and it could live!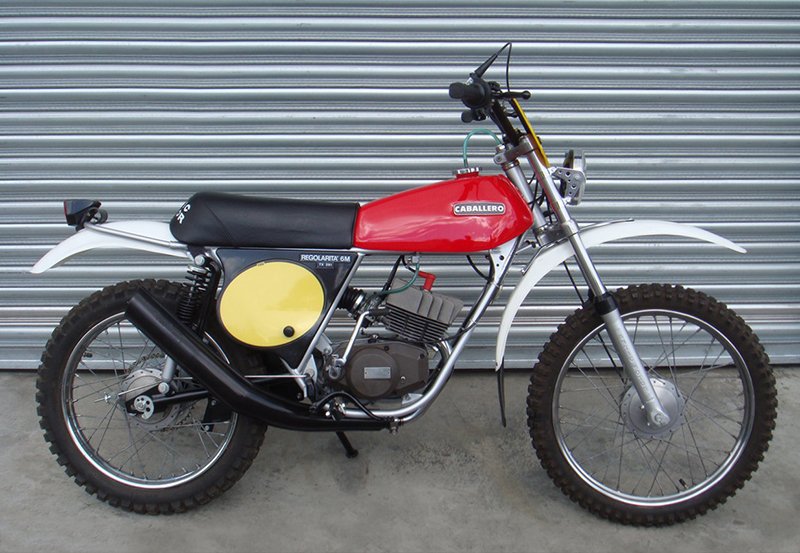 When I was a sixteen year old, all I wanted was a Fantic like this, but the Old Man had a different view.
And so we are very excited to be giving this bike away. Now it's not a huge bike, but personally as the motorcycle market continues to pursue its love affair with larger capacity, ever heavier, ever more powerful and ever faster machinery, I increasingly find myself being drawn to smaller ones. I don't suggest that you'd ever undertake a long-distance commute on a bike like this, but for a Sunday morning ride in the hills, a visit to the local bacon sandwich emporium or a trip to the shops to pick up the papers, a small bike like this is just sublime.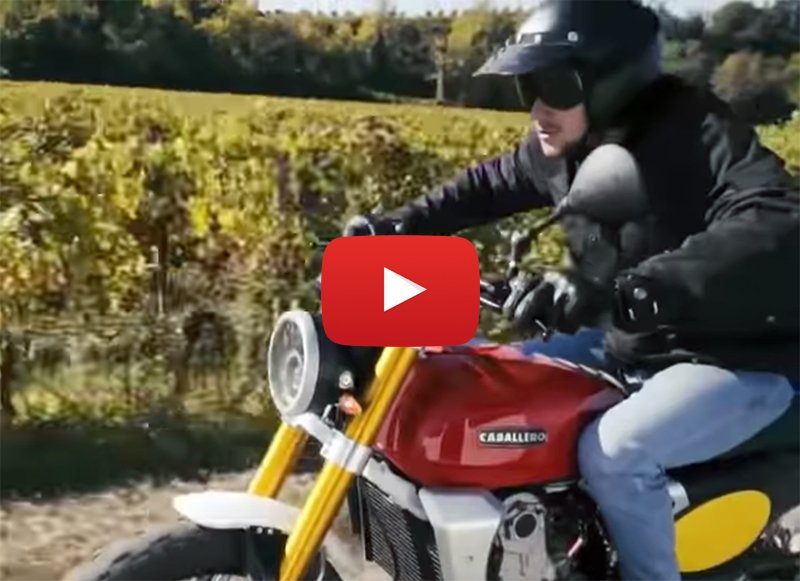 Now even though this video shows the 500cc bike in action, it will still give you a feel for the little Fantic.
You'll still find the bike is much more capable than you are, but you'll reduce the chances of scaring yourself silly, and you'll get home with the kind of grin on your face that you simply won't get from riding a modern behemoth with traction control, variable ABS, on-the-move suspension adjustment and so on. If you don't believe me, go down to your local dealer and go out for a ride on one. The way we see it, however old or young you are, however experienced or inexperienced you are, and whether you've got a Panigale or a BMX in the garage, you're going to have a lot of fun on our Fantic.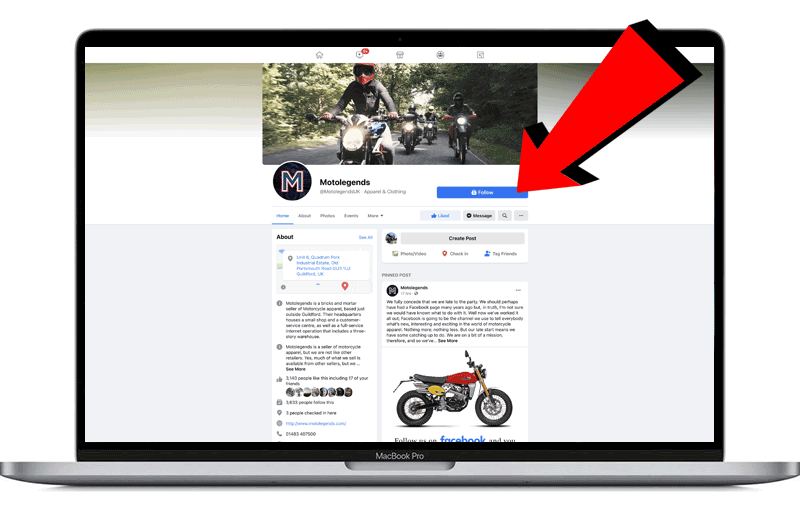 Click on the 'Follow' button and Santa might just be dropping off your new bike this Christmas.
Entering our competition really couldn't be much simpler. Go to our Facebook page, click on the 'Follow' button and you're in play. The bike is here already, and throughout the year it will be displayed in pride of place in our reception area. We will be drawing the winner later in the year, with a view to handing the bike over just before Christmas. So, get yourself signed up. We are committed to having the most informative, interesting and newsworthy Facebook page in the apparel business. If you are a committed biker, and take an an interest in riding more comfortably and better protected, you should sign up, because this is where you'll hear all the news first. But we all lead busy lives, with more incoming communications than any of us can cope with. Nobody really needs more clutter in their in-box. But hopefully the prospect of a shiny new Fantic in the garage in time for Christmas might just tip things in our favour?
---
Want some more? Please

click here

to return to our editorial menu.

Share this story