Halvarssons Mora jacket review
Published on: 17/02/2021 13:13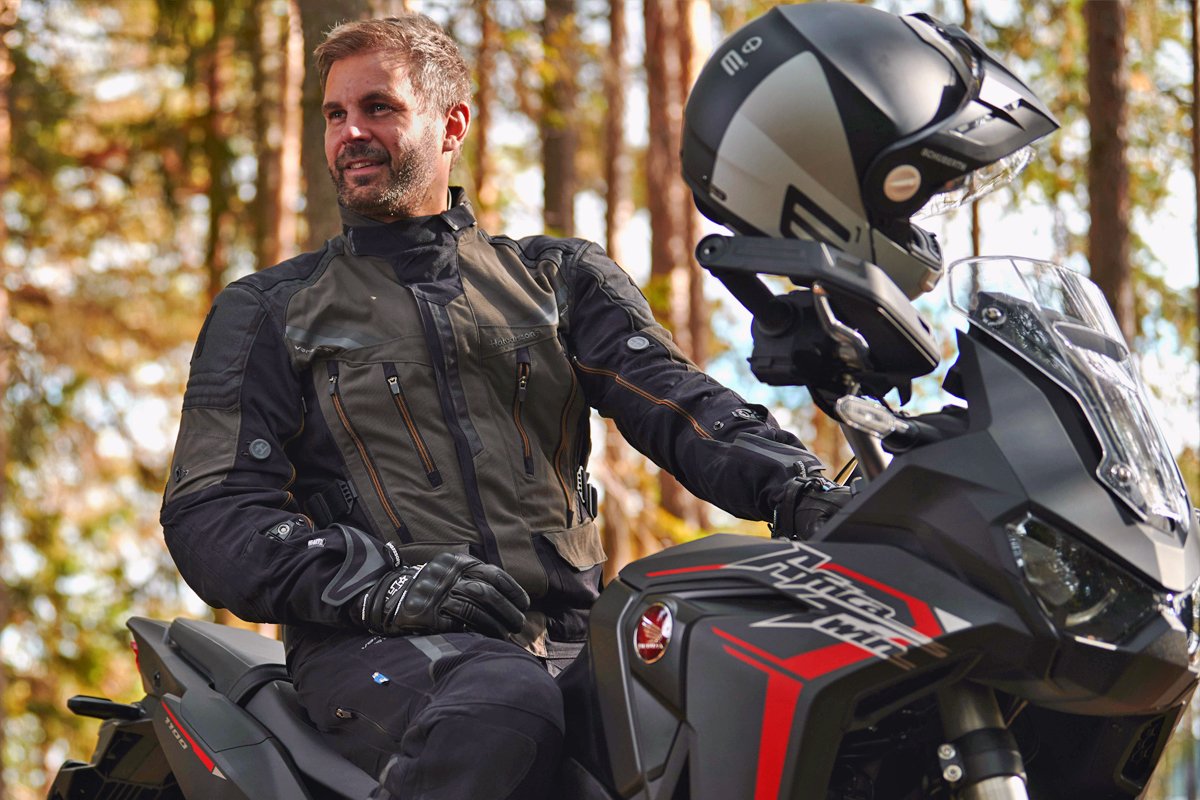 Now, much as we love Klim, they have somehow managed to convince a large swathe of adventure-bike riders that an adventure-riding suit should have a laminated membrane; indeed, the success of their legendary Badlands is very much built on this premise. Well, we disagree with the fundamental proposition. If you are working hard off the beaten track or crossing arid tundras, the last thing you want anywhere near your body is a waterproof membrane. And that's because a membrane, any membrane, is going to make it difficult to stay cool. A proper adventure suit will have a removable waterproof layer that you wear either inside or outside the main jacket. The Mora and its matching Malung pant, therefore, constitute a proper adventure-riding outfit. The pairing was introduced to replace the current Oman; although it's perhaps a bit premature as the Oman will stay in the range until at least the end of 2021.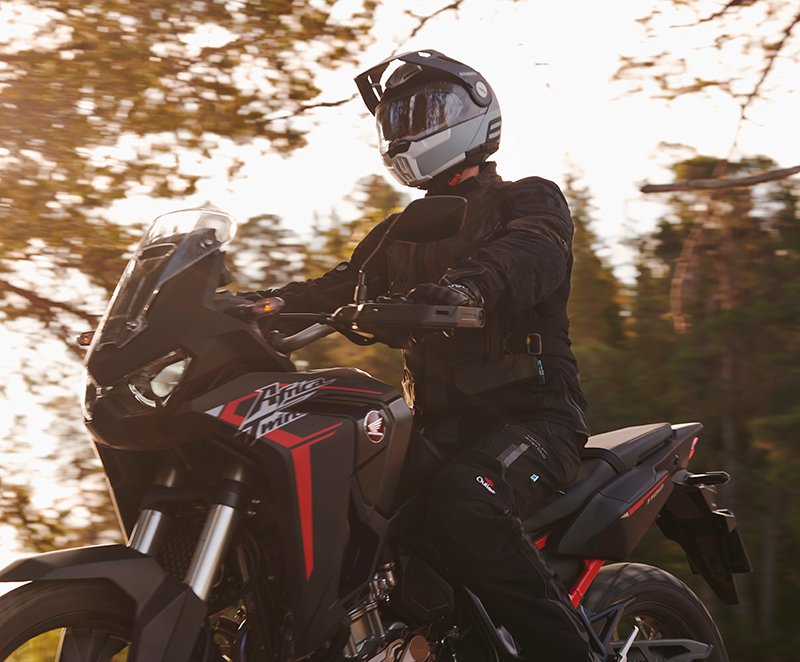 The Mora/Malung combination is a proper adventure suit; it's not a suit designed to just look the part.
The key distinguishing feature of the suit, therefore, is that the Dryway inner lining can be removed. As we have intimated, this is important in an outfit where you might find yourself riding off road. When you're running hot, the body generates sweat as a way of cooling itself down. The sweat turns to vapour and needs to escape from the body to enable the cooling process to occur. Any membrane will get in the way of this happening. But there's another problem that comes from having a membrane. You want the oncoming air to provide its own cooling effect, and again a membrane will impede this.
The membrane in the Mora/Malung is removable, obviously, but the removable inner, both in the jacket and pants, is also infused with Thinsulate to provide a thermal effect. And this, we think, is quite a clever way of arranging things because if you're wanting to stay warm on the bike it only makes sense to have the waterproof membrane in place as well. Similarly, if it's raining, most of the time a thermal component is also going to come in useful. It's a much neater solution than on the Oman where the thermal liner is a separate, third layer.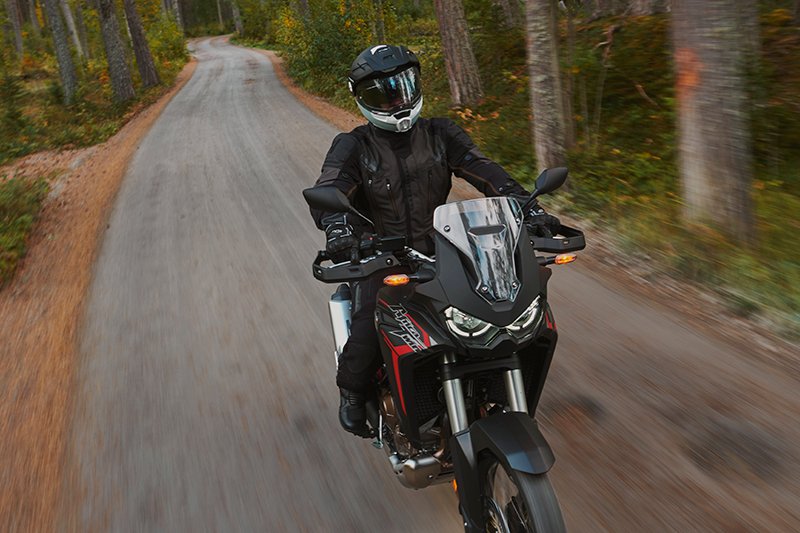 The waterproof membrane on the Mora is removable, as it should be on an adventure suit.
The material on both the jacket and the pant is a strong Polyamide fabric that is soft to the touch. In fact, the suit looks and feels far more like a road outfit than the Oman which was always a bit crunchy and crispy, and which therefore was not always particularly comfortable. There's a Durable Water Repellant coating to the outer fabric, as there is on just about every waterproof garment. This will give a degree of water resistance if the membrane has been removed, but only for a relatively short period. The DWR, as it is called, has not been applied heavily as historically it has been on some Halvarssons garments. And this again ensures that the outer fabric stays soft and supple.
In his review, Chris talks us through the suit, and also explains how it could be adapted for four seasons.
Having said what we've said about where a suit like this is best employed, we take the view that people who buy the Mora/Malung will still spend the majority of their time on the road. And understandably so. And so it's good to know that no compromises have been brooked in terms of road safety. In all the key zones, the outfit is lined with Hi-Art, Halvarssons' abrasion-resistant lining that increases the strength of textile materials by up to 500%. The elbows, shoulders and knees are also faced with water-resistant Nubuck for even more abrasion resistance. Given this, it is perhaps not surprising that the Mora and Malung are both AA rated under EN 17092. The suit is also equipped, top and bottom, with CE approved Level 2 armour. The back protector is an optional extra, and frankly we would always elect to fit a Level 2 D3O Viper protector rather than the cut-down surf board that Halvarssons offers.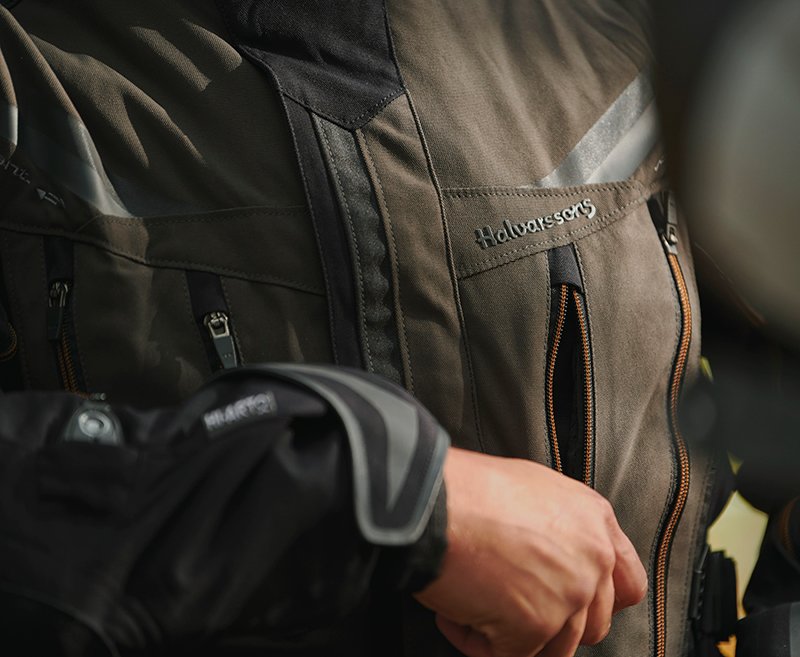 The Mora is well furnished with vents; on the chest, all the way up the arms and across the back.
The other feature that is important in a proper adventure suit is a plentiful supply of venting. And whilst the Halvarssons is perhaps no Klim in this regard, it doesn't have to be because air will be able to pass through the fabric once, of course, the membrane has been removed. Yet there still are more than enough vents for almost any conditions. On the Mora, you get four zipped vents up the chest, and hugely long, zip vents up the sleeves. There's also a permanently open exhaust vent across the back. It's tucked up behind a storm flap, so water ingress will never be an issue. On the pants there are zipped vents at the front and back of the thighs.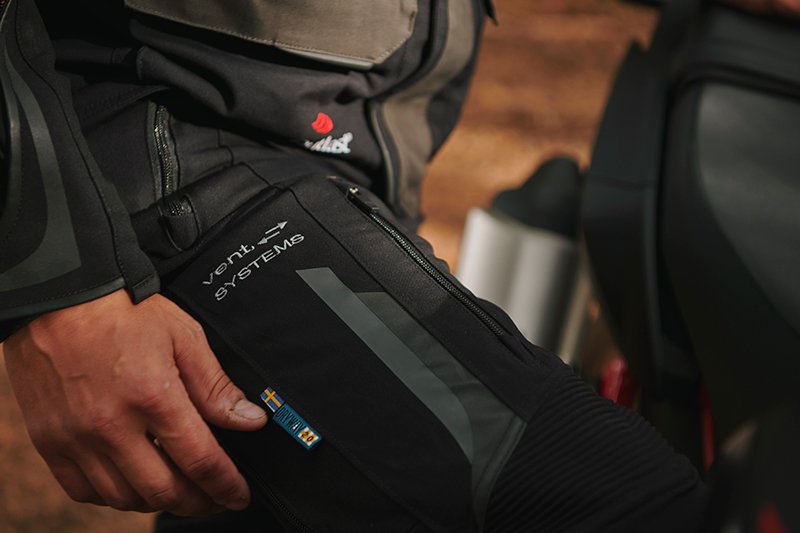 As with the jacket, the Malung pant is well vented, with vents on the front and back of the thighs.
For comfort and fit, the Mora has really useful, elasticated adjusters at the waist. You also get adjusters at the sleeve ends; and on the Mora the sleeve volume can be adjusted by means of a BOA-style knob. We've never seen this used on a sleeve before, but we think it's rather clever. Obviously this is an important feature. If you're riding in the summer you might want to tighten the sleeves to prevent flapping. But if you're wearing a lot of layers in colder weather you might need to go the other way. For the neck, Halvarssons has created a new adjuster mechanism. It works well. The front of the neck is made from Neoprene so it' supremely comfortable on the bike. There are also stretch panels in the elbows, shoulders and behind the knees as a further aid to comfort and wearability. The hem is adjustable, as are the sleeve ends. Whilst the opening at the bottom of the leg is large enough to accommodate all but the very clumpiest, plastic, off-road road boots.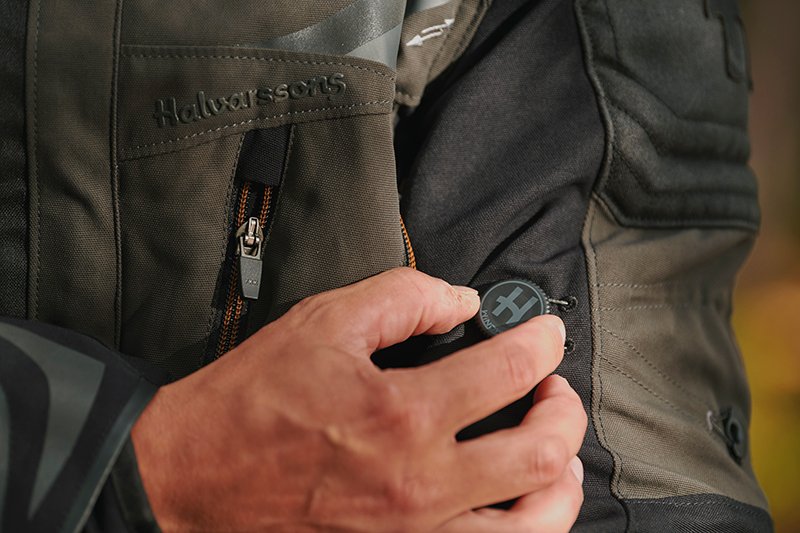 This is the first time we've seen a BOA-style adjuster to control the volume in the sleeves. Very trick.
Pockets are not in short supply. On the jacket, there are two upper Napoleon pockets. And two lower flap pockets. There are more pockets inside, obviously. The neck collar is removable. There's a full-length storm flap that fastens with both magnets and Velcro. And you get a full-length connecting zip to allow the jacket and pants to be zipped together. The pants come with braces, which you may not need if you're zipped in. You get two zipped pockets on the pants.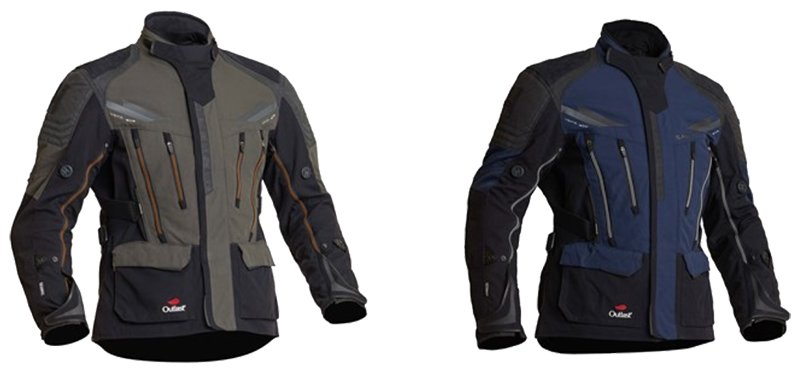 The Mora is a very impressive. Rarely have off-road jackets been this clever or this comfortable.
Overall, we really like the Mora/Malung combination. It has all the functionality that you need if you are riding off road, but it delivers the comfort and protection you need if you spend a fair amount of your time on the black stuff, as most people will do. We will finish this review with an addendum about how you can adapt this outfit to become a suit that you really could ride in all year round, and in all conditions, but before we do that we have to highlight one weakness with the suit; or more specifically with the Malung pant.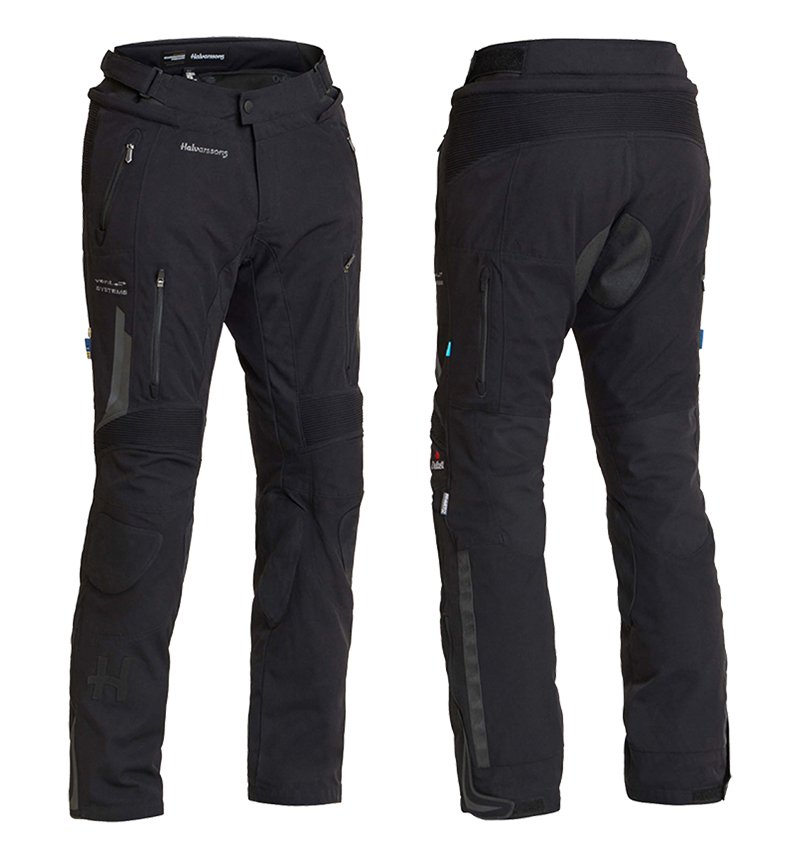 There is nothing wrong technically with the Malung pant. We just wish it came in more lengths.
And that weakness is that it comes in only one leg length. Now, to us, at this end of the market, this is simply not the done thing. This suit sells for over a grand, and for this kind of money you want a suit that fits properly. Unfortunately, if you're over 6' 2" the legs of the pant will probably be too short for you. Not definitely, but probably. And if you're under 5' 4", they will probably be too long. This is a shame, because it means that some people who like the Mora/Malung combination won't be able to make it work. Now, as a biker this is a shame, perhaps, but there are other options out there. For us as a retailer it's disappointing, but it is Halvarssons who will lose out. And that's because not having short and long leg options will reduce the potential market for this suit by some 50%. Other retailers may simply not care about issues such as how long the leg is in the way we do. Most retailers will take the view that if you can get into the pants, you are good to go. But, as with any trouser, there is a right length and a wrong length. We don't want anybody buying a pant that doesn't work in the way it should. And, unfortunately, that is going to be the case for a percentage of those who like the look of this particular combination. We very much hope that Halvarssons will get this right in its next production.
Turning the Mora and Malung into an outfit you can wear all year round.
As we often point out to customers who come to visit us in the shop here in Guildford, there is no such thing as the perfect motorcycle suit; the suit that you can wear all year round. Anything with a membrane runs the risk of simply being too hot if you head too far south. Whilst any suit with a removable membrane will be found to be a bit lacking as far as waterproofing is concerned, and for two reasons. In heavy rain it runs the risk of 'wetting out'. In fact, in heavy rain, this suit will wet out. Whilst even in moderate rain a removable waterproof layer can permit water to reach the body, because rain can pass through the zips that attach it to the outer jacket. You have to bear in mind that the membrane that comes with an adventure jacket is more of an emergency option. You wouldn't buy a suit like this to commute in. It is more hot- and dry-weather oriented than cold- and wet-wether oriented. Again, nothing is perfect. No suit offers the prospect of being right for all conditions.
Yet if you want to build a suit that you can wear all year round, a suit like this is a better starting point than an outfit with a waterproof membrane. And clearly that's because you don't want to wear anything with a membrane when you're riding in temperatures up in the eighties and above. But by supplementing this suit judiciously with the right additional components you could make this suit work in all conditions, all year round. In essence, you would need a better thermal component and a better waterproofing solution.
For warmth we would go with a duvet-style mid layer. The Down-X from Rukka is still probably the best solution because they do both a jacket and a pant. These pieces are not cheap, but they are light, not bulky, very portable and incredibly warm. Top and bottom would set you back £320, but make this investment and you'd rarely ever feel the cold.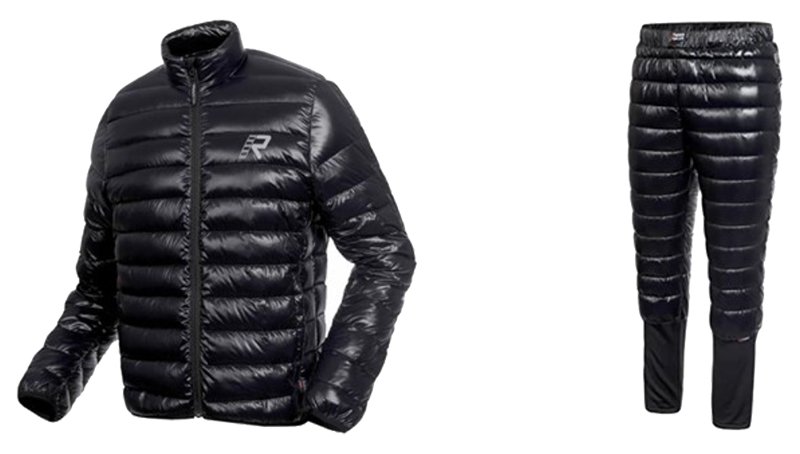 By supplementing the suit with better thermal layers, you could wear the suit deep into the winter.
The other addition would be an externally-worn waterproof. We would have no hesitation in recommending the Scott Ergo Pros. In fact, we wouldn't recommend anything else. We decided long ago to drop our other waterproofs, because these are so much better than anything else on the market. Again, not the cheapest, but if you can't get past the price you may just have to accept the prospect of getting wet from either the outside or the inside. That's up to you. A Scott top and bottom will set you back £160. The benefit of wearing your waterproof on the outside is that, potentially, you create a barrier to the rain that is even better than a laminated membrane. Now, in heavy rain, a laminated garment will still get wet. It won't 'wet out', but the water will still add a little weight and will contribute to heat loss. But with the Scotts worn over your outfit, the fabric of the suit itself won't even get damp. Arrive at your destination, take your Scotts off, and what is being worn underneath will be bone dry. Motorcycle jackets come with membranes inside the jacket because it's more attractive and more convenient. But, from a functionality perspective, a waterproof worn on the outside works far better. Ask any mountaineer or sailor; they don't wear waterproofs under their clothing, but over it.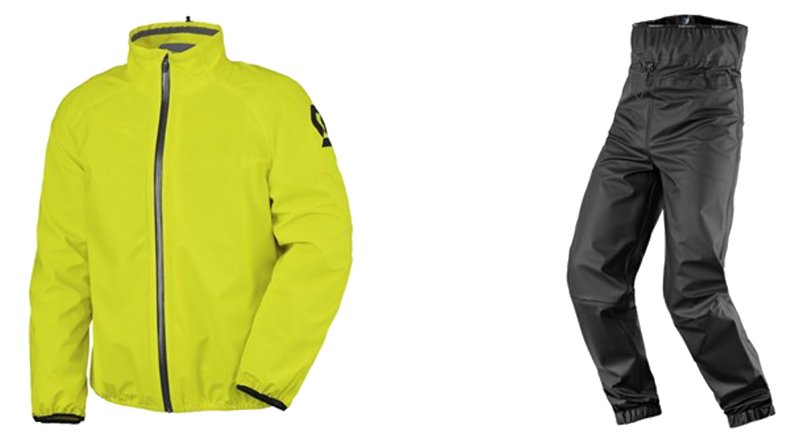 Put a set of Scott waterproofs over the top of your Mora jacket and Malung pant, and you will have created something that, in the heaviest rain, is going to out-perform even the best laminated garments.
So okay, in the scenario we have outlined, you would be in for an extra £480. Throw in a back protector and you're going to be up to £1450 for the full outfit. But then you would then have a suit that you really could wear all year round. Personally, we wouldn't throw the suit's inner waterproof layers away. They will deliver a little warmth on the very coldest of days, and on a short journey in light rain the removable waterproofs would certainly keep you dry enough. But in more inclement conditions you would don the Scotts. And so there you have it. Hot conditions, remove the liners. Cold conditions, leave the liner in, and then add the Rukka thermal layer when it gets too cold. When the heavens open, throw the Scotts over the top. Finally, don't forget. If it's really cold, but not raining, putting the Scotts on over the suit will still make a big difference to your riding comfort because they will drastically reduce the effects of wind chill!
---
Want some more? Please

click here

to return to our editorial menu.

Share this story