How To Choose a Pair of Riding Jeans
Published on: 16/01/2017 10:22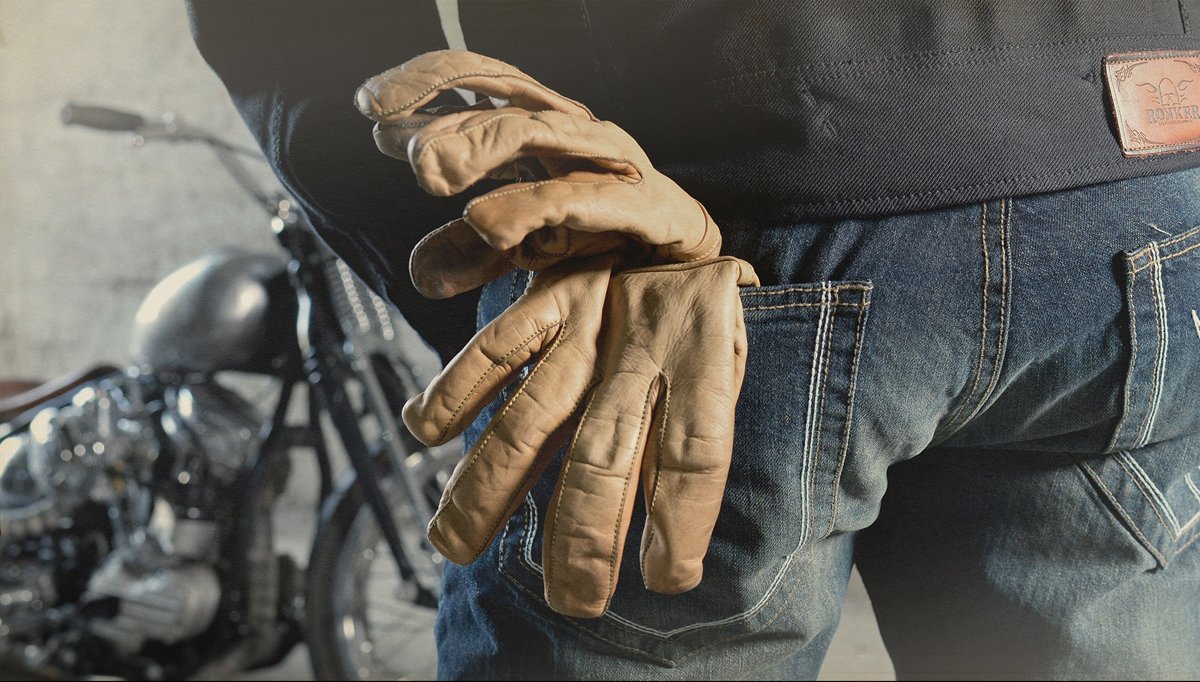 Riding jeans have come a long way in the last five years, yet they're probably still the fastest changing product in the motorcycle market.
But let's go back a step. For some bikers, the only acceptable material for a pair of riding trousers is leather. And yes, leather has natural abrasion resistance. But it has changed little in thousands of years, and comfortable as it is to wear, leather has little by way of thermal properties. It's uncomfortable when it's hot. And when it rains, it will absorb moisture like a kitchen sponge.
In truth, however, we have jeans that are almost three times stronger than leather in abrasion tests, so actually the case for leather pants is nowhere near as strong as it used to be.
But racers wear leather, so it must be best, reckon some. Well, racers have very specialist needs. When they come off, they like to slide smoothly along the track, and leather does that well; it is better than any kind of woven fabric in this context. But more importantly, racers like to wear leather because it creates less wind resistance at speed. When you're on the track, this is actually more important to a racer than the absolute level of protection.
The reality is that a modern riding jean can give you all the protection you get from leather, with a lot of other benefits thrown in for good measure. Until recently, most riding jeans have been constructed from a denim outer with an anti-abrasion lining like Kevlar on the inside.
Kevlar is strong stuff. It is, though, merely the brand name for a kind of aramid weave, and there are other weaves around like Covec and Pekev that perform somewhat better than Kevlar in a number of ways. But, important as the development of aramid technology has been, the other equally significant move has been towards jeans that, externally, look identical to those you buy on the high street.
The problem with most biking jeans was that they tended to look like biking jeans, with weird stitch lines, extra layers of material and darting that made them look a bit......well, a bit lacking in style. They did the job, perhaps, but they made you look like a biker. And that's not always what you want.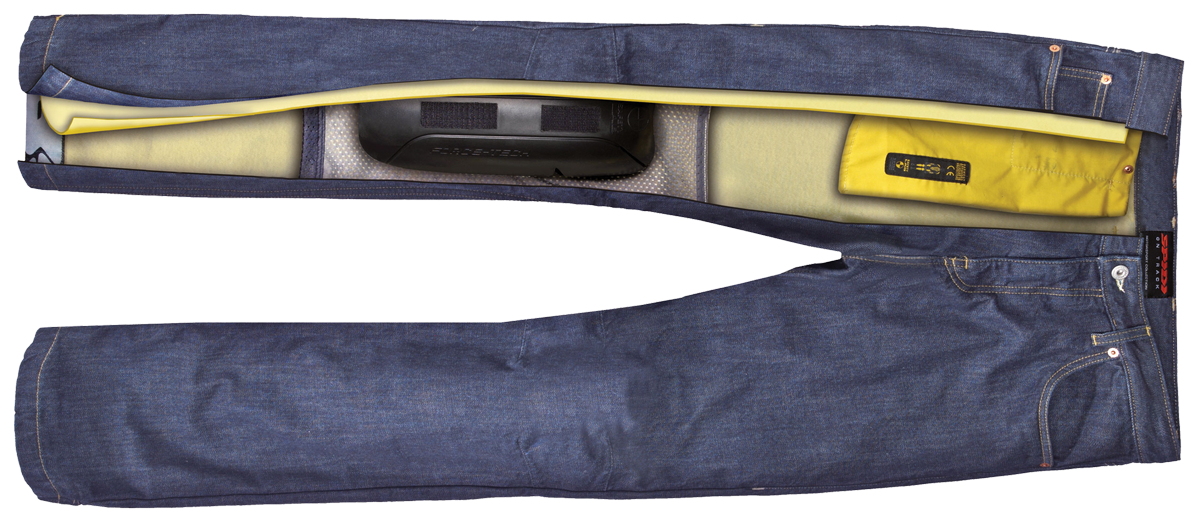 This is how, traditionally, a Kevlar riding jean has been constructed. There's an outer denim layer, and then a lining that is constructed from something like Kevlar.
Yes, they're protective, but they can be a little heavy and, in the summer, just too warm.
Many of the better jeans out there meet this brief. We happen to think that people like Rokker and Resurgence do this particularly well, but most brands these days offer a jean that could pass for a standard 501.
Nearly all protective jeans will also take CE armour. It's not always provided, but any decent jean will have adjustable pockets in which the armour can be placed. And this is important, because abrasion resistance provides protection only from sliding down the road and from tearing. Just as important is impact protection, and this comes only from the armour.
The choice of riding jean will therefore come down, on one hand, to style, colour, fit and weight. The other criterion will, of course, often be related to the perceived level of protection offered by a particular jean. It's not easy to know how abrasion resistant most jeans are. Some will have been tested; some will not have been. Currently there is no legal requirement for testing, or even a universally agreed standard.
Despite this, the reality is that when you buy a jean, you will often be treading a line between wearability and protection. Now having stated that there is no universally accepted testing methodology there is a generally accepted way to measure abrasion resistance. The material's strength is measured by the number of seconds it takes for the material to wear through when it is lowered onto a revolving belt. And, this, in turn, is meant to approximate a 'slide' time if you come off the bike at around 50mph.
Now, by and large, leather lasts around four seconds on the test. A pair of Levi's, just half a second. The world's strongest jean, Resurgence's Voyager jean, lasts 10.83 seconds. We sell a number of jeans that we have good reason to believe are more abrasion resistant than leather. But many, we suspect, would deliver slide times of around two to three seconds.
This is way, way better than a High Street jean, but the reality is that many riding jeans will deliver a level of protection that sits somewhere below leather. For most of us, this is neither a surprise nor a problem, as we prefer the prospect of riding in denim over leather. Especially, when we're off the bike. But you do need to ask the right questions when you buy a riding jean.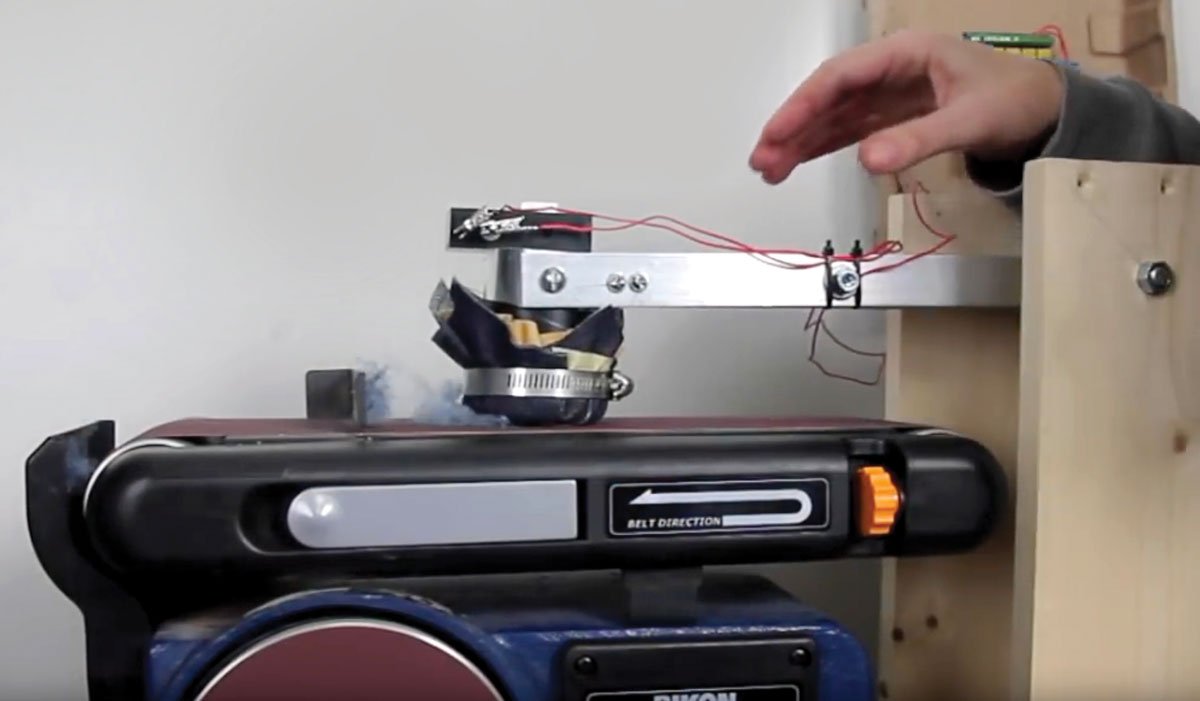 The Cambridge test, in essense, involves lowering a fabric sample onto a revolving sanding belt. The measure of abrasion resistance is measured by the seconds it takes for the fabric to wear through.
We recently had a customer in the shop here in Guildford who was praising the comfort of the protective jeans that he had purchased from a well-known Italian racing brand. He was convinced that they were highly protective and, indeed, that was what he had been told in the shop where he bought them. But when we examined them, it became clear that the material was 100% cotton. The only protection came from the knee armour which, whilst incredibly light, was not particularly protective either.
Here at Motolegends we are often asked to evaluate and test new products before they come to market, and from this work we know that, in the coming years, the nature of protective motorcycle jeans will change dramatically. In the future, motorcycle jeans will increasingly be what is termed 'single-layer'. Their strength will be derived from an outer fabric that will be woven from a mix of cotton and some other form of immensely strong fibre.
These jeans will have no lining. They will be lighter and easier to wear than lined jeans. Over time, the concept of a 'Kevlar-lined' jean will come to be viewed as crude and old fashioned. The single-layer jean is actually already with us. Our Edwin jeans that have been produced in collaboration with Kushitani are single-layer; woven from a mix of Cordura and cotton. The Spidi J-Strong jeans are similarly constructed.
You would be hard pressed to distinguish either from a fashion jean, although both will offer substantially greater abrasion resistance than a jean you might buy on the high street. But just around the corner are single-layer jeans that will deliver everything a lined jean ever did.
Rokker's new Rokkertech jeans were on display at Bike Shed. They will look like the very coolest jeans you might find in a Shoreditch denim emporium. They will be easy to wear and really lightweight, yet very protective. Within a few months, however, we are expecting to see a new single-layer jean that will meet the existing EN 13595 standard for Personal Protective Equipment at the Level 2 standard. Now this is the old standard, not the new dumbed-down standard that is due to be published by the EC authorities later this year.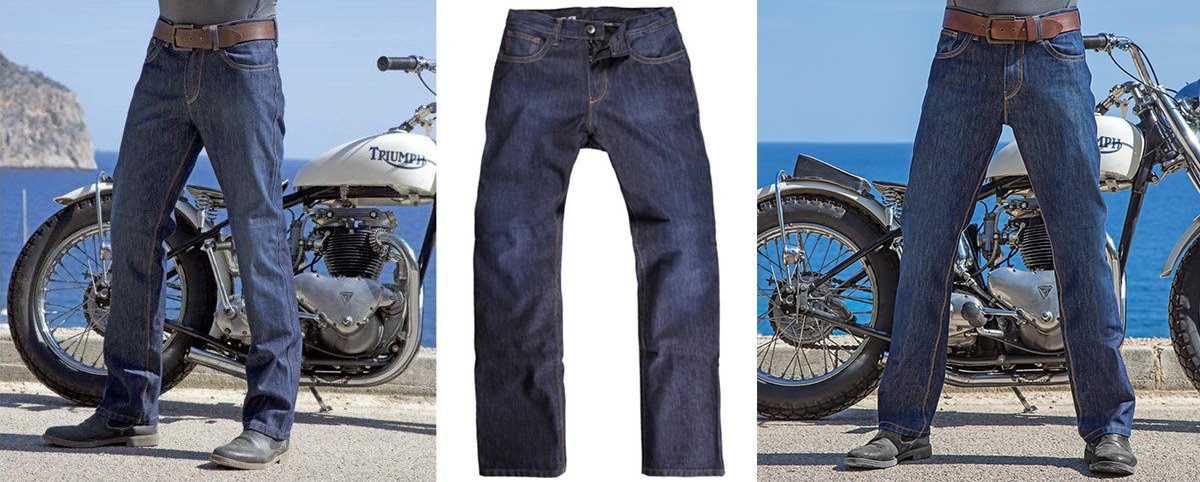 The Revolution jeans from Rokker are pretty amazing. They're strong, incredibly light, will withstand a four hour rain storm and still keep you dry.
They even have a temperature-regulating facility. They are probably the cleverest motorcycle trousers we've ever come across. And if this is the direction of travel for motorcycle jeans in the future, then we're going to see some amazing product in the coming years.
Of course, we could not, with good conscience, talk about the move towards single-layer protective jeans without mentioning Rokker's amazing Revolution jeans. These jeans are single-layer, and demonstrate what the future might hold. The Revolution is woven from a mix of Dynatec and cotton. They're superbly comfortable, amazingly strong, yet unbelievably waterproof.
All we can say is that if the future heralds riding jeans that are as clever, and potentially even more clever, than the Revolutions, then the future is bright.
And, as you'd expect, we at Motolegends are determined to be in the vanguard.
Shop for RIDING JEANS
Want some more? Please

click here

to return to our editorial menu.
Share this page