If I were a Police motorcyclist...
Published on: 19/06/2019 13:00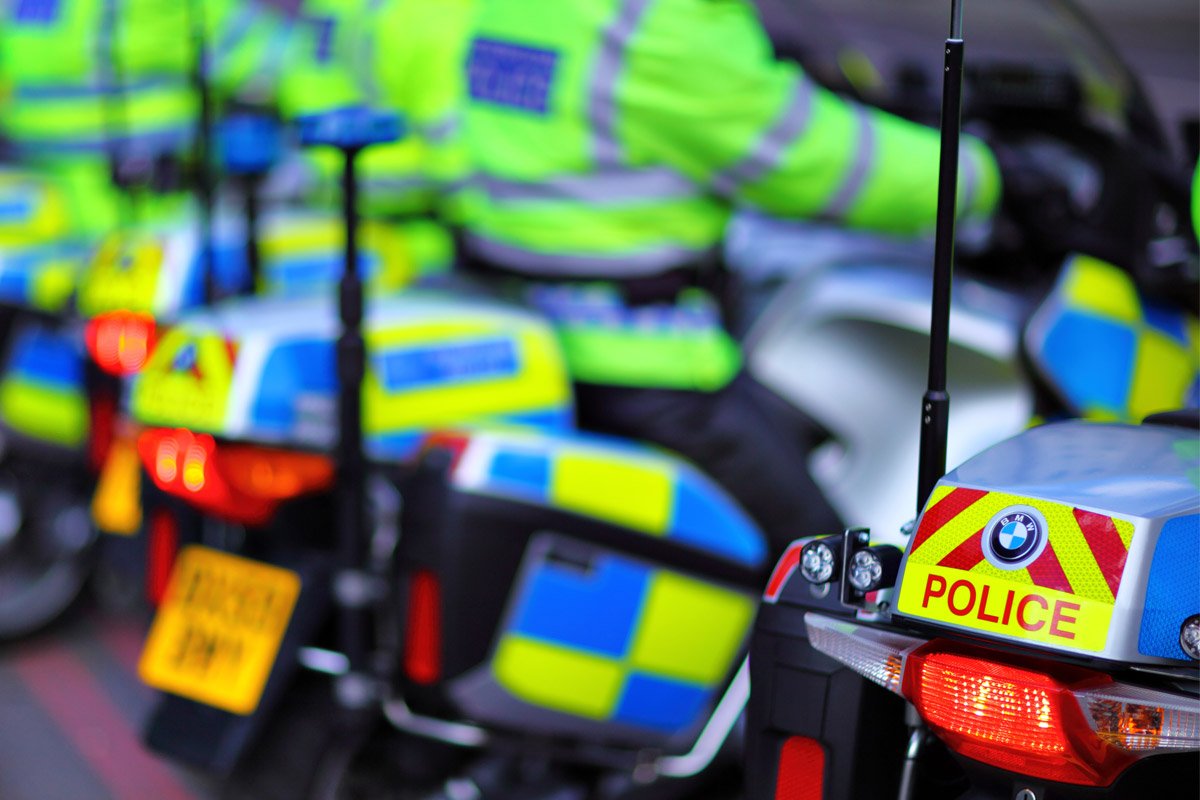 IF I WERE A POLICE MOTORCYCLIST...
If I were a Police motorcyclist, I am pretty sure I wouldn't want to ride around all day in a leather suit.
Here in the UK, however, many forces do insist on equipping their riders with leather combinations. And we can only assume that this has something to do with Health and Safety. Presumably, those in the Human Resources departments who are responsible for kitting out Police riders feel that putting officers in leather reduces the possibility of liability claims.
And yes, it has to be admitted that, in certain situations, there is a case to be made for leather. Leather is strong, and it is highly abrasion resistant. If you were to come off the bike at speed on a race circuit you would most definitely want to be wearing a leather outfit rather than a textile one, but accidents on the road are different. On a smooth track surface you can slide a great distance. But on the public highway, you're more likely to slide for a second or so, then roll over, slide a little further, and so on.
In our opinion, it is a mistake to choose a riding outfit based solely on the remote possibility that one might, one day, find oneself sliding tens of metres along the highway. And that's because, whenever you're not surfing down a tarmac road, the last thing you want to be riding in is a leather suit. To ride safely, you have to be comfortable on the bike. And if you ride in leather, a lot of the time you simply won't be.
A full-on, Police-grade, two-piece, leather suit weighs a ton. To make matters worse, leather, it has to be acknowledged, is not very breathable, so when it gets hot, a leather outfit will simply make you feel hotter. And sweatier. And leather has no natural thermal properties, so when the temperature outside drops, so will yours. But it's when it rains that leather really is unpleasant. One can only imagine how uncomfortable it would be if you had to be in the saddle for eight hours on a rainy day. And that's because leather will absorb moisture like a dried-out chamois. Making the suit even heavier, and you even colder.
No, if we were going to spend all day on a bike in all conditions, we'd want to be wearing a textile suit. For some reason, cladding Police motorcyclists in leather seems to be a particularly British fetish. In France, Germany, Spain and Italy, the Police wouldn't dream of riding in leather. It's simply too heavy, too hot, too cumbersome, and too restricting.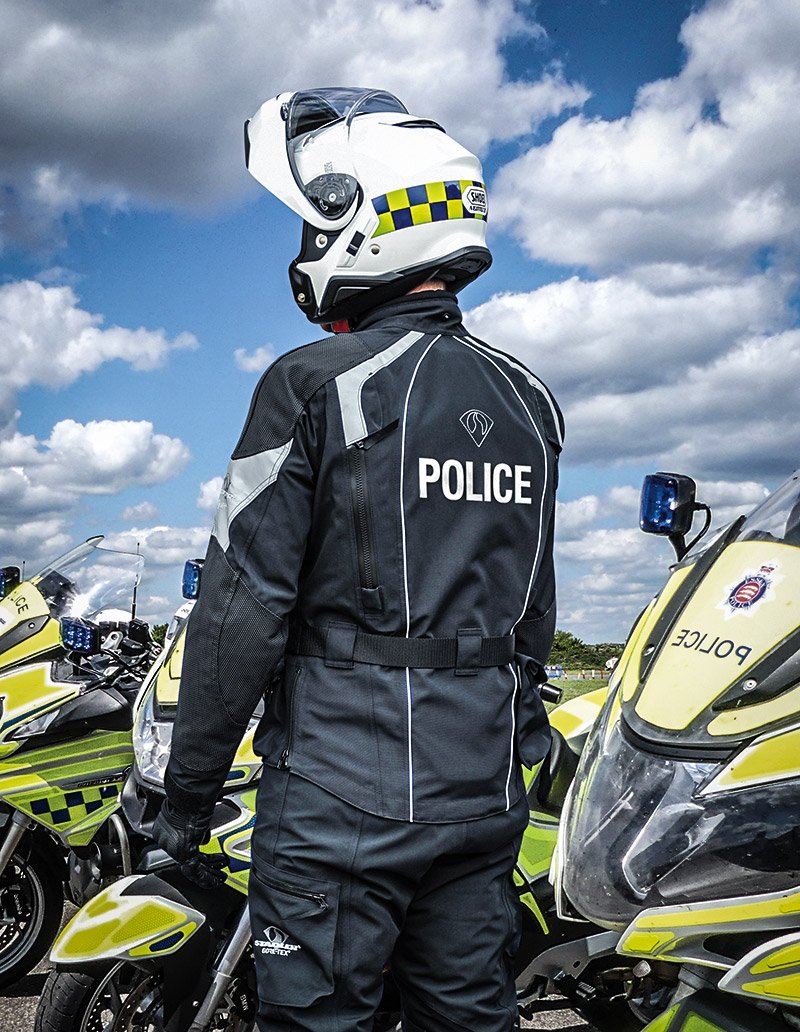 Frankly, given what we as a company know, if I were a Police motorcyclist the textile suit I'd want to wear is Stadler's Supervent 3. The suit's outer chassis is a Gore-Tex, three-layer Pro Shell. There's simply nothing that's going to keep you drier. Unlike a drop-liner suit, a laminate suit like the Supervent 3 will not absorb water, and will never wet out. In heavy rain, the Stadler is going to be sooooo much nicer to ride in than anything made from leather.
The Supervent 3 also happens to be incredibly well endowed with venting, with huge vent zips front and back, and a vented panel that can substitute for the central zip. The Supervent also has uncrushable, internal, perforated, 3D piping that directs air coming through the vents all around the body. In this respect, the Stadler is certainly in a different league to anything that comes out of Finland.
There is, we would have to admit, one weakness with the Supervent. And that is its thermal layer. It's actually not particularly warm. Stadler is a German company, and most Germans don't ride through the winter, apparently, so the jacket's thermal layer is not all that impressive. It's why your average German Polizei motorradfahrer will almost invariably supplements his jacket with Stadler's 'Snug' down-filled jacket in the winter months.
But important as it is to be comfortable on the bike, safety is still obviously paramount if you spend your days haring around, chasing bad guys. And there's no textile suit money can buy that is safer than the Supervent. In all the most vulnerable areas, the Supervent jacket is reinforced with swathes of Superfabric, the most abrasion-resistant fabric you can use on a motorcycle suit. Whilst, for impact protection, the Supervent is endowed with armour that exceeds the highest Level 2 standard by up to 60%. And incorporated into the suit is what is undoubtedly the largest and widest back protector in the business.
We've already postulated that to ride safely, you have to be comfortable. Well, on the bike, the Stadler is comfortable to wear. Off the bike, it has to be admitted that there are suits that are nicer to walk around in. Suits with more stretch in their fabric. Suits that are more pliable. Suits with softer armour. Once you're on the bike, however, any potential stiffness tends to disappear. And that's because the Stadler suit was designed to work on the bike, and not for drinking tea or knocking back bacon butties. Not, of course, that you'll ever find a Police motorcyclist kicking back, and drinking tea or munching a bacon sarnie!
If I were a Police officer, I think I might also be impressed by the fact that so confident is Stadler of the quality of its garments that it backs them with a 10 year warranty. I might also like the fact that Stadler can make me a totally bespoke suit; a suit that will fit me perfectly. And me alone.
If I could chose what motorcycle suit I wore, it would definitely be the Stadler. And I'd be in good company because every single German police force issues Stadler suits to its riders, as does the Garda in Ireland. The way we see it, if you're going to spend the amount of time on a bike that a Police rider does you're going to want the best. And, as far as we're concerned, that's exactly what the Stadler Supervent is.