Klim Kodiak jacket review
Published on: 24 April 2019
In this Klim Kodiak jacket and pant review, we explain why this outfit is one of the highest quality, most protective and most vented textile road riding suits on the market.
Now, we have not always been impressed by the quality of the motorcycle gear that originates from across the pond. Yes, we've long been fans of the Aerostich one-piece riding suit, but most of the other gear we have been involved with has disappointed. Brands like Roland Sands, for example, have exuded style, but left much to be desired in terms of their protective qualities and their quality of manufacture.
Riding a bike in the US is not the same as it is over here. Big V-Twins dominate the American market. Protection is usually a secondary consideration. In a country in which helmet wearing is compulsory in just 19 out of 50 states, the abrasion, tear or puncture resistance of a garment is unlikely to arouse too much excitement.
And with the weather to be found in many parts of this country, the waterproofing qualities of a jacket or pant are perhaps never going to be the prime consideration. And certainly one manufacturer we had dealings with a few years ago just laughed at us when we suggested that their so-called waterproof jacket let in water. This is a market in which, it seems to us, form often rules over function.
But the exception Is Klim. Klim has always been about off-road riding, and we would suggest that what these guys produce is the best of its kind to be found anywhere in the world. Because of their off-road bias, we've never really had that many dealings with the brand. We did become involved in the very early days; but that was before we really understood what they, and indeed we, were all about.
But what has become clear in the last 12 months is that Klim wants a piece of the action in the road-riding arena. Until recently, their Badlands suit was considered to be the best option for those who spend a lot of their time on the black stuff, but actually that suit still has the classic Klim 'boxy' fit that works so well off the beaten track, but not so well on it.
Which is where the Kodiak comes in. The Kodiak really is a road suit, and it's a heck of a bit of kit.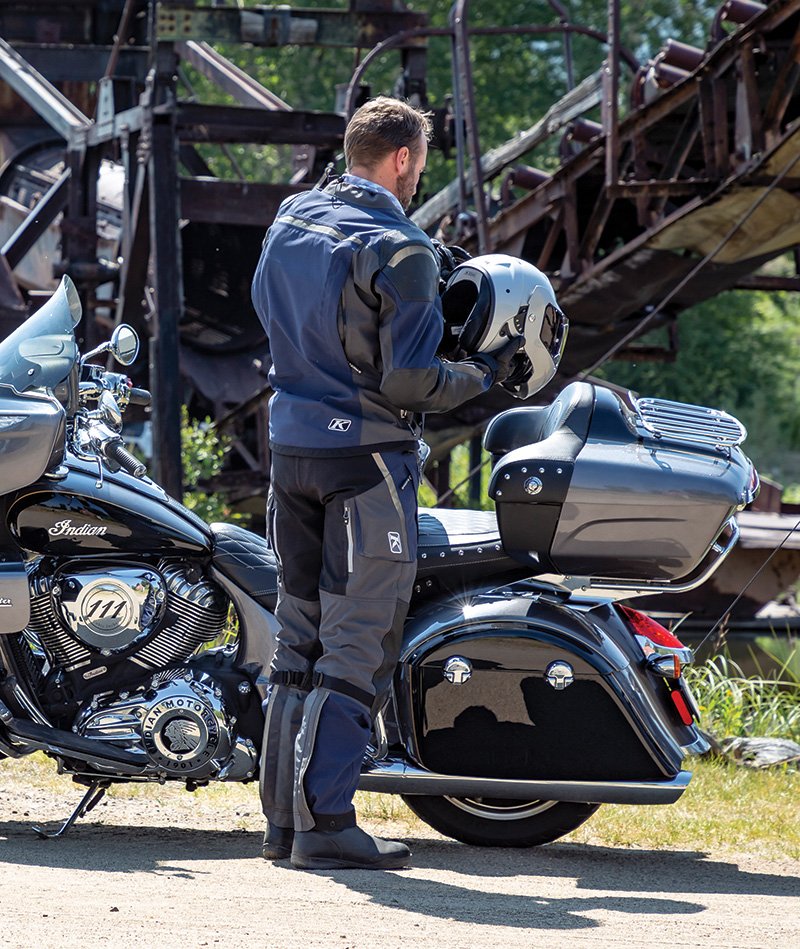 WHAT IS THE KODIAK?
The Kodiak differs from any Klim jacket that has gone before, and we'll explain what those differences are, but perhaps the key one is fit. Klim themselves talk about the Kodiak as a jacket that is designed for the European market. But we don't really buy into this. Not all Americans breakfast, lunch and dinner at McDonalds. The Kodiak is a slimmer fitting suit, in our view, because it is aimed single-mindedly at the on-road rider. And on the road you don't want swathes of excess material flapping in the wind. Off road is different. Off road you don't want to be constrained; you want unrestricted freedom of movement. On the black top, you want a more aerodynamic profile.
THE MAKING OF THE KODIAK?
The chassis of the jacket is a 3-layer, Gore-Tex Pro Shell. Gore also produces a 2-layer laminate product called the Performance Shell, but their Pro Shell is the real deal. It may not be quite as pliable as the Performance Shell, but it will be more robust and dependable. Obviously, a Gore-Tex laminate construction means that the Kodiak will never wet out, and will keep the rider as dry as is ever going to be possible on two wheels.
Klim obviously wanted the Kodiak to be up to the kind of accidents that happen on the road, as opposed to the ones that tend to happen in the backwoods. Off road there's a propensity to hit things hard and frequently, but you don't slide much. On the road, you slide. They also wanted to save weight, and to make the suit more flexible and easier to ride in. Which is why the Kodiak jacket features leather panels for abrasion resistance on the shoulders and elbows, as opposed to the Superfabric and Armacor that they use on their off -road suits. These leather panels, by the way, are supplied by Gore, and they're perforated to make sure that the breathability of the Gore-Tex membrane is not compromised.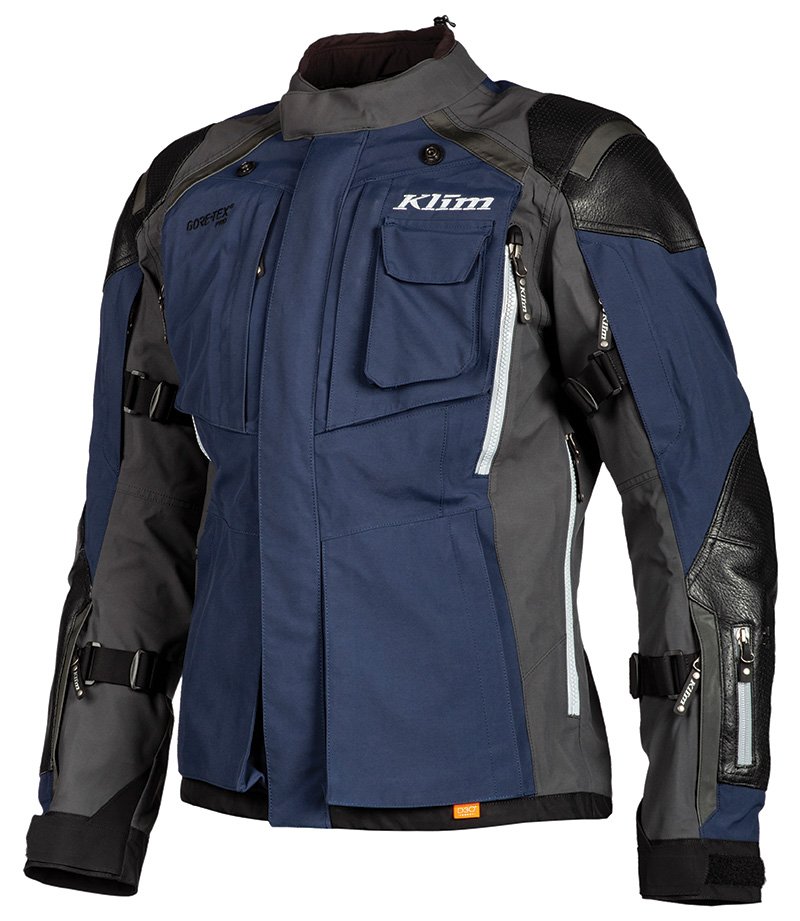 The only area in which the Kodiak is going to be found wanting in the European arena is in its approach to comfort and, by the same token, insulation. Most high-end touring and commuting suits emanating from the more highly regarded European brands are comfortable to put on, and cosset the rider.
The Kodiak, by contrast, is a bit crispy, because Klim is really all about the outer shell. And there's every logic in taking this approach. If you want a suit that you can wear all year round, it has to be well vented. A jacket that does not set out to provide thermal protection and a comfortable wearing experience can be extremely well vented.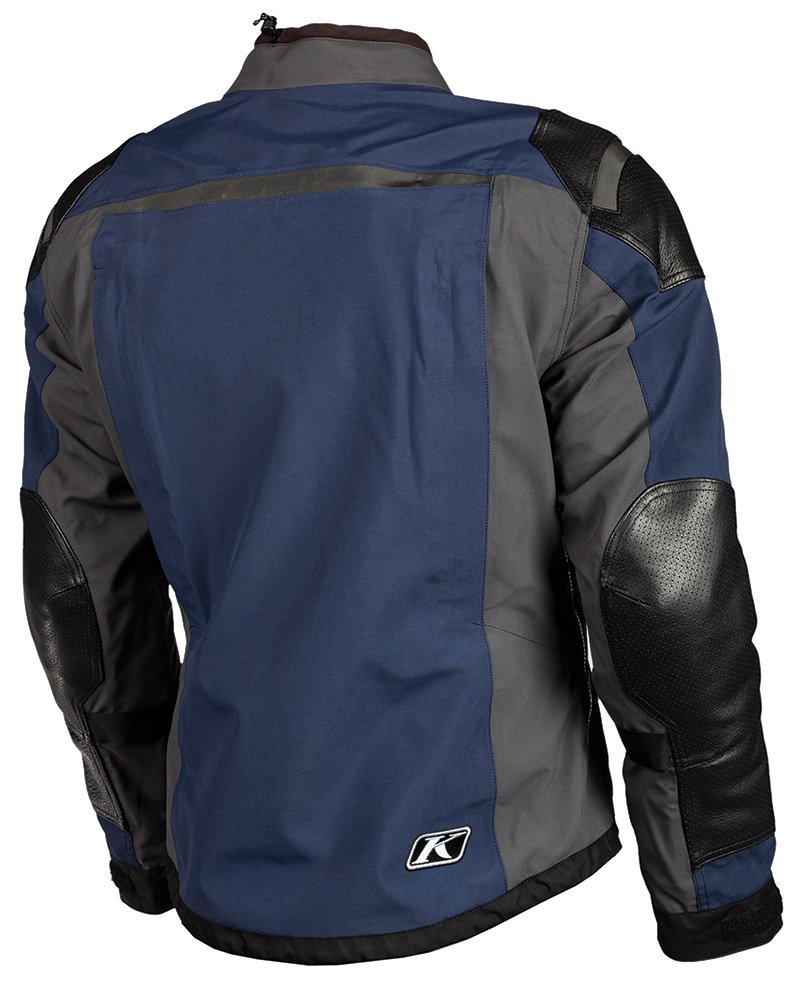 By contrast a jacket that is padded for comfort and that comes with high levels of insulation will never really be particularly well vented. Personally, we see the benefits of the Klim approach. It means that when it's really hot, you have a jacket that's going to be cool and highly breathable. If you want to keep warm in the colder months all you have to do is layer up. That can be a combination of base layers and mid-layers, a down jacket perhaps, or even an electrically-heated jacket.
Put it like this, if you are looking for a suit that can do just about everything, the Klim Kodiak, supplemented with the appropriate insulating layers, is going to be about as close as you're ever going to get.
THE NITTY GRITTY DETAIL
The Kodiak jacket comes with D30's highly vented Aero Pro armour in the elbows, sleeves and back. You also get a mesh pocket for a chest protector. All the armour is adjustable.
You get no less than 10 ventilation openings on the Kodiak jacket ; two on the chest, two up the flanks, two in the back, two on the triceps, and two on the forearms. On the arms you also get straps that look like volume adjusters, but actually these straps are designed to hold the vents open for a better airflow. Clever!
Pockets are also a big thing for Klim. If there's a free space anywhere on the Kodiak, Klim has filled that space with a pocket. There are two external pockets on the chest, two lower, handwarmer pockets, two internal zipped pockets, two internal stash pockets, a concealed passport pocket, a Napoleon pocket and two small pockets for gadgets or passes.
The sleeve ends close by means of Velcro. There's an elastic adjuster for the waist, and on the neck collar. To make the Kodiak as comfortable as it can be on the road, and because the jacket is more fitted, you get gussets behind the shoulders for improved articulation.
Now even though the Kodiak has supposedly been designed with European riders in mind, it still isn't going to work on everybody. And that's because it doesn't come in a huge array of sizes. The smallest size is 48 (38" chest), the largest is 58 (48" chest). In truth, many brands go down to 46, whilst both Rukka and Halvarssons go to 64 and, in some styles, to 66. But the Kodiak will come in some D-sizes, which will help accommodate those who are more generously endowed in the horizontal plane than they are in the vertical one.
THE KODIAK PANTS
As you would expect, the Kodiak jacket has a matching pant that zips into it. Like the jacket, it is made from a Gore-Tex Pro Shell with perforated leather panels, Level 2 D30 armour throughout, a Poron lower back protector, two cargo pockets and four vents.
Again, in terms of sizing, the pants run from 48 (30" waist), to 58 (40" waist); and in sizes 50 to 58, D sizes are offered too.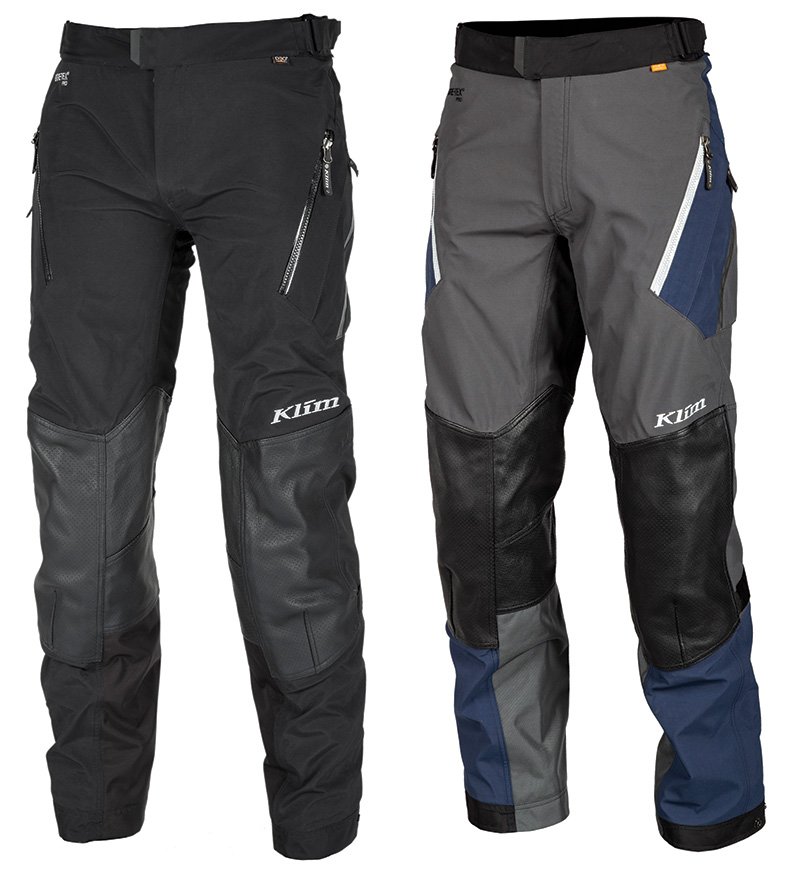 SO WHO IS THE KODIAK AIMED AT?
As we have explained, the Kodiak breaks the mould for Klim in that it has been designed first and foremost for road riding. With its enormous number of vents, you could still go off-road in the Kodiak, but that is not its forté, and it might feel a tad restricting. But if you wanted a suit you could ride both on and off-road in, then the Kodiak wouldn't be a bad option.
If you're a high-mileage commuter, and do little other than ride into work, then it may be that the Rukka Nivala presents a more useable, one-stop solution. It will be warmer in the winter, and more comfortable all year round, although at the height of summer, the Nivala will never be cool to wear.
If protection is the primary concern, above all else, there is always the Stadler. The Stadler, like the Nivala, is a Gore-Tex Pro Shell outfit. It's better vented than the Rukka, but probably not as well vented as the Klim. It is not as comfortable to wear as the Nivala, and it's not, in standard mode, as warm. But with armour that exceeds Level 2 by up to 60%, and huge areas of Superfabric, a more protective suit has not been created.
The Kodiak will appeal, we feel, to the adventure-bike owner or rider; the rider who perhaps does some off-roading, but who spends by far the majority of his time on the road.
Of one thing we can be confident. If you want a system that will allow you to ride in all weather conditions; from zero degrees to the mid-thirties, in arid heat as well as tropical storms, we don't think there's a better starting point. The Klim Kodiak might well be the one suit that does everything. You will need to invest in the right layers, but do so and you may never need anything else.
Click Klim Kodiak suit to shop the Klim Kokiak suit.
Want some more? Please

click here

to return to our editorial menu.