Klim Krios Pro helmet review
Published on: 22 July 2019
The Krios Pro from Klim is not any old helmet; it's not even any old adventure helmet. In our book, the new Krios Pro is more akin to a revolution than a mere evolution.
We're going to walk you through all the helmet's key features, and all its bells and whistles, but what makes the Krios Pro such a big deal is that it uses a material known as Koroyd rather than a traditional EPS liner.
Koroyd is constructed from what looks like plastic drinking straws. 95% of Koroyd's construction is air. But what makes it so amazing is the way it absorbs energy, and therefore impacts.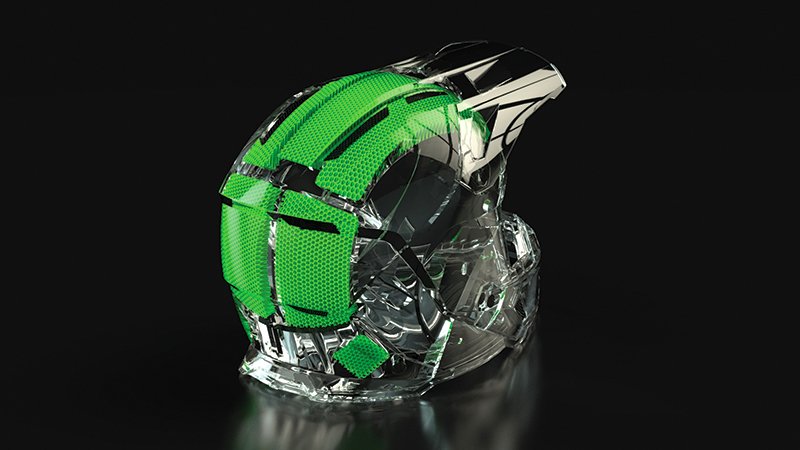 For a given thickness, it absorbs 25%-35% more energy than an EPS. But unlike an EPS, it does so uniformly across its structure, however hard the impact. In this it differs to EPS which becomes less absorbent the harder the impact. Koroyd also performs in the same way whatever the temperature, whereas an EPS does not.
The bottom line is that a helmet with a Koroyd liner will be lighter and safer; and in a motorcycle helmet those are two of the most important things you can look for.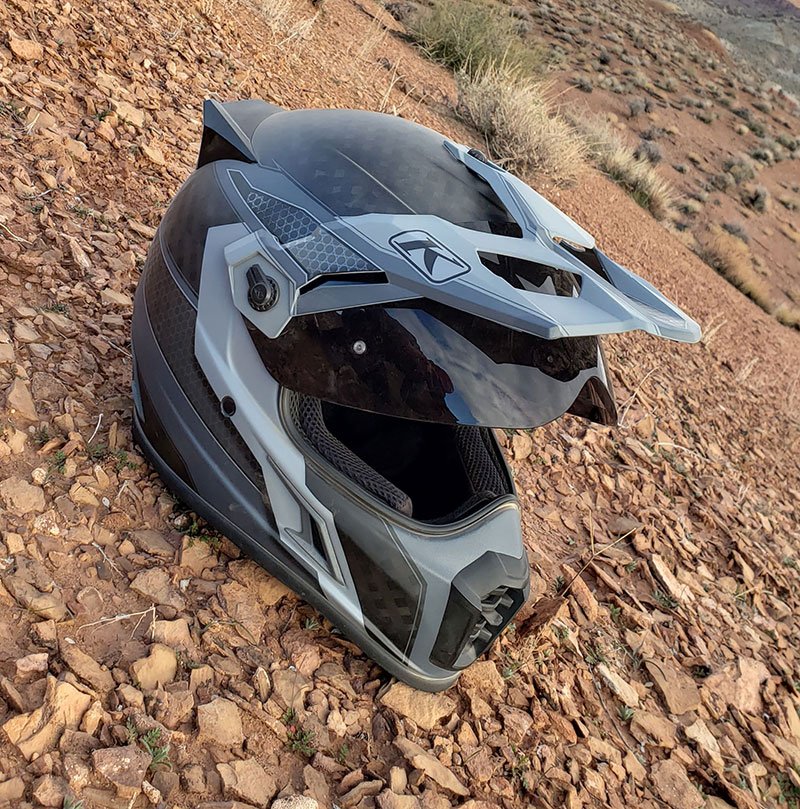 THE DESIGN OF THE KRIOS PRO
The Krios Pro starts out as an off-road and adventure-riding helmet, although it has more than one trick up its sleeve. The shell is made from hand-laid, carbon fibre, which makes it incredibly light; useful if you do ever venture off the beaten track. In fact, in size large, it weighs just 1,300 grammes.
The helmet has good venting, with a three-position nose vent and an adjustable forehead vent. Air exhausts through the ports at the back of the helmet and, because of the open structure of the Koroyd, the helmet flows high volumes of air very easily.
The peak is obviously useful when riding into the sun, but it can be removed for a more road-oriented look.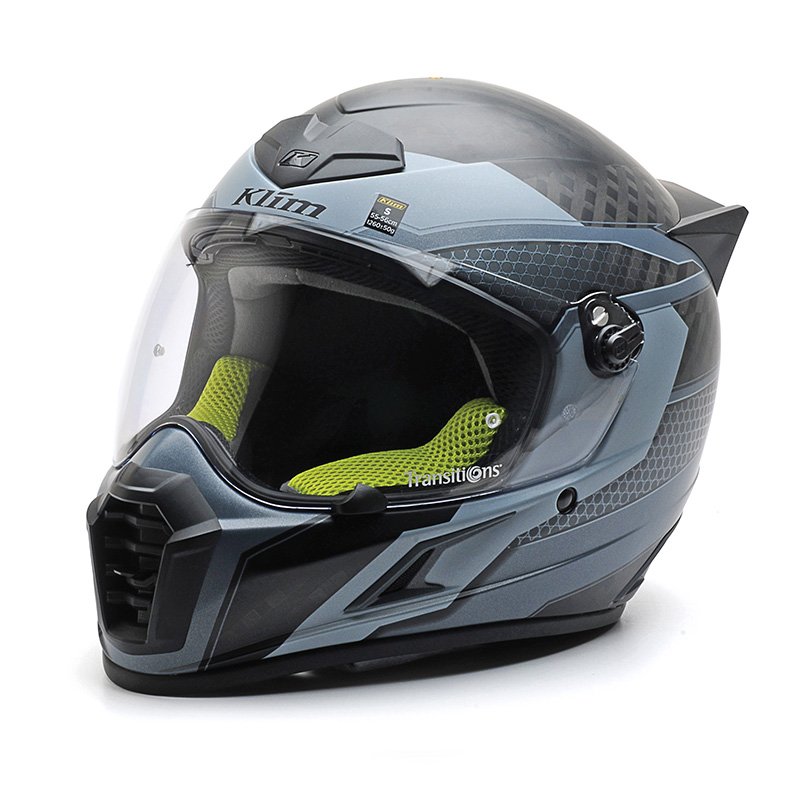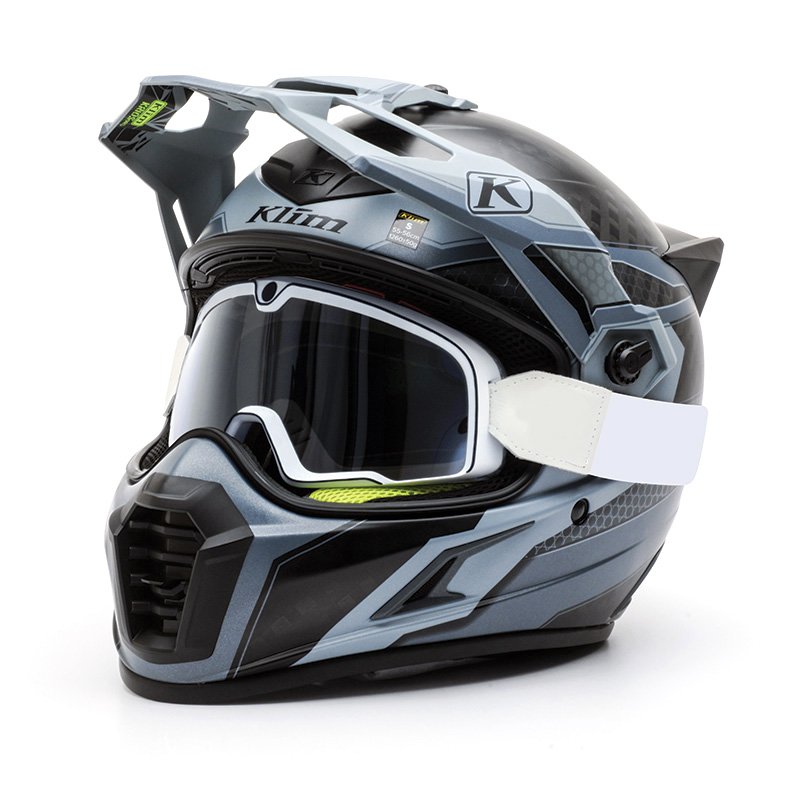 The visor can also be removed to allow the helmet to be worn with goggles.
As we all know, drop-down, sun visors are very useful, but they are another thing that can go wrong and, to accommodate a sun visor, a bigger shell is required. The shell also has to contain a cavity into which the visor can be recessed. And that recess can and will generate extra noise.
Well, it is for these reasons that the Krios Pro comes with a 'Transitions' visor that darkens in bright light. These visors work. Shoei offers them for some helmets, and they're very impressive. Buy a 'Transitions' visor on its own, and will cost around £200. Factor this in to the equation, and the £500 price of the Krios Pro starts to sound much more reasonable.
Another really neat feature on the Krios Pro is its Fidlock, magnetic strap retainer. It's totally secure and blindingly simple to use. It basically fastens itself, and is easy to operate even with gloved hands.
What the Krios Pro does not come with, however, is a Pinlock visor, although one is available.
So that's the key components of the helmet. In our view, it's a heck of a package. It's light, incredibly safe, and as versatile as any helmet we've come across.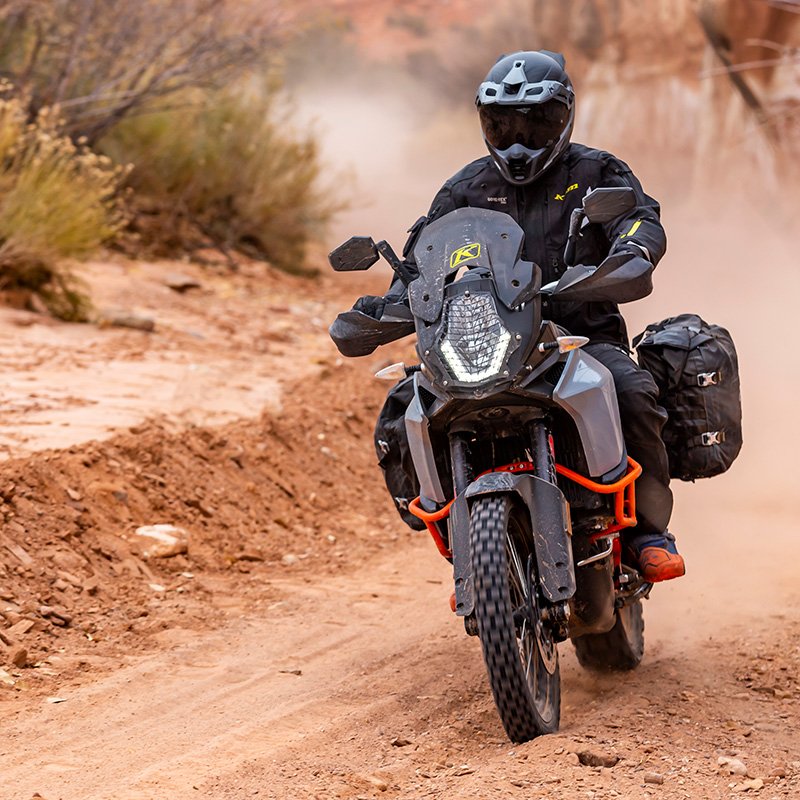 OTHER THINGS YOU SHOULD KNOW
We've not done huge miles in the Krios Pro, but already we would question those reviewers, and indeed Klim itself, who suggest that this is a quiet helmet. We'll report on this in more detail in the coming weeks.
It's got neat features like a chin curtain, so it's not going to be a noisy helmet, but the huge amount of air in the Koroyd liner won't absorb noise like an EPS, we suspect.
In this regard, the Krios is no Neotec 2 or Schuberth C3. It's a helmet you'll want to wear earplugs in, we reckon, as indeed you should really with any lid.
Klim has developed a version of the SC10U comms. system that will fit into the Krios Pro. The SC10U is a great unit but, again, we don't think it would necessarily be the first helmet you'd choose if comms. is your top priority.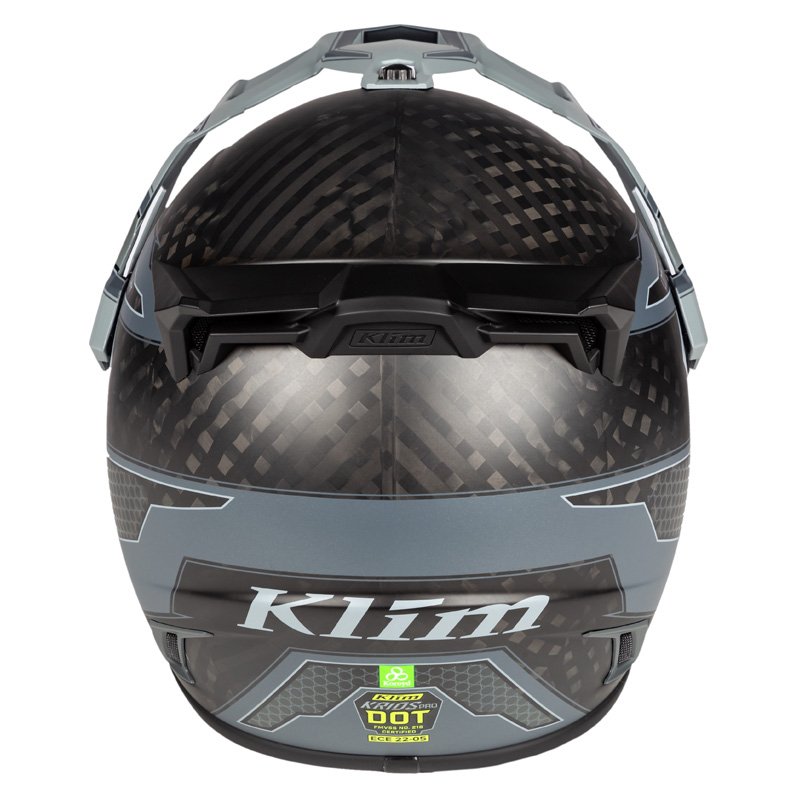 We agree with all those who suggest that the Krios Pro comes up large. You may need to go down a size on what you thought you were, but although they won't be with us until August, we will eventually have the ability to adapt the fit with different-sized cheek pads and head liners.
The bottom line, though, is that you will need to try the Krios Pro on before you buy one.
There's nothing quite like it out there, and as far as we know there's nobody out there saying they've got a Klim-shaped head.
We also think that this is a helmet that you should take for a ride before you make a decision. To which end, Klim has supplied us with a helmet in each size so that you can take one for a test ride.
Come and see us in Guildford, and we'll work with you to ascertain whether the Krios Pro is right for you.
Click Klim Krios Pro helmet to shop.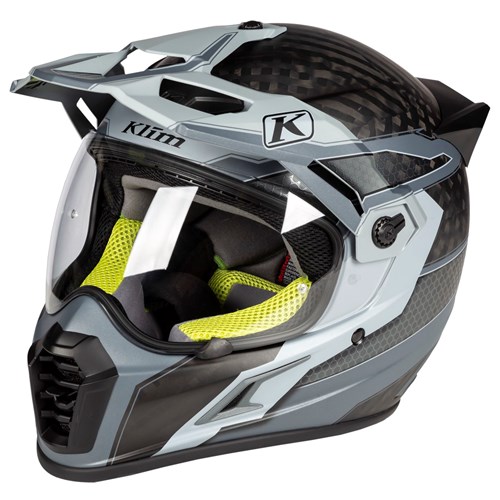 KLIM
KRIOS PRO HELMET

---
Want some more? Please click here to return to our editorial menu.

Share this story