Laminate motorcycle suit review
Published on: 13 February 2018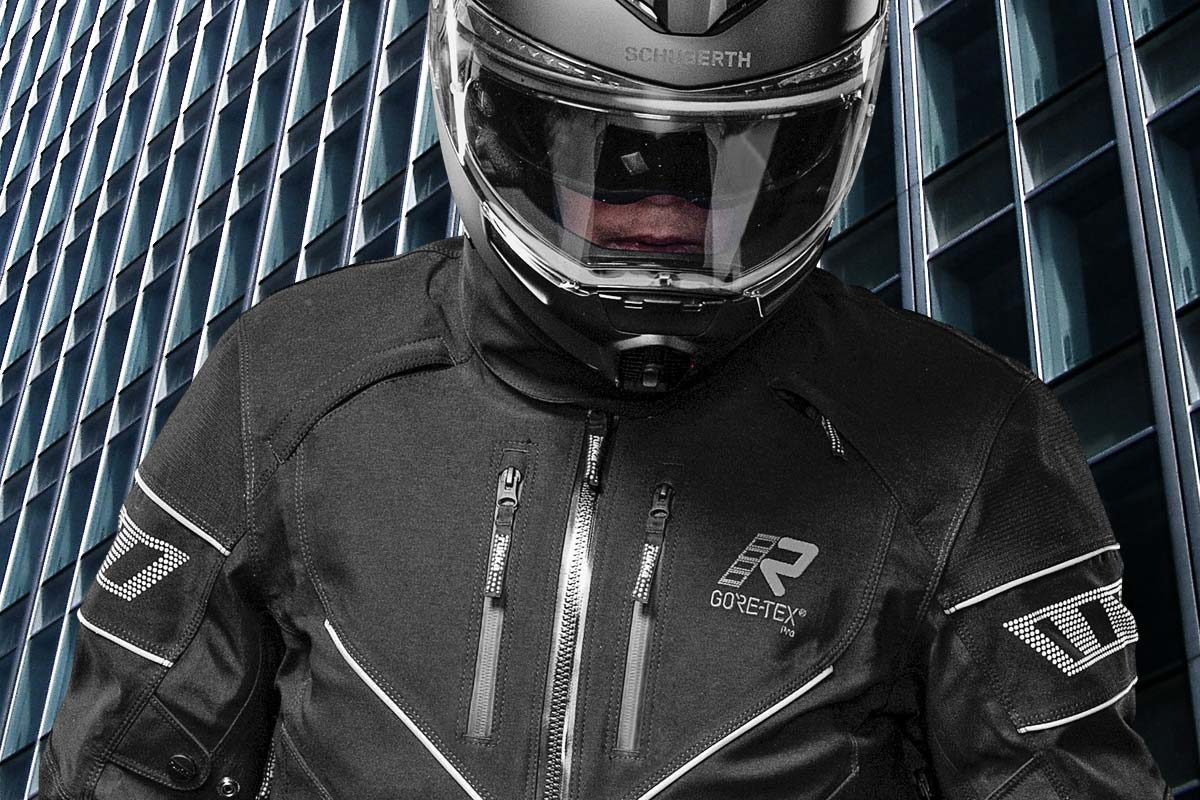 I'M THINKING ABOUT A LAMINATE MOTORCYCLE SUIT
WHAT ARE MY OPTIONS?

So okay, by now we reckon most motorcyclists, and certainly most of our customers, will know the difference between laminated and drop-liner garments.
If you don't fully understand the differences, an interesting article can be found here but, very briefly, laminated suits are more waterproof and dry out faster.
They tend to be more expensive and less comfortable to wear. Traditional drop-liner suits are, conversely, less expensive, can become saturated in very heavy rain, and can take an age to dry. But a good drop-liner outfit is often more comfortable to wear. Until very recently they were the best choice for all but the most hardcore of bikers.
But things are changing. Laminated technology is changing, and so laminated clothing is becoming nicer to wear and less costly.
There are quite a few manufacturers out there who produce laminated products. But we don't sell them all. Some brands we don't trust to get it right. Others overcharge because they think that a laminated membrane means they can command Rukka money. We hate to see bikers get ripped off, so we pass.
For 2018, we are going to be sticking with Rukka, Stadler and Halvarssons, all of whom are at the top of their game, and all of whom have new products for this season.
Let's kick off with Rukka.
They are no longer offering the Armaxion and Armaxis suits. Frankly, they were a little past their sell-by dates. Too uncomfortable and not sufficiently vented, and even the manufacturer realised they had to go. The one traditional Gore-Tex Pro suit that stays in the range for 2018 is the Navigatorr. As an adventure-style suit, it still has its devotees.
Actually, it's not the only Pro-Shell suit to stay in the range as there's the Kalix. It's an entry-price Rukka suit. It's tough and workmanlike, and has Rukka's full six-year warranty, but it lacks all the refinements that improve the motorcyclist's lot.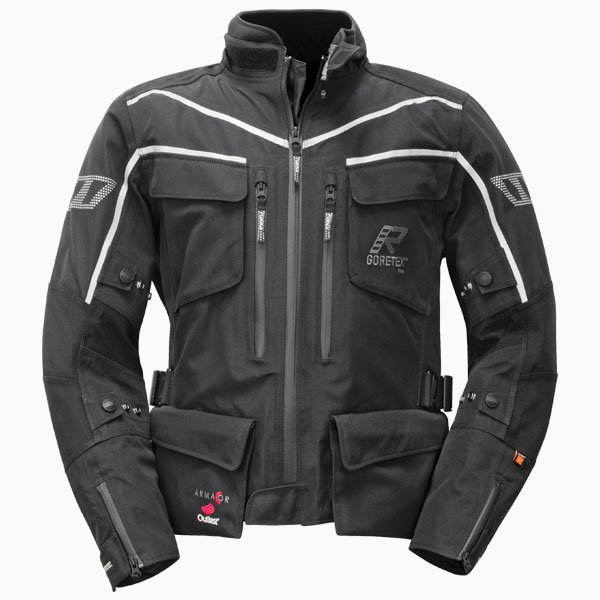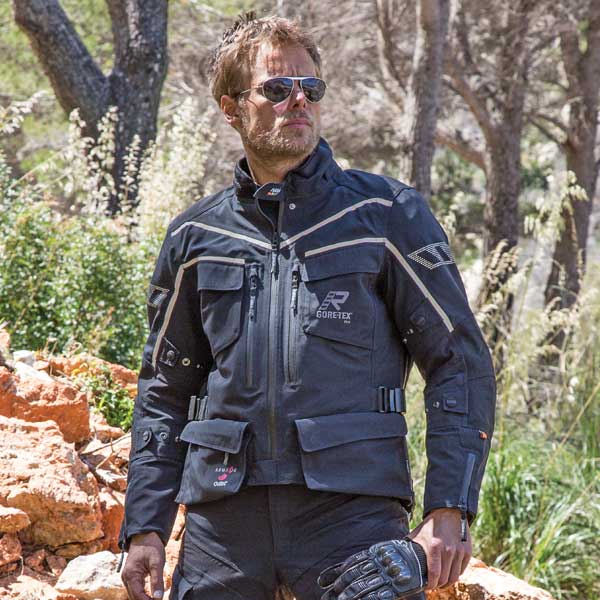 The Rukka Navigatorr two-piece suit.
The Rukka suit that we really rate is the Nivala. With stretch woven into its outer material, it's the most comfortable Rukka suit ever. It's also the best vented, and with its separately-worn, duck-down liner, it's also the warmest. It's almost certainly the best all-year-round, laminated, commuting suit that money can buy.
But it is all the money! Worth it, though, if you do the miles.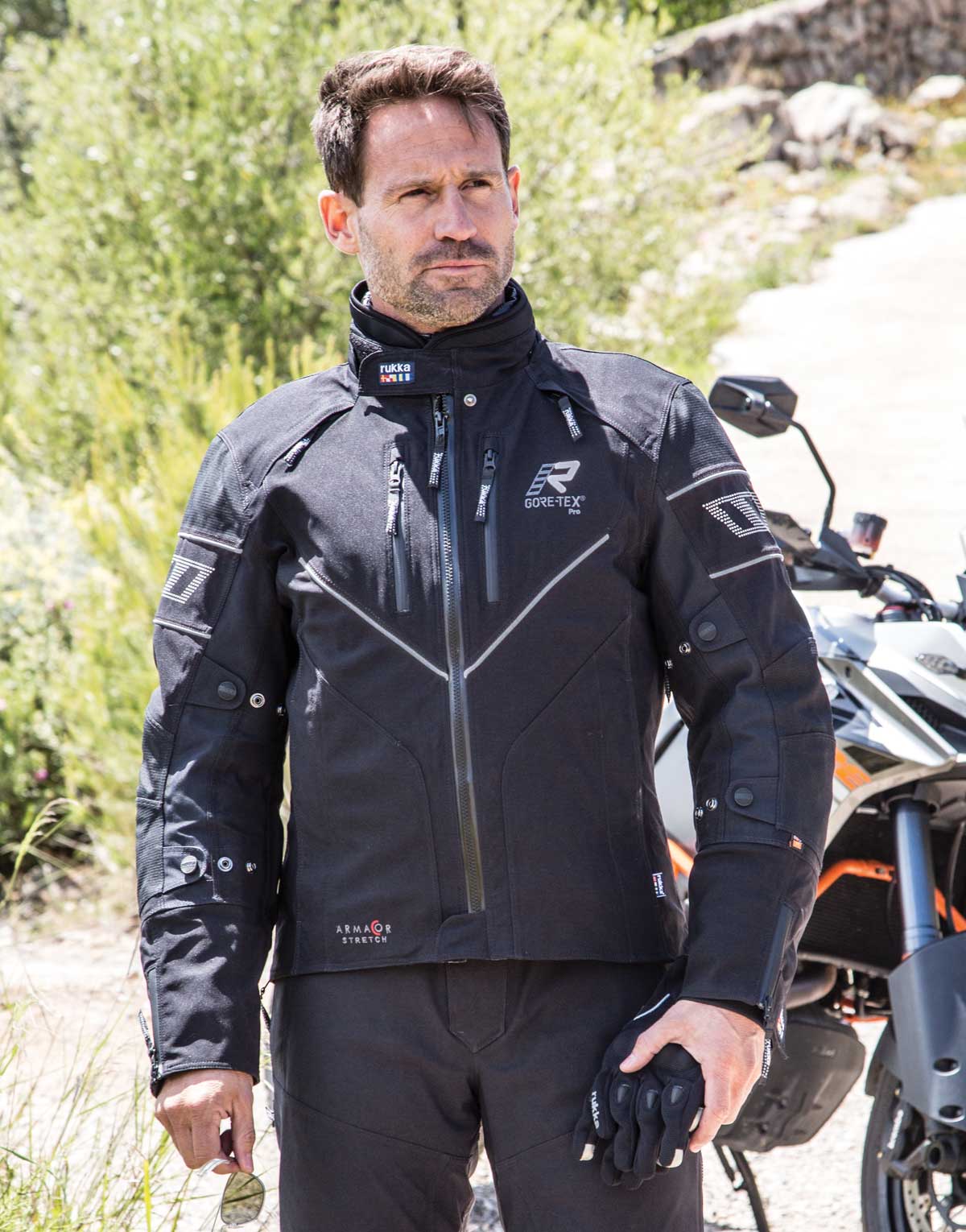 The Rukka Nivala two-piece suit.
New for 2018 are two suits from Rukka.
The first is the Arma T. It's a re-imagining of the old Arma S, but without the Superfabric anti-abrasion panels. Truth be told, it's a bit old school. It's still going to be stiff and heavy to wear, and it's a bit boxy. At £1,800 for the suit, it's still expensive. Personally, for the extra £250, we'd go for the Nivala in a heartbeat.
There is another new suit from Rukka this year, and it's called the Overpass. It's a 2-layer, as opposed to a 3-layer, laminate, so it's much more comfortable to wear, without any sacrifices as far as waterproofing is concerned. The fit is just a little bit looser than most Rukka suits, as it's been designed to be worn over work clothes. It is the suit we asked Rukka to make some years ago. It means you can wear your work clothes into work on the bike, and then, when you arrive at your destination, you can take the Overpass off and leave it on the bike. It's a comfortable, easy-to-wear suit, has great venting, and the waterproofing and fast drying times you'd expect of any laminated suit. For some people, it will be the suit they've always hankered after.
Actually, Rukka is also releasing a one-piece oversuit in 2018, but after testing it we decided it wasn't for us. It's a drop liner suit with no venting, and it wasn't as easy to put on and off as we felt it should be, so we won't be offering it.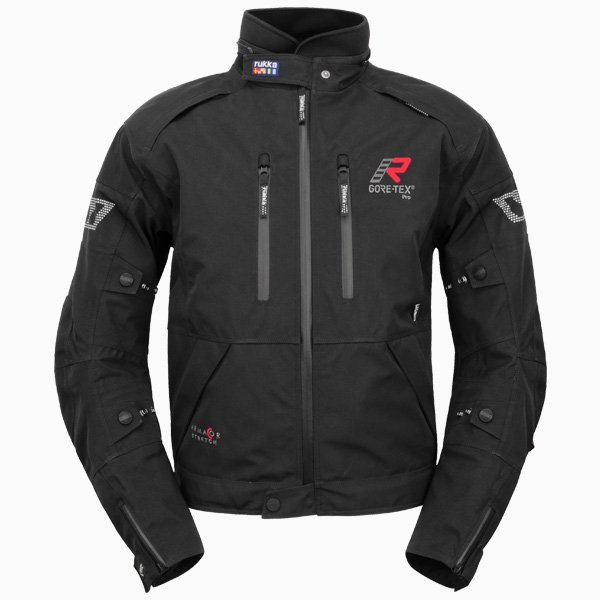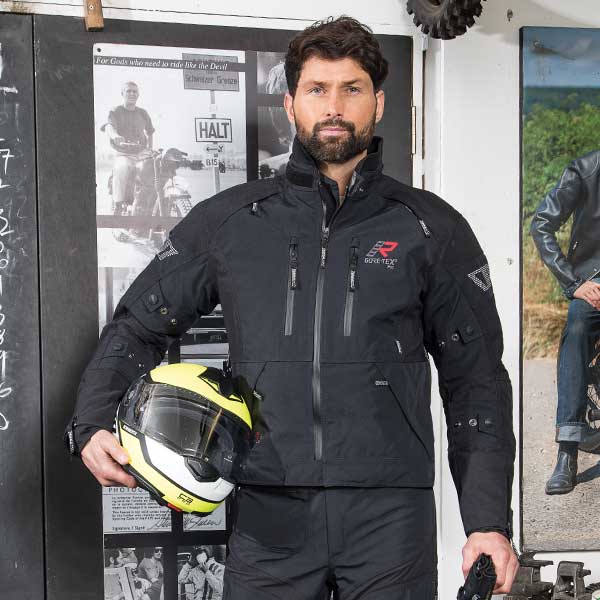 The Rukka Arma T two-piece suit.
The other big name in laminated motorcycle wear is Stadler. Last year, we introduced the 4 All Pro suit. It goes head to head with the Rukka Nivala. It's not as warm in the winter, because its thermal liner is not world class, but for summer riding it's far better vented than the Nivala.
With multiple stretch panels, the jacket's comfortable to wear; the pants particularly so. For safety there are large areas of Superfabric, and Stadler's armour exceeds the highest Level 2 standard by up to 60%. You also get the benefit of crash repairs and a class-leading 10 year warranty.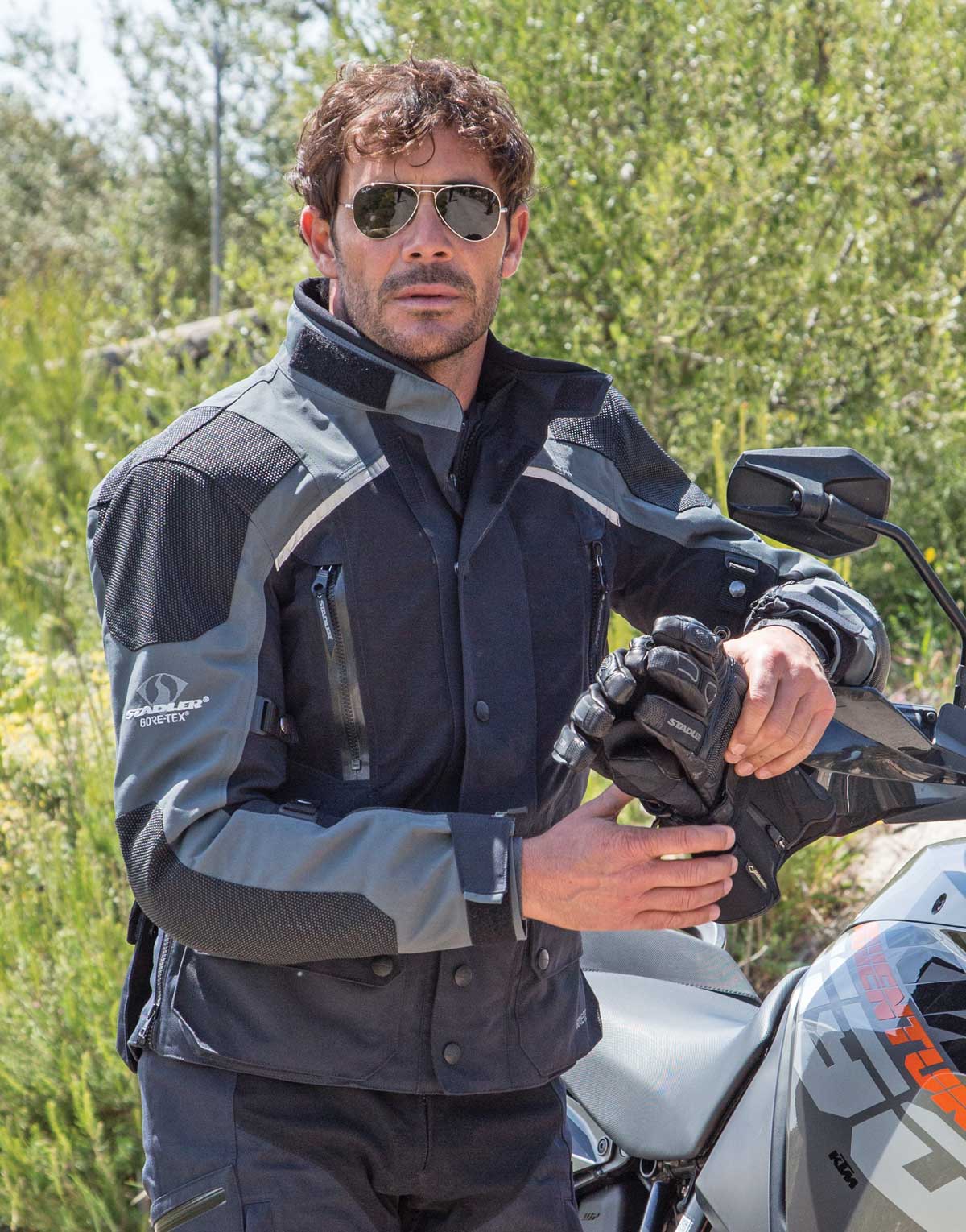 The Stadler 4 All Pro two-piece suit.
For 2018, on a very limited basis, we'll also be offering a new suit from Stadler called the Supervent, but it's not going to be on the website. You'll have to visit us in Guildford to see one.
Which brings us to the third brand from which we will be offering laminated clothing in 2018. That is Halvarssons.
Now Halvarssons has done something quite extraordinary for 2018. It's taken the Swedish company many years to perfect, but this year they are releasing two new, 2-layer, laminate garments that are as easy to wear as a drop liner garment. And at prices that are way lower than anybody ever thought possible. They have, so to speak, created the holy grail of motorcycle wear.
There are two laminate outfits in their new collection. The first is called the Wolf, and it pairs with the Wish pant. The ladies jacket is called the Walkyria. The suit has been designed, over time, to replace the Prime and Prince combination that has been in the range for some years, and which we consider to be the best drop-liner suit on the market. It has always been the perfect outfit, in our opinion, for most leisure riders.
In concept, the new suit is very similar to the Prime and Prince. You get most of the same features, including Hi-Art for abrasion resistance, an Outlast and Thinsulate thermal lining, good venting, a myriad of size adjusters and so on.
The Wolf is slightly shorter and sportier that the Prime jacket, but the main difference, obviously, is the application of the membrane. In principle, it's a win-win for it's not going to wet out like the Prime potentially could. Yet amazingly it's just as comfortable to wear. In fact, it's a bit lighter than the Prime and, of course, the venting will be better as the incoming air won't have to pass through a membrane.
But here's the shocker. The Wolf jacket costs just £60 more than the Prime. In truth, we knew this product was coming through for 2018, but we had expected it to be £300 more expensive, not £60.
What the Wolf does is put laminate clothing within the grasp of the occasional weekend rider. In fact, the decision potentially becomes a bit of a no-brainer.
Just for information, the Prime and Prince drop-liner suit will stay in the Halvarssons line-up for 2018.
The Electra jacket and Prince pant for ladies has already been dropped, however.
But Halvarssons is not introducing just the one laminated suit this season. They've got another one that they are calling the Luxor jacket that pairs with a Lux pant.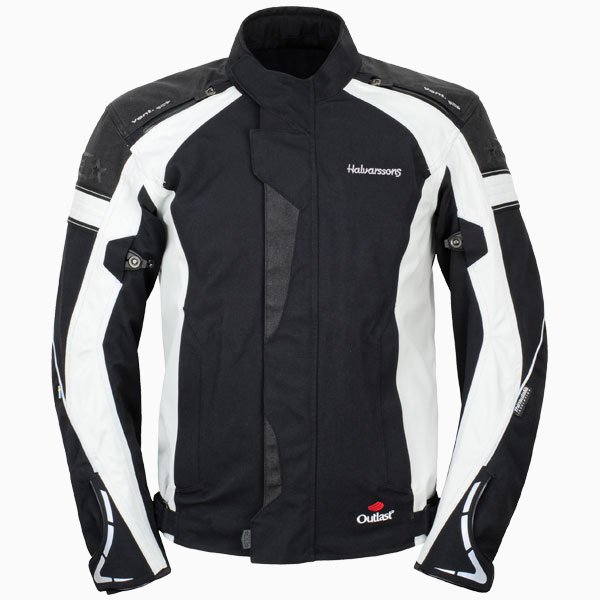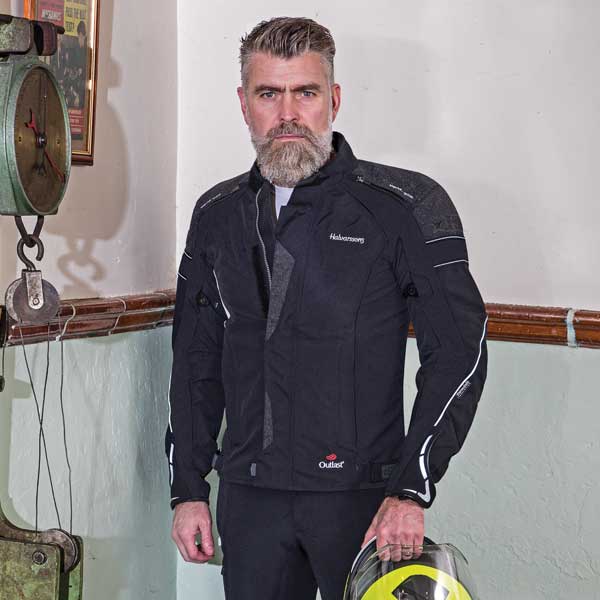 The Halvarssons Wolf and wish two-piece suit.
Construction-wise, the suit is similar to the Wolf and Wish combination. That is to say that it's a 2-layer laminate with Hi-Art for abrasion resistance, an Outlast and Thinsulate thermal liner, and so on. It's a longer jacket with better venting for those who want an adventure-style look. Apparently, Halvarssons had Klim in its sights when it designed this suit. Personally, we reckon it does pretty much what a Klim suit does, but potentially at a fraction of the money.
We think it's going to prove hugely popular with the adventure-riding fraternity.
One thing's for sure. The laminate suit is coming, or has come, of age. The technology is allowing more wearable suits to be produced, and at prices that make them more affordable.
Of course, we here at Motolegends will continue to offer the best of the best. If you can find the time, come and visit us, and test all the options out.
CLICK RUKKA NAVIGATORR TWO-PIECE SUIT TO SHOP
CLICK RUKKA KALIX TWO-PIECE SUIT TO SHOP
CLICK RUKKA NIVALA TWO-PIECE SUIT TO SHOP
CLICK RUKKA ARMA T TWO-PIECE SUIT TO SHOP
CLICK RUKKA OVERPASS TWO-PIECE SUIT TO SHOP
CLICK STADLER 4 ALL PRO TWO-PIECE SUIT TO SHOP
CLICK HALVARSSONS WOLF AND WISH TWO-PIECE SUIT TO SHOP
CLICK HALVARSSONS LUXOR AND LUX TWO-PIECE SUIT TO SHOP
Want some more? Please

click here

to return to our editorial menu.
Share this story