PMJ Ladies Spring Leggings Video Review
Published on: 08 January 2020
It was at some point over the summer of 2019 that we were visited by the owner of Italian motorcycle denim brand PMJ. He came with his team to talk to us about their protective jeans. It looked like being a short meeting because we had to be honest and tell them that we didn't like any of their products.
But, to their credit, the question was put to us: 'what would we like to see?' The answer was single-layer jeans. Aramid jeans are starting to feel rather old fashioned, we explained. In the future, we'd only be interested in single-layer pants. We briefed them on our perfect bike jean, but before we had finished, Sara leapt in and told them we would also like to see a single-layer, ladies legging.
Well, their new Tex Pro jeans turned up just before Christmas (2019). But now, in early January (2020), the leggings are with us too. The delay, in truth, was caused by us because we rejected a couple of the earlier prototype samples that didn't fit quite the way we wanted them to. But now the final version is with us, and we have to tell you that they are the real deal. They are simply brilliant.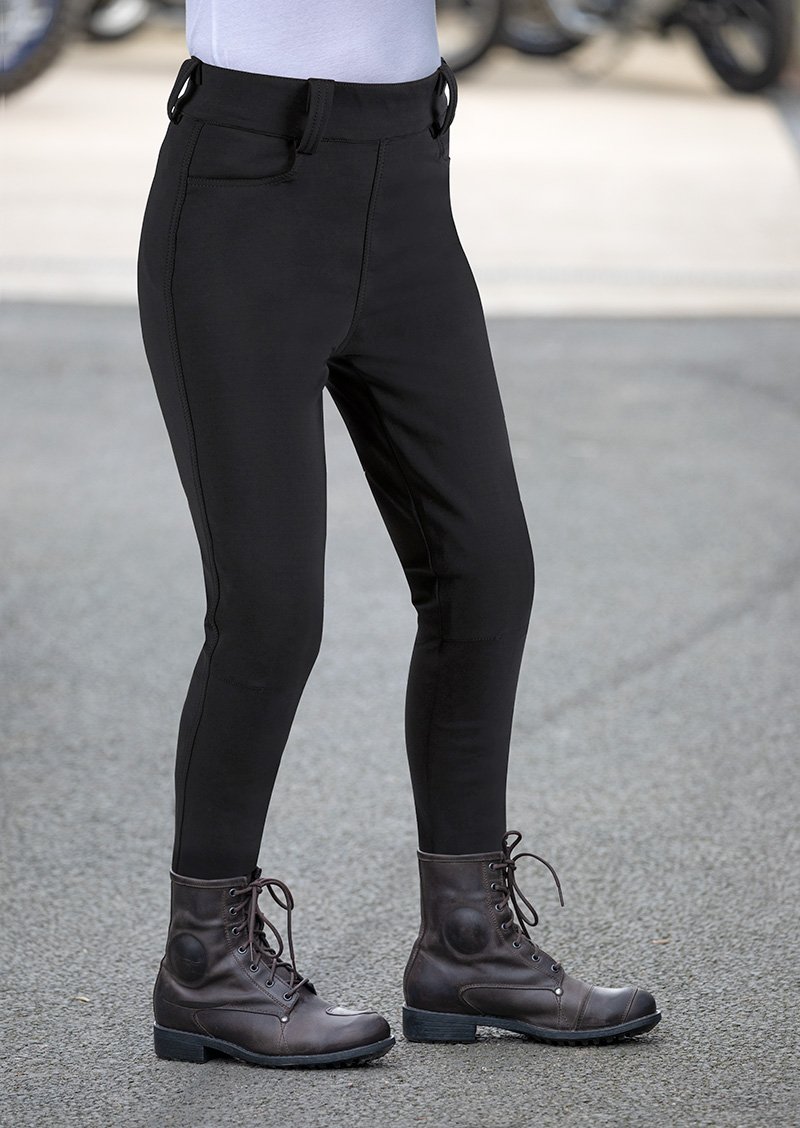 Now, the protective legging has been around for a few years. They were invented by a company in the US called Go Go Girl. They were the copied over here by Moto Girl, and now everybody does them. Richa does a pair, Oxford also does them and, in 2020 even Rukka, heaven forfend, will be doing their own take on a protective legging.
As a style, many women riders and pillions love them. Leggings follow every contour, so they're a lot more flattering than most motorcycle pants. With an outer material heavily infused with something like Spandex or Elastane, the fit is invariably stretchy, so they're comfortable to wear both on and off the bike. And, of course, by dint of their aramid/Kevlar linings these leggings are pretty abrasion, puncture and tear resistant. They all have knee armour, and all will take hip armour, even if it's not always included.
In the winter, they're nice to wear. They are generally quite thick and heavy, so on a cold day they provide a degree of insulation. But in the summer, and when it's hotter, it's a different kettle of fish, and the prospect of wearing leggings like this when the temperatures are in the high twenties, or god forbid in the thirties, is not at all appealing. Many a customer has told us how they've had to hold on to to the door frame whilst their partners have struggled to pull their leggings off after a day out riding. It's not a scene you want your neighbours to catch sight of!
But in the way that single layer jeans are replacing lined jeans, it was only a matter of time before somebody with the relevant know-how was able to apply the same thinking to leggings. Luckily, PMJ is just such a company.
Their Spring leggings are made from a Cordura material that is woven with a stretch polyester. As a result they are light in weight and super stretchy. They look amazing, and in fact are far more flattering than quarter of an inch thick aramid-lined leggings. You could wear them all day, walk around town in them, and then go to a yoga class in them before jumping on the bike to go home. Might suggest removing the armour first, however, if contemplating particularly advanced yoga positions!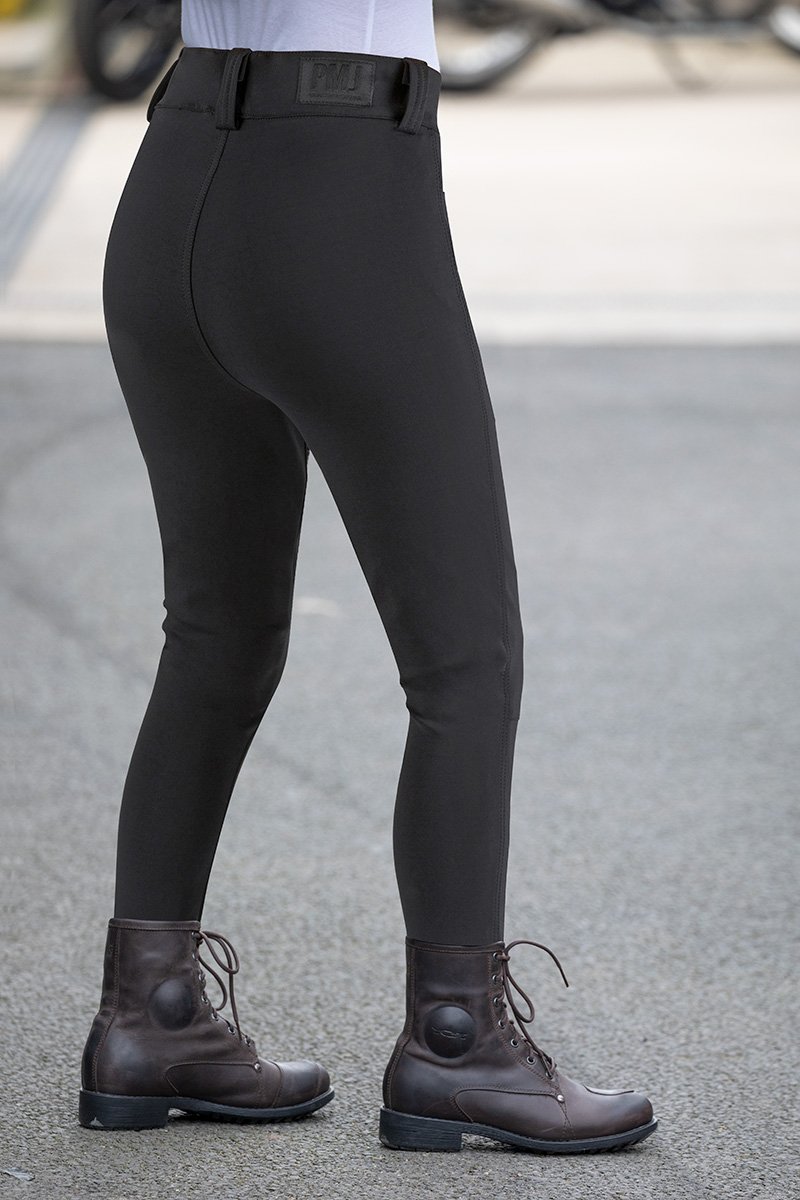 But, you might ask, if they're that easy to wear, are they sufficiently protective? Well, to answer that we've got to get a bit technical. Sorry. These leggings have a slide time that is a little over two seconds. Now there are jeans out there that deliver slide times of four and six seconds, but two seconds will put these leggings into the same category as any textile pant you might buy from an established player like Alpinestars, Dainese, Halvarssons, Furygan, Spidi and so on. Let us put it another way. Under the new EN17092 CE regulations these leggings are rated AA. There's not a single textile jacket or pant on the market that is rated higher. Yet there are lots that are only single A rated. Being AA rated, the Spring leggings come supplied with knee and hip armour. In the knees, the armour is height adjustable. The armour is really soft and flexible. In fact, we reckon it's nicer to wear than D30.
So are they safe enough? Are they sufficiently protective. Well, we wouldn't do a track day in them, but for road riding they are more than up to the job and, from a safety rating perspective, are a match for any textile trouser out there. But there's another benefit to a single-layer pant that you don't get with most lined trousers. And it's that the abrasion resistance applies everywhere, not just where the Aramid lining is sewn in. In some Kevlar-style jeans, you might only get 20% or 30% coverage of the surface area. With single-layer technology, whatever the level of abrasion resistance is, you enjoy its benefits throughout the garment and, therefore, however you land.
We think PMJs Spring leggings are simply brilliant, and we're tickled pink that PMJ have collaborated with us to get them made. We could not have asked for more. They're everything we wanted, and we think the price, at £165, is pretty reasonable too. Right now, in January, the timing is perhaps not perfect for wearing these leggings. We're thinking more April to September than November to February, but if you like to be prepared, and to get ahead of the curve in time for the spring, you should order a pair now or, even better, come and see us in Guildford and try a pair on.
At this point in time (January 2020), as you would expect, our stocks are good. The leggings are available in UK sizes from 6 to 18. They only come in one leg length (about 31"), but if worn under a taller boot a shorter leg might not be an issue. Either way, if you come and see us we'll find the right size for you. We'll get you to sit on our shop bike, we'll check the leg lengths, make sure the armour is in the right place, and generally make sure they work for you.
We are genuinely excited by these leggings. We reckon they really have moved the game on, and so we'd like to thank PMJ for making it happen. We look forward to hearing from you.
---
Want some more? Please click here to return to our editorial menu.

Share this story