PMJ Tex-Pro single-layer jean review
Published on: 25/11/2019 14:00
The exciting, new Tex-Pro jeans from PMJ represent one of the most significant new product launches that we've seen in the protective jean market for many a year. It is the jean, we suggest, that will take single-layer technology out to the wider market and, in effect, kill the traditional Kevlar, or aramid-lined, jean. That's quite a claim, and we're not suggesting that this will happen overnight, but let us explain what the new Tex-Pro is, and why it is so significant.
Now PMJ is an Italian jean company, the partners in which have been making jeans for a number of the big fashion brands for many years. And this is significant because, even though any motorcycle apparel company can make a protective jean, not that many can make one that fits well, and is nice to wear both on and off the bike. Indeed, we have, over the years, parted company with several brands who made impressively protective jeans solely because nobody found them comfortable to wear.
So PMJ knows how to make a jean. But when they came to see us in mid-2019 to show us their entire range, we were obliged to tell them that we simply didn't like any of the jeans they made. In some cases, we had to admit, the styling was not to our liking. The Italian market is clearly different to the UK. But our main gripe was that all they made was lined jeans, and to us they all felt heavy, cumbersome, uncomfortable and just too darned hot.
Manufacturers are sometimes shocked by our candour and the strength of our opinions and, at one stage, it felt as though the meeting was not going at all well. Indeed, I was starting to have visions of waking up to a horse's head in the bed. But then the owner came up with another, more interesting proposition. He told us that he would make us a single-layer jean totally to our specification.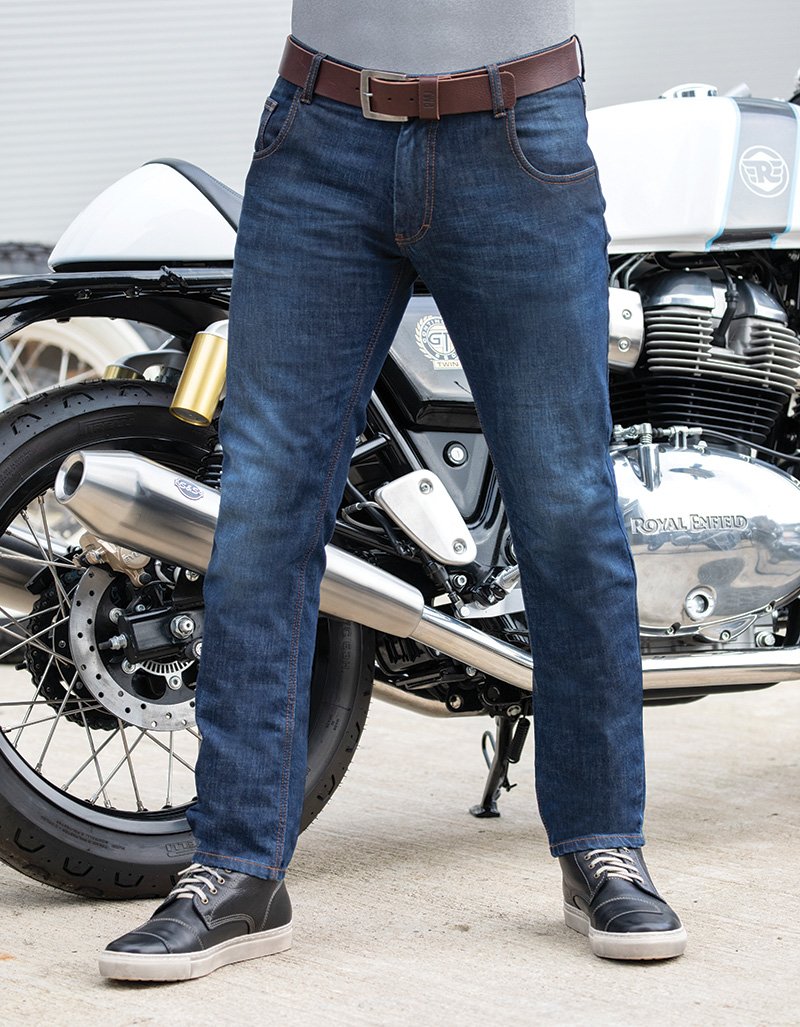 Now, all Italian companies who make products in Italy are immensely proud of the fact that their wares are put together by bona-fide Italians on Italian soil. It's never struck us as particularly important where something is manufactured, but the owner explained to us that because the factories were on his doorstep he could deliver samples in a few weeks, and the end product within a matter of months.
We were a bit cynical, especially as we have always found that just about nothing ever happens in Italy from the end of June to the beginning of September! Nonetheless, we gave PMJ our brief. The jean would have to be single layer, and wear like a street jean. It would need to deliver the abrasion resistance of leather and cost as close to £200 as was humanly possible.
We wanted a light wash to the denim; not raw but not heavily washed out. And we wanted a slim-ish, but not a skinny, fit. Although most people would wear them over a short, ankle book we wanted to be able to get a taller, Daytona-style boot inside the hem. A zip fly was a must we explained, because many of our more mature buyers lack the patience to mess about with buttons. We also told PMJ that we didn't want their normal armour. We wanted something softer and thinner; D30 or its like.
It seemed a tall order to us. We actually didn't think they would get close. In fact, we didn't think we would hear from them again. Nevertheless, for us it was a useful exercise, because it allowed us to crystalise our thinking, and to define what, for us, would be the perfect motorcycle jean.
Well surprise, surprise. A couple of months later, the samples turned up for us to examine. We were impressed. The jeans weren't totally perfect, of course. We went back to them with various comments regarding both the look of the jeans and the fit. What was perfect, however, was the feel of the jeans. Even though the inner face of the fabric has a yellow thread running through it, they wore just like a street jean. Yet PMJ told us that the fabric had been tested on a Cambridge machine under the old EN 13595 protocol, and had delivered an impressive slide time of 4.2 seconds. Equally impressive was the fact that the jeans would be AAA rated under the latest EN 17092 CE regulations. The only other jeans that have achieved this rating are Halvarssons' Macans. And, frankly, they're nowhere near as nice to wear.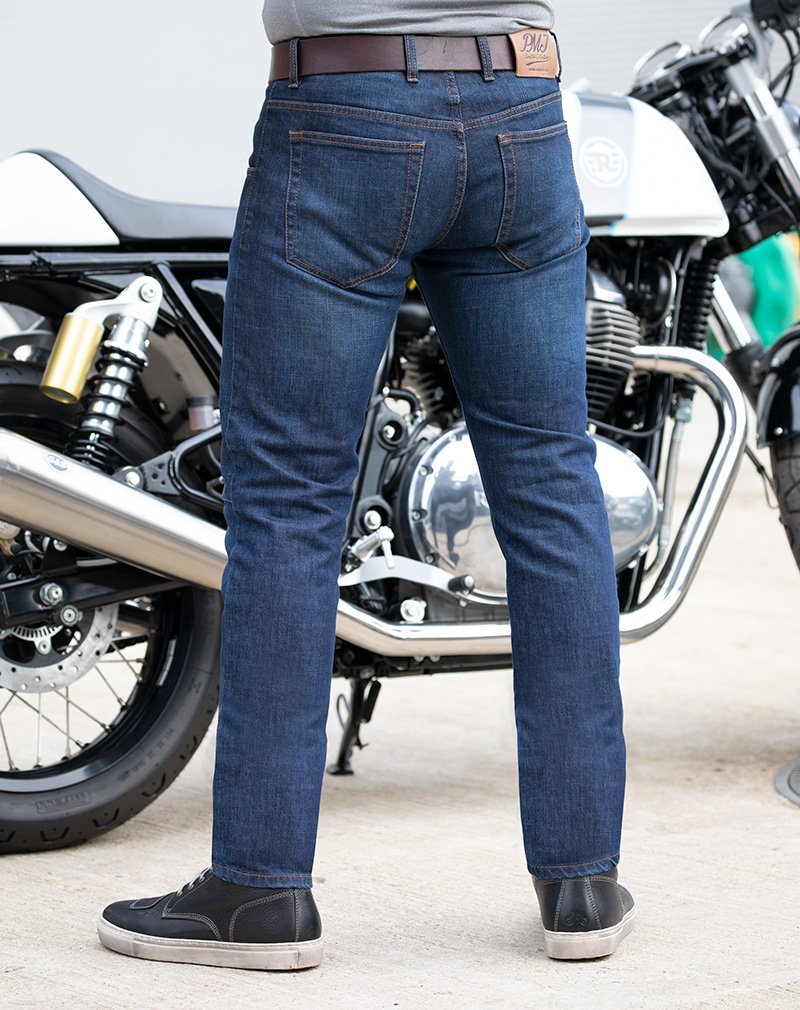 This week, our first delivery turned up and we have to say that we think they hit a sweet spot. At the lower end of the single-layer jean market are cotton/Cordura jeans with a slide time of just over two seconds. Normally, jeans like this are priced at around £150. These jeans are great for bimbling, for pottering around town or for popping out to pick up the papers. But they're not good enough for proper, high-speed, road riding.
At the upper end of the market are jeans like Rokker's Rokkertechs and Resurgence's New Waves. They deliver an extraordinary slide time that is 50% better than leather. They are beautiful to wear, but they cost £300 and more, and this puts them out of the reach of many.
These new PMJ jeans fill the gap right in the middle. They wear as comfortably as either of the jeans we're talking about. But they do so at a price that sits somewhere between Rokker's jeans and Spidi's J-Trackers.
That price is £230; that's a smidge above our original, target price, but interestingly these new jeans come with a leather belt. £30 for a leather belt would be reasonable in anybody's book, meaning that, actually, PMJ did pretty much come in on budget!
In conclusion, what PMJ has achieved is quite extraordinary. In well under six months they have gone from not having a single-layer jean in their portfolio, to having one of the most impressive single-layer jeans we have come across.
From our perspective, we have no issues regarding comfort. The jeans wear well. The armour is soft, and it sits in the right place, and is adjustable should it not do so. They look like the kind of jeans most of our customers will be happy to wear. We have no qualms telling our customers that these jeans are strong enough and abrasion resistant enough for any kind of road riding. And we don't feel we have to apologise for, or explain, the price. Frankly, anybody who thinks these jeans are overpriced is deluded. The Tex-Pros are pretty much the perfect motorcycle jeans, in our book.
Now, in terms of sizing, they go from a 28" to a 44" waist; all in 2" increments. They come in 32", 34" and 36" leg lengths. And to give the knee armour the best chance of being at the right height, you should go for a length that is a bit longer than your regular street jean. What you have to bear in mind is that when you sit on the bike, the hem of the pant will lift a little higher, and we want the hem to sit somewhere around the ankle bone. The other thing you need to take into account when trying to get the length right is that the armour, if it's in the right place, will raise the hem of the jean by between half an inch and an inch.
As ever, you can order online. The fit is going to work on most people, so you wouldn't be taking much of a risk. But if you want to make sure you get it bang on, first time, come and see us in Guildford. We'll get you on our shop bike. We'll make sure the armour fits where it should. And if the legs need to be shortened, we'll do that within the cost.
---
Want some more? Please click here to return to our editorial menu.

Share this story