Product of the Month September 2019
Published on: 06/09/2019 14:40
PRODUCT OF THE MONTH SEPTEMBER 2019
ROKKER ROKKERTECH LADIES HIGH-WAIST JEAN
Embarrassingly, this is a first for us; it's the first time we've featured a ladies-specific piece as our Product of the Month. And it is a bit embarrassing, because we'd like to believe that we have become a bit of a specialist in gear for women.
We're very proud of the reputation we are earning in this arena. And we think that it's important that somebody is making a bit of a noise about gear for women, because very few retailers take women bikers very seriously.
Of course, our expertise and specialism may have something to do with the fact that our Managing Director is a woman. Sara has been riding for 30 years. She's a proper biker. She knows better than most what women want to ride in. And she knows better than most what works for women on the bike.
A case in point is this month's 'Product of the Month'. It is the Rokker Rokkertech high-waisted, ladies jean. And it was an idea we took to the Swiss company a couple of years ago, because we had found it frustrating that nobody was making a really good motorcycle jean that actually worked for lady bikers.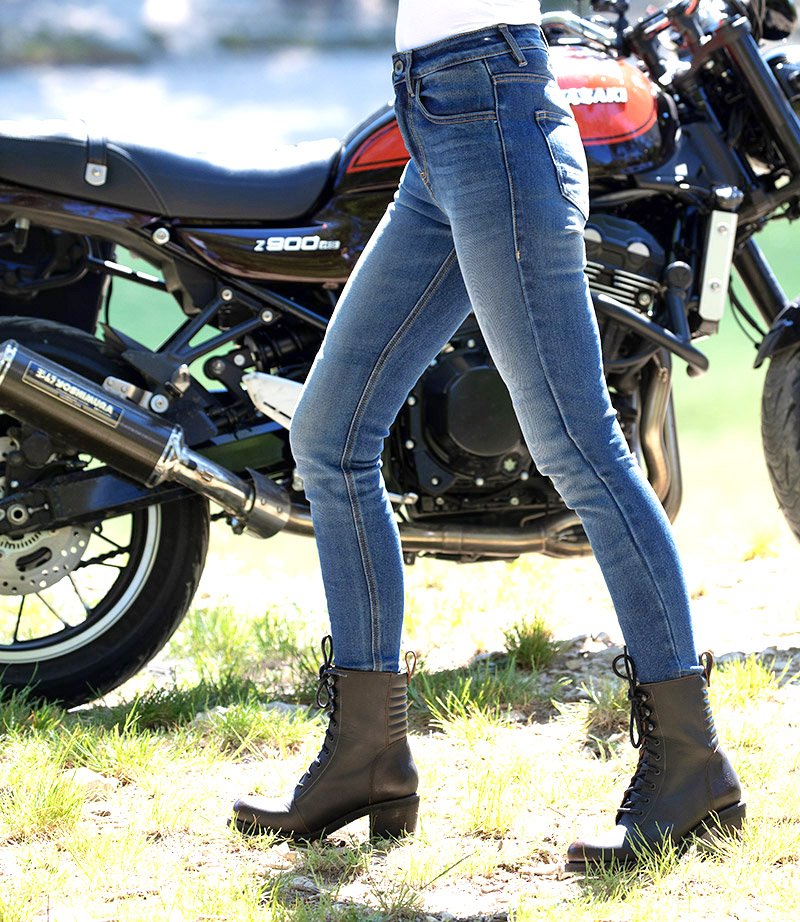 We were particularly keen to create a single-layer ladies jean. Single-layer jeans fit better and look better because there's no heavy-duty, anti-abrasion lining behind the denim. They are also, by and large, more comfortable and easier to walk around in. Importantly, when it's warmish, they are also so much nicer to ride in, because they flow the air so much better. They are also, of course, so much more breathable than an aramid jean.
For both men and women, jeans are increasingly becoming the go-to riding trouser. Of course, if you ride all year round, you might want an all-singing-and -dancing technical, textile pant, complete with waterproof membrane and thermal lining. But when it's warm and dry, jeans are definitely the way to go.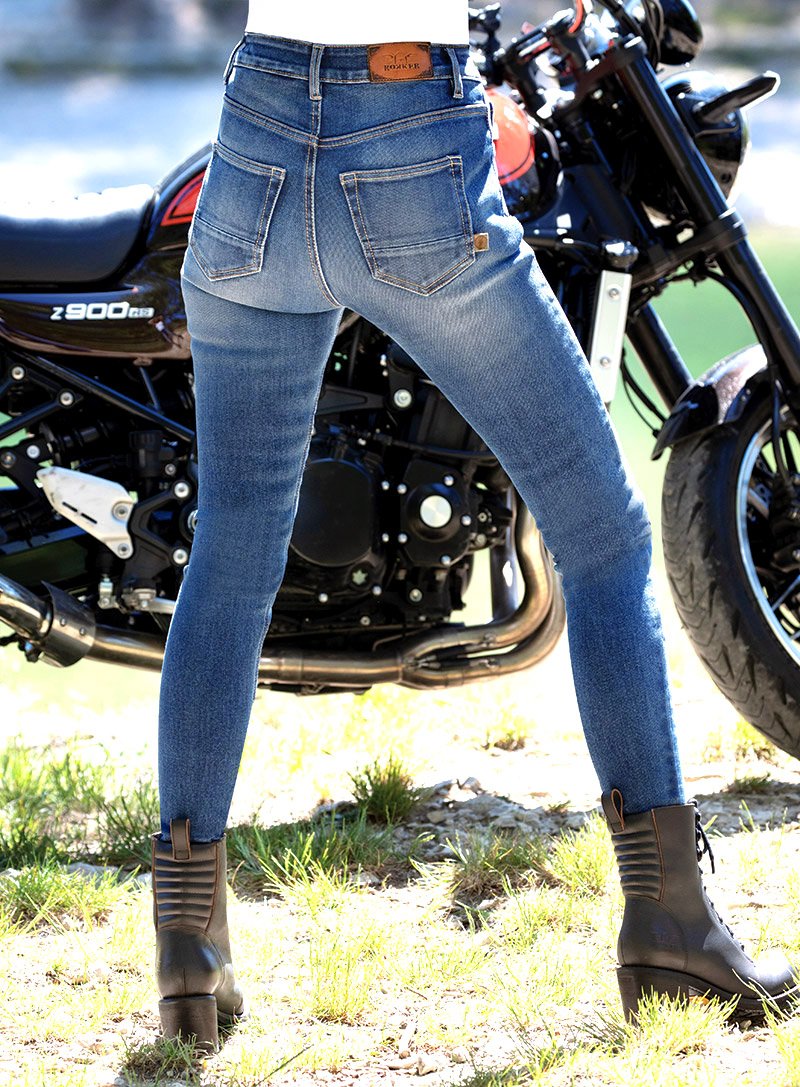 For our perfect ladies' motorcycle jean, we also felt we needed something that delivered the very highest levels of protection. We felt that a cotton/Cordura mix, with its two second 'slide' time, was not really up to the job. We could have gone for a slightly stronger jean made from something like Dyneema, but as a starting point, we felt more comfortable with Rokker and their amazing Rokkertech jeans that deliver abrasion resistance that's about 50% better than leather. They've got a 'slide' time of more than six seconds, as opposed to the four seconds you get with a leather pant.
Rokker's Rokkertech jeans are simply the best. They're super-comfy, lightweight, easy to live with and horribly protective. But, despite this, we had always historically been a little disappointed with the cut of Rokker's ladies' jeans. Rokker seemed, as do most motorcycle apparel companies, to be more interested in making low-rise, hipster jeans for size-zero teenagers.
This was not what we wanted, we explained to Rokker. We wanted a jean for real women; real women with hips, bottoms and curvy bits; real women who ride, or sit on the back of, real bikes!
To work properly on a bike, a jean has to have a properly high waist, we told them. Real women have curves, and with those curves a low-waisted jean often doesn't work. It can reveal parts that no self-respecting, gentle-woman wants to reveal.
Rokker told us that they understood, and could make the jean we wanted. But we had one other request. We asked them to add in some stretch. After all, what jean doesn't fit just that little bit better and more comfortably when it contains a modicum of Elastane in its make up?
We worked with Rokker on the design of the jean, and tested several pre-production samples. We made a few tweaks here and there and, earlier this year, the jean was officially released.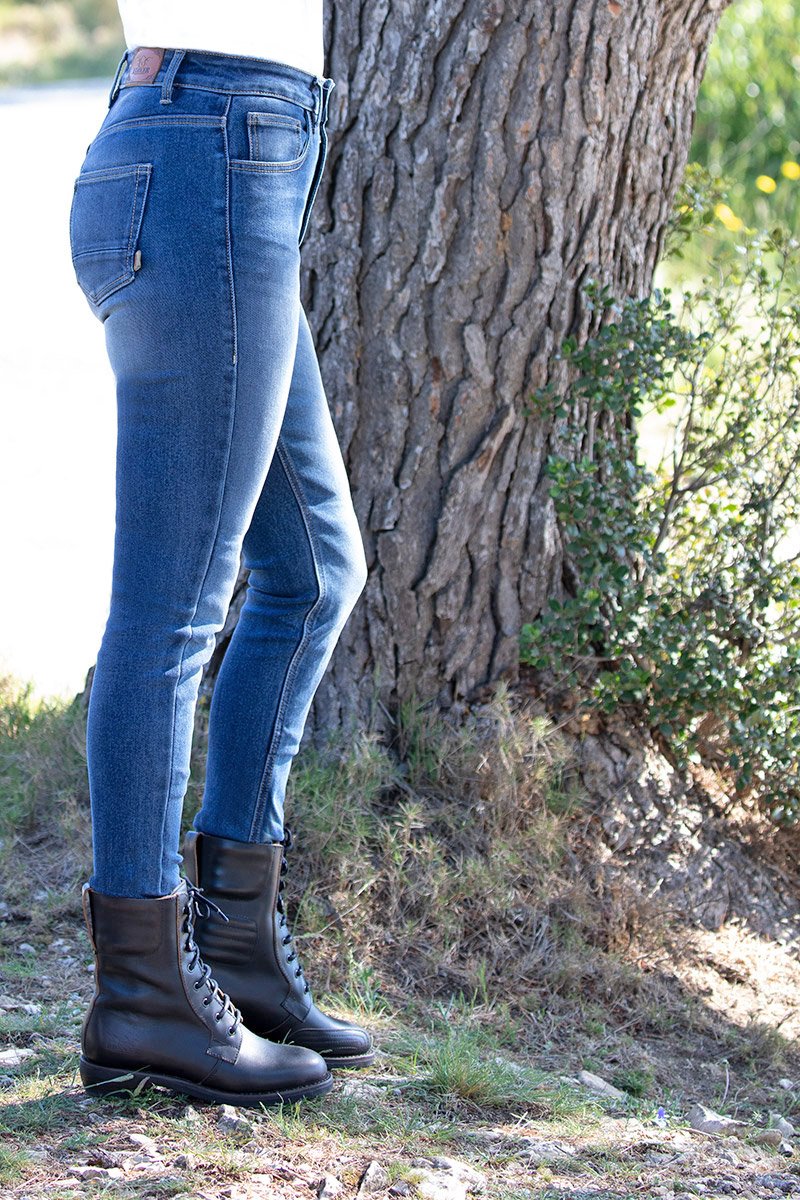 It has been somewhat of a revelation, and has gone down incredibly well with a lot of our lady customers. Some have proclaimed that their Rokkertechs are not only their favourite-ever motorcycle jeans, but simply their favourite-ever jeans, full-stop.
And what we have found is that they tend to work on a wide range of shapes and sizes. If you're slight but curvy, they look great, but they look equally flattering on those who are not so slight.
If there is a downside to these jeans, it is their price. At £350, they are certainly not cheap, although what we have come to understand is that £300+ for a pair of ladies' jeans does not always seem quite so outrageous as the same figure for a men's jean! Still, we accept that these jeans, sadly, are not going to be for everybody.
We could have gone for a lighter, less protective jean and, some day, somebody will produce a high-waisted, single-layer jean for closer to £200. But, for our first collaboration, we did not want to brook any compromise. We simply wanted the best, whatever the price.
Now, there are some people for whom the high-waisted jean does not work so well. What we have found is that if you are particularly slight, and narrow of hip, then actually Rokker's traditional ladies' lower-rise jean can work better. This isn't always the case, but on some women the extra height can put pressure on the abdomen, and it isn't comfortable.
In terms of the armour, like all of Rokker's jeans, the high-waisted jeans come with pockets for D3O armour. And, as we all know, D3O is soft, and becomes even soften as it absorbs heat from the body.
But, nonetheless, there are sometimes issues with the armour in these jeans. In the men's jeans, if the armour is too high or too low, we can unsew the pocket and move it up or down. But with the ladies' high-waisted jeans, this is not possible because of the high degree of Elastane in the armour pocket itself. In truth, we have very, very rarely found the position of the armour to be an issue with these jeans.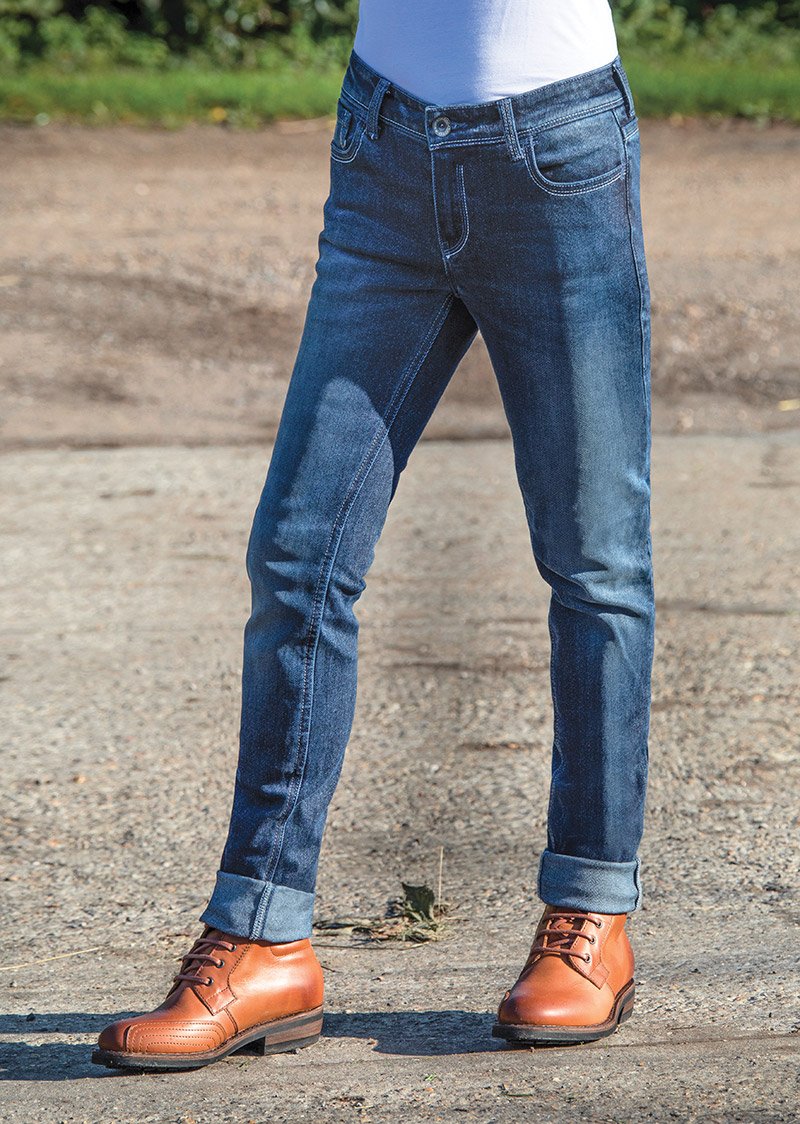 Shown above are Rokker's regular, Rokkertech ladies jeans.
It may have something to do with the way the ankles are gripped by the hem but, in 99% of cases, the armour seems to fit where it should do. If the knee armour doesn't sit correctly, then there will be occasions when we will have to admit that they don't work. That's a shame, but it will happen.
Some ladies tell us that they will simply never wear armour, because it doesn't look great! And, obviously, if this is the case, that problem goes away. But if you're never going to wear armour, then we are always happy, at our cost, to entirely remove the armour pocket. It will potentially make the jeans even more comfortable , and it will remove a stretch line from above the knee where the tape inside the denim holds the armour pocket in place.
In summary, having worked with these jeans since the beginning of 2019, we feel confident in stating that Rokker's high-waisted, Rokkertech jeans are the best ladies' motorcycle jeans ever made. They work on many different shapes. They nearly always look great. They are comfortable to wear, and cool to ride in. And there's nothing you can wear that's more protective.
They are expensive; that has to be admitted, but we only have one rear end, and if £350 is the price to keep it intact, some will consider that money well spent.
If you seriously want to get these jeans right, though, we would recommend a visit to our shop here in Guildford. These jeans are technically not exclusive to Motolegends, but very few of Rokker's UK dealers carry them in stock. None carries all the sizes like we do. And nobody knows how to make them work like we do. We're open seven days a week, so if you're interested, and want to get them right first time, come and see us. We really are the people for ladies jeans.
Click Rokker Rokkertech ladies high-waist jean to shop.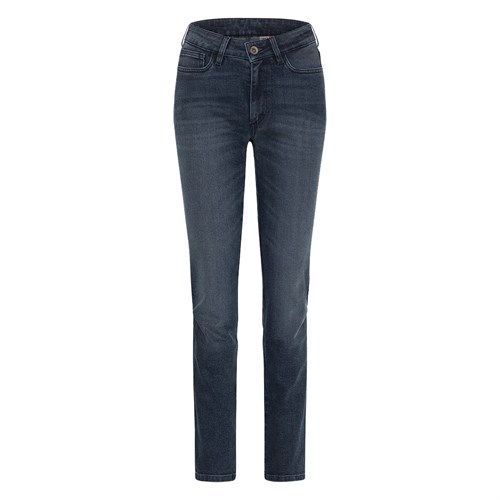 ROKKER
ROKKERTECH HIGH-WAIST LADIES JEAN
£349.00

---
Want some more? Please click here to return to our editorial menu.

Share this story