Richa Infinity 2 Pro Suit Review
Published on: 17/02/2020 09:48
We first came across the Richa Infinity 2 Pro suit when we visited Richa in Belgium in mid-2019. We can see now that they ruthlessly and cynically laid a trap for us. We had gone to talk about the UK market and to discuss our views about Richa as a brand. It was at that meeting that we discovered their amazing 'Stripper' commuting pants, and that we first sampled some of their new 2020 season gloves that we fell for big time.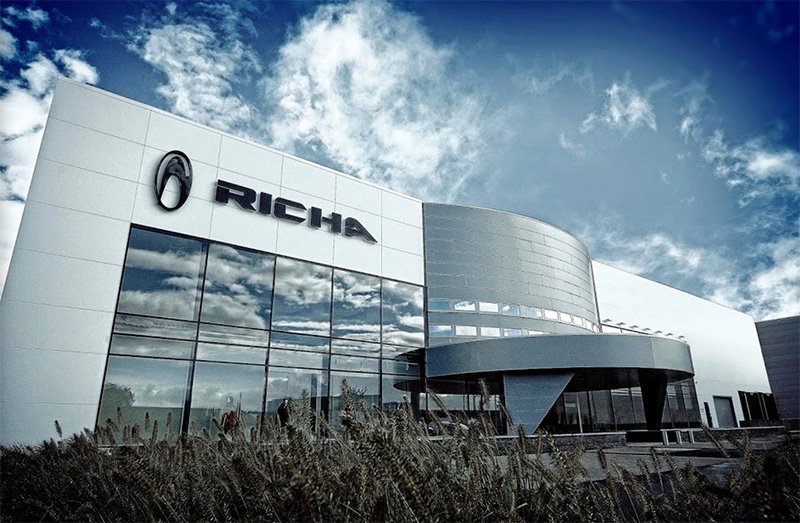 In mid-2019 we rode over to Richa in Belgium to talk about the requirements of the UK market.
"What do you think of this new laminated suit", they asked. "Why don't you try it on? We have your size here". It was the oldest trick in the book, and they reeled us in. We told them that we quite liked the suit, but we explained that we felt that the laminated market was looking very crowded, with many other manufacturers now looking to get in on the action.
And then they closed in for the kill. "How much do you think the suit would sell for"? Our answer was a little equivocal: "At £700 it would sell reasonably well, we opined, but at anything over £800, it would start to go head-to-head with the likes of Halvarssons' laminated suits". We had actually thought that it would be priced at around £850, so we assumed that our response would kill the discussion. When they retorted that the price for the top and bottom combined would be less than £500, Sara almost choked on her delicious Belgian truffles. Personally, I broke out in a sweat. If this was to become the norm for laminated garments, I felt we would probably go out of business!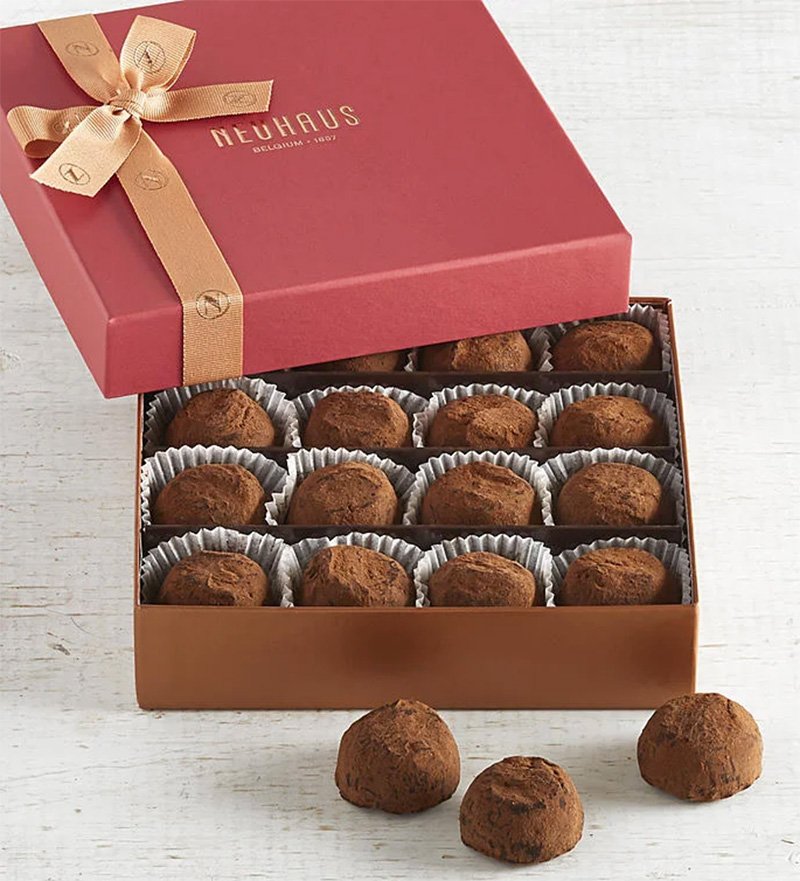 Sara was enjoying a delicious truffle when Richa told us the price of their new laminated suit.
Now, I'm going to come back to the suit in a moment because we have decided to offer it, but before I do so I'm going to give you the very briefest outline of laminated garments, and how they differ to drop-liner garments. We've now prepared a fuller explanation of the differences, which sits on the front page of the website, so if you want to get a more detailed and technical understanding of the two technologies, click here.
Anyway, here's our brief synopsis. Drop-liner garments have a waterproof membrane that hangs independently inside a garment. This system will keep you dry, but in very heavy and prolonged rain, the garment can soak up the rain. This can make you feel cold, and it means that the jacket or pant can take ages to dry out.
A DROP-LINER WATERPROOF MEMBRANE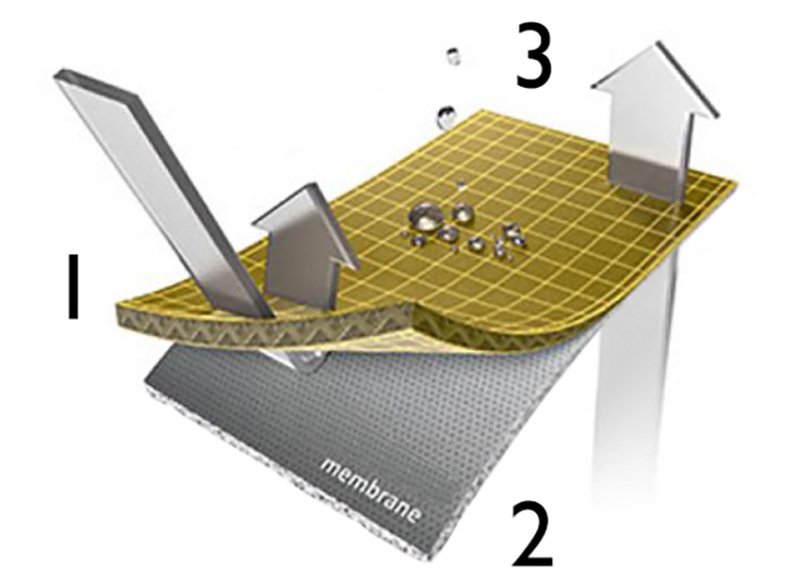 1. When it rains, water can pass through the outer protective layer.

2. Because of the size of the holes in the membrane, water cannot pass through the membrane.

3. The size of the holes, however, are large enough for sweat to pass through from the body.
With a laminated garment, the membrane is basically bonded to the inner side of the outer fabric. This means that the rain will never pass through the outer fabric. The garment will stay dryer for longer, and it will dry out quickly. In cold and wet conditions a laminated garment will be warmer, because it will hold less moisture, although in dry, cold conditions, a drop-liner garment is better insulated. Laminated garments also vent better.
A LAMINATE WATERPROOF MEMBRANE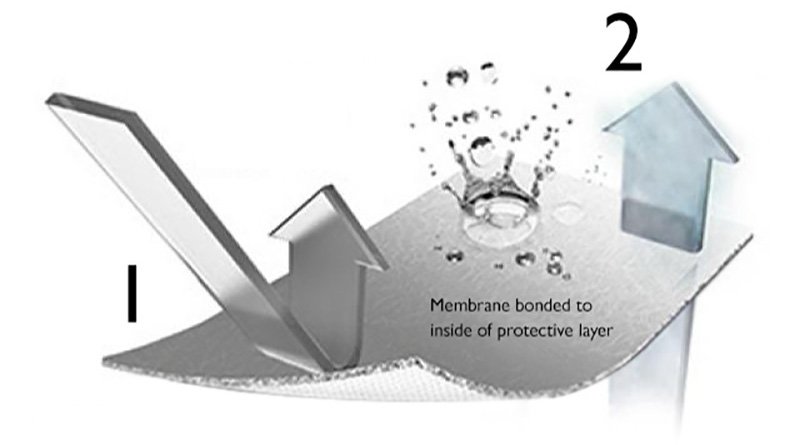 1. When rain hits the outer protective fabric, it cannot pass through it because of the membrane that is bonded to its inner surface.

2. But, as with a drop-liner membrane, the sizes of the holes in the membrane are large enough to allow sweat to pass through from the body.
So, back to the Richa jacket. The price is, in our view, quite amazing. When the Halvarssons Walkyr/Wish combination came out a couple of years ago, (spring 2018), we thought the £900 price of that suit was pretty special. It doesn't seem quite so special any more.
Now clearly there is a direction of travel for laminated outfits, and we have indeed heard of one or two laminated suits that are even cheaper than the Richa, but here we would counsel a little caution. The technology involved in making a laminate suit is not straightforward. A laminate suit that is too cheap just isn't going to work, and indeed one of the really cheap ones we've heard about has not been without issues, we are told.
So the question has to be whether, at just £500, the Richa suit can truly be relied upon. And our answer would be a qualified yes, on a couple of grounds. First, Richa has a reputation for good quality gear, but for punching above its weight as far as price is concerned. Some of their gloves are particularly outstanding in this respect, of course. Second, we trust Richa to get this new suit right, because they have a Gore-Tex laminated suit in their range, and when a company works with Gore they learn how to make lamination work, because Gore oversees the construction. So yes, inexpensive as it may be, we are confident that this is a suit that is going to work and keep you properly dry.
Okay, let's be honest here; this is no Rukka, and if you do 10,000 miles a more a year you're going to be better served by spending a little more. The Richa is very impressive but, on a £500 suit, you don't get the bells and whistles you find on a £1000 suit. You just don't.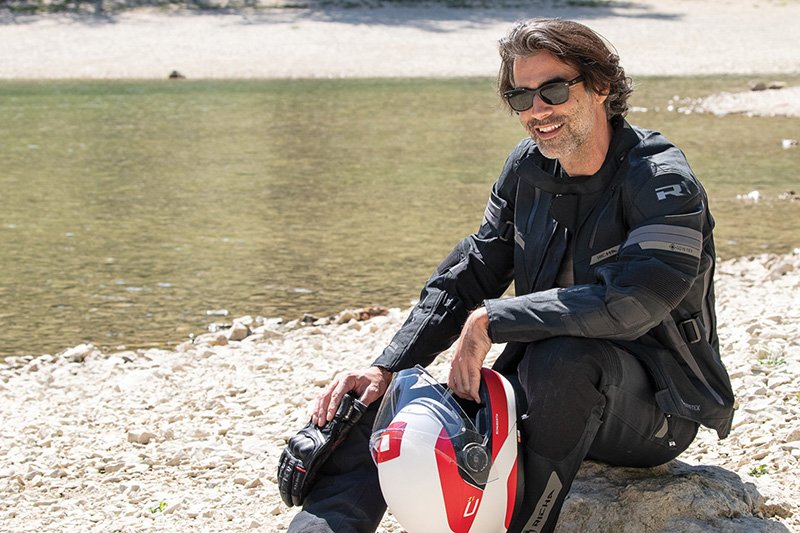 This is Richa's £1000 Arc GTX suit. The Infinity Pro 2 is impressive, but compromises have been made.
Anyway, having got that all out of the way, let's talk about the suit itself because, laminated or not, you still get a lot for your money with the Richa. The lamination on the Richa Infinity Pro 2 is what we call 'two-layer'. Three layer used to be more common, but it is often not particularly comfortable, so two-layer has increasingly become the norm, even with players like Rukka.
On the Infinity Pro 2, the zips, including the vent zips for both the jacket and pants are YKK. Again impressive. YKK zips are the best. They are the most waterproof, but they are the most expensive. At the price of this suit, most manufacturers would try to save money by using cheaper, inferior zips. All credit to Richa. The zips on a laminate suit are particularly important, of course, because when a vent is open there is no membrane in the opening. A poor quality zip on a laminated garment inevitably leads to water ingress.
For warmth, both the jacket and pants have a removable, thermal inner. It's not Outlast or Thinsulate, but it it will keep you warm on colder rides and, if it doesn't do it to a sufficiently high level for you, invest in some additional layers.
In terms of protection, I think once more that it is impressive that Richa should fit D3O armour in the elbows, shoulders and back of the jacket. Take a note here Rukka, whose latest Kalix suit, at over a grand, comes without a back protector at all. The Infinity Pro 2 jacket also has a pocket for a chest protector.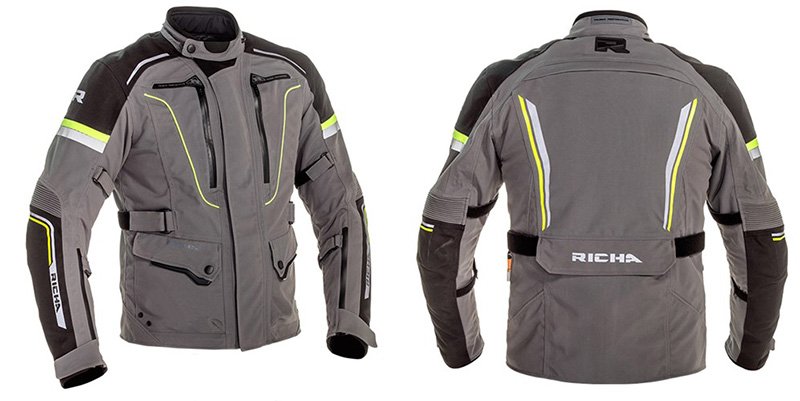 The Infinity Pro 2 looks the part, but what impresses us is just how comfortable it is, and how well it fits.
The matching pants are confusingly called the Colorado Pro 2 pants; confusing because they are the correct matching pant in every respect. I suspect Richa may want to match them to another jacket down the road, so they've given them a vaguer, less specific name. These pants come with D30 in the knees, but not the hips. Now we've taken Richa to task for this with their Arc suit because, at £450 for that pant, we think leaving out hip armour is not acceptable, especially as we think hip armour probably gets impacted upon more frequently than knee armour. In truth, with a pant that costs just £230, we can't get quite so animated, although we still think it's a shame. If you are going to fit hip armour as an extra, however, go for D3O's new and amazingly thin and flexible Ghost armour. It is, as I've said, amazing!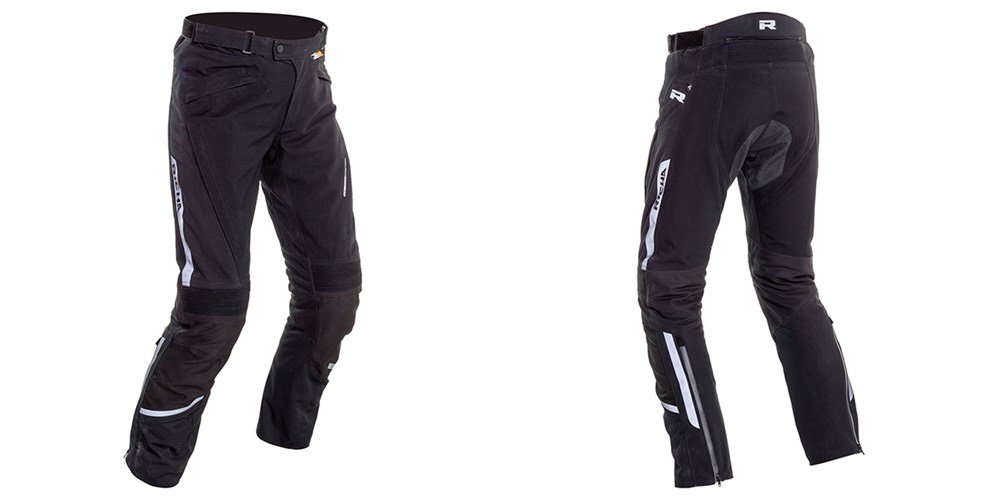 The Colorado 2 pant is the matching pant to the Infinity. In terms of construction, it's identical.
One of the reasons we were so impressed with the suit when we first came across it in Belgium was because it seemed to fit so comfortably. It's much nicer in this regard than Richa's more expensive Arc suit, for example. The Arc has what Richa calls a 'sporting' fit. The Infinity Pro 2 is what one would term a more forgiving, 'regular' fit. The material has a softer handle to it than the Arc, but it is the multiplicity of adjusters that is going to determine just how universal the fit is. Personally, we think it will work for a lot of people. There are adjusters at the waist, the hips, and on the sleeves of the jacket. There's a Velcro adjuster on the waist of the pants too. Accordion stretch panels should also ensure that the suit works well on the bike when riding; and indeed you will find these panels in the elbows, above the knees and below the waist at the back of the pants.
Much of the other stuff on both the jacket and pant could be considered detail, but there's a fair amount of detail on this suit, especially given the price. Here goes. On the jacket, you get two pockets on the outside and several more inside the jacket. On the back of the jacket there's a large, document pocket. There are also two, zip pockets on the pants. Both the top and bottom halves feature generous amounts of reflective banding and piping. To connect the two halves together there's a short connecting zip. Technically, we prefer a 360° zip, but at this price we won't argue.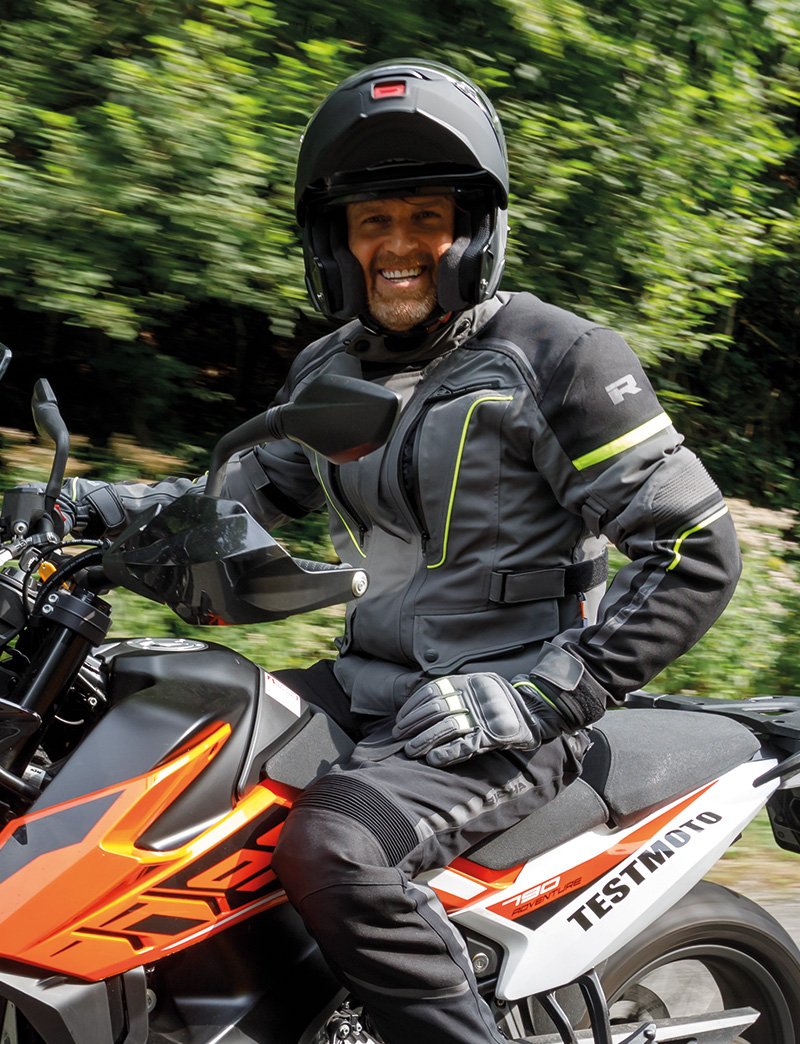 Given the £500 price, the detailing and features on the Infinity Pro 2 really are impressive.
On the jacket, there's a neat hook for holding the collar open. It's a feature you find on Klim's and Stadler's jackets, and it's a detail we like. Another thing we really like is the long zipped cuffs on the sleeves. Now these will allow a better airflow into the jacket in the summer, but they also make it easier to fit whatever gloves you want to, under the sleeves. Lastly, on the pants, you get what Richa calls an Anti-Glide system to stop you moving about on the saddle.
Now often, at this kind of price point, manufacturers cut corners on sizing. They offer only the popular sizes, and don't do different leg lengths, for example. That's not the case here. The jacket goes from size Small, (36", or continental 46) up to 6XL, (56", or continental size 66). The pants come in the same sizes. That means a waist size of 30", (a continental size of 48), up to a waist size of 50", (or a continental size of 66). Even more impressively, the pants come in three different leg lengths. Which is why, once again, we repeat our assertion that this suit should work for a lot of people.
So where do we get to on the Infinity Pro 2 and Colorado Pro 2 combination? Well, price-wise it's amazing. You get a huge amount for your money, including a two-year warranty. But it's not going to work for everybody. We think it's a laminate suit for those who do all their riding at weekends. It's probably not up to high-mileage, everyday commuting, unless your commute is really short. We are very impressed with what Richa has achieved, but there's no such thing as a free lunch. Those who think that by buying the Infinity Pro 2 they can buy a Rukka suit on the cheap will ultimately disappoint themselves. This is a suit aimed at the leisure rider operating on a budget. Accept this and you're on to a winner.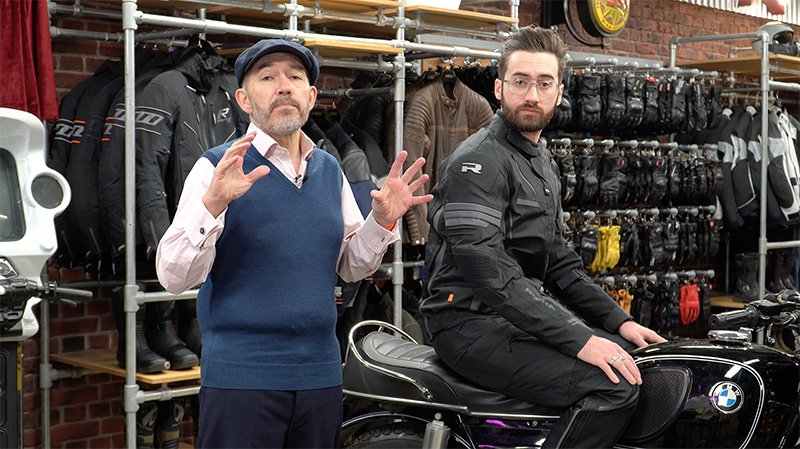 The Richa suit might or might not be for you. Pay us a visit, and we'll give you the advice you need.
Come and see us in Guildford. We are committed to holding the suit in stock in every size and configuration, and that's important if you want to get to get the sizing right. We know how a suit like this should fit, and even if you think it works, we may have a different view. Yes, we accept that this isn't the most expensive suit out there, but £500 is still a stack of wonga, and it would be a shame to get it wrong and find that you end up not wearing it. Of course, you could take pot luck, and order online. There's got to be at least a 25% you'll get it right. Pay a visit to Guildford, and we reckon we can increase those odds to 100%!
---
Want some more? Please click here to return to our editorial menu.

Share this story