Richa Stripper motorcycle pant review
Published on: 27 September 2019
Now this is the product we've been trying to get somebody to make for us for many years. But, truth be told, we were never particularly successful. In fact, we failed miserably in our search to find someone to share our particular vision.
Perhaps it's because we're based in Guildford, a more than manageable commute into London, but over the years hundreds of people have enquired about a pant that they could comfortably and safely wear on the bike over their formal work trousers. The problem is that most technical, textile, motorcycle pants don't work when worn over an ordinary pair of trousers. Textile motorcycle pants tend to be cut quite snugly, and so they will never be comfortable worn over anything more than a thin base or mid layer.
Over the years, we've asked Rukka, we've asked Stadler; we've even suggested the idea of a protective over-pant to Furygan. To be fair, Spidi did make a pant that sort of met the brief, but it was flimsy, and wouldn't have inspired confidence when riding at over 30 mph. You also needed an advanced qualification in origami to put it on. It was a brave attempt, but it didn't work.
The brief, as far as we we're concerned, didn't seem too complicated. We wanted a pant that you could easily slip on and off over your work trousers. It had to be easy enough to do when stood on the pavement in the pouring rain. The pant had to be easily foldable to allow it to be stuffed into a pannier, top box or rucksack. It had to be waterproof, have thermal qualities, and come with proper knee and hip protectors.
It's been a quest of ours for at least the last three years; probably longer. And then, earlier this year, we rode over to Brussels with our ASM (Area Sales Manager) – he hates being called a rep – to visit the Richa factory to talk about developments in the market, new products and so on. Whilst looking through their new collection for 2020, we came across these pants. We almost choked on our Belgian chocolates. They seemed to be exactly what we had been looking for, ( the pants, not the chocolates). We got very excited.
In truth, I'm not sure we could have come up with a better design. Richa has got it spot on, and the spec. is everything we could have asked for. Let's talk you through it.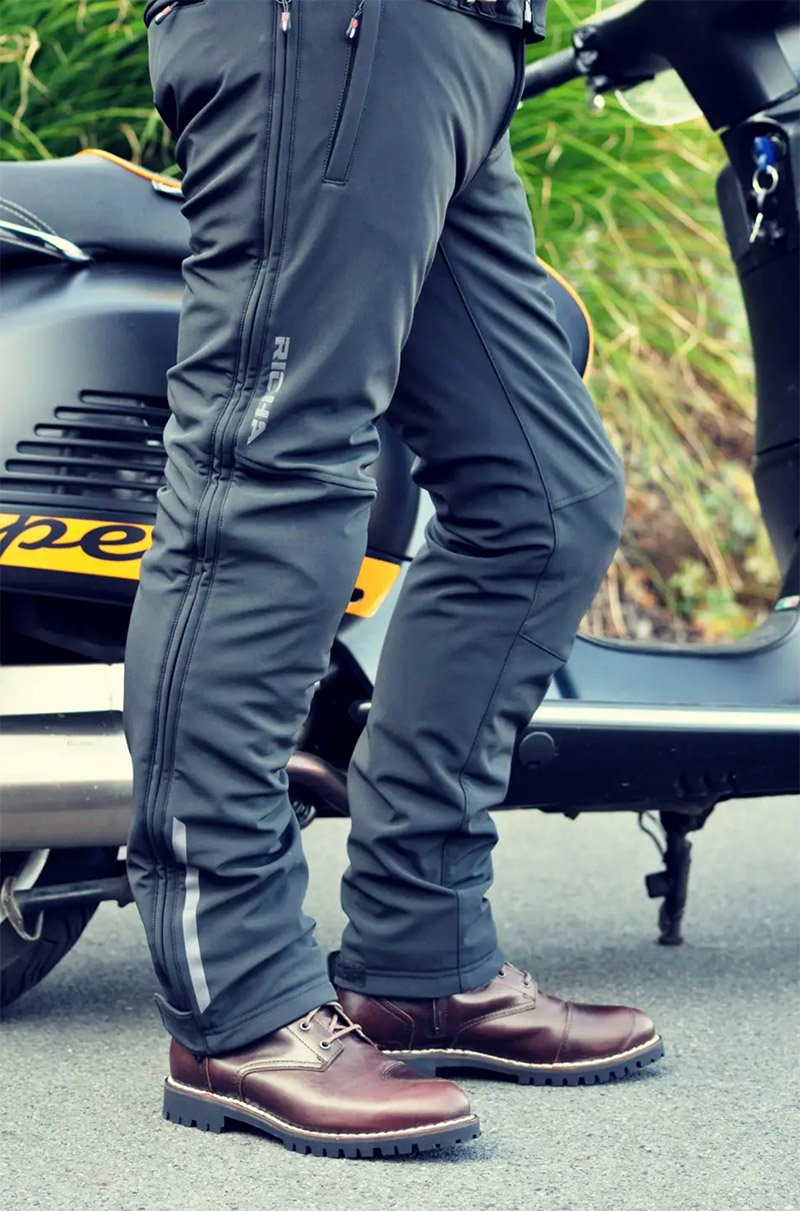 The outer fabric is a softshell material. And this is what is going to give these pants their warmth. They're not going to be warm enough for long-distance rides at near-zero-degree temperatures, but for relatively short commutes, for riding to the station, or for riding around town, they're going to deliver sufficient levels of warmth whatever the weather. Bear in mind that when you wear your 'stripper' over-pants, you'll already have a pair of work or casual trousers beneath them. We've ridden in them, and they're pretty darned warm. What they'll be like in town when the temperatures are up in the thirties is another matter. They're probably going to be too much. The softshell material is also really stretchable, so the Strippers are supremely comfortable to ride in.
The pants have a fully waterproof membrane, meaning they'll keep you dry too. Now a softshell fabric is going to absorb rain quite easily, we reckon, so even though you might stay totally dry in an hour or more's rain, we think that these pants will have a propensity to 'wet out' if you're riding in heavy rain for a couple of hours or more. The waterproof membrane, of course, will also help you stay warm on the bike, because a waterproof membrane is obviously also a windproof membrane.
That Richa has taken waterproofing seriously is vouched for by the fact that the company has incorporated YKK waterproof zips into the leg openings. These are expensive zips, and even the most prestigious brands sometimes shy away from specifying them in their products. So 'respect' to Richa.
The zips we're talking about, of course, run up the outside of each leg. To put these pants on, you step into the fixed waist. You then simply run the zips down each leg from top to bottom. You also get a Velcro-equipped belt to adjust the waist. Because the zip is two-way you can also create a gap so that you can access your own trouser pockets. There's also a Velcro strap to secure the ankle.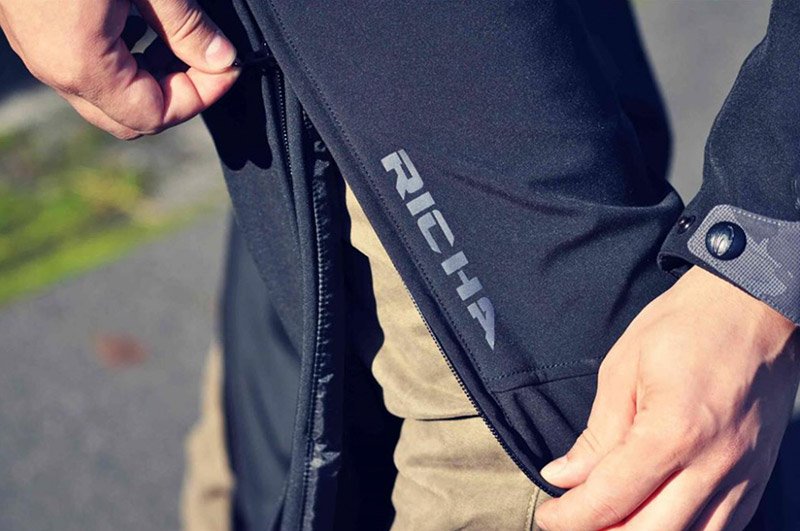 You can be in, or out, of these pants in less than 15 seconds although, in truth, I'm not sure you can do a 'Full Monty' reveal in them because of the fixed waist band. Pity! Adjustable D30 armour in the knees provides the required level of impact protection.. There are pockets for D30 hip armour, but it's not included. We're pretty sure that Richa has done this to keep the price down, which we understand, but we actually think hip armour can be more useful than knee armour, so it always vexes us when it is not included. A set of D30 hip protectors will set you back just £20.
Not incorporating hip armour also means that the pant is only A rated under the new CE 17092 regulations. And I suppose this is what one might expect, although our suspicion is that the AA level would have been granted if the hip protectors had been included.
We cannot deny that, here at Motolegends, we can be a bit nerdy. We get embarrassingly excited when we find a product that does something different or better than anything else on the market. And really that's what we think we've got here. This is going to be the perfect pant for many commuters and around-town riders. It's going to allow you to turn up to work in your favourite big-boy trousers, and to scoot across town in your best grey flannels. If you take the train into work, prefer to wear your jeans or chinos, but need to ride to the station, these once again will be the over pants you need.
But what's even more exciting – well for us at least – is that they're totally exclusive to Motolegends. They're in stock now. They're in the shop and on the website. Please form an orderly queue. These pants are pretty special.
We would, though, make one final point about these Strippers, and it's to do with sizing. You're going to need to go one size up on your normal waist size. Sean, our shop manager, has a 32" waist and a Large was perfect for him. I'm a 34" and only fitted into an XL, which was upsetting. Check out the chart on the website, or come and see us in Guildford. Sizing goes up to 6XL, so we should be able to meet most people's requirements.
Click Richa Stripper pant to shop.
RICHA
STRIPPER PANT
£169.99

---
Want some more? Please click here to return to our editorial menu.

Share this story